What is an Ethical Animal Encounter?
Elephant Nature Park is an example of an ethical animal encounter.
Ethical encounters give travellers the chance to sustainably experience animals in a safe, controlled and humane manner.
The main purpose of missions that offer animal encounters should be reintroduction of the animal into the wild.
Responsible wildlife tourism has gained a lot of traction in recent times as travel companies take steps to ensure that they are not promoting mainstream animal related activities in an effort to crackdown and quash unethical animal encounters.
Identifying Unethical Animal Encounters
For many tourists animal encounters can be the pinnacle of a holiday. 
Just imagine it, you're vacationing in a far away island and you get the chance to ride an elephant or lay with tigers, what a great social media post, right? 
Wrong.
If the animal activity allows tourists and customers to handle wild animals, to ride elephants or to get within touching distance of a tiger then you can safely assume it's an unethical animal encounter and must be avoided. 
If activities and companies are pricing their animal encounters at high prices and aren't an NGO, connected to an NGO or any other charity that ensures the money goes towards the animal's welfare then it must be avoided. 
Unethical encounters engage in drugging and separating animals from their mothers to make them docile. 
They beat, mistreat and force isolation upon animals in order to break their wild spirits. 
Ensure that you do your own research, ask questions of the staff and investigate the primary function of the activity/experience. 
Unfortunately elephants are some of the most maltreated animals in the animal tourism sector.
What is the Elephant Nature Park?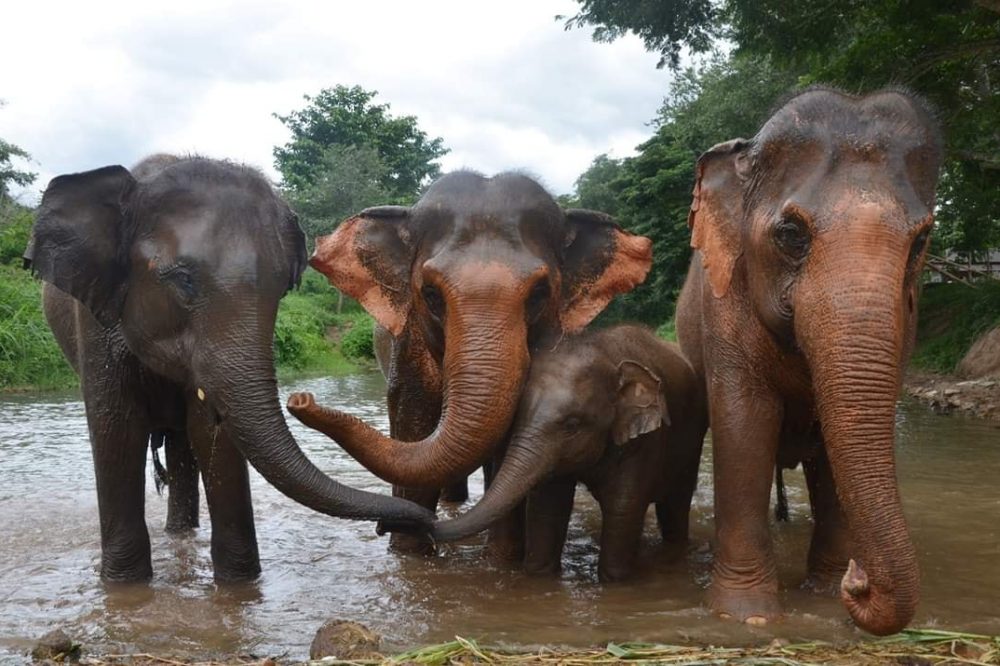 Elephant Nature Park can be found in Mae Taeng, Chiang Mai Province in the north of Thailand. 
It provides a natural environment for all of the animals that it rescues. 
The online statement from the park's website states that their aims are: 'Sanctuary for endangered species, rain forest restoration, cultural preservation, visitor's education and to act independently'. 
The park rescues endangered animals such as dogs, cats, buffalo and elephants, the latter is for which they are most widely known. 
They provide safe and nurturing environments for these rescued animals and ensure that their welfare and wellbeing is the primary mission for all involved. 
The park sees many volunteers coming and going, with on-site accommodation and daily food provided for those that wish to volunteer and stay at the sanctuary for a length of time. 
They have no outside affiliations and have won multiple awards for their work and dedication to animal welfare from the Smithsonian. 
They have also been featured in many documentaries production companies such as National Geographic, Animal Planet, the BBC and the Discovery Channel.
The FAQ section of their website highlights the do's and don'ts while at the park, with every level of action that takes place there being for the benefit and welfare of the rescued animals. 
All proceeds, volunteering and visits to the park are tailored towards continued rescue and rehabilitation for animals.
Born in Baan Lao 2 hours north of Chiang Mai the founder of Elephant Nature Park, Lek Chailert, opened the park in the 1990's. 
Her care and compassion for animals and their welfare was embedded into her from childhood as she aided her grandfather, the local village Shaman and healer, in tending to the sick animals that were often brought to their home. 
Her passion for elephant welfare and rights was made stronger and appears even clearer when set against her struggles in dealing with the Thai government. 
The elephant industry in Thailand is old and steeped in tradition, with mistreatment and a lack of welfare for the animal both openly practiced and normalised. 
Lek has fought hard against the establishment in order to change the cultural norms and values regarding elephant safety and welfare, particularly their use in labour work. She has become the face of elephant protection and rehabilitation in Asia and is a pivotal global figure in reshaping ideas about tackling animal cruelty and upholding animal rights.
Her work has earned her much recognition and she was invited by the former US Democratic Presidential Candidate Hilary Clinton to the White House in 2010 to honour her work in Global Conservation. 
She was also featured in Time Magazine in 2005 as one of the 'Heroes of Asia' and named the Ford Foundation's 'Hero of the Planet' in 2001. 
Her work is second to none and she continues to be on the front lines of animal protection by raising international awareness and tackling cultural and societal practices that challenge animal welfare. 
While doing all of this, she still manages to maintain a close bond with all of the rescued elephants in her park. She can often be seen tending to them firsthand with the same level of compassion that has always been with her from the very start of her endeavours.
Why You Should Visit the Elephant Nature Park
This unique initiative has paved the way not only for ethical animal encounters but for global recognition of animal welfare and the need to change and evolve how countries engage with animal protection.
Lek's park and foundation maintains its high standards in the field of animal rescue and care. 
The park is open to volunteers and visitors to come and help out with the rescued elephants and is guaranteed to be an eye-opening experience for all of those that are fortunate enough to visit. 
A trip to the park is a connection to both nature and the beauty of the flora and fauna of Thailand. 
The elephants needed Lek's help and she answered their calls and now you too can get involved, so why wait?