Mauritius Halal Holidays & Travel
Discover Maurirtius halal holidays customised for you
Similar to the Maldives, a Mauritius halal holiday offers a stunning landscape, pristine beaches, and a relaxing atmosphere. Travellers seeking halal resorts and a luxurious experience will be spoilt for choice in Mauritius.  
Although Hinduism is the main religion with almost half of the, approximately 17% identify as Muslim, so you are guaranteed to find a range of halal services whilst here. As you can imagine, Mauritian food combines all of these cultures. Halal food in Mauritius combines influences from Europe, China, India and Africa. You also get the added pleasure of the freshest seafood and tropical fruit and vegetables.
Regardless of only being inhabited since the 1500s, the island has developed an exciting culture. Some of the more significant sites are Aapravasi Ghat, Le Morne Cultural Landscape and Grand Bassin Lake. These three cover geographical, religious and historical areas of Mauritius and are well worth checking out.
Halal honeymoons in Mauritius
A Mauritius halal honeymoon can take many forms. You are guaranteed romantic beaches and the feeling of relief that comes with island life. You can stay in a resort villa with a private pool to take full advantage of the beautiful Mauritian sun. Or choose a beachfront room to easily access the clear waters and stunning reefs.
We can help put everything into place from assistance with transfers to planning itineraries that put you first. We help you find the island's hottest spots, combining culture, history and nature into one romantic package. As well as directing you to some of the best halal restaurants and cafes that can make your honeymoon that much greater.
I was planning my honeymoon and contacted Rooh Travel. Walid was very helpful and swiftly arranged a phone call with me. He then emailed me an excellent, informative and incredibly laid out package with full itinerary. It really showed the extent to which Walid was willing to go for his customers. The quotes were also very well priced. I'd recommend Rooh Travel for all - an excellent bespoke service.
Dhia Naouar
14. April, 2022.
Walid was on point and knowledgeable, I used Rooh Travel for my honeymoon to the Maldives and everything from the service to the advice was excellent. A trusted travel partner who will make all your decision making informed and easy. Honest pricing, Walid got us an amazing deal.
Abid Miah
23. March, 2022.
We just got back from a fabulous week long Maldives family holiday thanks to Rooh! We use to book our holidays the usual booking sites, and we were hesitant in using Rooh as they're small and we haven't heard of them before which actually worked in our favour. But after communicating with Walid, we learned that booking with an agency is the way to go. The service from Rooh was outstanding from beginning to end. They listened and provided their expertise to help us make a decision on our holiday and even dealt with our requests before and during the trip. On top of that their prices were the best compared to other quotes. Thank you for all your help and we'll be back for our next family trip.
Ibrahim Tarafdar
26. February, 2022.
Our Maldives honeymoon at Coco Bodu Hithi and service by Rooh couldn't have gone any better! Although we found the travel rules during pandemic confusing, Walid covered everything with us and made the whole experience seamless. The trip went smoothly from flights and transfers. Looking forward in booking our next holiday with Rooh!
We booked with Rooh for our Maldives holiday. Walid was extremely responsive to all our questions around the hotel and covid protocols. Our holiday was incredible and we even got amazing rates booking with them.
Rafi G
25. October, 2021.
Rooh planned the perfect Maldives holiday and advised us on the best options. Our holiday was really private and safe and everything went like how we imagined it!
Hinda Abdullah
21. September, 2021.
Our Maldives trip to Fiyavalhu was spectacular thanks to Rooh, they've managed to fulfil our requests in our budget and couldn't have asked for more.
Rana Rahman
29. July, 2021.
This month we had had the best Maldives trip with Rooh. Walid who planned our trip went above and beyond and took care of all the logistics, we didn't have to worry one bit!
Enjoyed an epic trip to Malaysia last year with Rooh. Loved how the itinerary was personalised to our needs. Thank you!
Why travellers choose Rooh
Need to know about Mauritius
Best Mauritius halal hotels
Mauritius' halal hotels offers a range of incredible experiences for you to choose from. For all-inclusive Mauritius holidays, Heritage Awali, offers elegant sea-view rooms and beachfront villa, ideal for Muslim families looking for privacy.
Or, Maradiva Villas & Resorts offers discreet luxury with private villas and romantic couples massages. With four styles of villas to choose from you can find exactly what you want for an island halal honeymoon. 
The Residence Mauritius embodies elegance and European charm for a unique experience suited for families and couples. Surrounded by architecture inspired by the island's period plantation houses, you get swept into island life and Mauritian hospitality.
Best places to stay in Mauritius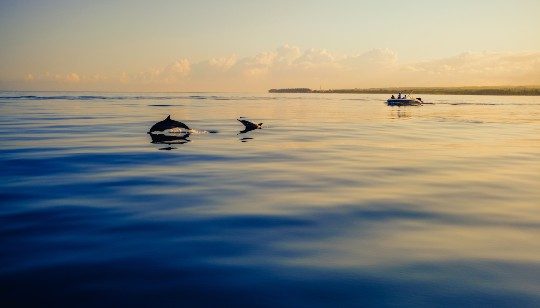 Trou Aux Biches halal holidays
In the northwest of Mauritius, you can find Trou aux Biches. A sprawling public beach with Mauritius' most prized snorkelling locations. It is a favoured destination by many travellers so you can be assured of a great experience.  There are some halal-friendly restaurants and cafes in the area, as well as resorts able to offer halal options. So take the opportunity to experience the luxury of island dining. Being a popular spot, there are many cute craft stores and souvenir shops. Whether you want to pick up gifts for friends, family or yourself. With this in mind, Troux aux Biches is a great destination for a Muslim family or couple looking to relax.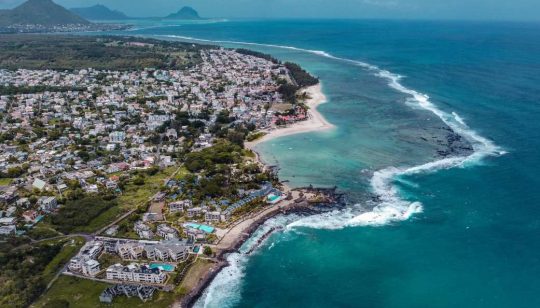 Flic En Flac halal holidays
Flic-en-Flac is a transformed fishing village popular for its turquoise waters and beautiful lagoons. It is a popular tourist destination boasting glorious diving opportunities with stunning coral reefs. Tamrin Beach is also just a few kilometres away and is well worth a visit too. With the shallow waters and white sands, it is ideal for a Muslim family holiday. Tropical island restaurants are abundant alongside the promenade serving the freshest seafood. Between these restaurants and the local resorts and hotels, you will be spoilt for choice.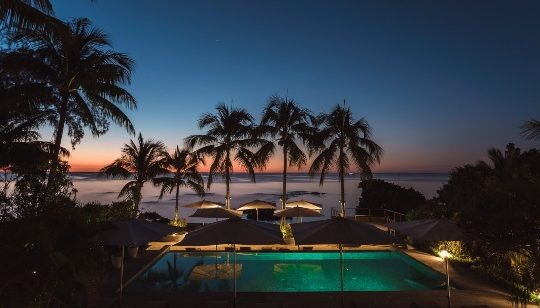 Belle Mare halal holidays
Belle Mare can be found on the eastern coast of Mauritius in the Flacq district. You can find miles upon miles of soft white beaches, ideal for a sunny halal getaway. Whether you prefer staying on land to golf at the two nearby courses or taking advantage of the winter winds to go kite-surfing. Why not take the time to visit the Splash N Fun Leisure Park for a great family day out? There are also several local halal eateries serving a wide variety of cuisines. Some popular options for you are Hasu Restaurant and Dolce Vita, serving Japanese and Italian dishes respectively. For nearby shopping, the beach has a number of small souvenir shops.
Best times to visit Mauritius

Mauritius has a couple of popular travel times, each best suiting a different type of traveller. January to March are some of the hottest months, however, there is a higher chance of rain. This makes it less suitable for beach holidays, but there are generally fewer tourists on the island. So if you enjoy sightseeing and experiencing new cultures this is a prime choice. Especially with the Festival of Colours taking place at the start of March.

The best time is considered to be May through to December when the weather is sunny and not too hot. Making it an ideal time for family holidays. With comfortable heat and no humidity, May is the start of winter in Mauritius. It is also a time when there are a lot of offers on accommodation. So if you want to save a little, definitely check it out.
However, if you enjoy watersports and nature, November and December are critical times when the sea temperature is warmer. As people like to enjoy the warm weather in this period, you may need to plan a bit more in advance. But it is worth it to see the local Hawksbill and Green turtles.
Design your halal trip your way
Get in touch to start planning your adventure