Thailand Halal Hotels & Resorts
From grandeur city hotels to secluded pool villas, discover your next Thailand halal hotel
When planning a Thailand halal holiday, choosing a place to stay can either make or break your trip. Although there are plenty of Muslim-friendly services in Thailand, they can be far and wide. But worry not, as our Halal Travel Designers have traversed the country to discover the best Thailand halal hotels.
With thousands of properties to choose from, we've carefully selected the best Thailand halal hotels & resorts. They are all based on a variety of aspects including ease of finding halal food, prayer facilities nearby, privacy, and more. Additionally, our excellent selection of hotels are in fantastic locations that will easily enhance your Thailand halal escape.
So, whether you're having a city break with friends in Bangkok, a family halal escape in Krabi, or a romantic honeymoon in Phuket, get in touch to find your next halal hotel in Thailand.
I was planning my honeymoon and contacted Rooh Travel. Walid was very helpful and swiftly arranged a phone call with me. He then emailed me an excellent, informative and incredibly laid out package with full itinerary. It really showed the extent to which Walid was willing to go for his customers. The quotes were also very well priced. I'd recommend Rooh Travel for all - an excellent bespoke service.
Dhia Naouar
14. April, 2022.
Walid was on point and knowledgeable, I used Rooh Travel for my honeymoon to the Maldives and everything from the service to the advice was excellent. A trusted travel partner who will make all your decision making informed and easy. Honest pricing, Walid got us an amazing deal.
Abid Miah
23. March, 2022.
We just got back from a fabulous week long Maldives family holiday thanks to Rooh! We use to book our holidays the usual booking sites, and we were hesitant in using Rooh as they're small and we haven't heard of them before which actually worked in our favour. But after communicating with Walid, we learned that booking with an agency is the way to go. The service from Rooh was outstanding from beginning to end. They listened and provided their expertise to help us make a decision on our holiday and even dealt with our requests before and during the trip. On top of that their prices were the best compared to other quotes. Thank you for all your help and we'll be back for our next family trip.
Ibrahim Tarafdar
26. February, 2022.
Our Maldives honeymoon at Coco Bodu Hithi and service by Rooh couldn't have gone any better! Although we found the travel rules during pandemic confusing, Walid covered everything with us and made the whole experience seamless. The trip went smoothly from flights and transfers. Looking forward in booking our next holiday with Rooh!
We booked with Rooh for our Maldives holiday. Walid was extremely responsive to all our questions around the hotel and covid protocols. Our holiday was incredible and we even got amazing rates booking with them.
Rafi G
25. October, 2021.
Rooh planned the perfect Maldives holiday and advised us on the best options. Our holiday was really private and safe and everything went like how we imagined it!
Hinda Abdullah
21. September, 2021.
Our Maldives trip to Fiyavalhu was spectacular thanks to Rooh, they've managed to fulfil our requests in our budget and couldn't have asked for more.
Rana Rahman
29. July, 2021.
This month we had had the best Maldives trip with Rooh. Walid who planned our trip went above and beyond and took care of all the logistics, we didn't have to worry one bit!
Enjoyed an epic trip to Malaysia last year with Rooh. Loved how the itinerary was personalised to our needs. Thank you!
Why travellers choose Rooh
Best halal hotels in Bangkok
Muslim-friendly amenities at Al Meroz Hotel
Overview of Al Meroz Hotel
Al Meroz Hotel is a Muslim-friendly hotel in Bangkok and Thailand's leading halal hotel. The property is conveniently located near The Foundation of Islamic Centre of Thailand.
Each of the 242 spacious rooms indicate the direction of Mecca and contain both a prayer mat and a copy of the Quran. The Superior City View Rooms offer beautiful scenes of the Ramkhamhaeng road. For a touch of added luxury the Suites feature a stunning dining room and airy balcony living room.
This hotel provides a variety of amenities especially designed for Muslim travellers. Both onsite restaurants only cater Halal-certified cuisine so you may order without worry. Additionally, the pool and gymnasium operate on separate hours for female and male guests, ensuring privacy and comfort.
Muslim-friendly amenities at Zayn Hotel Bangkok
Overview of Zayn Hotel Bangkok
Zayn Hotel Bangkok is a modern halal hotel perfectly located in the middle of some of Bangkok's top attractions and restaurants making it perfect for an exciting holiday.
The rooms available are a series of double or twin, ranging from the Superior Room's to the Presidential Suite. Suitable for both Muslim couples and families, the clean and comfortable rooms provide a perfect sanctuary for rest between cultural excursions.
Included in your stay is access to an outdoor rooftop-swimming pool boasting terrific views of the city, delicious on-site halal restaurants serving a variety of local Thai dishes.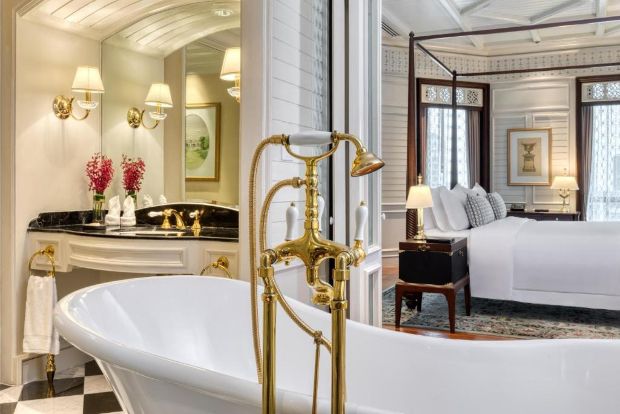 Muslim-friendly amenities at The Athenee Hotel​
Overview of The Athenee Hotel​
The Athenee Hotel is a stunning, luxury hotel situated in Bangkok's Wireless Road and built on the grounds of Kandhavas.
The rooms available showcase refined elegance for both couples and the family. With 374 rooms and suites overlooking the city, the Athenee provides excellent privacy and comfort. For Muslim honeymoons in Thailand, the Athenee Prestige Guest Room features everything you could want for a private getaway.
On offer here are 8 restaurants and bars, a free-form rooftop pool and the Athenee Spa, which highlights holistic treatments. The Rain Tree Café is a halal-certified buffet offering fantastic dishes from around the world for breakfast, lunch & dinner.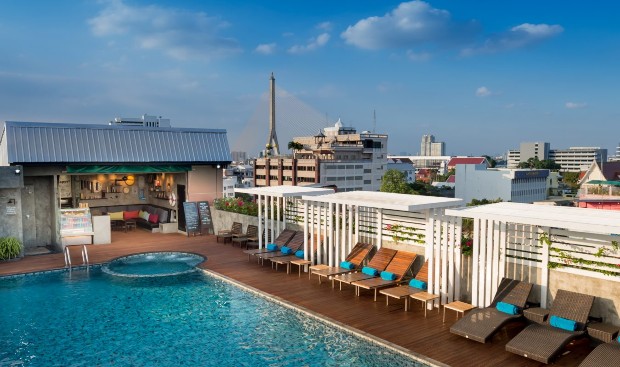 Muslim-friendly amenities at Nouvo City Hotel
Overview of Nouvo City Hotel
The Nuovo City Hotel is a modern, boutique-styled halal-certified hotel in Bangkok. Located within walking distance of some of Bangkok's greatest attractions, including the infamous Khao San Road.
Nuovo City Hotel offers a variety of rooms and suites to cater to all of your needs. The Deluxe Canal Rooms showcase elegance and serenity with romantic views of the Banglamphu Canal whereas the Grand Deluxe Room provides space and convenience perfect for families.
On-site are 2 fine cuisine halal restaurants, one of which has been awarded the Thai Government SME award for best Pad Thai. And when relaxing in the natural salt-water purified swimming pools, the pool bars offer non-alcoholic refreshments and snacks. Finally, the Sala Spa gives you serenity alongside dazzling views of Bangkok's old city.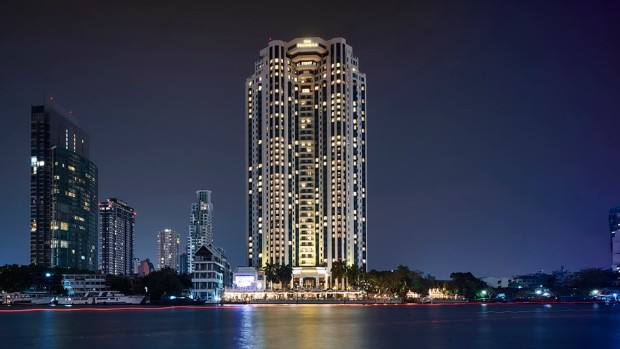 Muslim-friendly amenities at The Peninsula Bangkok
Overview of The Peninsula Bangkok
The Peninsula Bangkok is a sophisticated statement hotel providing panoramic views of Bangkok's cityscape and views of Chao Phraya River.
The Deluxe Rooms and Grand Deluxe Rooms all have breathtakingly romantic views of the Chao Phraya River and the surrounding city. For added luxury, the Grand Deluxe Suite provides an enhanced space whether you are travelling as a couple or family. All of the rooms prioritise elegance and comfort, featuring traditional designs with Thai elements.
The Peninsula Bangkok offers many delicious restaurants and dining options so that you can taste both Thai and international cuisine all without leaving the hotel. The wellness facilities here are first-rate, with a spa, fitness centre, pool and tennis court so that you can relax between experiencing all of the wonders Bangkok has to offer.
Best halal hotels in Phuket
6. Bangtao Village Resort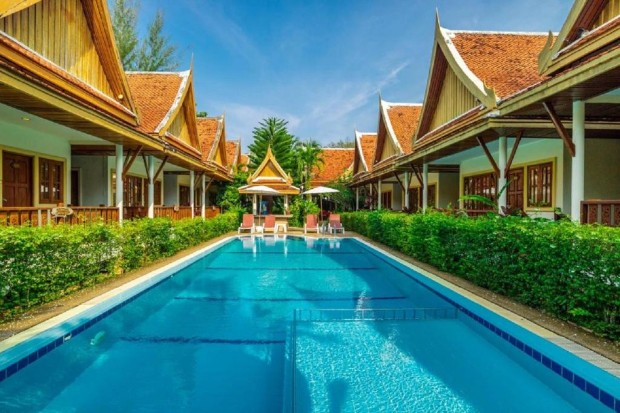 Muslim-friendly amenities at Bangtao Village Resort
Overview of Bangtao Village Resort
Bangtao Village Resort finds itself just a few short minutes from the soft white sands of Bangtao Bay making it the perfect beach holiday whether you're as a family or a couple.
Designed for couples or friends, the Deluxe Rooms feature their own private balcony and choice of twin or double beds. The Superior Family rooms provide 2 double bedrooms and bathrooms making it ideal for larger families and gatherings.
On-site facilities include a shared swimming pool perfect for fighting the heat, a delicious halal restaurant and luxury massage service. The resort also provides day trips out into nearby waters for snorkelling, fishing and other water activities. Additionally, the resort is close to many cultural highlights such as museums and national parks, making it an ideal holiday destination.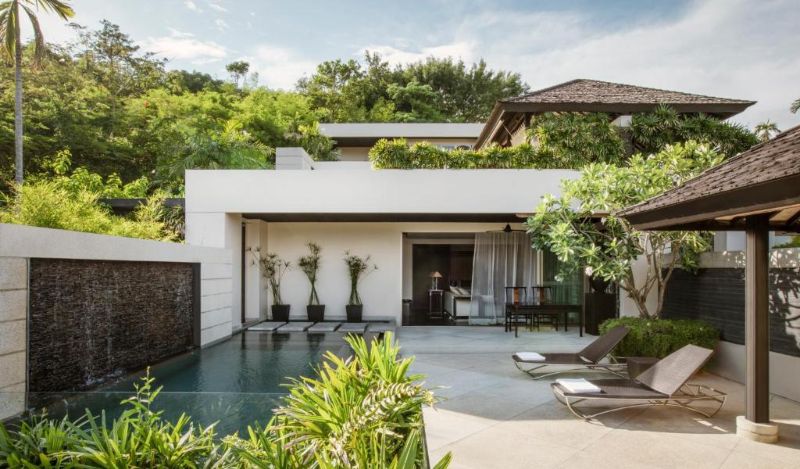 Muslim-friendly amenities at The Pavilions Phuket
Overview of The Pavilions Phuket
Pavilions Phuket is located atop one of Phuket's highest points, with the beautiful nearby Layan Beach accessible by complimentary shuttle from the resort.
This resort offers both villas and suites to suit your needs and the top private pool villas in Phuket. The suites provide captivating garden or tropical views, allowing for full relaxation. The Spa & Pool Pavilion Villa comes with a private pool, couples spa and steam room making it perfect for a celebrating Muslim couple. For families there are also multiple-room villa options.
On site is a luxury Spa and Wellness Sanctuary as well as a fitness centre and 3 award-winning restaurants and bars serving gourmet cuisine and refreshing mocktails. Also available is a hands-on Thai cookery class, with the additional option of completing it within your own private villa.
Muslim-friendly amenities at Sri Panwa
Among the most luxurious halal hotels in Phuket is Sri Panwa, an award winning property perched atop Cape Panwa spreading over 40 acres of tropical rainforest.
Every accommodation here boasts an infinity pool with a jet stream Jacuzzi system alongside picturesque ocean views. The Pool Suite and Penthouse offer a romantic stay for Muslim travellers with privacy and seclusion as the priority. The 2 Bedroom Pool Villas also include this but are better suited to families with their kitchen and dining spaces as well as expansive living areas.
Sri Panwa's Cool Spa is in the Top 10 Luxury Spa Destinations in Phuket and shares its exclusive rainforest location overlooking Phuket's archipelago. Also on-site are 6 incredibly unique and memorable restaurants offering fine cuisines from Thai to Japanese to Italian and are all paired with beautiful scenery.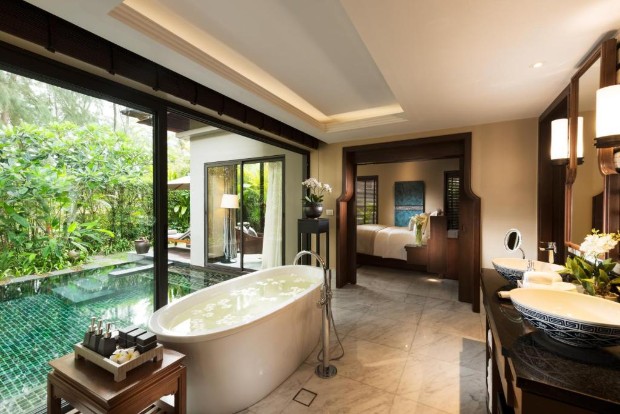 Muslim-friendly amenities at Anantara Layan
Overview of Anantara Layan
The Anantara Layan Resort is a luxury beachfront paradise nestled amongst green hillsides overlooking inviting white sands and blue waters.
Accommodating 30 suites, 46 pool villas, and 15 pool residences, there is something for everyone. Ideal for 2, the Beach Access Pool Villa gives you the best of island life with direct beach access as well as a private pool within an enclosed garden area. For families, the Two Bedroom Pool Villa allows for privacy and an unforgettable experience.
Anantara Layan also offers Muay Thai classes and healing massages at their Anantara Spa. There are 6 exclusive, fine dining opportunities including Thai, grill and poolside to keep meals fresh and exciting.
Best halal hotels in Krabi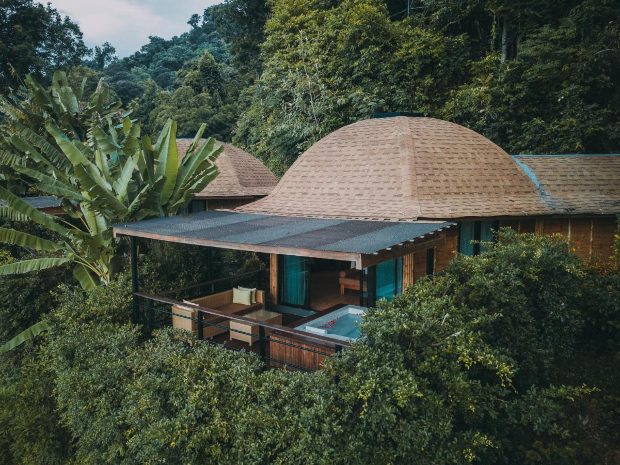 Muslim-friendly amenities at Aonang Fiore Resort
Overview of Aonang Fiore Resort
Aonang Fiore Resort is a magnificent Muslim-owned halal resort in Krabi. The earthen style Jacuzzi Villas include a private Jacuzzi overlooking the Asean Garden and sea, perfect for a romantic halal honeymoon. The Tree Top Villa places you high in the trees with a private balcony to help you connect with nature and unwind.
The resort offers high-quality facilities including a shared pool with stunning views, an on-site restaurant serving fresh and delicious meals and a spa to prioritise your well-being and relaxation.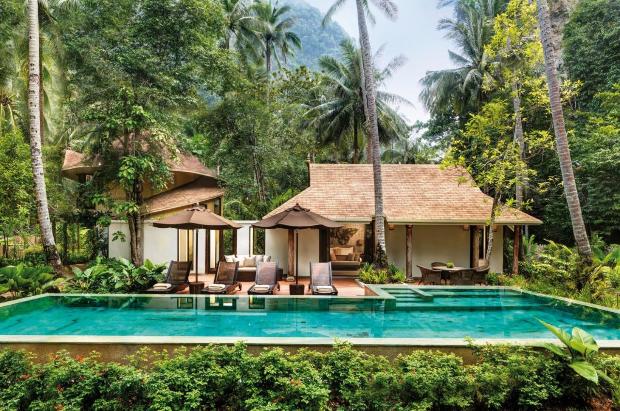 Muslim-friendly amenities at Rayavadee
Rayavadee is located at the tip of the Phranang Peninsula on Thailand's picturesque Andaman coastline. The resort houses 94, 2-storey pavilions and 7 luxurious villas throughout tropical gardens and coconut groves.
The Pavilions range in amenities but a couple of options include the Terrace Pavilion which provides an outdoor relaxation space and the Family Pool Pavilion which combines enhanced space with a luxurious freshwater private pool, perfect for a Muslim family getaway. The Villas also vary slightly but all feature a kitchenette and private pool for elevated privacy and tranquillity.
On-site facilities offer 4 exclusive dining venues with cuisines ranging from international to traditional Thai. A full service spa provides quality services and the resort's activities centre invites you to experience the best that the area has to offer.
Best halal hotels in Chiang Mai
12. Four Seasons Chiang Mai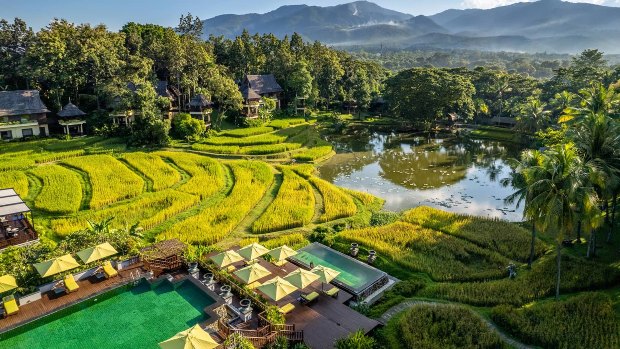 Muslim-friendly amenities at Four Seasons Chiang Mai
Overview of Four Seasons Chiang Mai
Located 30 minutes away from Chiang Mai's bustling centre, Four Seasons Chiang Mai is nestled among rice fields and stunning views.
Accommodation here ranges from private Pavilions, best for enjoying the scenic emerald landscape; Pool Villas, emphasising privacy and intimacy; and private residences, grand expansive spaces with kitchenettes and a private pool making it ideal for families.
Four Seasons Chiang Mai boasts 3 restaurants serving Thai delicacies, premium fire-grilled meats and exclusive live cooking. The lounge serves a mix of refreshing mocktails and juices and private dining is available for an added romantic touch. The hotel also offers a luxury spa and cultural experiences to ensure a truly unforgettable holiday.
13. Shangri-La Chiang Mai
Muslim-friendly amenities at Shangri-La Chiang Mai
Overview of Shangri-La Chiang Mai
Shangri-La Chiang Mai is located in the heart of the city and is surrounded by the stunning vistas of Northern Thailand's great mountain ranges.
Within 277 rooms and suites, this hotel offers Northern Thai luxury styling and hospitality. The Lotus Suite highlights convenience and opulence with a sitting area, kitchenette and dining area. The Deluxe Terrace Room, although simpler, combines unmissable views from a private terrace and comfort for a perfect stay.
Shangri-La Chiang Mai features 4 dining experiences of both Thai and international cuisines.  Nestled within the hotel's gardens the spa delivers a selection of Thai herbal and flower-based treatments to help you connect with yourself and nature.
Thailand is an amazing destination for Muslims travellers to explore. From its rich culture and welcoming locals to its idyllic islands and world-famous cuisine. With many great halal hotels to choose from, it's a no brainer to make Thailand your next holiday destination.
Design your halal trip your way
Get in touch to start planning your adventure