Halal Hotels & Resorts in Mauritius
Explore our hand-picked Mauritius halal hotels & resorts
Whether it's for a families or couples, halal hotels & resorts in Mauritius are abundant all over the island. Being surrounded on every side by beautiful beaches, Mauritius is the ideal place for a halal beach holiday. With its relatively small size, Mauritius is a great opportunity for island exploration with beaches, mountains and cities.
The following Muslim-friendly hotels in Mauritius provide delicious halal food, alcohol-free rooms and villas with privacy. From all-inclusive luxury stays to simple accommodations to touch base between exploring Mauritius, we have plenty of options for you. Explore our vetted list of the best halal hotels and resorts in Mauritius.
I was planning my honeymoon and contacted Rooh Travel. Walid was very helpful and swiftly arranged a phone call with me. He then emailed me an excellent, informative and incredibly laid out package with full itinerary. It really showed the extent to which Walid was willing to go for his customers. The quotes were also very well priced. I'd recommend Rooh Travel for all - an excellent bespoke service.
Dhia Naouar
14. April, 2022.
Walid was on point and knowledgeable, I used Rooh Travel for my honeymoon to the Maldives and everything from the service to the advice was excellent. A trusted travel partner who will make all your decision making informed and easy. Honest pricing, Walid got us an amazing deal.
Abid Miah
23. March, 2022.
We just got back from a fabulous week long Maldives family holiday thanks to Rooh! We use to book our holidays the usual booking sites, and we were hesitant in using Rooh as they're small and we haven't heard of them before which actually worked in our favour. But after communicating with Walid, we learned that booking with an agency is the way to go. The service from Rooh was outstanding from beginning to end. They listened and provided their expertise to help us make a decision on our holiday and even dealt with our requests before and during the trip. On top of that their prices were the best compared to other quotes. Thank you for all your help and we'll be back for our next family trip.
Ibrahim Tarafdar
26. February, 2022.
Our Maldives honeymoon at Coco Bodu Hithi and service by Rooh couldn't have gone any better! Although we found the travel rules during pandemic confusing, Walid covered everything with us and made the whole experience seamless. The trip went smoothly from flights and transfers. Looking forward in booking our next holiday with Rooh!
We booked with Rooh for our Maldives holiday. Walid was extremely responsive to all our questions around the hotel and covid protocols. Our holiday was incredible and we even got amazing rates booking with them.
Rafi G
25. October, 2021.
Rooh planned the perfect Maldives holiday and advised us on the best options. Our holiday was really private and safe and everything went like how we imagined it!
Hinda Abdullah
21. September, 2021.
Our Maldives trip to Fiyavalhu was spectacular thanks to Rooh, they've managed to fulfil our requests in our budget and couldn't have asked for more.
Rana Rahman
29. July, 2021.
This month we had had the best Maldives trip with Rooh. Walid who planned our trip went above and beyond and took care of all the logistics, we didn't have to worry one bit!
Enjoyed an epic trip to Malaysia last year with Rooh. Loved how the itinerary was personalised to our needs. Thank you!
Why travellers choose Rooh
12 superb halal hotels in Mauritius
1. Heritage Awali Golf & Spa Resort
Muslim-friendly amenities at Heritage Awali Golf & Spa Resort
Overview of Heritage Awali Golf & Spa Resort
Heritage Awali finds its influences in the diverse cultures of Mauritius, showcasing what it means to live on the island. Located in Bel Ombre, secluded luxury and natural harmony are at the forefront. In this premium, all-inclusive halal resort, you and your loved ones can truly enjoy yourselves.
Heritage Awali's accommodations provide you with gorgeous views of Mauritius, spanning the vast Indian Ocean and lush tropical gardens. For prioritising privacy, their Heritage Villa Beachfront provides direct beach access and a private pool. Or for something a bit simpler, their Deluxe Beachfront Room boasts ease of beach access without the added fuss.
2. InterContinental Resort Mauritius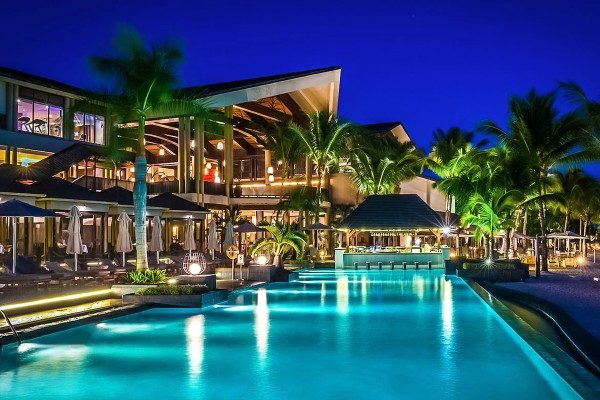 Muslim-friendly amenities at InterContinental Resort Mauritius
Overview of InterContinental Resort Mauritius
InterContinental Mauritius is tucked between the expansive Indian Ocean and the green mountains of the northern coast. With a choice of 210 ocean-facing rooms and suites, each room features its own private patio or balcony. 
InterContinental offers their unique 'Dine Around Concept'. This gives you the opportunity to taste all 5 onsite restaurants at no extra cost. The cuisines range from Indian to Mediterranean to buffet all marked with halal options to guide your choices.
3. Maradiva Villas Resort & Spa
Muslim-friendly amenities at Maradiva Villas Resort & Spa
Overview of Maradiva Villas Resort & Spa
Maradiva Villas & Resorts offers discreet luxury inspired by its Indian heritage in Flic en Flac. With four styles of private pool villas to choose from, there is something for every style of guest. Whether that is a Luxury Suite Pool Villa or Beachfront Suite Pool Villa for intimate luxury. Every villa allows for butler services, in-villa dining and more making it ideal for an island halal honeymoon.
There are 4 out-of-villa dining options at Maradiva, each providing something unique and delicious. Coast2Coast provides an all-day buffet of various cuisines. Cilantro is the peak of Indian speciality. Breakers Bar is the ideal light bight spot and finally, Teppan serves Japanese cuisine as a culinary art.
4. Constance Belle Mare Plage
Muslim-friendly amenities at Constance Belle Mare Plage
Overview of of Constance Belle Mare Plage
Constance Belle Mare Plage is located along 2km of private beach on the east coast of Mauritius. Nestled in a private bay, it is the ideal place for enjoying the turquoise waters. There are almost 300 accommodations to choose from, depending on your needs. For higher levels of seclusion, a suite with a private balcony or a villa with a private pool is optimal.
You have 8 luxury restaurants to choose from at Constance Belle Mare Plage. La Citronnelle takes innovative global cuisine to an accessible level with an ever-changing buffet. For your beach days, Lakaze is the ideal lunch spot, pairing light bites and fresh catches.
5. The Residence Mauritius
Muslim-friendly amenities at The Residence Mauritius
Overview of The Residence Mauritius
Inspired by the plantation houses of the turn of the century, The Residence Mauritius combines European charm with contemporary elegance. There are 135 rooms and 28 suites to choose from, each emphasising simplicity and elegance for heightened rest. Depending on your preferences, you can choose between an ocean and garden view, both stunning and guaranteed to be memorable.
The dining options are kept simple, with The Dining Room offering contemporary world cuisine, or light lunches at The Verandah. The Plantation pairs oceanfront dining with entertainment and lastly, The Bar goes from afternoon tea to evening mocktails. You can also try cooking Creole Cari Poule with the resort's chef, ideal for extending the holiday after leaving.
6. Le Cardinal Exclusive Resort
Muslim-friendly amenities at Le Cardinal Exclusive Resort
Overview of Le Cardinal Exclusive Resort
Le Cardinal Exclusive Resort can be found within Trou aux Biches in the northwest of Mauritius. Just out of reach of the tourist crowds, you can be in the thick of everything and escape with ease. With its own beach and prime location, it is ideal for Muslim guests. There are only 13 accommodations within the whole resort, 10 Junior Suites, the Duplex and 2 Penthouses. The Junior Suites provide lagoon-facing furnished balconies, ideal for watching the turquoise waters. The Duplex is the family-focused suite, spanning two floors with amenities for young children, ideal for a family halal holiday.
Dining at this resort is centred around their two restaurants. La table du Cardinal serves A la Carte breakfasts and dinners, and Beach Bar & Restaurant suits lunch and sunset dinners.
7. Shanti Maurice Resort & Spa
Muslim-friendly amenities at Shanti Maurice Resort & Spa
Overview of Shanti Maurice Resort & Spa
Shanti Maurice is perched on St. Felix surrounded by sweet sugarcane and blue waters. The soft beaches and lush greens converge into a wellness paradise ideal for a halal getaway. Ideal for honeymooners, the Oceanview Pool Villa pairs privacy with a garden, pool and reserved sun beds.
Shanti Maurice provides several great options for restaurants and eateries. Stars is their general meal option but it is definitely worth celebrating. Providing a full variety of the Indian Ocean's culinary arts. Feet in the Sand is the ultimate beach dining experience with the freshest grilled fish on the beach.
Muslim-friendly amenities at Heritage The Villas
Overview of Heritage The Villas
Private and luxurious, Heritage The Villas is thoughtfully situated overlooking the Indian Ocean and golf course. In the southeast corner of Bel Ombre, you are in the best place to explore Mauritius' wildlife.
Each of the villas available comes with at least 2 bedrooms, making them an optimal choice for a family vacation. You can choose between ocean views and garden views, but each offers a wonderful amount of privacy to guarantee comfort. Of course, they all also feature a private pool, offering relaxation all day.
9. The Oberoi Beach Resort, Mauritius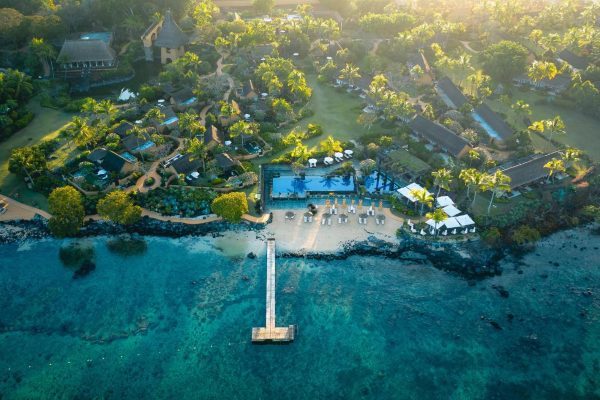 Muslim-friendly amenities at The Oberoi Beach Resort, Mauritius
Overview of The Oberoi Beach Resort, Mauritius
The Oberoi Beach Resort can be found on the sprawling white beaches of Turtle Bay. Spread over more than 80,000 sqm of lush gardens, it has the clearest views of the night skies. Also, being just 20km from Port Louis makes it an ideal choice for those wanting to explore the capital.
Unique to The Oberoi, every villa and pavilion boasts traditional thatched roofs and time-honoured design elements. The Luxury Pavilion rooms focus on natural elements, with large windows and high ceilings to create bright and airy spaces. The private terrace also allows gentle relaxation with stunning views.
10. The Westin Turtle Bay Resort & Spa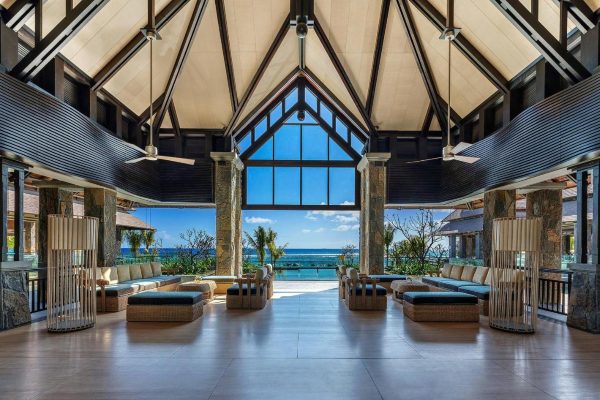 Muslim-friendly amenities at The Westin Turtle Bay Resort & Spa
Overview of The Westin Turtle Bay Resort & Spa
The Westin Turtle Bay Resort & Spa can be found facing Turtle Bay and offering luxurious Mauritian hospitality. The beach is bordered by a reef full of indigenous species making it ideal for underwater exploration. The Deluxe Room has everything you need to enjoy your stay with a marble bathroom, king-size bed and stunning views. For something a bit more indulgent, the Banyan Suite provides enough space for you and your partner to relax fully.
There are 5 eateries on-site to provide you with gourmet taste experiences. Kangan serves vibrant Indian flavours that merge tradition and contemporary for a culinary journey. Fusion offers dynamic Japanese-inspired delicacies with sushi and Teppanyaki. Of course, Beach Grill is your top choice for unwinding with fresh catch barbeques and moonlit tables.
Muslim-friendly amenities at Lux* Le Morne
Overview of of Lux* Le Morne
Lux* Le Morne is a chic resort celebrating island living whilst also boasting the best sunsets in all of Mauritius. Found just below Le Morne Mountain with the stunning ocean ahead, it is ideal for enjoying nature. Even offering views of the island from the resort's very own luxury tree house.
There are a variety of rooms on offer that help make your stay the best it can be. The rooms are designed for relaxation, with meditative elements in contrast to the lush scenery outside. To soak up the last of the sun in the evening, the Sunset Junior Suites take full advantage of the resort's placement.
Muslim-friendly amenities at Lux* Grand Gaube
Overview of Lux* Grand Gaube
Lux* Grand Gaube utilises the iconic retro-chic design, the inner cove location provides an exciting new feel to the Lux* experience. Designed for the holiday feel, every room gives off the beach house atmosphere. There are 9 room types and 2 villas, depending on what you are looking for in your Mauritius halal holiday. The Ocean Villa is placed away from the rest of the resort, maximising privacy ideal for Muslim guests.
Totalling 14 dining venues, you can try a bit of everything whilst here. INTI is their signature Peruvian restaurant, a must-try for any guest. And The Palm Court is a unique market-style dining space where you can travel the globe at every meal.
Mauritius is more than just an alternative to the Maldives. Although you can have similar experiences in this beautiful island, you can also receive deep cultural immersion here. This is made easy with the variety of halal hotels in Mauritius which makes your trip that much better!
Design your halal trip your way
Get in touch to start planning your adventure