Malaysia Halal Hotels & Resorts
Discover the best Malaysia halal hotels for your holiday
Finding a Malaysia halal hotel for your holiday has never been easier! We've hand-picked the best Muslim-friendly hotels and resorts in Malaysia for you to choose from. From chic city hotels to secluded beach resorts, Malaysia offers the best of both worlds.
For Muslim travellers, it's effortless to experience a halal holiday in Malaysia. With halal food available everywhere, mosques on every corner (some even over-water), and alcohol-free environments, Malaysia is an ideal Muslim-friendly destination. Discover below our list of Muslim-friendly hotels in Kuala Lumpur, Penang, Langkawi, and beyond, to begin planning your next adventure.
I was planning my honeymoon and contacted Rooh Travel. Walid was very helpful and swiftly arranged a phone call with me. He then emailed me an excellent, informative and incredibly laid out package with full itinerary. It really showed the extent to which Walid was willing to go for his customers. The quotes were also very well priced. I'd recommend Rooh Travel for all - an excellent bespoke service.
Dhia Naouar
14. April, 2022.
Walid was on point and knowledgeable, I used Rooh Travel for my honeymoon to the Maldives and everything from the service to the advice was excellent. A trusted travel partner who will make all your decision making informed and easy. Honest pricing, Walid got us an amazing deal.
Abid Miah
23. March, 2022.
We just got back from a fabulous week long Maldives family holiday thanks to Rooh! We use to book our holidays the usual booking sites, and we were hesitant in using Rooh as they're small and we haven't heard of them before which actually worked in our favour. But after communicating with Walid, we learned that booking with an agency is the way to go. The service from Rooh was outstanding from beginning to end. They listened and provided their expertise to help us make a decision on our holiday and even dealt with our requests before and during the trip. On top of that their prices were the best compared to other quotes. Thank you for all your help and we'll be back for our next family trip.
Ibrahim Tarafdar
26. February, 2022.
Our Maldives honeymoon at Coco Bodu Hithi and service by Rooh couldn't have gone any better! Although we found the travel rules during pandemic confusing, Walid covered everything with us and made the whole experience seamless. The trip went smoothly from flights and transfers. Looking forward in booking our next holiday with Rooh!
We booked with Rooh for our Maldives holiday. Walid was extremely responsive to all our questions around the hotel and covid protocols. Our holiday was incredible and we even got amazing rates booking with them.
Rafi G
25. October, 2021.
Rooh planned the perfect Maldives holiday and advised us on the best options. Our holiday was really private and safe and everything went like how we imagined it!
Hinda Abdullah
21. September, 2021.
Our Maldives trip to Fiyavalhu was spectacular thanks to Rooh, they've managed to fulfil our requests in our budget and couldn't have asked for more.
Rana Rahman
29. July, 2021.
This month we had had the best Maldives trip with Rooh. Walid who planned our trip went above and beyond and took care of all the logistics, we didn't have to worry one bit!
Enjoyed an epic trip to Malaysia last year with Rooh. Loved how the itinerary was personalised to our needs. Thank you!
Why travellers choose Rooh
Best halal hotels in Kuala Lumpur
1. Hilton Garden Inn Kuala Lumpur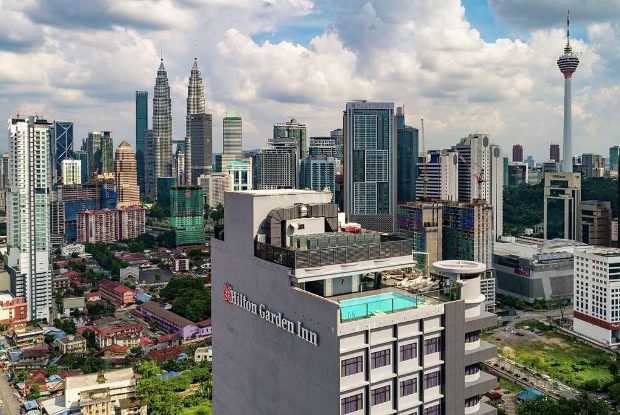 Muslim-friendly amenities at Hilton Garden Inn Kuala Lumpur
Overview of Hilton Garden Inn Kuala Lumpur
The Hilton Garden Inn Kuala Lumpur Jalan Tuanku Abdul Rahman South is situated in central Chow Kit. The hotel offers amazing views of both the KL Tower and Petronas Twin Towers. There is also the nearby night market and monorail making it a perfect location.
The Hilton Garden Inn comprises 267 fresh and clean twin and queen rooms with the option of a KL Tower view making it perfect for both Muslim couples and families.
The property also offers a range of services to make your stay comfortable. You can take your meals on-site at the restaurant or at the pool bar and lounge that serves a variety of delicious mocktails and juices.
2. Capri By Fraser Bukit Bintang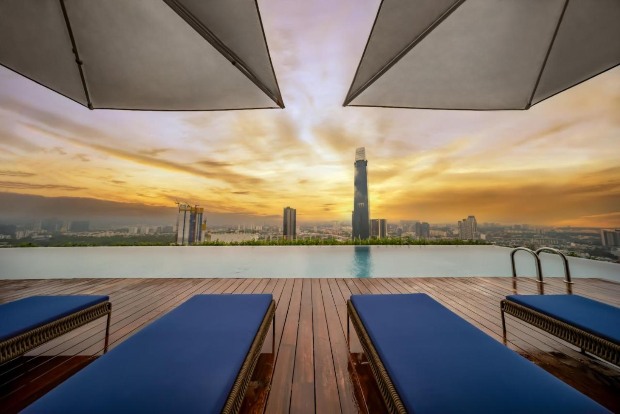 Capri By Fraser Bukit Bintang
Overview of Capri By Fraser Bukit Bintang
Located in Malaysia's large Bukit Bintang shopping district, the Capri by Fraser offers an ideal option for Muslim couples and families. This 4-star hotel is nearby the city's top attractions and shopping malls for those looking for retail therapy.
The 319 chic and modern studios and one bedroom apartments feature kitchenettes for light meals as well as housing The Den, a cosy casual halal restaurant.
The Capri by Fraser Bukit Bintang also offers the Pow Wow, a 24 hour social space for meeting new people or having a space to interact with your loved ones with games and entertainment available. As well as a gym and rooftop saltwater pool with panoramic views of the city.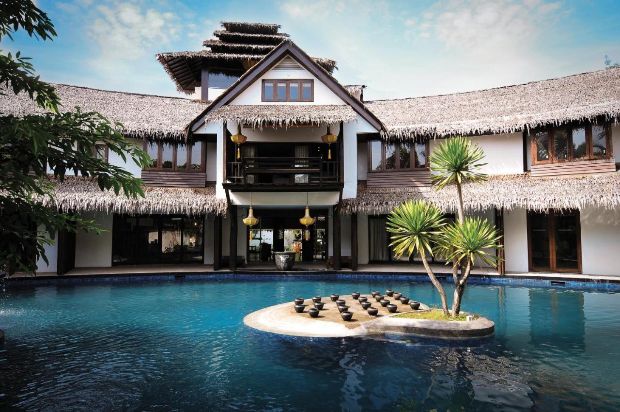 Muslim-friendly amenities at Villa Samadhi​
Overview of Villa Samadhi​
One of the best Muslim-friendly KL hotels is Villa Samadhi. This intimate retreat can be found within a 10 minute drive from the Petronas Twin Towers and KLCC Park. It truly is a secluded boutique hotel within one of the capital's upscale areas.
Ideal for halal honeymoons and Muslim couples, the Villa Samadhi embraces traditional Malay architecture with 21 inspired interior rooms and villas. You can choose from a Crib Suite, Sarang Boutique or The Loft. Whilst the Crib Suites offer seclusion and comfort and access to the villa's beautiful pool, The Loft is labelled as one of the most unique honeymoon suites in all of Kuala Lumpur with a private plunge pool and balcony perfect for privacy.
Understandably, the Villa Samadhi also has its own spa, restaurant and lounge, suitable to focus on relaxation.
4. Mandarin Oriental Kuala Lumpur
Muslim-friendly amenities at Mandarin Oriental Kuala Lumpur
Overview of Mandarin Oriental Kuala Lumpur
The Mandarin Oriental Kuala Lumpur is located in the city centre, right between the luscious KLCC Park and impressive Petronas Twin Towers.
The Mandarin Oriental also provides The Spa at Mandarin Oriental, the only Forbes 4-star rated spa in Malaysia with a host of unique treatments available in single or couples rooms. The wellness centre also offers exercise classes, tennis and a swimming pool for those wanting to stay active.
This 5-star hotel offers elegant and comfortable rooms, suites and apartments with views of the city or the KLCC Park. Also a signature of the Mandarin Oriental is the Mosaic, one of the hotel's on-site restaurants that offers the best halal hotel buffet in KL.
5. Four Seasons Kuala Lumpur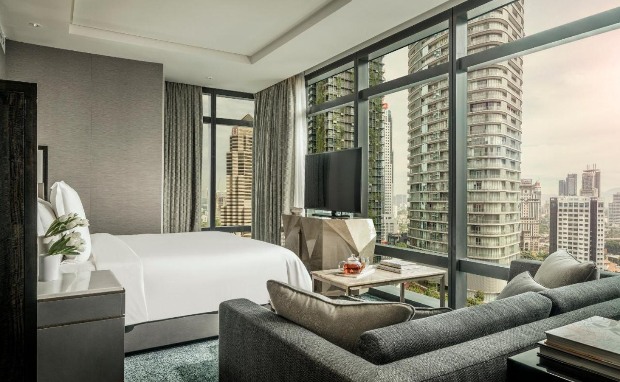 Muslim-friendly amenities at Four Seasons Kuala Lumpur
Overview of Four Seasons Kuala Lumpur
The Four Seasons Hotel Kuala Lumpur is a luxury hotel in the middle of the Golden Triangle neighbourhood right next to the Petronas Towers making it easy to explore Kuala Lumpur.
On offer are a selection of clean and elegant rooms, suites and apartments with stunning city and park views with multiple bed options suitable for all Muslim travellers.
On-site at the Four Seasons are 6 high-class halal restaurants and equally as intricate all-day room service with a variety of cuisines. Also on site is a range of luxurious private spa services for couples who enjoy that extra sense of relaxation and privacy.
Best halal hotels in Penang
Muslim-friendly amenities at Campbell House
Overview of Campbell House
One of the best Muslim-friendly hotels in Penang is the beautifully renovated 1903 Campbell House. Located in the middle of Georgetown's China Town, the hotel's location is ideal to explore the history and traditional highlights of the area. The house itself has a rich history worth learning about and has won many awards of recommendation in the last few years.
Inside Campbell House is a glamorous mix of 12 unique, eclectic modern and classic colonial rooms with the option for conversions into twin suites with private balconies available. No matter what your style preference is, Campbell house is sure to have a room perfect for you.
Whilst staying here, remember to try the Il Bàcaro, Campbell House's own charming Italian restaurant serving an exciting variety of Venetian inspired dishes and delightful mocktails.
7. Shangri La's Rasa Sayang Resort & Spa
Muslim-friendly amenities at Shangri La's Rasa Sayang Resort & Spa
Overview of Shangri La's Rasa Sayang Resort & Spa
The Shangri La's Rasa Sayang Resort & Spa overlooks both the picturesque Batu Ferringhi Beach, and the rolling hills of Penang.
With 304 premier guest rooms and suites across the 2 traditional Minangkabau styled wings you are guaranteed luxury and comfort. For higher levels of opulence and privacy, choose the Rasa Wing, but for ease of poolside lounging and family fun, choose the Garden Wing.
The Shangri La's Rasa Sayang Resort also hosts 5 unique restaurants and bars that cover everything from elegant dining and innovative dishes to casual al fresco and tropical mocktails. After enjoying a day of swimming in one of the resort's three pools you can also head to the nearby night market to experience some more of Malaysia's vibrant culture.
8. Eastern & Oriental Hotel
Muslim-friendly amenities at Eastern & Oriental Hotel
Overview of Eastern & Oriental Hotel
The Eastern & Oriental Hotel is located in the middle of Georgetown overlooking the stunning views of the Andaman Sea.
The Eastern & Oriental highlights the rustic beauty of the Victorian colonial style with its delightful and bright Heritage Wing and warm old-world Victory Annexe suites. The hotel is synonymous with the island, once being known as the Pearl of the Orient.
Showcasing the unique history of both Penang and the hotel, the E&O Gallery explores social and cultural milestones. Whilst the 1885 swimming pool, where mocktails and light bites can be enjoyed, provides a small interactive history for Heritage Wing guests. And don't forget to indulge at the PAÑPURI ORGANIC SPA where you can enjoy a range of treatments.
Best halal hotels in Langkawi
9. The Westin Langkawi Resort & Spa
Muslim-friendly amenities at The Westin Langkawi Resort & Spa
Overview of The Westin Langkawi Resort & Spa
The Westin Langkawi Resort & Spa is a Muslim-friendly resort located on Malaysia's idyllic Langkawi Island just 20km from the airport. Chosen as Tripadvisor's Travellers' Choice 2022, the beachside resort exudes luxury and comfort.
Whether staying as a family or as a couple, the Westin Langkawi Resort & Spa gives you the choice of 221 stunning ocean-inspired rooms, suites and villas that each boast a remarkable seascape view.
This halal resort also offers a multitude of amenities to meet your every need. Not only can you relax in the award-winning Heavenly Spa by Westin, you can also participate in a wide range of on-site activities, from water sports to beachfront yoga. After an exciting day you can then eat at one of many on-site restaurants serving authentic island cuisine.
10. Berjaya Langkawi Resort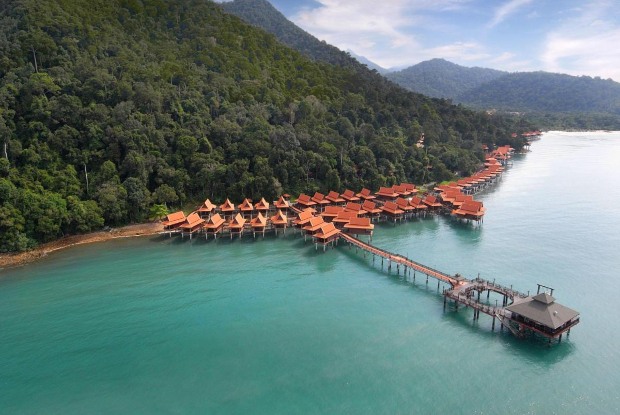 Muslim-friendly amenities at Berjaya Langkawi Resort
Overview of Berjaya Langkawi Resort
The Berjaya Langkawi Resort is a serene haven nestled in between a rainforest sanctuary and the emerald waters of Barau Bay.
A signature feature of the Berjaya Langkawi Resort is its unique rainforest chalets built upon elegant stilts above the playful waves of the Malacca Strait. For privacy and appreciating the beauty of nature, you can relax to the calming sounds of the rainforest whilst spotting the island's own tribes of Macaques and Dusky Leaf Monkeys.
Whilst here you can also experience dining on the water at the resort's own Pahn-Thai restaurant, or enjoy authentic local favourites at the Dayang Cafe. The Berjaya Langkawi Resort also offers a relaxing spa, swimming pool and a variety of island based activities to liven up your holiday.
Muslim-friendly amenities at The Datai Langkawi
Overview of The Datai Langkawi
The Datai Langkawi is a sustainable and luxury hotel located in Langkawi, Malaysia. The hotel has been awarded with a Tripadvisor Certificate of Excellence and is ranked as one of the best hotels in Malaysia.
The Datai Langkawi offers a range of facilities and services to suit your every need. This halal resort houses three restaurants, two pools, a spa, a fitness centre and tennis courts. With the aim of offering culinary experiences from around the world, each restaurant offers spectacular views.
The Datai Langkawi features three main villa categories: The Canopy Collection, The Rainforest Collection, and The Beach Collection. Whilst The Canopy Collection is great for those looking to stay near the hotel's main facilities, the latter two are best for guests seeking privacy and space.
Other Muslim-friendly hotels in Malaysia
Muslim-friendly amenities at Pangkor Laut Resort
Overview of Pangkor Laut Resort
The Pangkor Laut Resort can be found on the private island of Pangkor Laut, promising clear oceans and paradise. It was previously voted 'Number One in the World' by Condé Nast Traveller.
The dining experience at the Pangkor Laut Resort is a celebration of the region's local history and ingredients. From gourmet restaurants to romantic private experiences, you are guaranteed adventure and freshness.
At the Pangkor Laut Resort, you can choose between a suite or villa situated oceanside or amongst the lush gardens of the island. For large families the Garden Villa and Sea Villa have the opportunity for connected rooms. And the Suria and Purnama Suites stand on stilts over the sea and feature private balconies and romantic interiors ideal for halal honeymoons.
13. One&Only Desaru Coast
Muslim-friendly amenities at One&Only Desaru Coast
Overview of One&Only Desaru Coast
The One&Only Desaru Coast is located along the beachfront of the Southern Coast of Malaysia providing wonderful sandy shores and a plethora of water sports and wellbeing activities.
With several options of accommodation, each suite and villa features a private pool. For families, the Villa provides seclusion and privacy with 4 bedrooms, a private pool and a spa room. Whereas for couples, the Rainforest Suites provide private pools and dining areas, and the Ocean Suites offer romantic tropical ocean views.
For dining, enjoy one of the luxurious on-site restaurants headed by professional chefs and delight with a curated poolside mocktail. If travelling with young children, KidsOnly and One Tribe is available during the day giving you the opportunity to visit the spa whilst the children enjoy the island.
There's a reason Malaysia is the most popular Muslim-friendly travel destination. As a Muslim country, Malaysia offers a huge variety of halal amenities. This makes it super easy for Muslim travellers to explore the country's magnificent cities and islands.
Design your halal trip your way
Get in touch to start planning your adventure