Thailand Halal Holidays & Travel
Thailand halal holidays & honeymoons designed for you
From its pristine beaches to its sizzling cuisine, Thailand halal holidays offer travellers an adventure like no other. If you're wondering if Thailand is Muslim-friendly then you should know that the Land of Smiles lends itself to being an easy country for Muslim travellers to explore. Thanks to it's large Muslim population and welcoming locals, all travellers are able to enjoy this wonderful country.
Thailand speaks to Muslims all over the world and therefore makes it a great Muslim-friendly holiday destination to discover. With Islam being the second biggest religion in Thailand, Muslim-friendly services are always near. Halal restaurants are common where you can savour a selection of traditional  Thai dishes. From the famous Pad Thai to Khao Pad, you'll never get bored of having just one flavour.
Muslim honeymoons in Thailand
Halal honeymoons in Thailand provides Muslim couples with the privacy they need. Whether it's private swimming pools or villas that strike your fancy, then we have you covered. A Thailand halal honeymoon package to Bangkok and Phuket will give newlyweds cultural insight and relaxation . With plenty of halal hotels in Thailand, assistance with transfers and privately guided tours, this will be a honeymoon to never forget.
I was planning my honeymoon and contacted Rooh Travel. Walid was very helpful and swiftly arranged a phone call with me. He then emailed me an excellent, informative and incredibly laid out package with full itinerary. It really showed the extent to which Walid was willing to go for his customers. The quotes were also very well priced. I'd recommend Rooh Travel for all - an excellent bespoke service.
Dhia Naouar
14. April, 2022.
Walid was on point and knowledgeable, I used Rooh Travel for my honeymoon to the Maldives and everything from the service to the advice was excellent. A trusted travel partner who will make all your decision making informed and easy. Honest pricing, Walid got us an amazing deal.
Abid Miah
23. March, 2022.
We just got back from a fabulous week long Maldives family holiday thanks to Rooh! We use to book our holidays the usual booking sites, and we were hesitant in using Rooh as they're small and we haven't heard of them before which actually worked in our favour. But after communicating with Walid, we learned that booking with an agency is the way to go. The service from Rooh was outstanding from beginning to end. They listened and provided their expertise to help us make a decision on our holiday and even dealt with our requests before and during the trip. On top of that their prices were the best compared to other quotes. Thank you for all your help and we'll be back for our next family trip.
Ibrahim Tarafdar
26. February, 2022.
Our Maldives honeymoon at Coco Bodu Hithi and service by Rooh couldn't have gone any better! Although we found the travel rules during pandemic confusing, Walid covered everything with us and made the whole experience seamless. The trip went smoothly from flights and transfers. Looking forward in booking our next holiday with Rooh!
We booked with Rooh for our Maldives holiday. Walid was extremely responsive to all our questions around the hotel and covid protocols. Our holiday was incredible and we even got amazing rates booking with them.
Rafi G
25. October, 2021.
Rooh planned the perfect Maldives holiday and advised us on the best options. Our holiday was really private and safe and everything went like how we imagined it!
Hinda Abdullah
21. September, 2021.
Our Maldives trip to Fiyavalhu was spectacular thanks to Rooh, they've managed to fulfil our requests in our budget and couldn't have asked for more.
Rana Rahman
29. July, 2021.
This month we had had the best Maldives trip with Rooh. Walid who planned our trip went above and beyond and took care of all the logistics, we didn't have to worry one bit!
Enjoyed an epic trip to Malaysia last year with Rooh. Loved how the itinerary was personalised to our needs. Thank you!
Why travellers choose Rooh
Need to know about Thailand
Thailand halal hotels & resorts
Our team have traversed through Thailand to bring you the most holiday-worthy halal hotels. Discover our carefully selected list here.
Thailand's Muslim-friendly destinations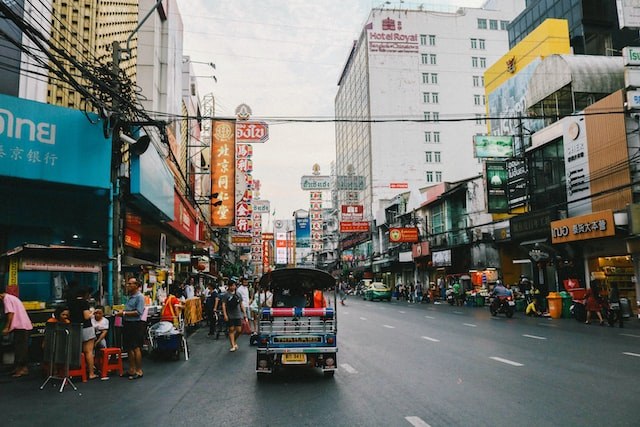 The most visited city in the world, Bangkok, truly offers travellers an abundance of Muslim-friendly experiences for a halal trip in Bangkok. The Reclining Buddha of Wat Pho, the Royal Grand Palace, Chatuchak Market and Wat Arun are usually at the top of travellers' itineraries.
However, our halal tours of Bangkok are designed to help you get a deeper insight into this fascinating megacity.
What we love most about Bangkok is that you can get a wealth of travel experience in just one city. From the luxurious Siam Paragon mall to the local Chatuchak Market, you'll get the best of both worlds. 
As for accommodation, there's plenty of choice for halal hotels in Bangkok to satisfy all Muslim travellers.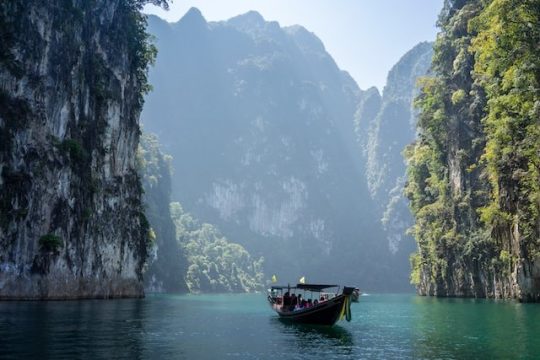 Roughly the same size as Singapore, Phuket is Thailand's largest island and a must-visit destination. Experiencing Phuket halal holidays comes easy as this island is home to a huge Muslim population. 
This incredible island offers easy access to halal food and more than 30 mosques dotted around. On top of that, you can even find a variety of amazing halal hotels in Phuket. From 5-star, beachfront properties to private pool villas in Phuket, there's a hotel to suit all holiday types. 
Phuket offers dozens of beaches with different atmospheres, so choosing the right location is important The Kata and Karon beaches offer travellers vibrant atmospheres, whilst Cape Panwa and Bangtao is a little more laidback .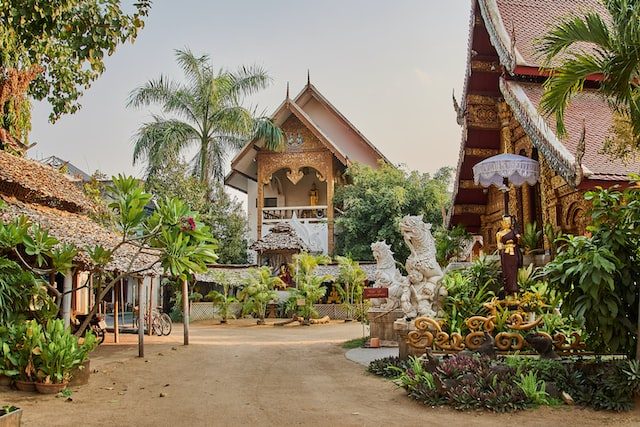 Chiang Mai halal holidays
Chiang Mai marries history and culture with modern day aesthetics and living. You can visit the ruins of Wat Chedi Luan, the immensely popular Doi Suthep, Wat Phra Singh or the incredible Doi Inthanon National Park which is the site of Thailand's tallest mountain.
If you're feeling a bit chic check out Nimmanhaemin Road, the trendy shopping district with malls and affluent restaurants, or stop for a coffee at the cat café 'Catmosphere' (aptly named) and spend some time with some friendly felines.
If it is an escape into nature you're after then head to the Mae Ping River for a boat cruise or relax at the Bat Orchid and Butterfly Farm.
Best times to visit Thailand

The weather in Thailand  is split into 3 different seasons. The hot season which falls between March and May, the cool season which falls between November and February and the rainy season which tends to occur between June and October. 
During the rainy season it is not all gloom and despair as showers are fairly quick to come and pass and only tend to occur in the late afternoon, they also provide travellers with welcome respite from the heat and humidity. The quietest time of year in Thailand is between May and September, when the temperature, humidity and prices all drop.
Design your halal trip your way
Get in touch to start planning your adventure
Related Muslim-friendly travel destinations