Maldives Halal Resorts & Hotels
Explore our hand-picked Maldives halal resorts & hotels
With hundreds of resorts and hotels in the Maldives, it can be hard to choose the right one. Especially when you have the added factor of finding a halal resort. The good news is that the Maldives offers plenty of halal resorts and hotels. Instead of offering a large and random selection of properties, we have hand-picked our favourites.
Our variety of halal resorts in Maldives offer halal restaurants, alcohol-free villas and privacy. These Muslim-friendly resorts will provide you spectacular experiences from honeymoons to multi-generational trips. Whether you're looking for an all inclusive stay, overwater villas, or private beach-front rooms, discover below our list of the best Maldives halal resorts.
I was planning my honeymoon and contacted Rooh Travel. Walid was very helpful and swiftly arranged a phone call with me. He then emailed me an excellent, informative and incredibly laid out package with full itinerary. It really showed the extent to which Walid was willing to go for his customers. The quotes were also very well priced. I'd recommend Rooh Travel for all - an excellent bespoke service.
Dhia Naouar
14. April, 2022.
Walid was on point and knowledgeable, I used Rooh Travel for my honeymoon to the Maldives and everything from the service to the advice was excellent. A trusted travel partner who will make all your decision making informed and easy. Honest pricing, Walid got us an amazing deal.
Abid Miah
23. March, 2022.
We just got back from a fabulous week long Maldives family holiday thanks to Rooh! We use to book our holidays the usual booking sites, and we were hesitant in using Rooh as they're small and we haven't heard of them before which actually worked in our favour. But after communicating with Walid, we learned that booking with an agency is the way to go. The service from Rooh was outstanding from beginning to end. They listened and provided their expertise to help us make a decision on our holiday and even dealt with our requests before and during the trip. On top of that their prices were the best compared to other quotes. Thank you for all your help and we'll be back for our next family trip.
Ibrahim Tarafdar
26. February, 2022.
Our Maldives honeymoon at Coco Bodu Hithi and service by Rooh couldn't have gone any better! Although we found the travel rules during pandemic confusing, Walid covered everything with us and made the whole experience seamless. The trip went smoothly from flights and transfers. Looking forward in booking our next holiday with Rooh!
We booked with Rooh for our Maldives holiday. Walid was extremely responsive to all our questions around the hotel and covid protocols. Our holiday was incredible and we even got amazing rates booking with them.
Rafi G
25. October, 2021.
Rooh planned the perfect Maldives holiday and advised us on the best options. Our holiday was really private and safe and everything went like how we imagined it!
Hinda Abdullah
21. September, 2021.
Our Maldives trip to Fiyavalhu was spectacular thanks to Rooh, they've managed to fulfil our requests in our budget and couldn't have asked for more.
Rana Rahman
29. July, 2021.
This month we had had the best Maldives trip with Rooh. Walid who planned our trip went above and beyond and took care of all the logistics, we didn't have to worry one bit!
Enjoyed an epic trip to Malaysia last year with Rooh. Loved how the itinerary was personalised to our needs. Thank you!
Why travellers choose Rooh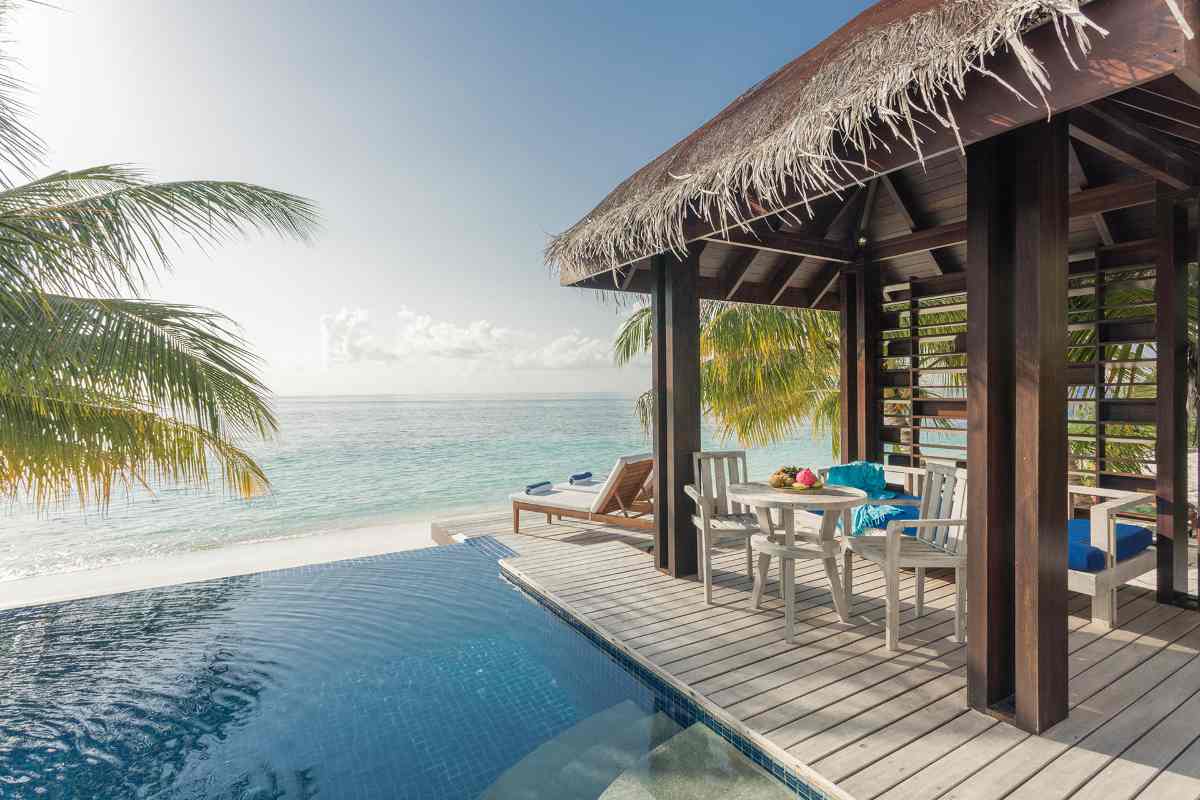 Muslim-friendly amenities at Bandos Maldives
Overview of Bandos Maldives
Accommodation options at Bandos Maldives are plenty. With 225 villas & rooms, you'll be spoilt for choice. The Garden Villas are a great option for those that want to be surrounded by lush, tropical plants. The Superior Beach Villas are designed as a duplex and offer your own private garden with an outdoor jacuzzi.
Muslim-friendly amenities at Fiyavalhu
Overview of Fiyavalhu Maldives
Opening its doors in late 2020, Fiyavalhu is a brand new Maldives resort in the inhabited island Mandhoo. Offering an all-island experience, Fiyavalhu features 6 villa categories. Without overwater villas, the interior of the villas are decorated in warm earthy tones that fit naturally into the tropical environment. 
Fiyavalhu offers a handful of halal restaurants, cafe's and buffet-style dining. Riya Cafe, which is near the pool, swaps alcohol for refreshing coconuts. With a beachfront setting, guests will savour Maldivian and international cuisine at Koveli Restaurant. For those looking for a more private and intimate dining experience, you can opt for the seafood bbq focused Dining Under the Stars.
Kuredu Island Resort & Spa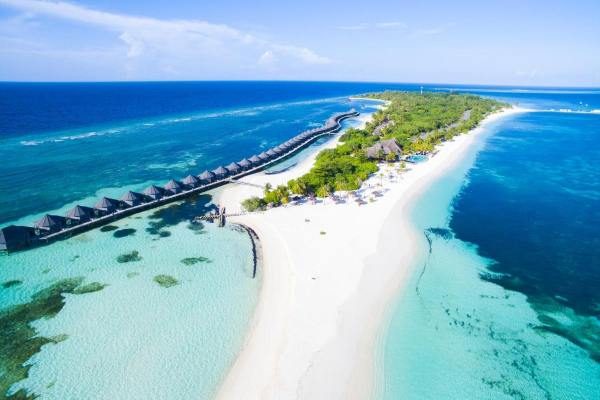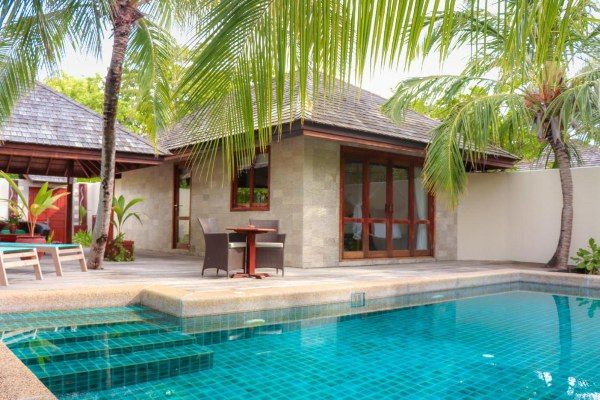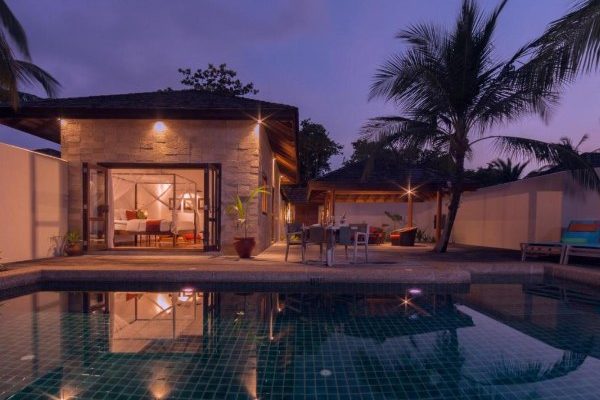 Muslim-friendly amenities at Kuredu
Overview of Kuredu Island Resort
Kuredu Island Resort offers a range of standard and luxury accommodation options suited to all holiday types. Their O Beach Villas provides chic design and an easy access to the beach. Although the Sangu Water Villas are more exposed, these wooden overwater villas are for adults only.
If not anything else, Kuredua Island Resort does food the right way. They offer different restaurants that each specialise in different cuisines. Expereince umami flavours at the on-the-beach Far East Japanese restaurant. If you'd like to cool down, then head over to Island Ice to ake your own ice cream.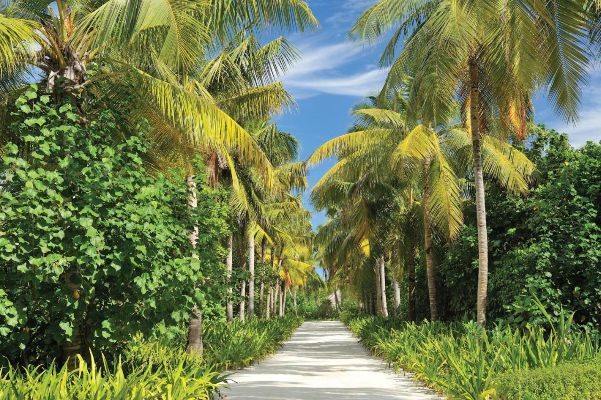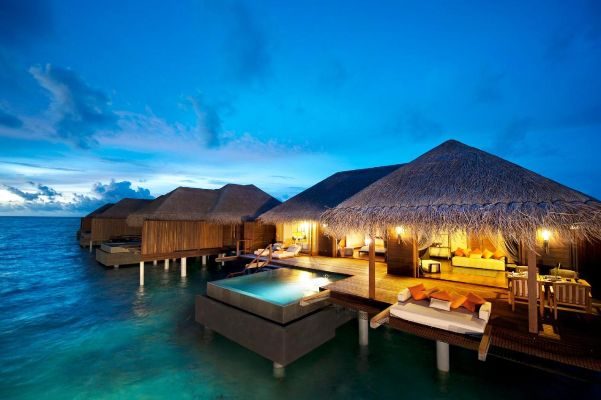 Muslim-friendly amenities at Ayada
Overview of of Ayada Maldives
Ayada Maldives combines traditional Maldivian design with modern lux. With 122 villas & suites, each accommodation features thatched roofs. Muslim couples would love the Beach Suite with Pool as it offers a generous space and seclusion. Lounge peacefully on your outdoor sofas whilst taking repeated dips in your private pool.
Experience an abundance of flavours at Ayada's 8 restaurants and cafes. Taste fine Turkish coffee and speciality teas at The Ottoman Lounge. Sea Salt offers sumptuous bbq on the beach, whilst Magu serves buffet-style dishes ranging from Mexican to Maldivian.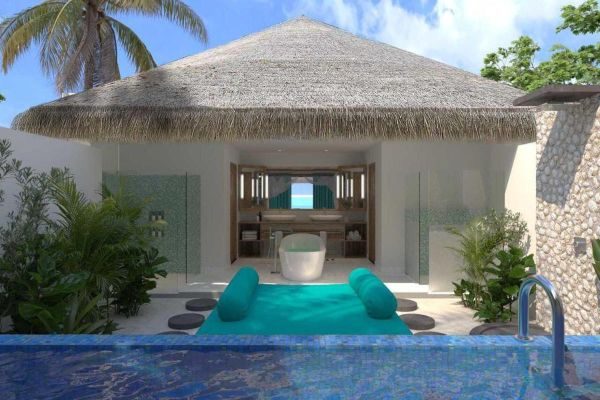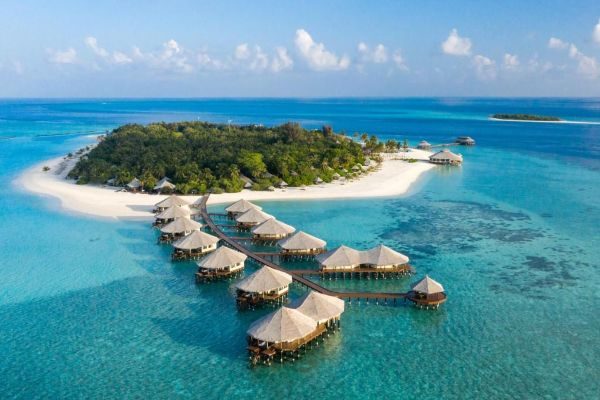 Muslim-friendly amenities at Kihaa
Overview of Kihaa Maldives
Kihaa Maldives is an award-winning halal resort in Baa Atoll, Maldives own UNESCO biosphere reserve. Kihaa's luxurious accommodation is categorised as villas and suites. Muslim travellers in search of their own stretch of beach will love the Beach Suite with Infinity Pool. Along with a spacious, beachfront villa, the property has access to its own slice of beach covered off from the rest of the resort.
Dining at Kihaa resort offers a culinary experience that takes you around the world in style. Malaafaiy is located on the western side of the island and offers impressive views of the ocean. This beachfront restaurant serves European and Pan Asian food along with traditional Maldivian dishes. A teahouse by day and gourmet restaurant at night, Hanifaru Bay Tea is the place to lounge in style.
Muslim-friendly amenities at Sun Siyam Iru Fushi
Overview of Sun Siyam Iru Fushi
Sun Siyam Iru Fushi features awe-inspiring overwater villas with a private sun deck, glass floor and sun set views. For a family Maldives holiday, their thatched beach villas accommodate four people and include a private courtyard. 
An all inclusive stay at Sun Siyam Iru Fushi is a must. As their main restaurant, Iru, hosts themed dinners as well as Maldivian dishes. For those on a couples trip to Maldives, their beach restaurant, Bamboo, offers intimate experiences under the stars with only 34 seats.
Muslim-friendly amenities at Cocoon Maldives
Overview of Cocoon Maldives
As the Maldives' first designer hotel, Cocoon Maldives is popular with honeymooners and families. Cocoon's range of accommodation types are all elegantly designed and fit naturally into their surroundings. Their stylish Family Beach Villa is an ideal choice for families seek total privacy and a quick access to the beach. 
Savour flavours of the world's best chefs at Cocoon Maldives. Their grill restaurant, Palm Square, is located on their idyllic beach where you can enjoy grilled seafood dishes.
Muslim-friendly amenities at Naladhu
Naladhu Private Island is one of the most exclusive luxury resorts in the Maldives. With only 20 rooms in the whole island, you can truly experience seclusion here. Lounge on your private beach cabana whilst taking in the panoramic ocean view in the Ocean House with Pool. 
Naladhu offers one restaurant on the island for breakfast, lunch and dinner, where halal food is served in a beachfront setting. An added bonus at Naladhu, is that you can make use of the services at their nearby sister island resort, Anantara Dhigu.
Muslim-friendly amenities at Ozen
Overview of Ozen Reserve Bolifushi
Formally known as Jumeirah Vittaveli, Ozen Reserve Bolifushi provides the best of Maldives' all inclusive resorts. The resort offers 75 private villas. As a result,  each category offers completely different experiences. Their Ocean Pool Suite with Slide is unmissable.
Ozen Reserve Bolifushi offers a gastronomical adventure through it's four restaurants. With ingredients sourced locally, their passionate teams of experienced chefs create cuisines for every taste. Guests can opt for private dining in a unique location on the island.
Muslim-friendly amenities at Conrad
Overview of Conrang Rangalli
Conrad consists of two islands, where one houses the resort's beach villas and the second houses the overwater villas. The Muraka is a unique water villa with an underwater bedroom. As a result, you'll be able to enjoy unobstructed views. In addition, The Muraka is equipped with private jet skis, your own butler and chef.
If your own private chef isn't enough, then head over to one of Conrad's 12 restaurants. From 10-course Japanese dinners at Koko to fresh Mediterranean dishes at Vilu, there's something for everyone. Atol Market is their buffet restaurant where guests on an all inclusive plan savour eight global cuisines in a beach setting.
Six Senses Laamu Muslim-friendly features
Overview of of Six Senses Laamu
Six Senses Laamu's 97 rooms come in a mixture of either water or beach villas, and are all constructed from sustainable materials. Nestled between thick, tropical trees, the Beach Family Villa with Pool is our favourite, That;s because they're extremely private and come with a private garden, pool and open-air shower.
The resort's sustainability initiatives ensure that each restaurant uses ingredients grown in their organic gardens. With a live cooking station, Zen is the resort's Japanese fusion restaurant that incorporates a modern twist in its dishes.
Lux* South Ari Atoll Resort & Villas
Muslim-friendly amenities at Lux*
Overview of Lux* South Ari Atoll
With two miles of beach to explore, Lux* South Ari Atoll Resort & Villas is one of the biggest islands in the Maldives. The resort houses 193 villas ranging over 8 categories and featuring beach-chic design. Families with kids would love the Family Lagoon Pavillion as it allows direct beach access. So, you can always keep an eye on the little ones. 
Lux* is one of the only resorts in the Maldives that provides both overwater living as well as dining. Dine stylishly on a deck above the water at East Market, which offers Asian street food inspired dishes. The resort consists of 7 other restaurants that serve cuisines ranging from Lebanese to Japanese.
Muslim-friendly amenities at Constance Moofushi
Overview of Contance Moofushi
Located in one of the world's best diving sites, Constance Moofushi is an ideal resort for active individuals. The resort combines luxurious interiors in neutral tones to fit into its natural surroundings. The Water Villas are an ideal option for couple as it offers a secluded and intimate setting.
Simplicity is a common theme throughout Constance Moofushi. As a result, the resort offers an all-inclusive package to all guests at two restaurants. Experience barefoot dining at Manta restaurant, where new cuisines are served each day. Alizée offers the opportunity to enjoy BBQ under palm trees right on the beach.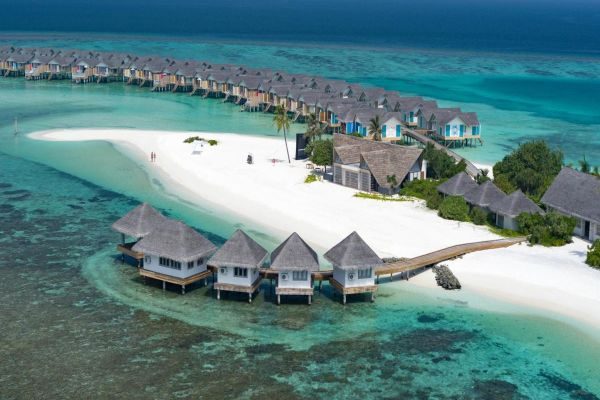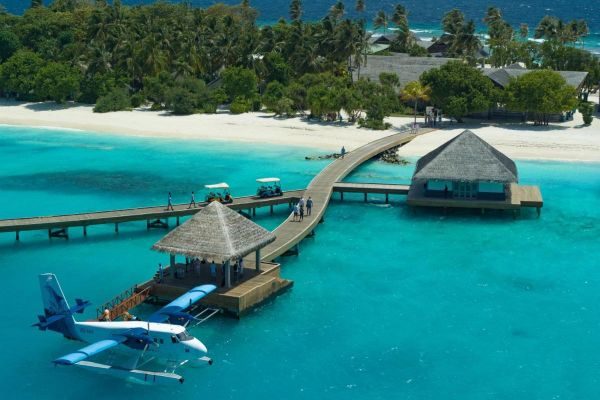 Muslim-friendly amenities at Cora Cora
Overview of Cora Cora Maldives
Cora Cora Maldives is a brand new Maldives halal resort that opened in late 2021. As the first Maldives hotel is an art gallery and museum, Cora Cora offers 100 villas and suites. Each of its villas and suites are expertly designed to fit into its natural surroundings. The resort offers private beach villas and overwater villas with slides.
Cora Cora takes all-inclusive stays to another level with their Premium Gourmet Meal Plan. With 4 restaurants dotted around the island, guests can experience a variety of dishes. With a focus on healthy options, Cora Cora provides homemade vegan ice creams and fresh salads.
Muslim-friendly amenities at Furaveri
Overview of of Furaver Maldives
Furaveri Maldives really brings your tropical dreams to life when you get to choose from 168 private villas. Each villa offers everlasting turquoise hues, blue views and everything in between. The private villas at Furaveri are uniquely and specifically designed to exceed the expectations of every guest.
At Furaveri, you have the option to dine stylishly at different locations each night. The resort offers a variety of dining options that'll satisfy all palates. With unobstructed views of the ocean, Amigos serves up fresh Mexican classics whilst you enjoy the sunset. With several other restaurants at the property, the dining experience at Furaveri will certainly be the highlight of your trip.
To me, the Maldives is one the world's most spectacular destinations. Each time I've visited the country, including for my honeymoon, it's always felt otherworldly. If you're looking for a worry-free holiday to enjoy pristine nature, privacy, and a high-level of service, then the Maldives should be in your bucket list.
Related travel inspiration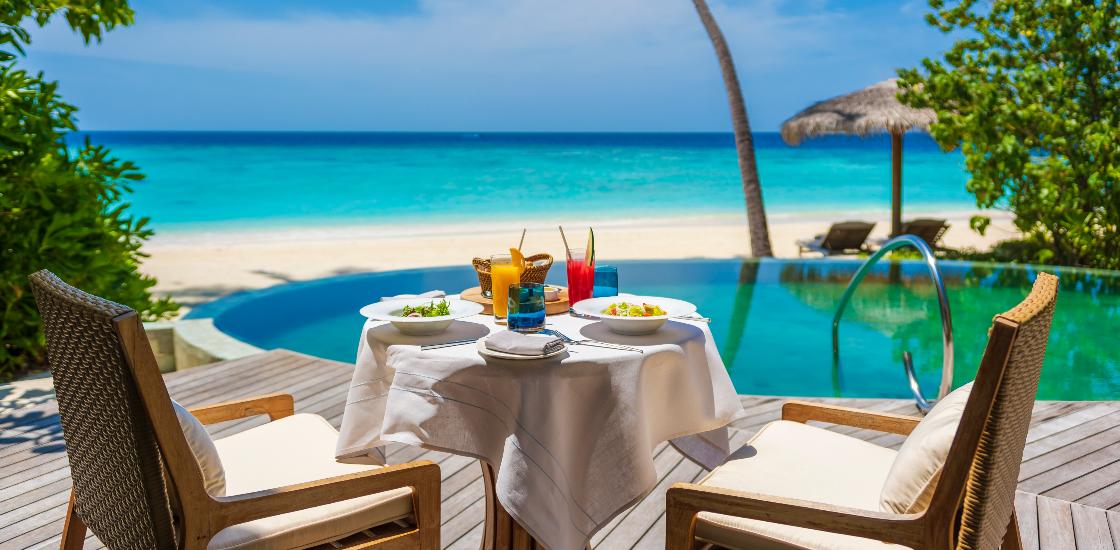 Visiting the Maldives and looking for halal food? Dig in to our guide and discover how easily accessible Maldives halal food is.

Slide into the ocean from your own water villa by staying at one of these 7 amazing Maldives villas with slide.

For travellers looking to avoid booze, discover our top 7 resorts in the Maldives that are completely alcohol-free.
Design your halal trip your way
Get in touch to start planning your adventure