In this detailed guide, we thoroughly cover a wide selection of vetted Thailand hotels with a private pool.
These will range from cheap & budget-friendly options to pricier alternatives.
Having lived in this gorgeous country for years and thanks to my job, I've had the pleasure of staying in a variety of luxury hotels.
During my time in Thailand, I've discovered that, unlike destinations such as the Maldives, private pool villas in Thailand are a lot more affordable. 
This is thanks to the vast size of this nation and plenty of great private pool options available throughout the country.
So, if you're currently in your trip planning phase, rest assured there are many fantastic options that will meet your preferences and needs.
You will find this post insightful if you are unsure of which private pool hotels to choose and which regions to base your trip from.
Let's first look at what private pool hotels are and where to find them in Thailand.
What does a hotel with a private pool mean?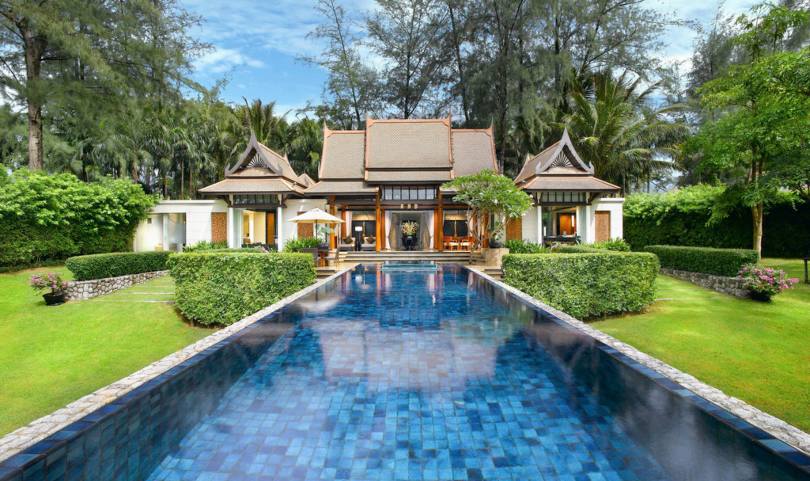 A hotel with a private pool is a hotel which offers at least one room category that features a personal swimming pool intended for the exclusive use of the guests staying in the room.
This allows guests to enjoy dipping in the pool on their vacation knowing they have the luxury of a secluded and enclosed space.
Private pool hotels are ideal for resorts further inland where beaches and natural waters are less accessible. You can also be assured that it is a clean and cared-for area with supervision and longer operational hours.
Some hotels may even have a smaller private pool for children, ensuring a safer swimming experience for younger travellers.
The difference of a private pool hotel and private pool villa
The main difference between a private pool hotel and a private pool villa is that the former features a secluded pool within hotel grounds for guest use whereas the latter may be a standalone accommodation not associated with a hotel.
Such private pool villas are available on accommodation broker sites, however, they may lack amenities, be unreliable or require self-catering.
Some of the confusion surrounding private pool hotels and private pool villas arises when hotel rooms are referred to as private pool villas. And whilst this may be true in some cases, villas are separate buildings with larger areas and more privacy.
Although, it can be possible for ground floor rooms in hotels to have small private pools on the veranda. They just lack the sought-after isolation associated with private pool villas.
Which hotels feature a private pool in Thailand?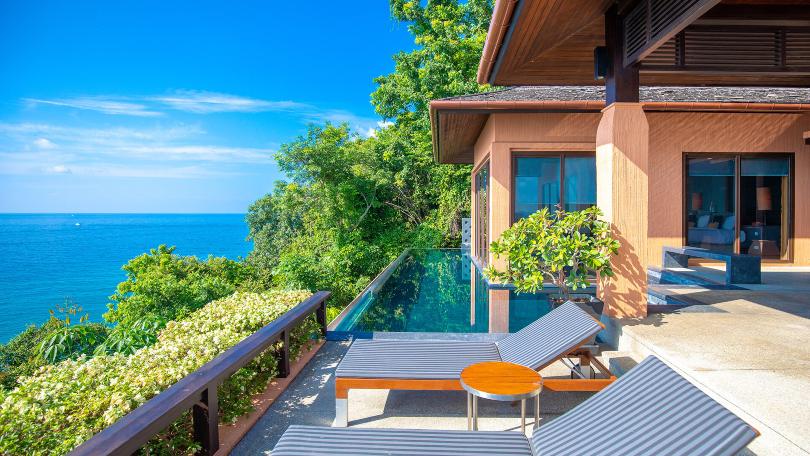 You're spoilt for choice if you're looking for an in-room pool hotel during your Thailand holiday.
Whether it's a family-focused once-in-a-lifetime experience or a romantic getaway for your honeymoon, you will find a suitable private pool in the Land of Smiles.
Some of the best Thailand hotels with a private pool include Sri Panwa in Phuket and Sala Samui Choengmon Beach Resort & Spa in Koh Samui.
Sri Panwa boasts a collection of private and distinctive villas all featuring an infinity pool and stunning sea view.
Sala Samui Choengmon Beach is a luxury resort providing private pools with nearly every villa and suite. That is on top of the 80 metres of pristine beachfront and the two seafront resort pools.
What are the best regions in Thailand for private pool hotels?
Thailand is a vast country, but for hotels with a private pool, southern Thailand is your best option.
The south of Thailand is where you will find most of the popular areas to explore on your holiday. Whether it's Phuket for the Old Town with its rich culture and top resorts such as Sri Panwa and Trisara.
Then there's Krabi for the limestone cliffs and beaches and Koh Samui for the Fisherman's Village and Big Buddha Temple.
The sights and entertainment are sure to make a memorable holiday and the resorts are some of the best available.
Therefore choosing a private pool hotel in this region will give you the best that Thailand has to offer.
Bangkok hotels with a private pool
Capella Bangkok can be found perched on the Chao Phraya River offering stunning views in a luxury setting. As one of the few Bangkok hotels with private pools, Capella Bangkok offers an oasis in the capital's urban centre.
With 101 suites and villas to choose from, each accommodation is iconically designed to offer elegant comfort. For rooms with a private pool, seek out the Verandah Room, Verandah Suite, and the seven Villas. Each boasts an outdoor jacuzzi plunge pool overlooking the river providing a secluded escape for couples and families.
There are four excellent dining options at Capella Bangkok, each stocked with organic herbs and vegetables from the hotel's own greenhouse.
Côte by Mauro Colagreco is a Michelin-starred Riviera-inspired dining experience. Serving French classics hit with a contemporary reinterpretation. Phra Nakhon offers authentic Thai cuisine using the freshest local ingredients and traditional methods for a delectable experience.
For wellness amenities at the resort, Auriga is your spa sanctuary offering rejuvenation and relaxation in luxury.
Amalgamating the techniques of old with contemporary practices ensures an unforgettable nourishing experience for your holiday. You will also have access to top-tier fitness facilities with Muay Thai, Anti-Gravity Yoga, Tai Chi classes and more.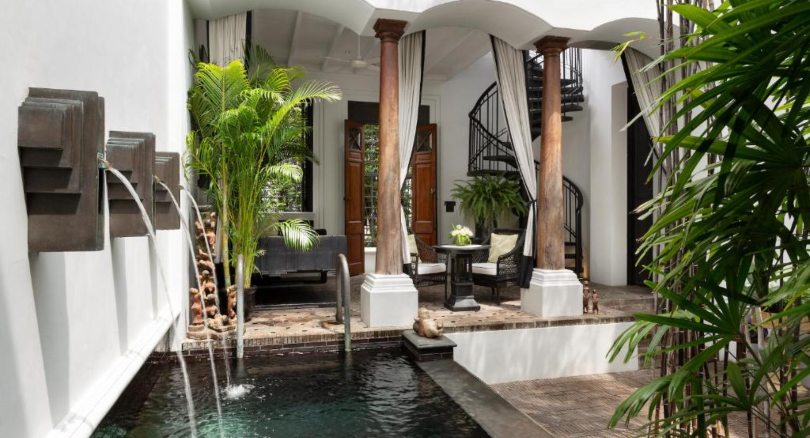 The Siam Hotel is a private luxury resort on 3 acres along the Chao Phraya River. Designed by Bill Bensley to incorporate stylish Art Deco with traditional Thai heritage, The Siam is nestled between Bangkok's iconic sites.
Palaces, temples and museums are all within easy reach from The Siam, providing you with an unforgettable holiday experience.
The Courtyard Pool Villa offers a private pool within a lush garden setting to optimise your ability to unwind and enjoy Thai elegance and secluded intimacy. Your other choice is the Riverside Pool Villa, classified by its stunning river views.
The Siam offers 3 restaurants and 1 bar for guests to enjoy during their stay. Chon Thai Restaurant balances flavours and textures for a delectable dining experience in a beautiful Thai teak wood house.
The Story House serves exciting and fun dishes combining the best techniques and ingredients of the modern world. The Pier offers refreshing mocktails and sunset dining ideal for a romantic evening and Bathers Bar provides poolside light bites.
The hotel's Opium Spa is a sanctuary of well-being and calm with Sodashi therapies and fitness classes. Guests are also given a shuttle boat service between the hotel and central Sathorn pier. Or for something more extravagant, you can choose a sunset cruise along the Chao Phraya River in a Sala Thai-inspired boat.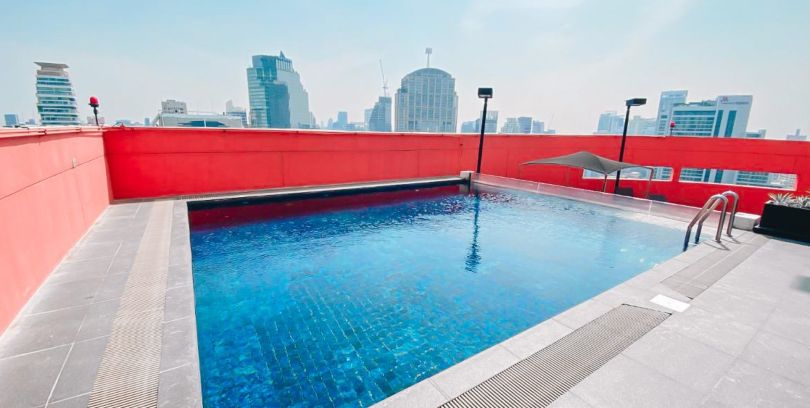 Luxurious living in the heart of Bangkok, Sukhumvit's S31 is a modern hotel with everything you could need. The major transportation systems are conveniently close as the hotel is located between Asoke and Phrom Phong.
There is one stunning option available to enjoy private pool luxury here and that is the Family Residential Suite. Boasting a private saltwater pool on the 90-sqm rooftop and 2 bedrooms, it is the ideal family getaway suite.
Dining at S31 Sukhumvit Hotel is a choice of 3 quality eateries. 100Wine is an intimate and chic rooftop restaurant overlooking Bangkok's cityscapes.
The Uno Café serves snacks and fresh pastries optimal for a light lunch or midday bite. Being at the centre of Bangkok, it is a great stop between daily excursions.
The last option is 'S Café, where a phenomenal breakfast and lunch buffet sets you up for days of activity.
Senses Spa is your opportunity for pampering, with treatments available at the spa, in your room or outdoors. The fitness centre includes a gym, boxing ring and swimming in the hotel's pool.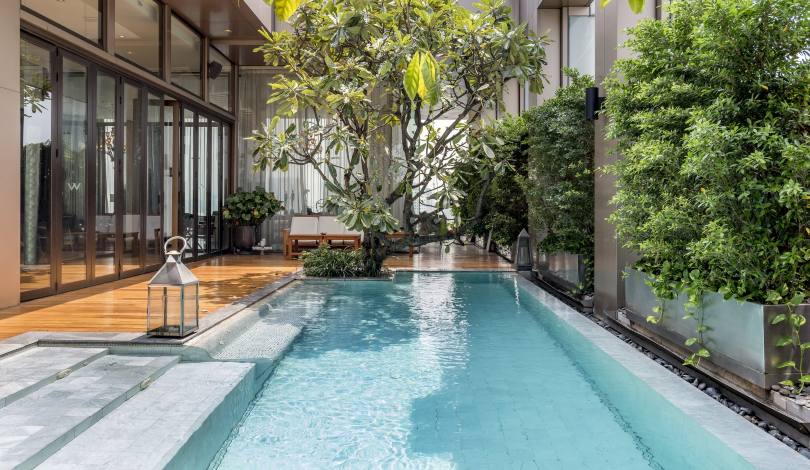 Located in the busy Pathum Wan neighbourhood, Vie Hotel Bangkok is a wonderfully elegant option for a private pool stay in the city.
Designed by renowned French architect J + H Boiffils, the modern touches provide overwhelming refinery and comfort.
To experience a private pool stay at Vie Hotel Bangkok, you will need to choose the VIE Penthouse Suite 1. Providing a private swimming pool, sun deck and terrace overlooking Bangkok's skyline as well as spacious living and dining areas. You will have access to a kitchen as well as a separate Jacuzzi bathtub and rain shower.
Dining here offers a range of experiences, from Michelin Star floral gastronomy delicacies at Signature Bangkok to sushi at YTSB. The Master Sushi Chef serves the finest cuts of the highest quality to ensure absolute satisfaction.
The hotel's VIE Spa by ORGANIKA is a boutique spa combining tradition with new for an unimaginable spa experience. Aromatherapy is prioritised to ensure every sense is invigorated and your body rejuvenated.
There is also the hotel's rooftop infinity pool connected to the gym where several classes for guests are held.
Phuket hotels with a private pool
Sri Panwa is an award-winning luxury resort spanning 40 acres atop Cape Panwa in southern Phuket. The tropical surroundings are ideal for enjoying maximum privacy, lush greenery and panoramic views of the Andaman Sea. The southeastern location also gives easy reach to some of Phuket's most beautiful islands. 
If you're in search of a private infinity pool in Phuket then Sri Panwa should be your ideal choice. every accommodation boasts an infinity pool with a jet stream Jacuzzi system.
The Pool Suites are nestled in the heart of the resort, allowing easy access to the main amenities. And the Penthouse takes this a step further with unparalleled sunset views, highlighting tropical island romance.
Sri Panwa offers 8 unique restaurants and bars offering fine cuisine in the island setting. Most well-known is Baba Nest, a rooftop bar with sunset views and Mexican tapas. However, Baba Soul Food is also notable for serving home-cooked Thai food with fresh ingredients. That isn't to mention the eateries offering Japanese and Italian cuisines.
As well as the private pools, the Sri Panwa Beach Pool and private beach are available for all guests. There is ample opportunity to experience water activities such as scuba-diving, kayaking and snorkelling.
For heightened tranquillity, Cool Spa Phuket offers amazing views with unmissable holistic treatments and yoga on an outdoor floating deck.
Banyan Tree Phuket is a natural paradise nestled around a picturesque lagoon in Phuket's upscale Bangtao Beach. The location makes it ideal both for a secluded holiday or a Phuket exploration vacation.
This resort is known for its pool villa experiences, with no villa lacking its own private pool. They even offer DoublePool Villas with either 1, 2 or 3 bedrooms to truly provide indulgent luxury. Not only do you have exclusive access to 2 private pools, but also a private steam room and full kitchen.
There are 5 restaurants at Banyan Tree Phuket, each offering something different and delicious. Saffron is your signature authentic Thai restaurant, serving up traditional flavours with an innovative twist.
The Watercourt provides either sumptuous breakfasts or local seafood specials paired with stunning views of the lagoon. Banyan Café allows for a casual lunch stop of Thai and Western light bites, sitting overlooking the Laguna Golf Course.
The luxury spa offers a wide range of treatments using natural and native ingredients to indulge your senses. Whilst here you should also take the chance to discover Thalang, the community surrounding the resort. Guests can also explore the island's natural life, kayak around the lagoon or bike through the greenery.
7. The Village Coconut Island Resort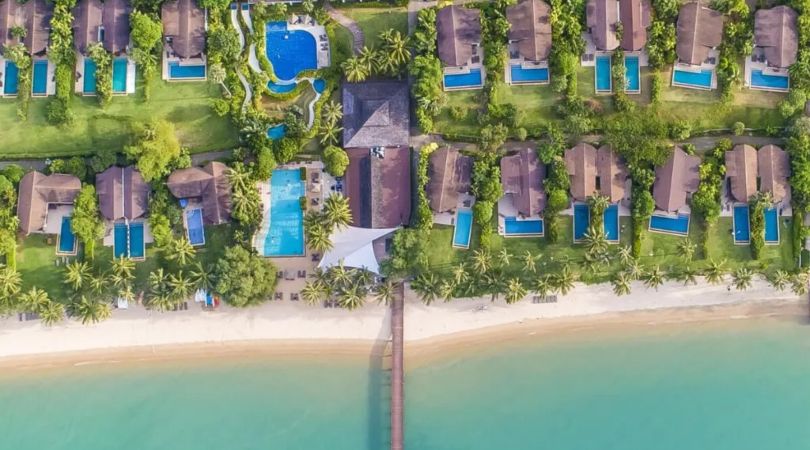 The Village Coconut Island is situated a few minutes from mainland Phuket on a small paradise-like island. Discovered hundreds of years ago by shipwrecked explorers, the island has a rich history that is reflected in the hotel.
Mystery and adventure underlie each element of the resort, catering to all travellers desiring privacy and opulence.
There are Sea View and Garden View Pool Villas on the property with outdoor, private terraces to indulge in. From my experience, these are one of the most affordable 1 bedroom villas with a pool in Phuket.
For an extra level of extravagance, the Grand Beach Front and Grand Sea View Villas also have private infinity pools. However, these contain 2 to 5 rooms and are situated just 500 metres from the beach for easy access.
The Village Coconut Island has 4 dining opportunities to choose from. KOKO pairs Japanese and Asian fusion dishes with a creative beverage menu inspired by the folktales of the island. KABANG Restaurant & Bar is the beachfront restaurant ready to meet you for buffets and themed nights.
There are several spa services available in the Kahtor Spa, centring Hydrotherapy Pool and traditional Thai treatment experiences. The onsite fitness centre and tennis courts offer opportunities for exercise, however, the mountain biking and water slides offer excitement.
Perched atop one of Phuket's highest points, The Pavilions Phuket is a tropical paradise of sandy beaches and blue waters. Bangtao Beach is nearby and accessible by a complimentary resort shuttle.
The Spa & Pool Pavilion Villa is the epitome of luxury with a private pool, steam room, sala and terrace. Accessible by The Pavilions Phuket's cable railway, it is a haven of solitude ideal for couples. It also boasts the most stunning sunrise views.
You can also choose a different villa, such as the Ocean View or Tropical Pool Villas. The beach views make it a prime option for an unforgettable holiday.
The Pavilions Phuket offers several unmissable onsite diners that ensure genuine gastronomy experiences. Alto Italian Restaurant is a glamorously modern award-winning Italian restaurant serving authentic and beautiful flavours from across Italy.
Firefly Pool & Restaurants' open show kitchen provides spectacle dining surrounded by tropical gardens. You can find both Mediterranean BBQ and authentic Thai specialities on the menu making it a great lunch choice.
The resort's signature spa treatments optimise the tranquillity of island living to revitalise your well-being. The inclusion of a lap pool, yoga pavilion and luxury treatment rooms guarantee you will emerge feeling your very best.
Nestled in a secluded cove in northwest Phuket, Trisara sits on the shores of the Andaman Sea. Taking inspiration from Thailand's cultural heritage, the 34 acres of property are elegant and rejuvenating.
All of Trisara's villas and suites provide a private pool for you to enjoy luxury privacy in paradise. The Ocean View Pool Villa overlooks the hills leading to views of the sea, ideal for a family getaway.
For couples, the Ocean View Pool Junior Suite offers privacy and panoramic ocean views for a truly romantic stay. The poolside terrace and sun loungers ensure that every moment in the suite can be spent relaxing.
Trisara offers a refreshing mix of casual and refined dining experiences. PRU is the farm-to-table meticulously crafted meals, highlighting the efforts and flavours of the local community.
The Deck offers comforting dishes and atmosphere paired with scenic oceanfront dining. For something more exciting, you can also choose to have an in-villa BBQ, especially prepared by a personal chef.
Wellness at Trisara is taken very seriously, with JARA Spa offering healing treatments in rooms overlooking the sea. You also have access to the resort's stretch of beach, infinity pool, Muay Thai boxing ring, tennis courts and gym.
10. Anantara Layan Phuket Resort
Anantara Layan is an award-winning luxury resort situated on the pristine Layan Beach. The lush hillsides overlooking powdery white beaches and clear waters guarantee a refreshing resort stay for any traveller.
There are 46 pool villas and 15 pool residences on the property, each expertly designed to promote bliss and luxury. The Deluxe Pool Villas plunge pools, outdoor bathtub and sundeck provide you with your own sanctuary of relaxation.
For increased luxury, the Beach Access Pool Villa allows you direct beach access alongside your own enclosed garden and pool. Of course, options with more bedrooms are available, making it a suitable option for a family holiday or group trip.
Dining at Anantara Layan is an experience not to be missed out on. From light bites and fresh juices at Breeze, to professionally grilled culinary celebrations at Age, there is something for everyone.
Starting your day here could look like a morning yoga or qigong session or an invigorating spa treatment. The fitness facilities are top-rate and prioritise your wants and needs. Also available are Thai Language Classes, teaching you everything you need to know for exploring Thailand.
Koh Samui hotels with a private pool
11. SALA Samui Choengmon Beach Resort & Spa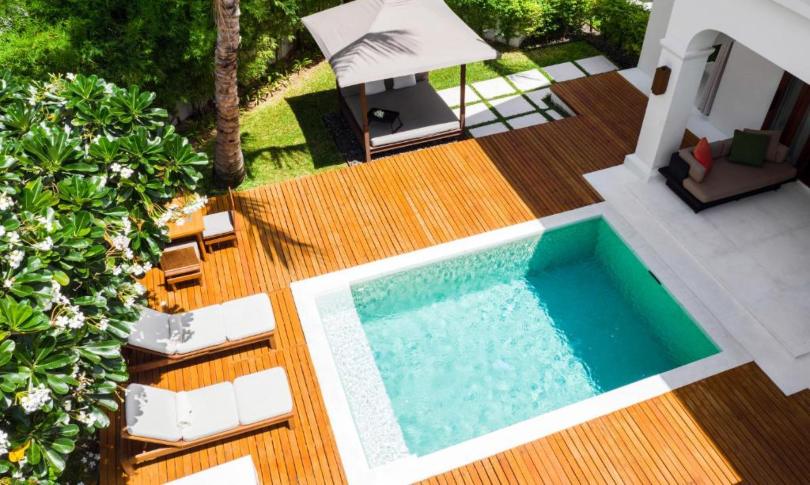 SALA Samui is a luxury 5-star resort nestled on the shores of Koh Samui's Choengmon Beach. Being just 15 minutes from the airport makes it an ideal location for jumping straight into your Thailand beach holiday. Staying here will provide you with easy access to over 80 metres of pristine beach and local shopping highlights.
Almost every villa and suite here features a private pool, making it a prime choice for a secluded experience. The SALA Signature Villa pairs an open-air bathroom with a 30 sqm private swimming pool for ultimate luxury. Housing up to 6 adults and 2 children within its lush garden setting, boasting solitude for the whole family.
For a more intimate experience, the Garden Pool Villa is one of SALA Samui's best villas. Air-conditioned and supplying a stunning outdoor lounge patio next to the private pool makes it romantic and unforgettable.
You have several choices for dining at this resort with SALA Samui Restaurant at the forefront. Providing an extensive breakfast buffet as well as international and Thai à la carte lunches and dinners for all guests.
The SALA Spa offers a serene respite from the stresses of travelling, with individual and couples treatments available. Use the opportunity to unwind between taking advantage of the resort's activities, by kayaking, paddle-boarding or learning authentic Thai cuisine.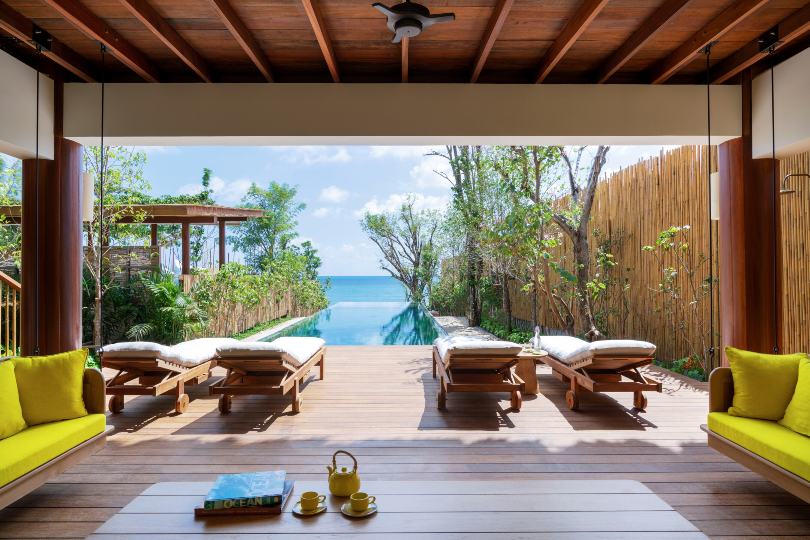 Six Senses Samui is arguably one of the most exclusive hotels in Koh Samui. Some would even say they offer the most lavish beach villas in Thailand.
With captivating greenery and waters, the property is tucked away so guests can appreciate their luxury stay in privacy.
Their 67 private pool villas are either oceanfront or nestled away. Each is surrounded by natural vegetation that highlights that feeling of tropical escape. The Thai fishing village inspiration adds a unique spin to the villa styling, matching natural colours with stunning wood grain.
Six Sense Samui offers 4 diverse onsite restaurants to try during your stay. Dining on the Rocks is the award-winning innovative al fresco experience.
The locally sourced organic ingredients emphasise the depth of flavours and true nutritional goodness of island produce.
As the name suggests, Six Senses Samui's Spa operates with 6 treatment villas. Saunas and steam rooms operate alongside a fitness centre offering yoga and more.
There is a lot to experience whilst staying here, including watersports, cooking classes, temple clean ups and more. You will leave with unforgettable memories no matter what you choose.
13. SALA Samui Chaweng Beach Resort & Spa
On the white sands of the popular Chaweng Beach stands SALA Samui Chaweng Beach Resort a serene resort in a vibrant location.
The choices of pool suites and villas at this resort are the epitome of luxury. From a simple Garden Pool Villa with a spacious sundeck to a Garden Two Bedroom Family & Friends Grand Villa.
The garden and pool area offer luxurious relaxation opportunities and the spacious living room is excellent for spending time together.
There is one main restaurant at SALA Samui Chaweng Beach, and that is The Tent Beachfront Restaurant and Bar. Serving the freshest selections of seafood, traditional Thai delicacies and Western specialities, there is something for everyone to enjoy.
You also get the choice of an intimate indoor dining space or outdoor dining deck for a personalised experience.
For fun adventures within the resort, kayaking and paddle boarding are available for all guests. Also available are Thai cooking classes, yoga classes, and the SALA Seeker Coconut Tour providing an exploration of the community. For ultimate relaxation, SALA Spa Chaweng is a haven of tranquillity providing a range of blissful treatments.
14. Banyan Tree Koh Samui
Overlooking the tropical waters of a private bay in Lamai, Banyan Tree Koh Samui is a luxury resort retreat. Just 19 km from Samui International Airport, the cascading hills of the bay are the ideal spot for escaping reality.
All of the villas here feature private pools and stunning views. Available in sizes fit for 3 to 6 people, it is great for couples and families.
You can choose between views of the oceans or gardens, truly signifying island charm. The Partial Ocean View Pool Villa gives you the best of both. With lush greenery and azure waters both visible from your personal terrace, surrounding you in the feeling of Thailand.
Banyan Tree Koh Samui offers a diverse range of culinary options to complement your stay. Saffron is your signature authentic Thai dinner restaurant, with flavours based on tradition with modern influences.
For a beach BBQ experience, Sands is your lunch/dinner hotspot serving the freshest grilled ingredients. The Edge is your breakfast and lunch staple, with an international breakfast and global á la carte lunch. The use of seasonal ingredients ensures the freshest flavours possible.
Banyan Tree's award-winning treatments are available for your body's rejuvenation in the hideaway spa. The Rainforest hydrotherapy experience is a must-try to heal and soothe your mind and soul.
During your stay, you can also give back to the community with nature walks, snorkelling classes and alms-giving ceremonies. There is also the Banyan Tree Gallery with items for maintaining those unforgettable moments.
15. Silavadee Pool Spa Resort
Silavadee is built on the cliff of Laem Nan Beach, an exclusive and stunning stretch of sand on Koh Samui. Nestled in its own space yet still just a short drive from the vibrant city life, it's a wonderful option.
The infinity-edge pool villas and suites are designed to make you feel at ease and ready to relax. The Tropical Pool Villa is an oasis of lush foliage, tucked into the greenery to ensure absolute privacy.
The Ocean Front Pool Villa offers this but with a romantic ocean view instead. Waking up to the sound of the ocean allows you to revel in island life without concerns about privacy.
There's even a spacious terrazzo bathtub with picturesque views of the ocean to settle in at the end of the day.
Indulgence at Silavadee is second nature with 4 exclusive restaurants onsite for you to experience. The Height is the place for your signature southern Thai culinary journey, with locally sourced ingredients and the freshest herbs. Its cliff-top location provides memorable sites of the hotel's lush coastline.
Sun is the place to go for superfood smoothies, homemade baked goods and panoramic views. Moon on the other hand is the all-day international cuisine playground, with buffet breakfasts, casual lunches and elaborate dinners.
For activities and amenities here, Silavadee Spa offers refreshing treatments, with yoga and Muay Thai available to train the body. Thai cooking classes allow you to recreate your trip when you return home and watersports are available every day.
Krabi hotels with a private pool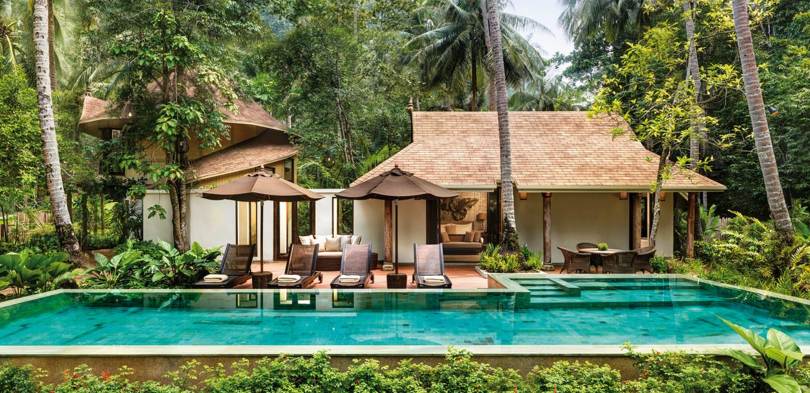 Rayavadee is one of the most luxurious private pool hotels in Krabi. Only accessible by boat, Rayavadee is in the heart of Phranang Peninsula on the border of Krabi Marine National Park. Built around the surrounding wildlife, it blends into its unique environment guaranteeing a feeling of tropical bliss.
You can choose between a stunning Pool Pavilion or Villa when looking for a private pool accommodation at Rayavadee. The Pool Pavilion is a stunning 2-floor living space in a lush garden with poolside sun loungers.
The luxury feeling of your own private space is made all the better by the unique pavilion design. One of your choices of villa is The Rayavadee Villa with a free-form private pool, unmatched beach views and amenities. Not only do you have a private sauna and kitchenette, but also dedicated butler services.
For eating throughout your stay, there are 4 dining venues serving a range of cuisines. Raya Dining is your open-air breakfast buffet serving international, Asian and sweet breakfast choices in an elegant yet informal atmosphere. Krua Phranang is the ultimate dinner-by-the-sea location, ideal for a romantic evening.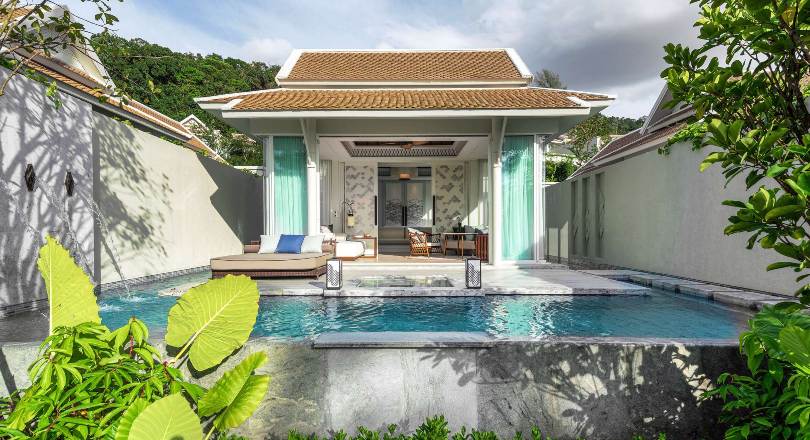 An idyllic oasis of blue sea and white sands, Banyan Tree Krabi is a remote sanctuary for escaping normal life.
All 72 of the resort's suites and villas come with a private pool and luxurious tropical rainforest setting. The Deluxe Garden Pool Suite keeps things simple and elegant with a private garden surrounding your private pool.
If you'd like the villa experience instead, the Beachfront Pool Villa features a wrap-around pool and living/dining area. Directly built in front of Tubkaek Beach, the sea view prompts romance and intimacy befitting a honeymoon.
At Banyan Tree Krabi, The Naga Kitchen serves rustic international cuisine all day. Inspired by the local legend of the Naga, it is a signature of this resort. Unique to this resort, Bird's Nest is a treetop dining experience serving incredible Thai fusion food with panoramic sea views. Then Kredkaew Bar offers beachside Mediterranean cuisine by day and refreshing sunset drinks by night, it's one not to miss.
Boasting Krabi's first hydrotherapy spa as well as Banyan Tree's The Rainforest spa treatment, the onsite spa blesses the soul. Staying here gives you the chance to visit the local community of Ban Koh Klang and try out local life. Batik painting, fabric dyeing and exploring mangrove forests are all a possibility.
18. Avani Ao Nang Cliff Krabi Resort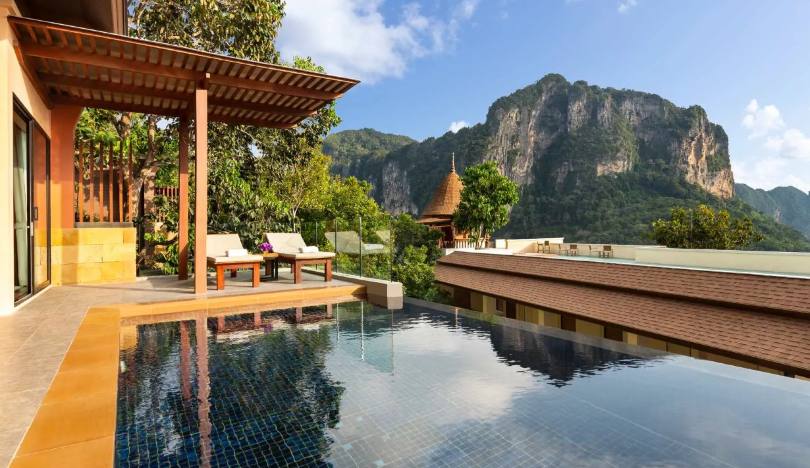 Avani Ao Nang Cliff Krabi Resort is nestled away on the cliffside and surrounded by green rainforests. Wandering to the local shops and restaurants of Ao Nang whilst heading to the beach is the way to go.
The Avani Pool Villa can host 2 guests in a stylish and intimate isolated setting. Your private deck leads to your private pool, where you can spend your day soaking up the sun.
The picturesque sea views visible from your living area highlight the luxury feeling of a beachside resort. By choosing this accommodation you also receive a choice for a complimentary 20-minute Thai massage.
Dining at this resort comes with 4 stylish eateries serving a range of cuisines. To start your day, visit Pano Café, with its international breakfast providing you with the energy to tackle the day.
For light bites, snacks and treats, The Peak Bar and Orchid Pool Bar help give you a boost throughout the day. Finally, The Cliff is their elevated Thai restaurant serving refreshing smoothies, tasty grills and signature beverages.
For activities whilst staying here, the AvaniSpa is a prime opportunity to take a moment for yourself and relax. The fitness suite has everything you need for keeping fit between excursions and even the opportunity to learn Muay Thai.
Which Thailand private pool hotel will you choose?
I hope that this in-depth post has made it easier for you to choose your ideal hotel and region in Thailand for your trip.
Although in Thailand you'll be spoilt for choice when it comes to hotels with private pool options, it's the location that can make or break your trip.
Unless you're planning to not leave your villa for the duration of your trip, where the hotel is located is important for a convenient trip.
Feel free to reach out to us if you need any further advice on finding your ideal private pool in Thailand.
Disclaimer: As an affiliate, we may earn from qualifying purchases at no extra cost to you. This helps us to continue running our blog. See our Disclaimer policy for more details.