Today we'll be taking a look at the top Turkey private pool hotels.
With the help of our travellers as well as expert knowledge, we've put together a list of the best hotels in Turkey with private pools.
From secluded mountain villas to luxurious beachside resorts, there are plenty of options for hotels with private pools in Turkey.
This list is based on the following two factors:
– Hotels & resorts that our clients loved and rate highly
– Hotels & resorts that I've personally stayed in and rate highly.
If you're planning a holiday or honeymoon to Turkey, discover your ideal private pool hotel here. So, before you book, delve into our list of the best hotels in Turkey with private pools.
Which hotels in Turkey have private pools?
There are a handful of hotels and villas in Turkey with private pools. Some of these include Mandarin Oriental Bodrum and Rixos Premium Tekirova.
Additionally, there's a longer list of hotels and resorts that feature swim-up rooms. These are rooms and suites that have direct access to the swimming pool.
However, in this article, we'll only be exploring private pool hotels in Turkey.
The following list of luxurious properties offer guests the chance to relax in the privacy of their own swimming pool, surrounded by stunning views of the Turkish landscape.
From seaside towns to mountain villages, there's a perfect private pool hotel waiting for you in Turkey!
1. Rixos Premium Göcek (Adults-only)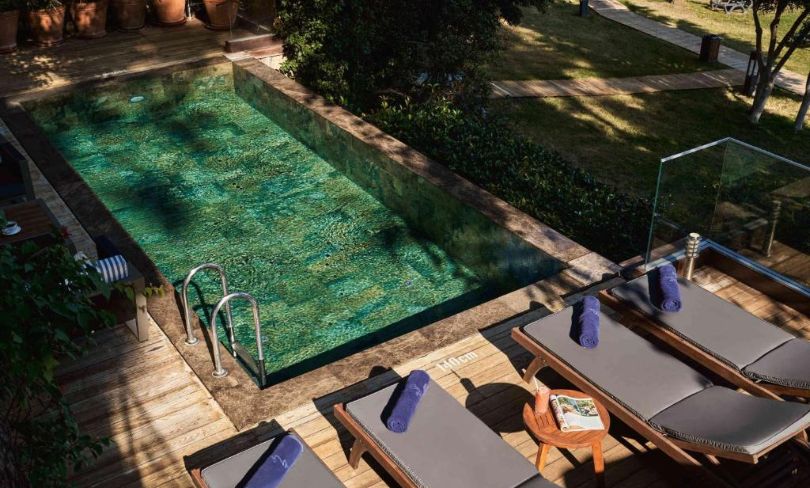 Rixos Premium Göcek is the perfect place to escape for a relaxing holiday with its stunning location at the heart of Göcek's famous nature reserve.
With two marinas surrounding it, you can enjoy aquatic activities at the resort or take advantage of sunny days on land as well!
Although the resort is for adults only, Rixos Premium Göcek is ideal for an all-inclusive holiday with a private pool. You'll be blown away by the resort's all-inclusive amenities. There are four restaurants to dine in, offering a range of dishes and vibes. Whether it's casual dining or a romantic dinner under the stars, you'll be spoilt for choice.
Rixos Premium Gocek features 5 suite categories and 4 villa categories. The private pools are only available in the villa categories.
Villa Privé is a detached two-storey villa that offers a generous 210 SQM of living space. Shaded by pine trees, the villa is equipped with a private pool and sun loungers on your own private deck.
2. Six Senses Kaplankaya, Bodrum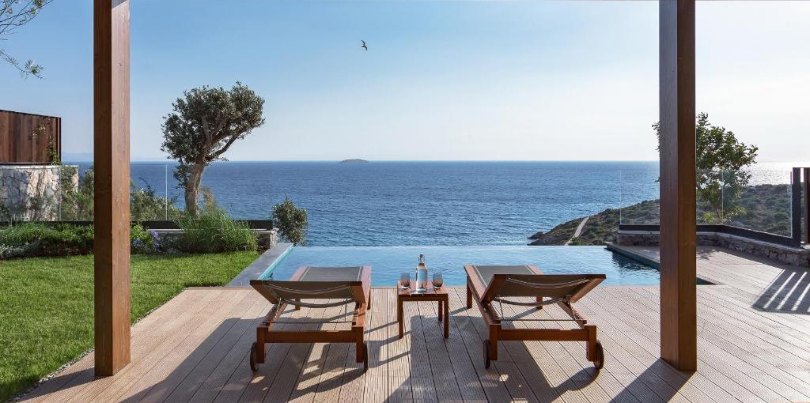 Six Sense Kaplankaya is a luxurious, 5* hotel located in Turkey's Muğla Province and offers guests an unforgettable experience. The hotel features spacious and exquisite rooms, a private beach, pier, and a heated pool with stunning views of the Aegean Sea.
Guests can also enjoy delicious organic meals at the on-site restaurant, relax in the spa, or take a stroll through the beautiful gardens.
Six Senses Kaplankaya has 141 guest rooms and residences, designed to complement the landscape, whilst using natural materials for elegant simplicity.
Some of them include personal balcony views or an optional private pool & terrace on their roof top – what more could you want?
The Ridge Terrace with Pool Sea View room offers dramatic views of the Aegean Sea. It's complemented by a 12 SQM private pool and set on top of a hill away from Six Senses' main building.
3. Mandarin Oriental Bodrum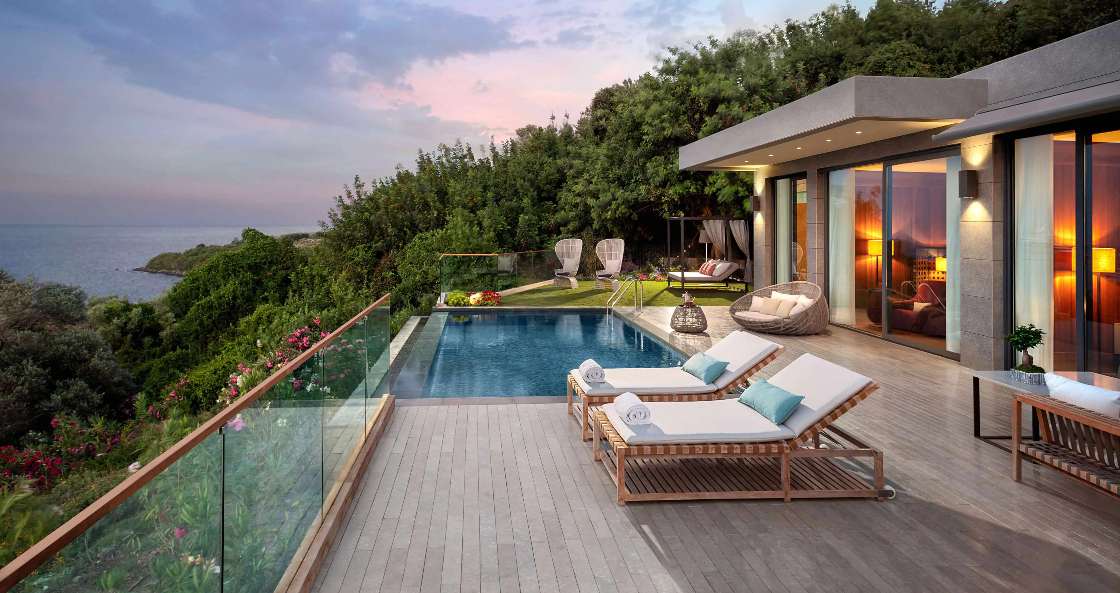 The 5-star Mandarin Oriental Bodrum is located in the idyllic Paradise Bay, 45 minutes drive from Bodrum airport.
Equipped with two private beaches, Mandarin Oriental Bodrum offers cabanas along the beach for privacy whilst you lounge. Additionally, using the traditions of the Orient, the resort's spa offers a range of wellness therapies.
Experience an excellent selection of gourmet fusion restaurants from Japanese to Mediterranean. On top of that, you snack on light bites at the pool restaurant and beach club whilst enjoying a refreshing dip at one of the four swimming pools.
Guests can choose to stay in one of 137 rooms, suites and villas that elegantly blend luxurious design with comfort.
The most affordable room with a private pool at Mandarin Oriental Bodrum is the Mandarin Junior Suite. Covering an area of 94 SQM, the open-plan suite features one bedroom with an outdoor plunge pool.
The private terrace houses an outdoor shower whilst offering sea or garden views.
4. Rixos Premium Tekirova
The perfect resort for family holidays in Turkey, Rixos Premium Tekirova is beachfront property within driving distance from Antalya airport.
This 5-star resort is fully equipped with facilities and services for a fantastic family holiday.
Facilities such as a water park, lazy river, bowling alley, and a cinema will definitely keep kids happy and busy.
For adults, Rixos Premium Tekirova offers an adventure park that offer zip lining and wall climbing. Additionally, guests can make use of the yoga studio, sports courts, fitness center and multiple pools.
Savour world class dishes at one of Rixos Premium Tekirova's 11 restaurants. From traditional Turkish cuisine to Italian classics, there are a range of cuisines available to guests.
With sea or garden views, the rooms, suites and villas at Rixos PRemium Tekirova offer elegant and modern furnishings. Each room is also equipped with a private balcony.
Although the resort offers there are several swim-up rooms, there's only one with a private pool. The Superior Villa offers families or groups luxurious accommodation with a large private terrace and pool for special moments.
The two-storey, 4 bedroom villa features a full kitchen, 300 SQM of space, and a living room.
5. Le Méridien Bodrum Beach Resort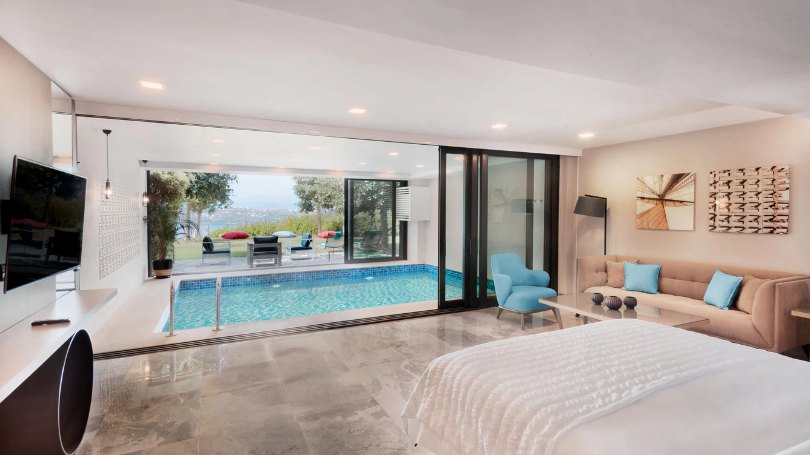 Le Méridien Bodrum Beach Resort is set along 83 acres of private beach and offers panoramic views of the Aegean sea.
The resort is a short 15-minute drive from Bodrum International Airport, which makes it a great option for a luxury hotel in Turkey with private pools.
Le Méridien Bodrum uses earth tones and chic design whilst combining it with modern and high-end furniture within its accommodation.
Unlike other resorts that charge a premium for sea view rooms, Le Méridien Bodrum's rooms and villas all offer incredible views of the sea.
Another unique aspect of this resort is that, when looking for villas in Turkey with a private pool, they offer two types: villas with a private indoor pool or an outdoor pool.
The Indoor Grand Pool Suite offers unobstructed sea views in a residential-style setting with a spacious garden area for lounging.
Ideal for a multi-generational Turkey holiday is the four bedroom Pool Villa that offers two king and two single bedrooms. Other features include a living and dining space, kitchen, and an outdoor private pool and garden.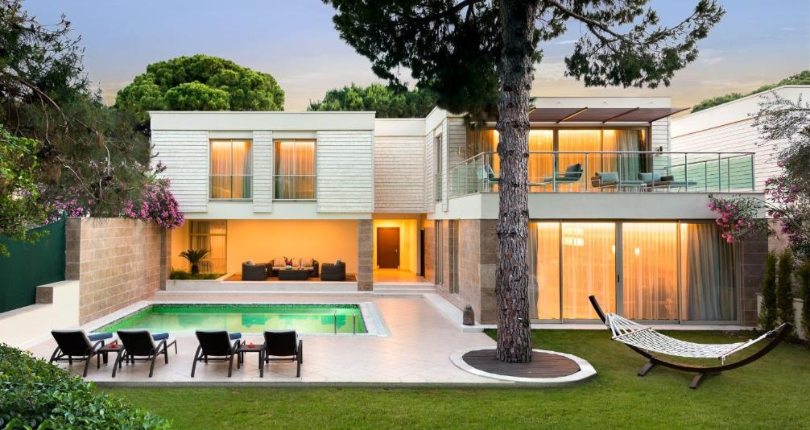 For those researching Turkey private pool hotels, you'll notice that you'll repeatedly come across the Rixos hotel brand. That's because, apart from being a Turkish inspired hotel chain, Rixos offers some of the best hotels in Turkey with private pool rooms.
Located in the Antalya region, along the Mediterranean coast, Rixos Premium Belek is a 5-star, luxury resort. The property offers a long list of facilities and services, which will ensure guests are never bored.
There are two extremely large pools surrounded by sunbeds and two kids' pools. During the winter months, the pools are heated.
Other facilities and activities on offer are so long, it can be its own blog post. You can discover more here.
Going back to our topic of interest, this Antalya private pool hotel does not disappoint. Rixos Premium Belek offers one particular villa type with a private swimming pool, Villa Prive.
Villa Prive is a 264 SQM villa that is equipped with all the amenities you'd expect in a modern home. Add on top of that a secluded garden area with your own pool, and you'll have the perfect luxury Turkey holiday.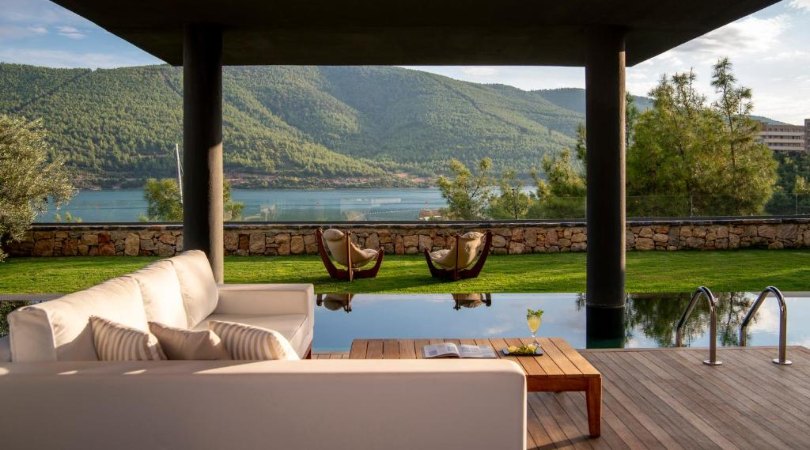 Lujo Hotel is an ultra-luxury property that offers all-inclusive private pool villas in Turkey. Situated on Bodrum's Guvercinlik coastline, the Lujo has its own kilometre stretch of white sand beach.
Lujo takes the all-inclusive concept to the next level by offering 24-hour A La Carté options instead of the typical buffet. All meals are prepared by their expert chefs in one of their 9 restaurants.
From infinity pools, private beaches, beach clubs and an aquapark, Lujo's facilities are plentiful. For those looking to stay active, the hotel offers morning and afternoon yoga sessions, a pilates studio, a fitness centre and a crossfit gym.
The hotel places focus on small details to ensure guests have an extraordinary stay. Small touches such as menus for mattresses and pillows and designer branded toiletries is what makes Lujo different.
The Jr. Citrus Villa is the ideal all-inclusive villa for families looking to enjoy their own space during their Turkey holiday. This private, two-bedroom villa features a fireplace, underfloor heating, and a private heated pool during the cooler months.
Which private pool hotel in Turkey is right for you?
We hope that this blog post has helped you in choosing the right private pool hotel in Turkey. We appreciate that it can seem overwhelming to choose perfect hotel or resort for your holiday.
So, if you need help planning your Turkey holiday or need any advice, then contact us.
Disclaimer: As an affiliate, we may earn from qualifying purchases at no extra cost to you. This helps us to continue running our blog. See our Disclaimer policy for more details.