Honeymoons are a celebration of life, love and the future ahead of two people in love.
For many Muslim couples, this means they will need to find a halal honeymoon destination that serves their faith-based needs.
But finding the right destination that you both love can be difficult.
With so many luxurious and romantic options to choose from, it can be hard to decide where to go for your honeymoon.
From Indonesia and Dubai to Maldives and Malaysia, there are plenty of Muslim-friendly options to choose from!
This article will explore the top 6 best halal honeymoon destinations for Muslim newlyweds.
What is a halal honeymoon?
A halal honeymoon is more than just a vacation. It's an opportunity to explore the world with your significant other, while staying true to your faith.
It is a time to relax and celebrate after the wedding ceremony has concluded.
As oppose to regular honeymoons, a Muslim-friendly honeymoon is one which follows Islamic principles. This means that everything is considered, from halal food, an alcohol-free environment, access to prayer facilities and more.
In addition, Muslim couples can enjoy special activities and experiences together that are specifically tailored for halal travellers.
As a result, halal honeymoons ideally take place in environments where Muslim travellers feel safe.
6 halal honeymoon destinations for Muslim couples
Depending on your travel preferences, there are several trip types that might be ideal for your post-wedding holiday. Whether you're into beach holidays or wildlife experiences, we'll explore a range of holidays for Muslim couples. 
Discover below our Muslim honeymoon ideas, including the best halal honeymoon destinations.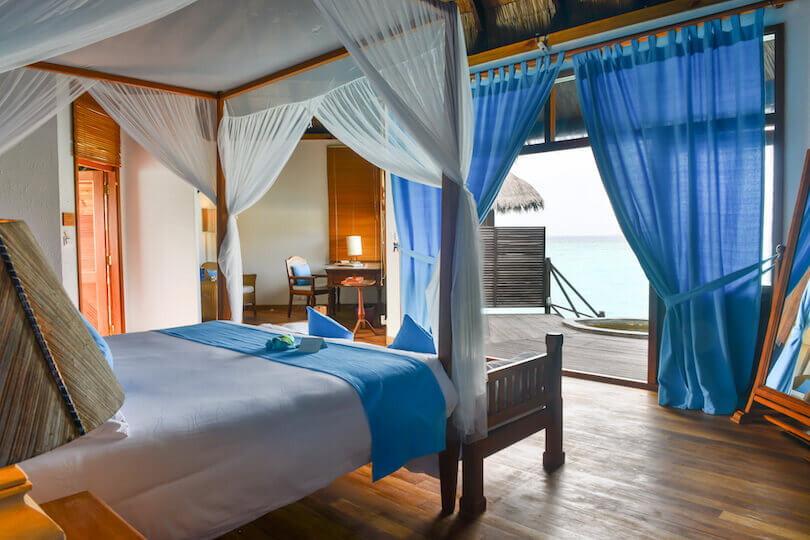 When most people think of a halal honeymoon, the Maldives is often one of the first destinations that comes to mind.
This beautiful archipelago consists of around 1,200 tropical islands, making it the perfect place for couples who want to escape from the hustle and bustle of everyday life.
The islands are famous for their white sand beaches, coconut palms, turquoise waters, and rich marine life. In my opinion, this makes Maldives the ideal honeymoon destination.
On top of that, the Maldives is a Muslim country and so experiencing a halal honeymoon there is easy.
As the Maldives is home to some of the world's most luxurious resorts, many of which offer complete halal certification. There are numerous Muslim-friendly resorts in the Maldives that offer different kinds of accommodation, including beach villas with private pools and over-water villas.
Some of the resorts in the Maldives even have a no-alcohol policy.
From swimming with dolphins and diving in crystal-clear waters to relaxing on white-sand beaches and enjoying delicious local cuisine, there is no shortage of things to do in the Maldives.
When planning a honeymoon in the Maldives, you might want to consider taking some time to explore some of its other natural wonders.
Activities to enjoy with your spouse include romantic sunset cruises, parasailing or snorkelling along the reef.
Maldives halal honeymoon package
Our spectacular Maldives Halal Honeymoon package takes place in the luxurious Siyam World Maldives. Spend your romantic holiday in the resort's Water Pool Villa with Slide, which features its own private pool with incredible ocean views.
As an all-inclusive honeymoon, the package includes all your meals, honeymoon villa decoration, a private, candle-lit dinner, and more!
Join hundreds of halal travellers that receive exclusive holiday deals, only shared with our subscribers.
Turkey is another great destination for Muslim couples looking for a halal honeymoon.
The country is home to many beautiful mosques and offers a wide variety of activities and attractions to enjoy together.
The majority of Turkey's population is Muslim thanks to the Ottoman Empire which ruled vast swathes of Europe, Africa, and Asia from 1299 to 1922.
Naturally then, most hotels are geared towards Muslim travellers who want to spend their honeymoon in accordance with their faith.
Halal resorts in Turkey are ideal for Muslim honeymooners as they offer privacy, no-alcohol policy and women-only beaches.
One of the most popular destinations in Turkey is Istanbul, which is home to some of the world's most famous historical landmarks.
Couples can take a romantic cruise on the Bosphorus River or visit Hagia Sophia and the Blue Mosque.
Other popular regions in Turkey include Cappadocia, Antalya, and Pamukkale. These locations are full of ancient ruins and offer plenty of opportunity for sightseeing and exploration.
If you're looking for some adventure during your Turkey halal honeymoon, you can go trekking in the mountains or white water rafting on the river Dalyan.
Turkey halal honeymoon package
Our Turkey halal honeymoon package will take you on a romantic and private tour through Istanbul, Cappadocia, and Antalya. Stay at private and luxurious hotels in each location on an all-inclusive basis.
In Istanbul, you'll visit the popular and historic highlights such as its grand mosques and palaces. Your time in Cappadocia will take you on an exhilarating hot air balloon ride that offers awe-inspiring views of the landscape. Finish off your intimate Turkey trip with a beachfront stay at one of Antalya's opulent resorts.
The price for this 7-day Turkey honeymoon package starts at £1,300 per person, excluding flights.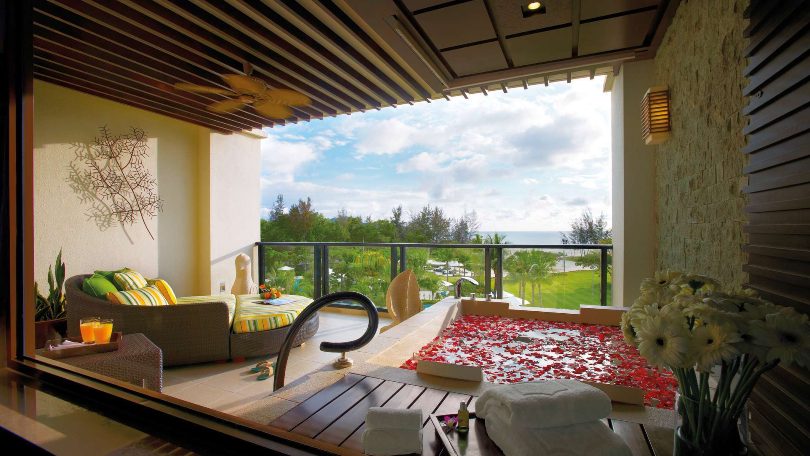 As one of the most popular Muslim-friendly holiday destinations, Malaysia is an incredible country to visit on a honeymoon.
Couples flock to its tropical beaches and lush jungles to enjoy a once-in-a-lifetime romantic getaway.
While Malaysia is home to a wealth of diverse attractions, there are some places that are particularly well-suited for a halal honeymoon.
The country offers plenty of halal restaurants and hotels for Muslim visitors. Travellers can enjoy delicious Malay cuisine that includes delicate curries, fresh seafood and crispy roti for breakfast.
Apart from the delicious food, you can explore rainforests, go on a river cruise, and visit ancient temples.
Kuala Lumpur, the capital of Malaysia, is a vibrant metropolis with a rich cultural heritage. It's home to beautiful mosques, traditional markets, and delicious halal cuisine.
Although it's worth experiencing the hustle and bustle of Kuala Lumpur for a day or two on your Malaysia halal honeymoon. I would recommend spending the rest of your trip on the island of Langkawi.
Langkawi is an archipelago of islands located in the Andaman Sea. The islands are known for their white-sand beaches, crystal-clear waters, and lush jungles. 
Malaysia halal honeymoon package
Ideal for couples that love nature, Shangri-La Rasa Ria is nestled on the edge of a 64-acre forest reserve. Located in East Malaysia's laid-back, coastal city of Kota Kinabalu, the hotel offers over 60 land and water based activities.
Muslim couples can unwind at the resort's spa with private treatment facilities or dine in one of the six restaurants on offer.
Spend time exploring Kota Kinabalu and visit the beautiful overwater mosque, City Mosque. End your day at the Night Market and savour local dishes from a variety of street food stalls.
The price for this 7-day Malaysia honeymoon package starts at £650 per person, excluding international flights.
Thinking of staying somewhere different? Discover our range of Muslim-friendly hotels in Malaysia.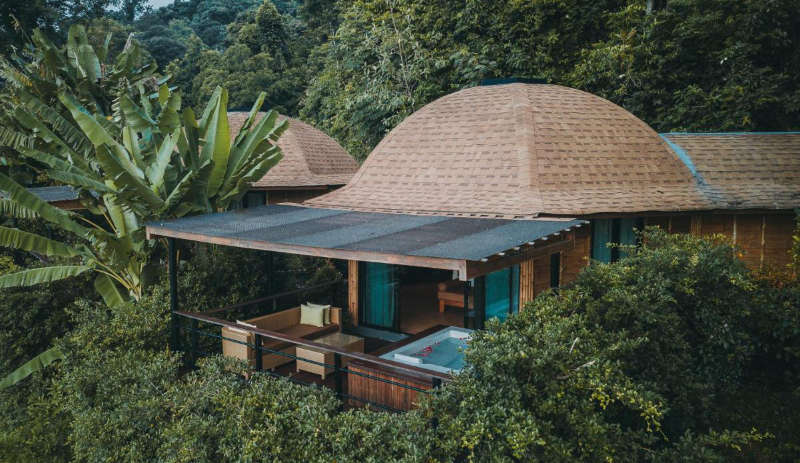 For adventurous couples, a Thailand halal honeymoon is for you.
Thailand is one of the most popular tourist destinations in the world, with Bangkok receiving over 25 million tourists in 2019.
And it's no wonder why.
This Southeast Asian country is home to stunning beaches, lush jungles, delicious food, and friendly people.
But what you might not know is that Thailand also offers a wealth of Muslim-friendly travel options, making it the perfect destination for Muslim couples on their honeymoon.
You can visit the beautiful beaches of Phuket and Krabi or go on safari in Khao Yai National Park. To experience Thailand's history and culture, explore the ancient ruins of Ayutthaya or take a traditional cooking class in Bangkok.
Thailand is also known for some of the best food in the world, with dishes such as Pad Thai, Khao Pad Ghai or Panang.
As for hotels, you can stay in affordable, luxurious accommodations that are out of this world!
For example, Aonang Fiore is an amazing halal resort in Krabi that serves halal food in an alcohol-free environment. For honeymooners, I would recommend the private Jacuzzi Villas which feature a private wooden deck and your own jacuzzi tub.
Thailand halal honeymoon package
Enjoy an exceptional honeymoon in the southern part of Thailand combining two amazing beach destinations, Phuket and Koh Yao Yai.
This honeymoon package includes accommodation in the exceptional Santhiya Koh Yao Yai Resort with an amazing sea view from your Supreme Deluxe Room.
From snorkelling with tropical marine life in Koh Phi Phi to bathing elephants in an ethical sanctuary, this Thailand package includes some of the main highlights and activities that must be done in Phuket especially for honeymooners.
The price for this 7-day Thailand honeymoon package starts at £1,050 per person, excluding international flights.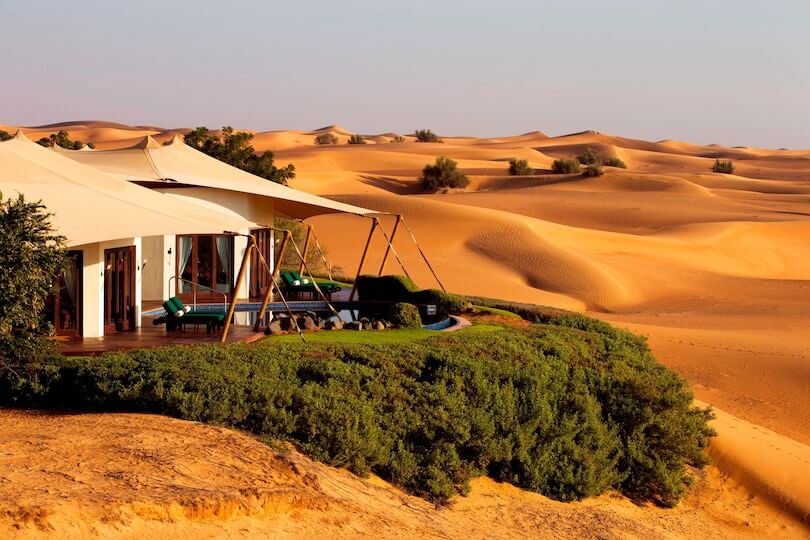 Dubai is one of the very few places in the world that offers a wide variety of travel experiences. This makes it one of the most ideal honeymoon destinations, regardless of your travel preferences.
For instance you can ride camels, explore ancient souks, lounge at the beach, or dine in a Michelin-star restaurant. Additionally, its mix of traditional and modern culture is sure to fascinate and delight you.
Muslim-friendly honeymoons in Dubai just feels so natural. As the UAE is a Muslim country, you don't have to worry about halal amenities.
This Middle Eastern city is home to some of the most luxurious resorts and hotels in the world. Some resorts even have private beaches that are alcohol-free and offer women-only swimming pools.
If you're looking for a romantic hotel in Dubai, Al Maha Desert Resort & Spa is for you. Located in the Desert Conservation Reserve, Al Maha has been designed to resemble a traditional Arabic fort . It is home to a range of wildlife including the Arabian Oryx, gazelles, and leopards.
Dubai halal honeymoon package
Experience the epitome of luxury at Jumeirah Zabeel Saray, located on a private, golden strip of beach at Palm Jumeirah Island.
Inspired by the Ottoman Empire's luxurious palaces, Jumeirah Zabeel Saray offers a range of rooms and suites designed to evoke the feel of this historical era. The hotel also features one of the world's largest spas at the Ottoman Spa.
The location is a great base to enjoy your Dubai halal honeymoon as it provides easy access to the city's best restaurants and cafés.  Additionally, you can make use of the hotel's complimentary access to Wild Wadi Waterpark for a fun-filled day out.
The price for this 7-day Dubai halal honeymoon starts at £900 per person, excluding international flights.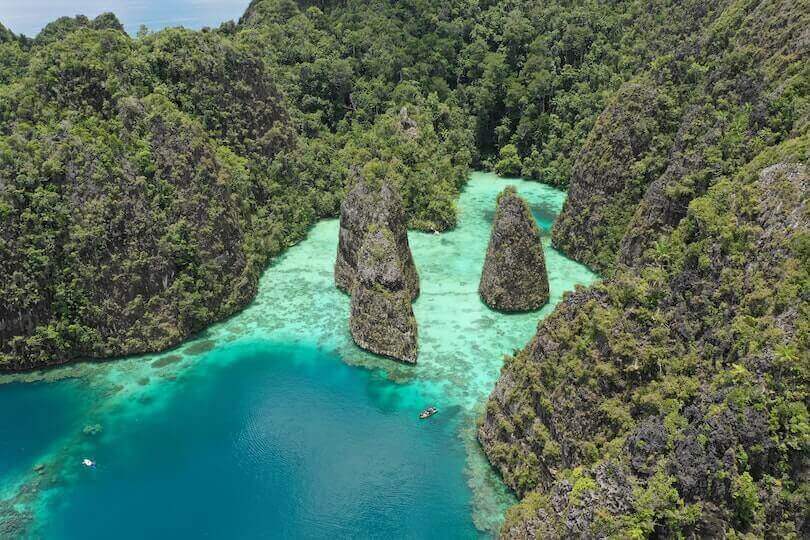 As the largest country in Southeast Asia, Indonesia is home to over 17,000 islands. The country has a rich culture and diverse landscape, which makes it a popular destination for honeymooners.
Most of Indonesia is Muslim, so the country has ample amenities for halal holidays. This means that you never have to worry about searching for halal restaurants or mosques.
The country features beautiful islands where you can relax and enjoy your time together.
Although some are more developed than others.
This Southeast Asian country is home to some of the most beautiful and secluded beaches in the world, as well as lush rainforests and towering volcanoes.
The most popular Muslim honeymoon destinations in Indonesia include Bali, Lombok, and the Gili islands. Here's a short breakdown of each:
Bali
The most famous of them all, Bali is a Hindu island and is probably the most developed Indonesian island for tourism. The sights are stunning – there's lush green rice paddies, shimmering beaches and misty mountains. However, finding Muslim-friendly services may be a stretch here.
Lombok
Also known as The Island of a Thousand Mosques, Lombok is like the less developed and Muslim version of Bali. This island has something for everyone, from pink-sand beaches to volcanoes. Muslim travellers will feel right at home here.
Gili Islands
 The Gili Islands are three tiny islands located off the coast of Lombok. Gili Meno, Gili Air and Gili Trwangan are incredible pristine islands that can rival the Maldives.
Bali halal honeymoon package
Experience the best of Indonesia on this Bali honeymoon tour, ideal for couples looking to explore the island and its culture. Begin the trip in Ubud and be surrounded by lush green hills and rice terraces. Cycle through a UNESCO World Heritage site and marvel at the vast expanses of terraced, green rice paddies stepped alongside an entire mountain, from its peak to where it meets the sea.
From trekking Mount Baru, Bali's active volcano, to snorkelling in the paradisiacal island of Gili Trawangan, this incredible tour covers unique and memorable travel experiences.
The price for this 7-day Bali honeymoon package starts at £1,200 per person, excluding international flights.
Where will your honeymoon be?
If you're looking for a Muslim-friendly destination for a honeymoon, take some time to consider the benefits of each location. Especially think about how they might fit your needs as well as preferences.
The first step is getting started with this list of six great places that offer an authentic experience while still adhering to Islamic principles.
Whether you choose one or two from our list or go in search of something new, we hope these suggestions help make your decision easier!
Need help in planning your special honeymoon? Contact our team of Halal Travel Designers who'll be able to put together a memorable halal honeymoon designed around your preferences.