For most travellers heading to Maldives, alcohol is usually factored into the decision-making process. It may even play a major factor.
Most tourists want to spend their Maldives trip relaxing by the beach or pool with a glass of their favourite booze.
However, there is a group of us that would like to avoid alcohol during our vacation (and day to day life). Reasons may range from religious commitments, such as Islam, saving money, or those who simply enjoy the sober lifestyle.
Note that most resorts in the Maldives serve alcohol, as you will see in the section below.
The good news is that there are several Maldives island hotels that are completely alcohol-free.
These properties are sometimes referred to as dry hotels.
In this post, you will discover our top 5 Maldives resorts and hotels where you can enjoy an alcohol-free holiday!
Rules on alcohol in the Maldives
The laws on alcohol in the Maldives can seem complicated to travellers but I will try to simplify it as much as possible here.
As Maldives is a Muslim country, alcohol is prohibited for the locals. This also includes locations such as the capital city, Malé, and other inhabited islands.
That means alcohol will not be found anywhere and is not sold in supermarkets, grocery stores, etc. The ban also applies to travellers importing it from abroad. This is illegal and strictly forbidden. 
There is one exception to the rule here, and that is tourist island resorts.
As one of Maldives' main income sources is tourism, the government has allowed alcohol to be sold and consumed in the resorts by tourists.
Consequently, as you can imagine, most Maldives resorts offer alcohol with a steep markup. 
However, for those on an all-inclusive package, alcohol is automatically included during your stay.
How to visit a Maldives alcohol-free resort
As I mentioned above, alcohol such as liquors, beers, spirits, etc are easily found in most resorts in the Maldives.
Although, for a lot of travellers who would like to avoid it during their holiday, there are measures that can be taken prior to travel.
For example, you can request the hotel to remove the mini-bar from your room. Additionally, you can also spend your time on the island away from the pool and beach bars.
I have done this myself previously during my stay at a resort in the Maldives and it worked just fine.
Even some Maldives halal resorts will usually serve alcohol at their restaurants and bars. But the good thing about the Muslim-friendly resorts is that they assist in removing it from your room. 
If you would rather not be in the same vicinity as alcohol during your time in the Maldives, then your best bet is to stay at an alcohol-free resort.
Alcohol-free resorts generally are rare in the Maldives as they all have one thing in common – they are all located on an inhabited island.
As most resorts typically operate on their own island bubble, alcohol-free resorts are subject to the alcohol ban that applies to inhabited islands.
Discover 5 alcohol-free resorts in the Maldives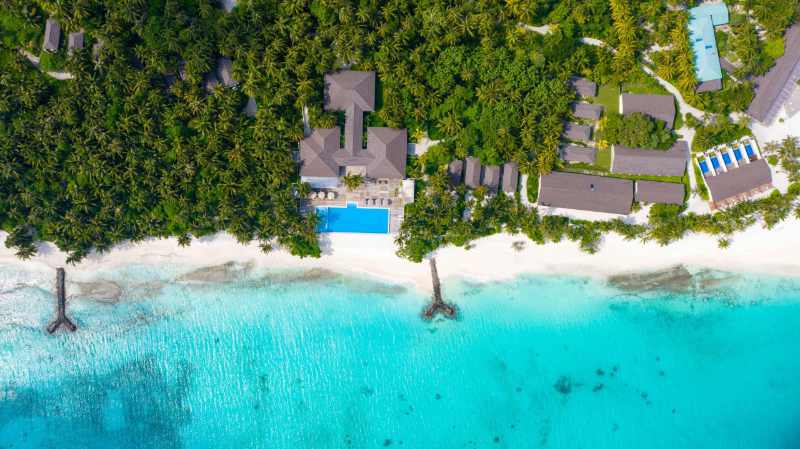 Fiyavalhu Maldives is a brand new resort in the Maldives opened in October 2020. Located on Mandhoo island, Fiyavalhu is designed to blend into its surroundings. The resort is reached by a 25-minute seaplane journey from Villa International Airport.
Fiyavalhu offers 44 private villas spanning 6 different categories and all are decorated with warm, earthy tones and are equipped with the latest amenities. Fiyavalhu offers a handful of halal restaurants, cafe's and buffet-style dining, all without alcohol.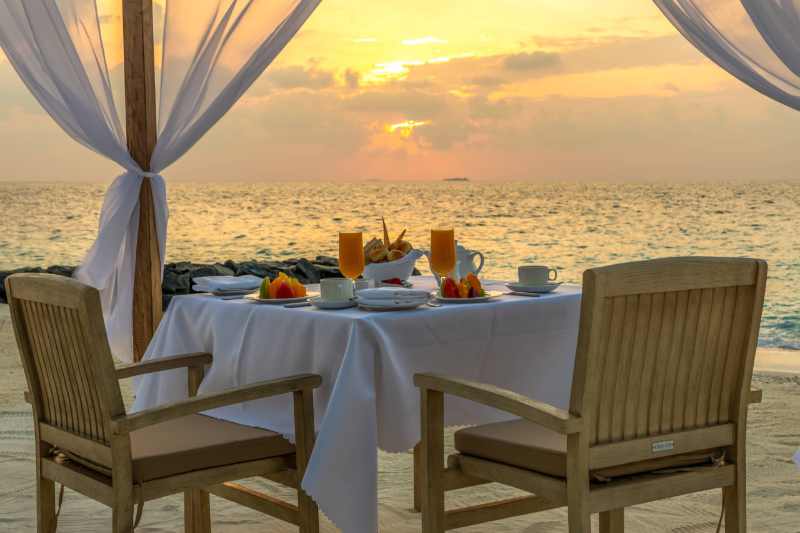 The resort has swapped the typical bar for an outdoor tea experience, that includes enjoying tea with the locals in a traditional setting.
Other experiences in Fiyavalhu include, an outdoor beach cinema, snorkelling excursions, games room for kids, an infinity pool and a fitness center.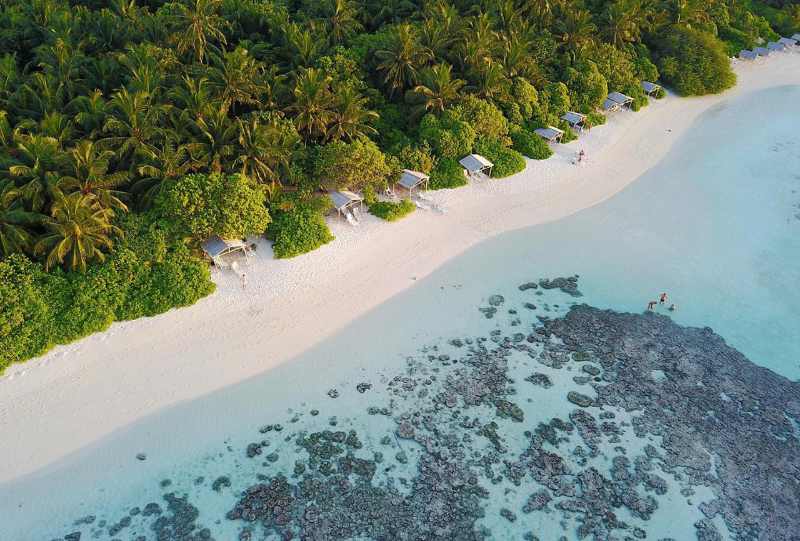 Self-titled as "affordable luxury", Plumeria Maldives is a boutique hotel on the island of Thinadhoo. This beachfront property offers a comfortable and relaxing Maldives island experience without being over the top.
Built in 2015, Plumeria's spacious rooms are equipped with private balconies and sea views. Other facilities at Plumeria include spa treatment rooms, a swimming pool, a cafe and restaurants.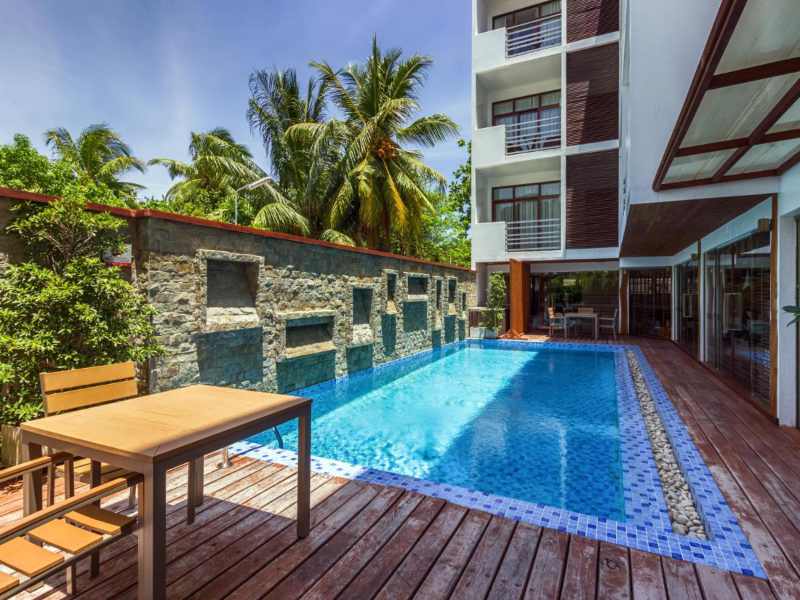 With its own dive centre, Plumeria Maldives runs regular scuba diving and snorkeling trips. The waters of Thinadhoo and wider Vaavu Atoll is an ideal place to spot sea turtles, clownfish, and octopus.  
Discover a world of possibilities
Receive unique halal travel stories and exclusive Muslim-friendly hotel deals, only shared with our subscribers.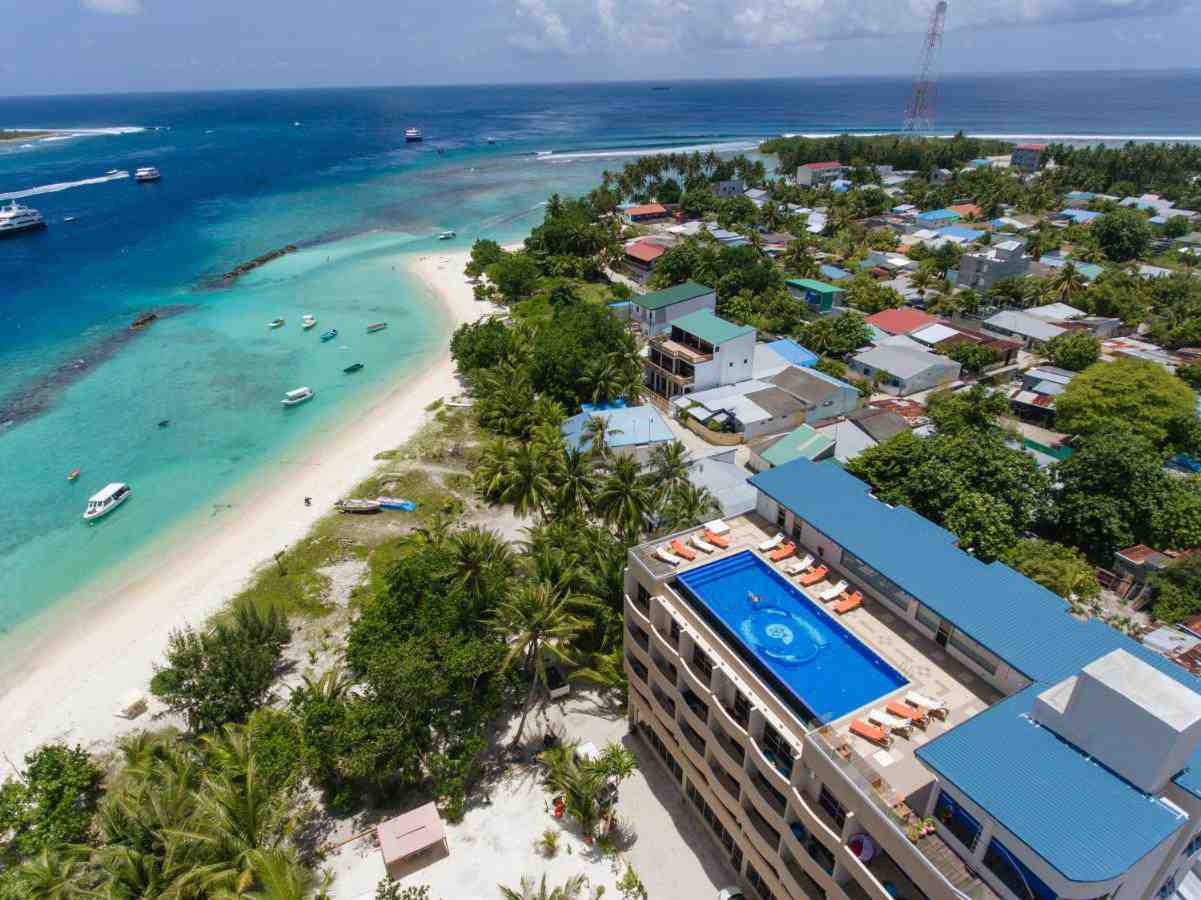 Season Paradise is an award-winning 4-star beach hotel in the Maldivian island Thulusdhoo. The resort is renowned for its beachfront location whilst offering an authentic experience with modern life's conveniences.
Suiting the needs of a wide range of travellers, Season Paradise features 5 room categories that are all designed with space and minimalism in mind. The Seaview Room includes a large, private balcony that offers unobstructed views of the Indian Ocean.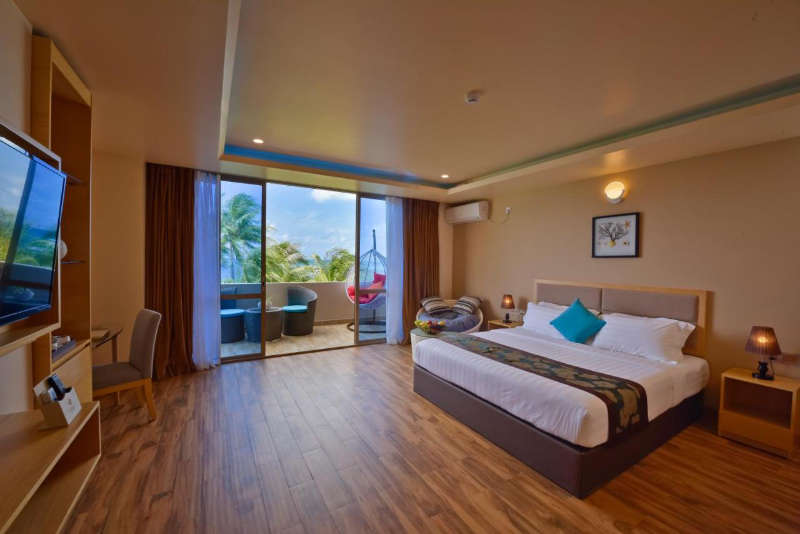 Surfers would love this island as Thulusdhoo is known to have one of Maldives' best surf breaks. Other experiences include private picnics on secluded sandbanks, dolphin cruises and fishing trips.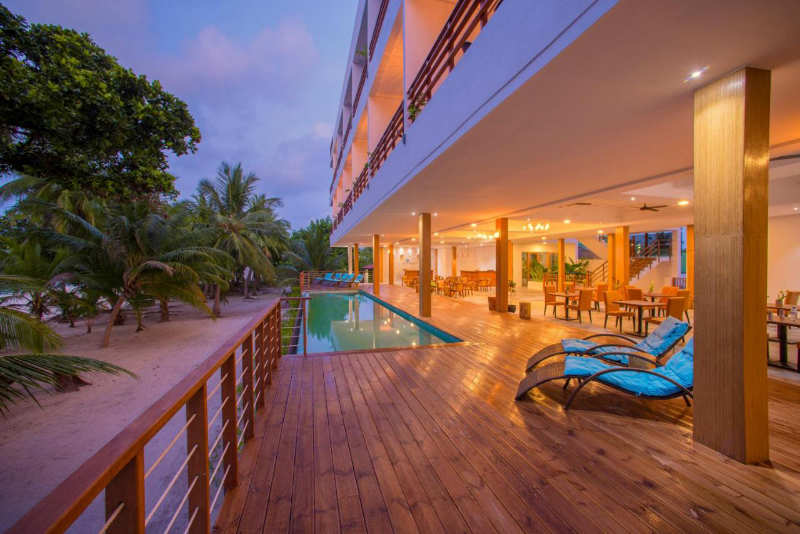 Located in the famous Baa Atoll, Kiha Beach is a boutique luxury hotel surrounded by lush, tropical plants and exotic marine life. This alcohol-free hotel offers 3 room categories suitable for travel groups of varying sizes. This sustainable property is designed with a low carbon footprint in mind.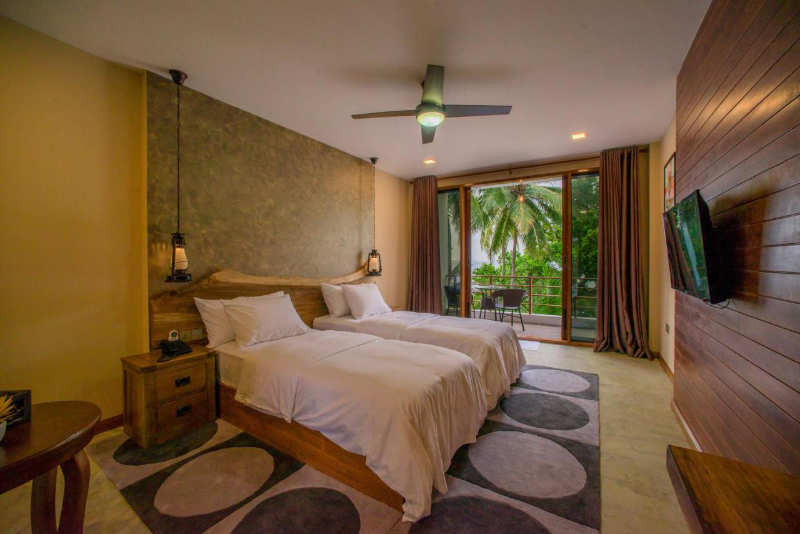 Kiha Beach is popular with divers due to its location in the UNESCO World Biosphere Reserve. With Hanifaru Bay close by, divers would be able to spot whale sharks, sea turtles and manta rays. Other activities include water sports and local island excursions.
Kiha Beach's main restaurant offers sustainably sourced dishes through reducing meat dishes and depending on the catch of the day. Instead of cocktails and wines, savour the flavours of local fruits at the juice bar.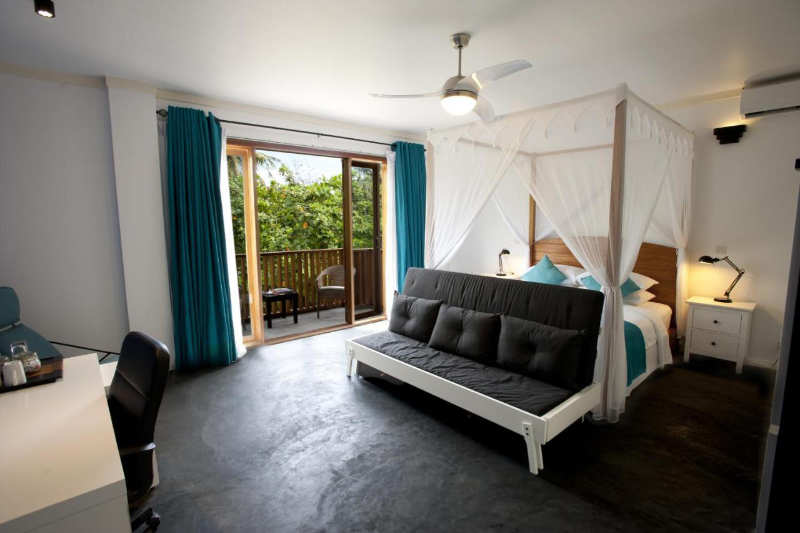 Boutique Beach is a mid-range diving hotel located in the inhabited Dhigurah island in the South Ari Atoll. With its own 2.5km stretch of private beach, Boutique Beach hotel provides guests all-inclusive accommodation along with diving specific packages.
This eco-friendly hotel focuses on conserving their local island and ocean by recycling plastics found on the island and minimising their own use of plastics. In addition, Boutique Beach encourages guests to experience the traditional side of Maldivian culture through respect of religion and supporting local initiatives.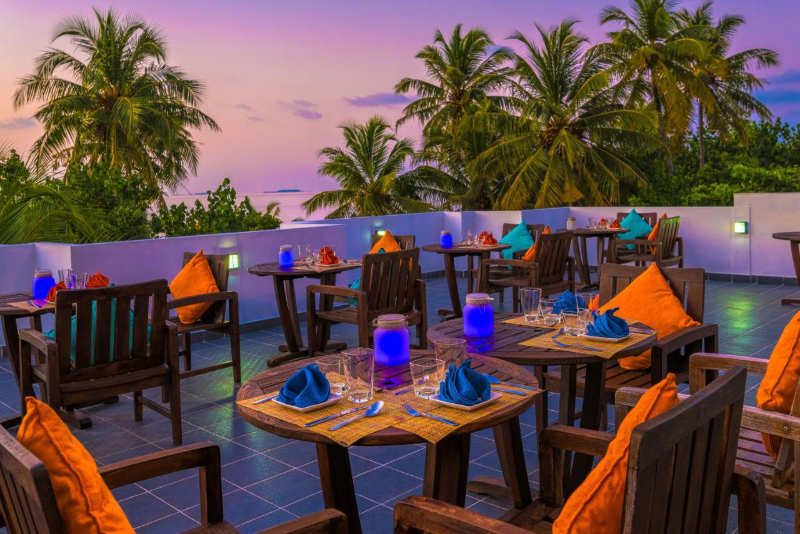 The rooftop restaurant is the ideal location to enjoy awe-inspiring views of the sunset whilst savouring the local cuisine.
And there you have it, 5 best Maldives alcohol-free resorts. 
If you're looking to experience the Maldives like a local, explore our local Maldives island hopping tour. 
This itinerary is designed to delve into the local life in the Maldives whilst staying in alcohol-free islands and guesthouses.