Local Maldives Island Hopping Tour
8 days from £865 pp , excl. international flights
Travel like a local on this Maldives island hopping itinerary
On this Maldives island hopping tour you will skip the fancy 5-star resorts and instead visit locally inhabited islands and stay in comfortable guesthouses. This Muslim-friendly Maldives itinerary is ideal for those looking to experience the country like a local.
Maldives' local islands are ideal for halal-conscious travellers as they house mosques on each island. Additionally, they are alcohol-free (including the guesthouses) and the beaches ban bikini-wear.
Experience exploration, activities and ample relaxation time on this Maldives island hopping tour. This itinerary includes accommodation and breakfast, airport pick-up, transfers and activities. A local private guide will always be on hand to for assistance and help you experience the country's culture and traditions.
The three islands on this itinerary are Rasdhoo, Ukulhas, and Mathiveri, part of the North Ari Atoll. This part of the Maldives is renowned as one of the best diving and snorkelling spots in the world. During November to April, you'll have the incredible opportunity to snorkel and swim with manta rays.
This tour includes activities such as a dolphin cruise, sunset kayaking, island tours and a Hedikaa experience at a local cafe. Hedikaa is a traditional short eats experience popular in the Maldives that includes sweet and savoury snacks with tea.
However, this tour can be tailored to your needs. That means you can choose activities from cultural experiences, sunset cruises, evening fishing trips, sandbank visits as well as visits to resorts.
The Local Maldives Island Hopping Tour is ideal for those looking to experience the country's culture, tropical islands, activities and see what life is like for Maldivians.
Maldives island hopping tour in detail
Day 1: Arrival & transfers to Hulhumale
Once you step out of arrival gates at Velana International Airport (Malé) you will be met by a Rooh representative, holding a board with your names. You will then be transferred to the nearby island of Hulhumale, for a night's stay at your first guesthouse.
The island of Hulhumale is an ideal resting point for those transiting to visit the other local inhabited islands in the Maldives. This tropical urban jungle is home to a large mosque with a striking golden dome, shopping malls, restaurants and cafés.
Depending on your arrival time, there will be an optional walking tour around Vilimalé, known as the quieter side of the island.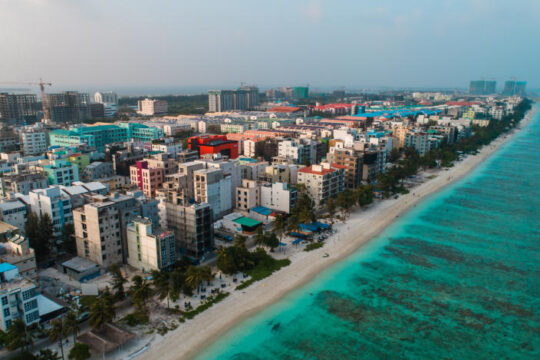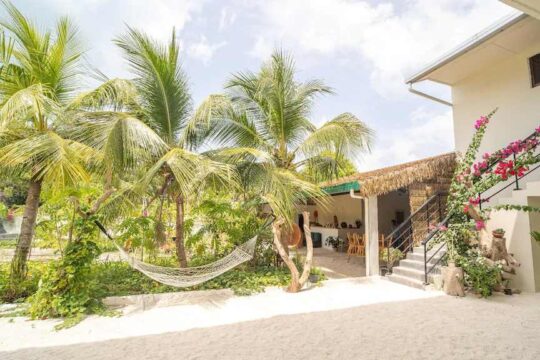 Day 2 - 3: Rasdhoo island experience
In the morning, you will have time for breakfast at your guesthouse before being met by your local guide. Your guide will accompany you to Malé to catch the ferry over to Rasdhoo, North Ari Atoll. This method of travel is a great opportunity to travel like a local and minimise your carbon footprint.
Once you arrive at Rasdhoo, you will check in to your guesthouse and have the afternoon and evening to get to know the island. Following your lunch are opportunities to learn about life on the island with a visit to the local mosque of Rasdhoo. In the evening, there's a unique visit to a local coffee shop to try Hedikaa, a traditional sweet and savoury snack with tea.
On day 3, you will have the whole day to explore the beaches and take part in water sports. Your guide will be there to assist in snorkelling, with prior safety briefing and how to snorkel responsibly. Your guide will also assist with spotting different marine life that you might've not noticed.
You will wrap the day up with an epic sunset kayaking tour. There is a nearby sandbank where you can kayak to, to enjoy the sunset right in the middle of the ocean.
Day 4 - 5: Ukulhas island experience
On the morning of the fourth day, following your breakfast at Rasdhoo Dive Lodge, you will be escorted to take the public ferry to Ukulhas. As your next local island destination, Ukulhas is a favourite among tourists and is known to take environmental responsibility seriously.
Following your check-in into Ukulhas Inn, enjoy lunch and some time to relax. You can then explore the island with your guide and interact with the locals who call Ukulhas home. On the island there are several beautiful beaches to visit and enjoy a dip in. The locals are extremely friendly and would love the opportunity to welcome you.
On day 5, you are free to check out the island as you wish. For those that are active, there are a variety of excursions to take part in such as diving, snorkelling, and fishing as yellowfin tuna is abundant here. The island's house reef, which is accessible from the beach, is a great place to spot sea turtles, manta rays, and zebra sharks.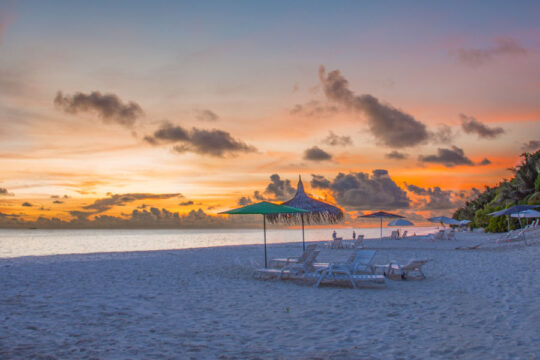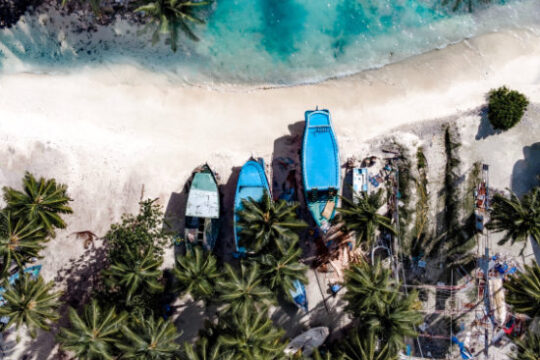 Day 6 - 8: Mathiveri & departure
You will check out of Ukulhas Inn at lunch time and head over to the local ferry to hop over to the last island, Mathiveri.
As usual, once you arrive and check-in into Royal Reef Inn, your guide will brief you on the island and the activities on offer. Spend the rest of the afternoon exploring this lovely island with your guide.
At sunset, you will embark on a spectacular cruise to spot dolphins. The dolphins in surrounding waters can often be seen jumping out of the water and frolicking around. It's truly an amazing experience to see them in their natural habitats.
Day 7 is a free day to do as you please. As most local islands, Mathiveri houses a local mosque, several restaurants and cafes, and beaches.
On your last day, you will take the morning ferry to reach Malé by 2PM. From there, you will be transferred to Velana International Airport, where this trip sadly ends for now. For those leaving on a late flight, a complimentary walking tour of Malé can be arranged.
Guesthouses featured in this itinerary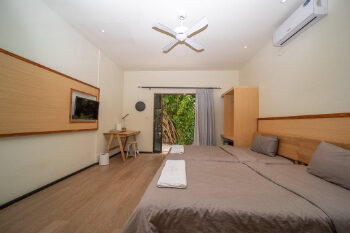 Rasdhoo Dive Lodge is a comfortable guesthouse that offers a relaxing stay during your time on the island.
The guesthouse offers an in-house restaurant as well as an activity booking center. Expect modern amenities in all room such as AC and Wi-Fi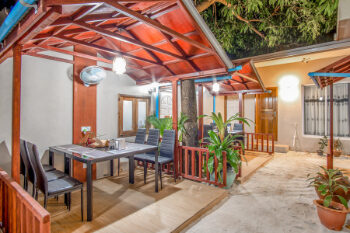 Ukulhas Beach Inn is a modern guesthouse with its own strip of private beach, restaurant and 24-hour reception.
This eco-friendly hotel runs daily beach cleaning, waste management and biodiversity protection programs.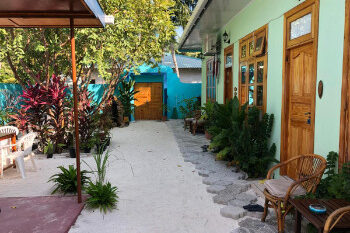 Royal Reef Stay offers a traditional style guesthouse on the island. The spacious rooms feature en-suite bathrooms, AC and Wi-Fi, among other amenities.
The hotel runs regular Manta Safari excursions to spot the Manta Rays that are local to this region.
Island hopping is a method of travel where travellers visit more than one island in a single trip. 
Is island hopping in the Maldives allowed now?
Yes, island hopping is now allowed in the Maldives as the local islands have reopened as of 15 October 2020. 
Where does this Maldives Island Hopping Tour begin and end?
This tour begins and ends in Malé. 
How much is this Maldives island hopping holiday?
The cost for this tour starts at £865 pp, based on low season travel and a double/twin occupancy room. Infants between 0 – 5 years old go free.
Can I customise this trip?
Sure! This trip is fully customisable to suite you.
What is the cancellation policy for this tour?
This tour offers free cancellation up to 14 days prior to your arrival date.
Can I amend the dates of my booking?
Yes, you can certainly amend the dates after you've booked by contacting our team.
Other halal Maldives holidays
Related travel inspiration

Find your next halal holiday by exploring our list of 6 incredible Muslim holiday destinations for 2021/2022.

Explore our top 7 halal beach holidays, hotels and Muslim-friendly features in the world's most tropical locations.

For travellers looking to avoid booze, discover our top 7 resorts in the Maldives that are completely alcohol-free.
Design your halal trip your way
Get in touch to start planning your adventure