7 days from £2,230 per person, excluding international flights
Included in your Maldives halal honeymoon
Experience a private Maldives halal honeymoon in luxury
It's no secret that one of the best Muslim honeymoon destinations is the Maldives. So, if you're seeking an island escape as newlyweds, this Maldives halal honeymoon is for you (and your spouse).
As a quintessential honeymoon destination, the Maldives offers everything a Muslim couple could want and need. From privacy in a romantic setting to exquisite dining in halal restaurants, the Maldives has it all.
We've designed this Muslim-friendly honeymoon by keeping in mind the importance of this special holiday. Every part of this honeymoon is taken care of to ensure a stress-free experience.
This honeymoon takes place in Coco Palm Dhuni Kolhu, a 5-star halal resort. Coco Palm Dhuni Kolhu offers incredible experiences ideal for luxury Muslim honeymoons. The resort is a 30-minute seaplane journey from Velana International Airport (Malé) and is located in Baa Atoll, a UNESCO Biosphere Reserve.
You'll be spending your romantic holiday in the resort's Lagoon Villa. This private Maldives honeymoon villa is perched over the water and features its own plunge pool. Other amenities of the spacious Lagoon Villa include a four-poster bed, ocean view bathroom with a jacuzzi, and a private outdoor sundeck.
The price quoted for this Maldives Halal Honeymoon is for July 2022 and intended as a guide. To amend the dates, length or villa type, please contact us directly.
Dhia Naouar
14. April, 2022.
Walid was on point and knowledgeable, I used Rooh Travel for my honeymoon to the Maldives and everything from the service to the advice was excellent. A trusted travel partner who will make all your decision making informed and easy. Honest pricing, Walid got us an amazing deal.
Abid Miah
23. March, 2022.
We just got back from a fabulous week long Maldives family holiday thanks to Rooh! We use to book our holidays the usual booking sites, and we were hesitant in using Rooh as they're small and we haven't heard of them before which actually worked in our favour. But after communicating with Walid, we learned that booking with an agency is the way to go. The service from Rooh was outstanding from beginning to end. They listened and provided their expertise to help us make a decision on our holiday and even dealt with our requests before and during the trip. On top of that their prices were the best compared to other quotes. Thank you for all your help and we'll be back for our next family trip.
Ibrahim Tarafdar
26. February, 2022.
Our Maldives honeymoon at Coco Bodu Hithi and service by Rooh couldn't have gone any better! Although we found the travel rules during pandemic confusing, Walid covered everything with us and made the whole experience seamless. The trip went smoothly from flights and transfers. Looking forward in booking our next holiday with Rooh!
We booked with Rooh for our Maldives holiday. Walid was extremely responsive to all our questions around the hotel and covid protocols. Our holiday was incredible and we even got amazing rates booking with them.
Rafi G
25. October, 2021.
Rooh planned the perfect Maldives holiday and advised us on the best options. Our holiday was really private and safe and everything went like how we imagined it!
Hinda Abdullah
21. September, 2021.
Our Maldives trip to Fiyavalhu was spectacular thanks to Rooh, they've managed to fulfil our requests in our budget and couldn't have asked for more.
Rana Rahman
29. July, 2021.
This month we had had the best Maldives trip with Rooh. Walid who planned our trip went above and beyond and took care of all the logistics, we didn't have to worry one bit!
Enjoyed an epic trip to Malaysia last year with Rooh. Loved how the itinerary was personalised to our needs. Thank you!
Maldives Halal Honeymoon Package in Detail
As part of your 7 day halal honeymoon package, you'll be staying at Coco Palm Dhuni Kolhu. This idyllic island resort is an ideal holiday destination for Muslim couples and loved by honeymooners.
Day 1: Arrival & transfer to resort
Upon arrival at Velana International Airport (Malé), you will be met and greeted by a Rooh representative. You will then be chauffeured to the seaplane port, which is roughly a short 5 – 10 minute drive.
From there, you'll embark on a 30-minute scenic seaplane journey across the Indian Ocean to your destination, Coco Palm Dhuni Kolhu. As part of this honeymoon, you will be staying on an all-inclusive package, which includes all your meals and beverages.
Once you touch down, you will be welcomed by the friendly staff at the resort. Your luggage will be taken care of whilst you relax and enjoy a refreshing alcohol-free cocktail (mocktail). You will then be escorted to your honeymoon decorated over-water lagoon villa by golf cart, where your luggage will be waiting.
Spend the rest of the evening exploring the island and facilities, or lounge by your private pool and take in the incredible views.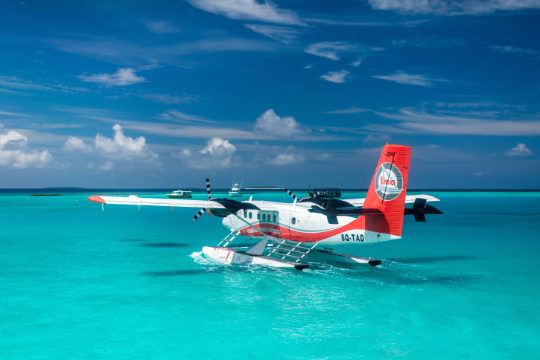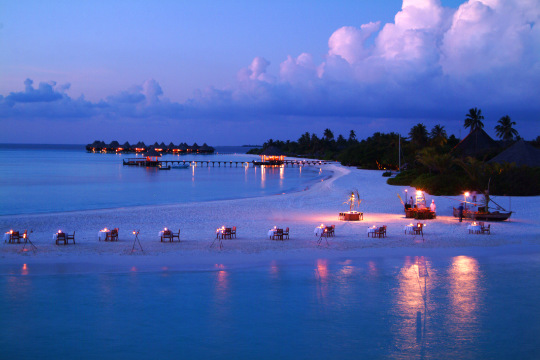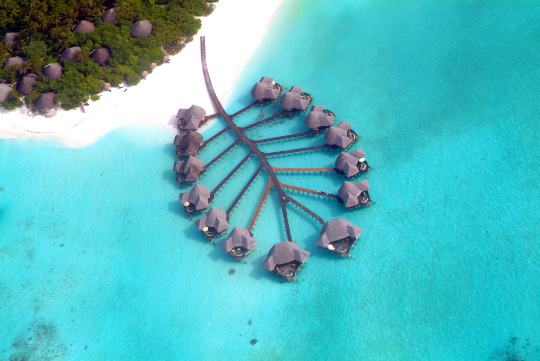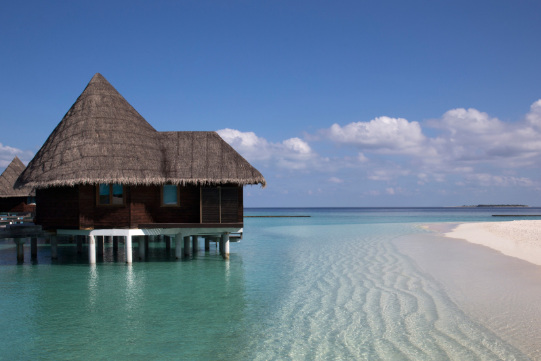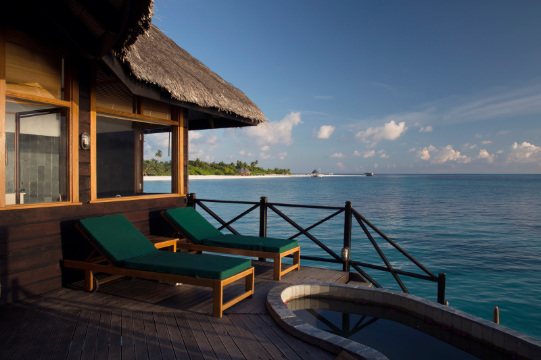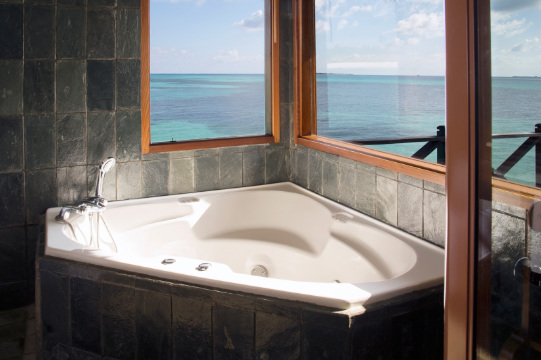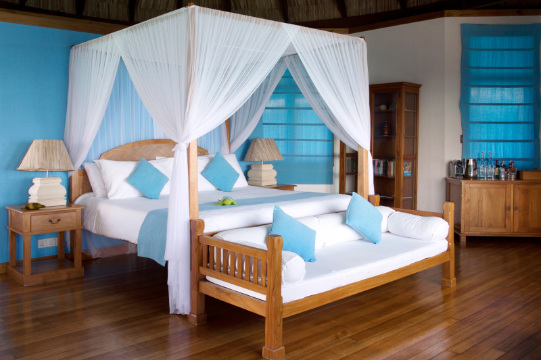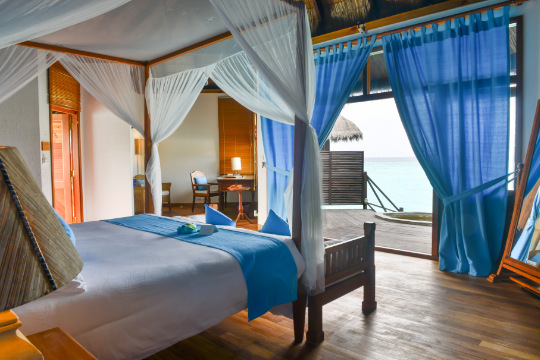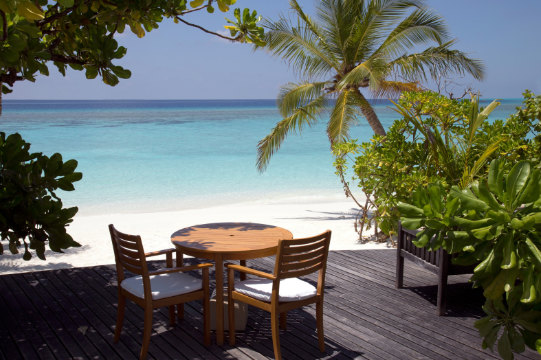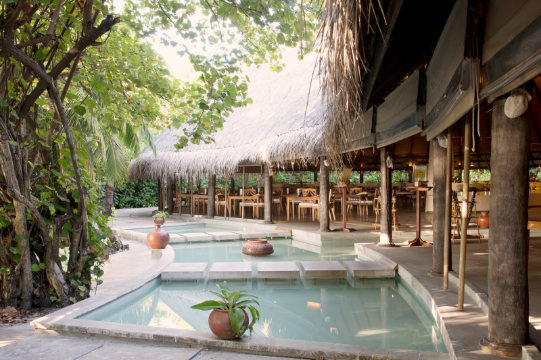 Day 2 - 6: Time at Coco Palm Dhuni Kolhu
For the next five full days, you're both free to fully indulge in your honeymoon. As one of the best halal honeymoon packages, we've ensured to secure for you several perks. These include a fruit platter delivered to your room, a private, beach cinema screening, and a surprise, personalised gift. And did we also mention the candle-lit three course dinner under the stars?
Coco Palm Dhuni Kolhu features two in-house halal restaurants serving iconic Maldivian, Asian and contemporary dishes. Cowrie Restaurant houses live cooking stations under a traditional thatched-roof.
Being located in Baa Atoll, the resort is surrounded by a UNESCO protected lagoon that offers incredible snorkelling experiences. Discover marine life like no other, including manta rays that call this part of the Maldives home.
The resort's spa, Coco Spa, offers a rejuvinating collection of spa treatments in a private and Muslim-friendly environment. Other facilities at Coco Palm Dhuni Kolhu include kayaking, sailing, and scuba diving by PADI-certified instructors. The resort also provides unique experiences to immerse yourself in the Maldivian culture. You can visit a local village or have afternoon tea (known as Hedikaa) at a local's home.
Let us know your interests and preferences during the planning stage to customise your Maldives honeymoon.
Day 7: Transfers & departure
Enjoy an early, hearty breakfast on your final day before you head out to the pier to board the seaplane. Take in the awe-inspiring views of Maldives' atolls and azure waters during your 30-minute journey to Malé.
A transfer will be awaiting you for a swift car drive to the airport to board your international flight home. If your international flight is later in the day, we can arrange a private guide to take you on a walking tour of Malé. The tour visits Malé's Grand Friday Mosque and Sultan Park, as well as a stop at a local cafe.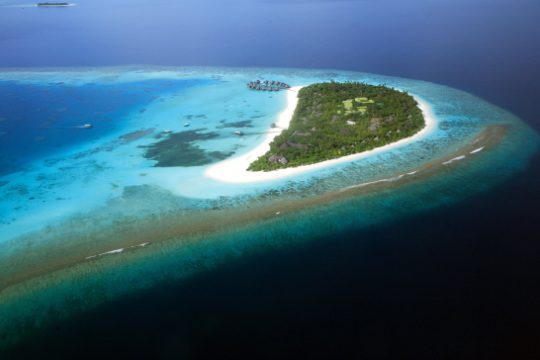 Make this honeymoon yours
As with all of our trips, everything is customisable up to the smallest detail. This Maldives honeymoon includes a stay in Coco Palm Dhuni Kolhu, one of the best halal honeymoon destinations. However, we can easily change the resort to other halal resorts in the Maldives such as Conrad, Furaveri or Bandos. We can also set you up in a different villa type and amend your package.
At Rooh, we design private halal holidays for travellers that want to experience something truly special. When you enquire about your honeymoon, you'll be paired with a Halal Travel Designer that knows the Maldives inside out. You will then work together to plan an exceptional halal honeymoon.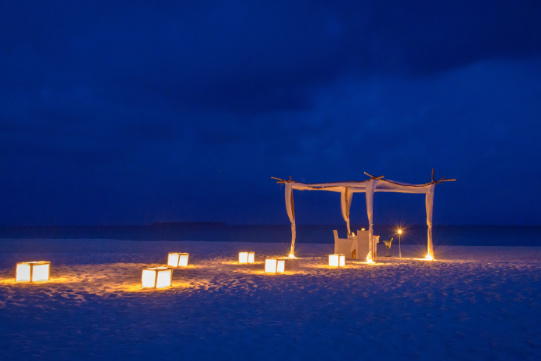 What is the cost of this Maldives halal honeymoon?
The cost of this 7 day honeymoon package starts at £2,230 pp (excl. international flights), based on travel dates for July 2022, and an all-inclusive stay in the Lagoon Villa.
Can I customise this honeymoon package?
Sure! This honeymoon is fully customisable to suite you.
What is the cancellation policy for this honeymoon package?
This tour offers free cancellation up to 25 days prior to your arrival date.
Can I amend the dates of my booking?
Yes, you can certainly amend the dates after you've booked by contacting our team.
Other halal Maldives holidays
Related travel inspiration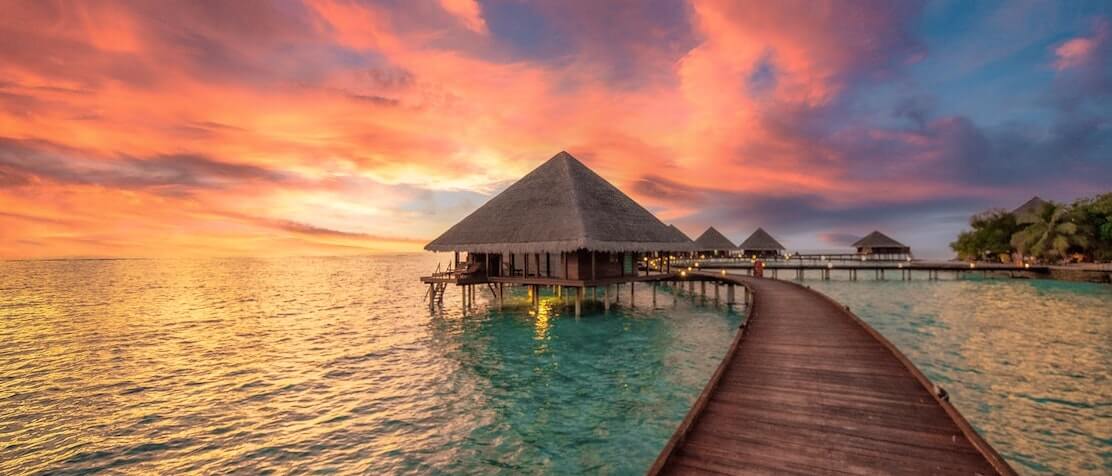 Looking for a post-wedding holiday? This article explores some of the best halal honeymoon destinations for Muslim couples.

Explore our top 7 halal beach holidays, hotels and Muslim-friendly features in the world's most tropical locations.

For travellers looking to avoid booze, discover our top 7 resorts in the Maldives that are completely alcohol-free.
Design your halal trip your way
Get in touch to start planning your adventure