Halal food in Mauritius is a beautiful fusion of the diverse cultures that inhabit the island. It is made with the freshest island ingredients and a perfect blend of flavours to excite your taste buds.
I have had the pleasure to visit this magnificent island twice. On each occasion, spending most of my time exploring Mauritius through its halal food.
As usual, I would always Google around to find the best halal food in Mauritius. But unfortunately, information on the web was scarce.
That's why I've put together this in-depth guide that covers all you need to know as a Muslim traveller visiting Mauritius.
Starting with whether Mauritius is a Muslim-friendly place before explaining what halal food is available. This is followed by our recommendations for where to stay during your trip to be near delicious halal food.
We then give an overview of 5 of our favourite halal Mauritian dishes you should try while visiting. That leads nicely to our top 5 picks for halal and halal-friendly restaurants to try. Showcasing a range of cuisines for some variety.
Lastly, we quickly outline 5 hotels and resorts that serve quality halal food. Providing you with almost everything to plan your halal Mauritius getaway.
Is Mauritius Muslim-friendly?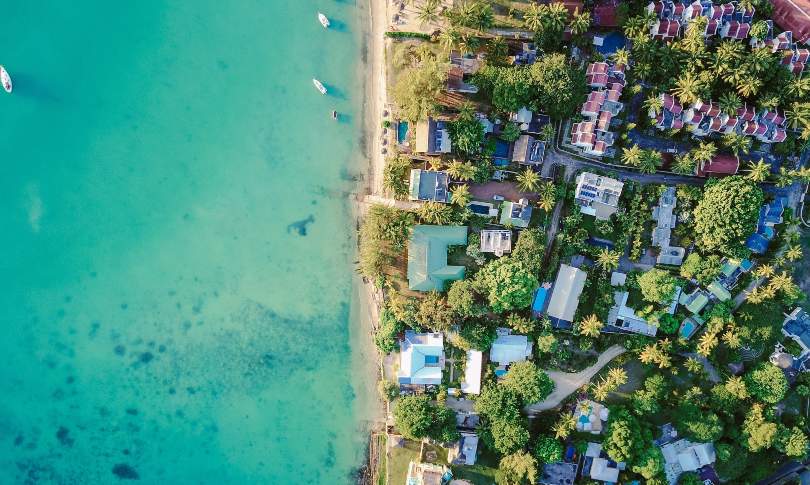 Although Mauritius is technically not a Muslim country, it is exceptionally Muslim-friendly.
Islam in Mauritius is the third biggest religion in the country with almost 1 in 5 people being Muslims.
For those planning a Mauritius halal holiday, you are assured accommodations and experiences suited to you. Especially considering the welcoming nature of the locals.
Many restaurants and resorts can cater to halal-conscious guests. It is still worth mentioning that alcohol is readily available on the island. However, many of the resorts and hotels are ready and willing to make accommodations for visiting Muslim guests.
The island is dotted with mosques in every corner that you can visit whilst travelling here such as the Jummah Mosque in Port Louis. Built in the 1850s and considered one of the most beautiful religious buildings in Mauritius.
Also, as a popular watersports and diving destination, a lot of the activities available are suitable for Muslim travellers. But, if you prefer staying on land the gorgeous sandy beaches are also great for a relaxing halal beach holiday.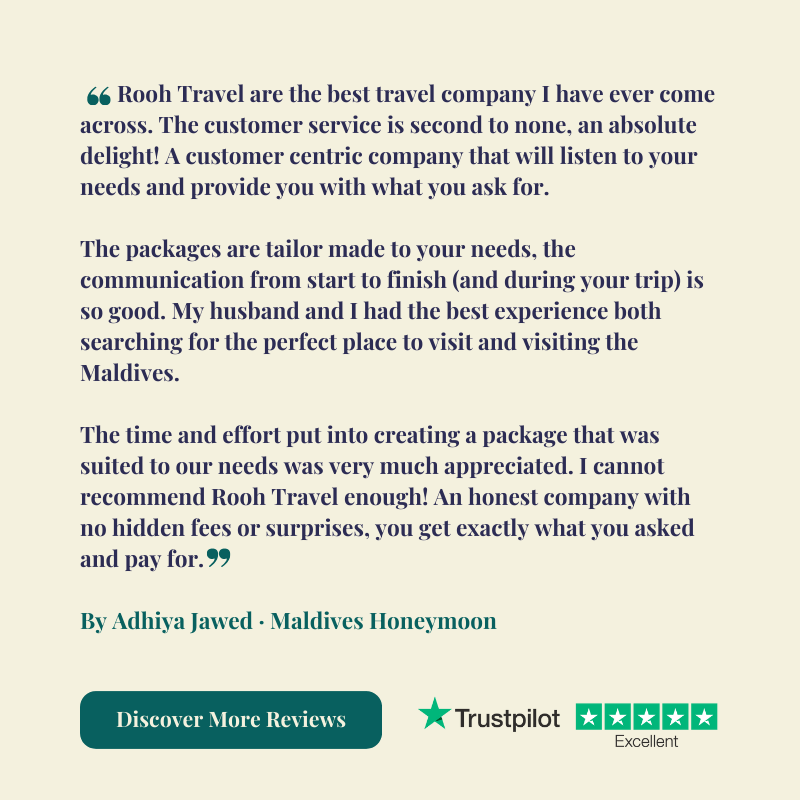 Is food halal in Mauritius?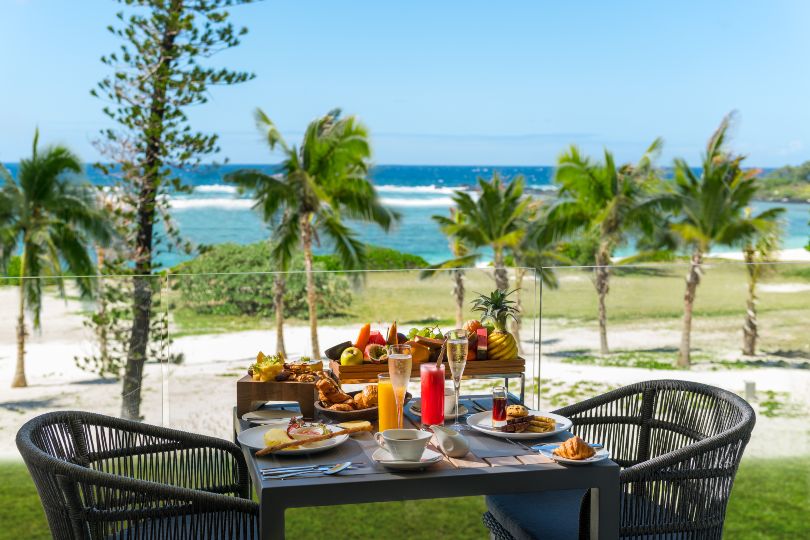 Mauritius is abundant with halal restaurants despite not all food being halal. Food for Muslims is available in all of the diverse cuisines found on the island, from Chinese and African to European and Indian. This provides you with an extensive range of flavours within both meat and non-meat dishes.
Also, as an island national, there is plenty of fresh seafood served in so many different ways. Make sure to take full advantage of the local seafood during your time here.
Additionally, most of the meat on the island is halal. Many of the butcheries on the island are owned and run by the local Muslims. If you are ever in doubt, you can ask a restaurant to show their halal certificate.
There is also a great number of halal street food in Mauritius, providing you with delicious lunches and light snacks. Everything from fragrant curries to soups and freshly fried samosas.
Most fast-food restaurants in Mauritius are also halal-certified for when you want something quick and tasty.
Is KFC halal in Mauritius?
Yes, all KFC restaurants in Mauritius is halal and also have their halal certificates displayed. 
Where to stay in Mauritius near halal food?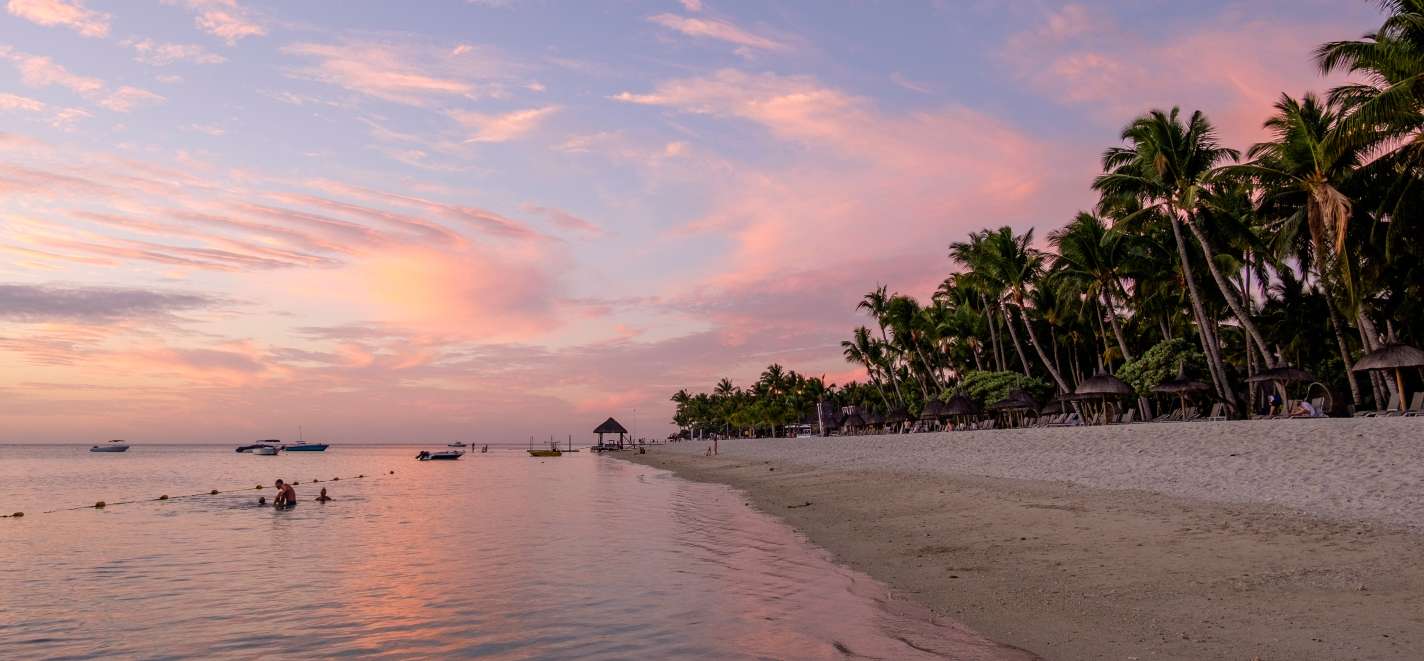 For the most direct access to delicious halal food, you should check out Trou Aux Biches and Flic en Flac. Both are near the capital where you can find many halal restaurants in Port Louis. Accessible by hired car or public transport.
Trou Aux Biches is one of the most popular destinations in Mauritius for travellers. There are several lovely halal cafes and restaurants on the beautiful stretches of the beaches. There are also some wonderful resorts that cater halal in this area for ultimate ease.
Just South of Port Louis is Flic en Flac which is known for its history as a fishing village. Therefore promising delicious seafood and sandy beaches that are ideal for divers and water lovers. There are a great number of vegetarian restaurants in Flic en Flac. So there are options available to keep you well-fed between trips in the waves.
On the other hand, Mauritius is a small island. It can take as little as 90 minutes to cross from one side to the other. So, your hotel isn't located in these areas, it will be an easy trip to access them.
5 best halal food in Mauritius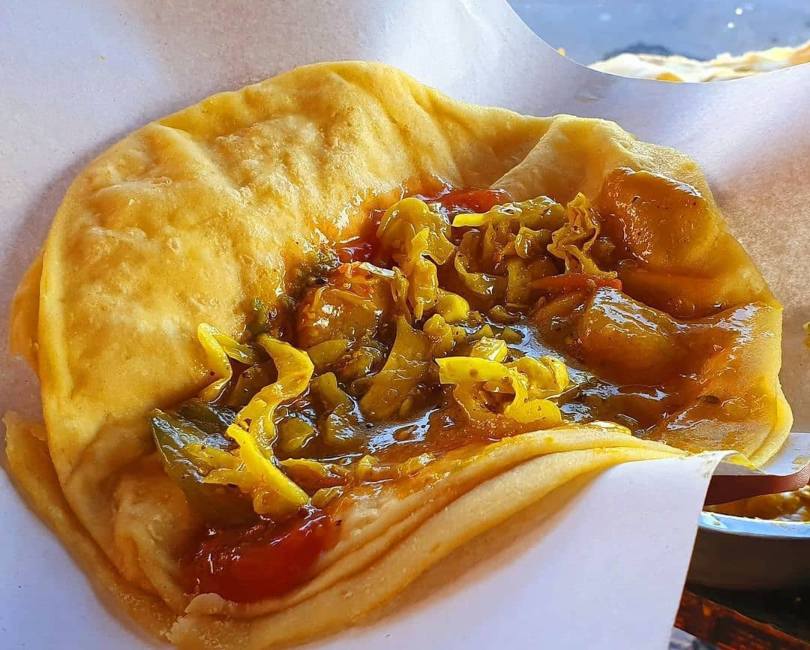 Mauritian cuisine is a beautiful blend of African, Indian, Chinese and French European flavours. Built upon the history of those who first inhabited the island, cultural and cookery fusion is what makes Mauritius special.
Within the same restaurant, you can find soups, curries, stir-fries and various street foods, allowing for a wide selection of authentic dishes.
With the small land space and vast surrounding ocean, fresh fish is a standout feature for any food lover. This goes superbly with the common spices used, namely chilli peppers, cardamon, and cloves. As well as the staple grain, rice, which features in a number of dishes.
Explore below a list of our 5 best halal food to try in Mauritius.
In the most simple way of understanding, Gateau piment is the Mauritian version of a falafel. It is made of soaked and ground yellow split peas and mixed with fresh spring onions, coriander, chilli and turmeric.
The deep-fried golden fritters are then eaten hot, an ideal street food snack that goes perfectly with tea.
The crispy outside with the soft inside makes them incredibly moreish, especially when fresh. But for authenticity, serving them in a freshly baked roll with a generous layer of butter adds to their irresistibility. This is the most popular way to eat it among locals.
You can find Gateau Piment all over the island, they are that popular. So if you come across a market or place advertising them, make sure to stop by!
Very possibly the favourite street food among natives, dhal puri is similar to roti. But with the addition of a yellow split pea filling, generously seasoned with turmeric and cumin.
They originated from Indian parathas, brought to Mauritius by Indian labourers over 100 years ago. The flakey and crispy pastry is most delicious when warm and the flavours can melt in your mouth.
There are many ways to eat dhal puri, whether it's with a vegetable curry or some delicious pickles and chutneys.
It is filling and easy to serve as a street food, usually served in pairs ideal for sharing (or not!). With its unmatched popularity, this street food can be found all over the island. This is ideal as there is no doubt that one taste could never be enough.
Hakien is a traditional food item in Mauritius that developed from the cultural history of Chinese immigrants. This Mauritian-Hakka staple combines a choice of protein with shredded vegetables in a crispy shell.
Variations use chicken, prawns, fish, any delicious protein that you could fancy. Some modern techniques use rice paper to hold the ingredients together and add another crisp layer.
However, traditionally the filling would be shaped into a log and coated directly, allowing for a thin and crispy crust. The filling can be pretty lightly seasoned but the flavours still burst with each taste. Providing crunchy, juicy and colourful bites.
A Magic Bowl.
That is another name for bol renversé which explains how delicious it is.
Another unique Chinese-Mauritian dish that comprises a saucy chicken and vegetable stir-fry on rice with a fried egg. There are many ways to add variations to this, for example changing the vegetables, or adding fresh prawns.
As the name suggests, the freshly cooked ingredients are layered in a bowl and flipped to create a steaming dome. Once plated, the fried egg can be popped so the runny yolk coats the toppings in golden flavour.
This is a popular choice in Chinese restaurants and cafes around the island, working as a delicious lunch or dinner. Fresh chilli, chilli paste and tomato chutneys are the most delicious accompaniments to cut through the richness of the sauce.
Available as street food or as a sit-down meal, mine frite is the Mauritian version of stir-fried noodles. Like many stir-fried dishes, the contents can vary greatly but those parts that stay the same are what make it.
Flavoured with dark soy sauce and fish sauce, it is deliciously salty and well-seasoned. As you can imagine, mine frite has its roots in China, but cultural progression in Mauritius has seen it evolve.
You are likely to see prawns and island vegetables but chicken or completely vegetarian versions can also be found. Versatility is one of its selling points.
It may be an easy dish to make but having it made by the professionals is the greatest experience. It will no doubt have you wanting to try making it yourself.
5 best halal restaurants in Mauritius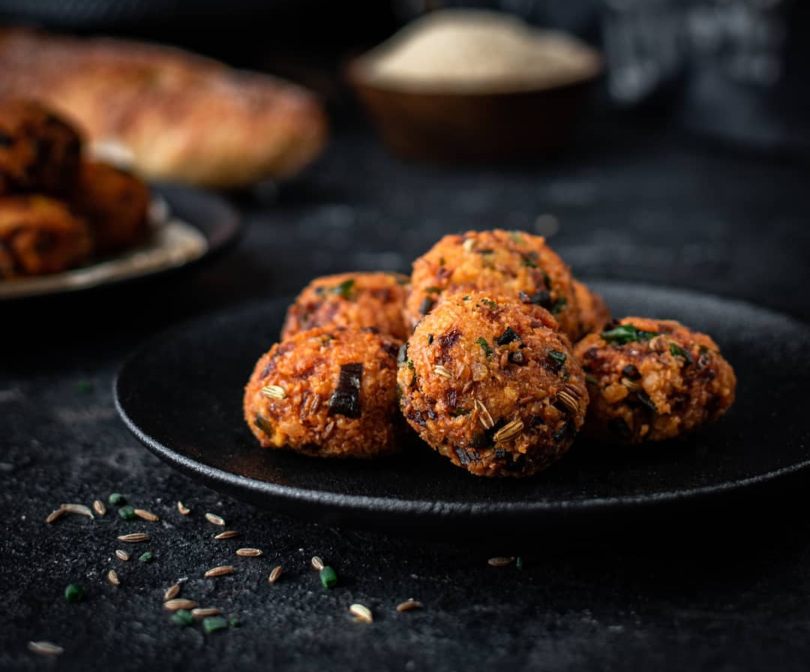 Located in Flic en Flac, Zub Express is a stunning Indian and Chinese restaurant overlooking the beach. The food is flavourful and fresh, matching the welcoming atmosphere and friendly service. It is a very popular choice in the area so be patient or book in advance.
Some of the must-try dishes include Biryanis, Naan Bread, and Masala Curries, whether you choose chicken, prawn or squid! Each dish bursts with flavour and colour. Also for a refreshing and tasty drink on the side, order the Masala Tea or Mango Lassi. They are also very accommodating with spice and sweetness levels.
Take-out is available, giving you the perfect opportunity to dine out on the beach, watching the waves with your loved ones. And as a Muslim-owned restaurant, they also provide an area for prayer within the restaurant.
Pakbo is a beautiful atmospheric local cuisine restaurant in Flic en Flac. Named after the Mauritian Creole for 'cruise ship', the restaurant encompasses its title with delicious seafood.
The decor is modern and inviting making it ideal for a lunch stop fresh from the beach or a relaxed evening meal.
The most popular dishes include Gambas, fresh and served either grilled or in butter and garlic sauce. The Mauritian-style curries with a variety of protein choices or the simpler but no less delicious traditional octopus salad. If you fancy something a bit different, the Thai Magic Bowl is a big hit, giving wonderful Thai curry flavours.
There are also some vegetarian dishes if you want a lighter bite. As well as stunningly refreshing juices and teas that you can enjoy in their lounge area.
Also in Flic en Flac, Creole Shack is a lunchtime-only, authentic local hit. Unique in that it has no fixed menu, you take a seat in the 'family home' and enjoy home-cooked food.
You choose your drinks from the fridge and relax in the welcoming interior. Ensure to make a reservation so you are not disappointed!
Despite not having a fixed menu, the dishes that are served deserve the hype they receive. For instance, the curries all burst with flavour, usually with the option of fish, chicken or veggie.
You can choose your favourite and enjoy the surprise mix of delicious spices and herbs. The starter and desserts are more standardised, with Gateaux Piment to start and homemade coconut and fruit ice cream for afters.
The chef, Malini, comes along to explain each dish, giving you the truly authentic feel you don't want to miss.
Bodrum Blue is one of the LUX* Grand Gaube Resorts' exclusive restaurants. Serving a refreshing mix of Turkish and Mediterranean food you will want to have again and again.
It is an overwater restaurant allowing you to dine with stunning views and a cooling ocean breeze ideal for the Summer heat.
Everyone agrees that the Çökertime Kebab is one of the menu highlights, with juicy traditionally cooked Bodrum beef. But with the Catch of the Day fish cooked fresh to perfection, it is hard to pick the best option. You also have to get the Baklava! With flaky pastry and beautiful orange blossom ice cream, it is the best way to end a meal.
& Burgers is Beau-Bassin's best burger spot. Serving burgers, wraps and fries, it's an ideal lunchtime venue or chilled dinner.
The burgers are all cooked to perfection, juicy and flavourful with expertly chosen toppings. You can choose from beef, chicken or vegetarian and everything is halal-certified.
All of their beef burgers come with sweet caramelised onions and a number of other toppings. For simplicity, the Cheeseburger focuses on the bold flavours of the meat, pickles and onions with gooey melted cheddar.
Their chicken burgers are just as delicious, coming instead with double-glazed chicken patties and crispy onions for textural dimensions. The Tropical Cheeseburger is a great choice with a piece of pineapple adding a fresh twist to a savoury classic.
For something different, the lamb wrap is our top choice. With succulent grilled lamb, and tasty grilled peppers.
Best hotels in Mauritius with halal food
I've personally compiled this list of Mauritius halal hotels and resorts based on my experience of visiting dozens of properties in the country.
Each hotel not only offers fantastic hospitality, but also halal food. In addition to that, some of them are near mosques and for our travellers, alcohol is removed from your room minibar.
Explore below our favourite Mauritius hotels that offer halal food and a Muslim-friendly experience.
1. Heritage Awali Golf & Spa Resort
Heritage Awali Golf & Spa Resort is a wonderful 5-star all-inclusive resort in Bel Ombre, Mauritius.
Found in Bel Ombre, harmony with nature in secluded luxury is at the forefront. There is a golf course on the grounds and beautiful well-being amenities.
Heritage Awali provide you with stunning views of Mauritius, whether it is the vast Indian Ocean or lush tropical gardens. The Deluxe Beachfront Room boasts ease of access to the turquoise waters and white sands. For something a bit more private, the Heritage Villa Beachfront sits on the beach but with its own private pool. The epitome of luxury.
The halal dining options here are also world-class. Infinity Blue is one of the most popular, with freshly caught seafood and Creole cuisine paired with sea views. The lobster is a must-have! Zafarani on the other hand is a festive celebration of Indian tradition. The Tandoori Lobster and Chicken are incredibly fragrant and tender.
Muslim-friendly features at Heritage Awali
Halal food served
Alcohol removed from room
Mosque nearby the hotel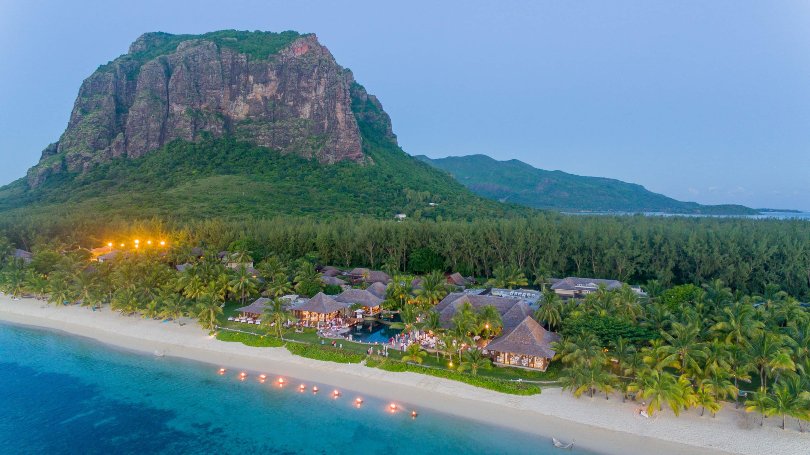 Boasting the best sunsets on the island, LUX* Le Morne is a chic resort celebrating island living. Nestled below Le Morne Mountain with the stunning ocean ahead, you can enjoy nature from the resort's own tree house.
The amenities are also drenched in nature, with the LUX* Me Spa and water sports activities utilising the island's offerings.
The variety of rooms on offer helps make the stay what you desire. The Sunset Junior Suites take full advantage of the resort's placement, allowing you to soak up the last sun's rays. For larger groups or families, Family Suites offer another layer of privacy ideal for Muslim families.
Another of the resort's highlights is East, the Thai restaurant. Completely menuless, the waiter discusses your taste and the kitchen will prepare a dish best suited to you. From fragrant curries to glossy noodles and soups. It is a guaranteed memorable experience.
Muslim-friendly features at LUX* Le Morne
Halal food served
Alcohol removed from room
3. Shanti Maurice Resort & Spa
Shanti Maurice Resort & Spa sits on the soft beaches and lush greens of St. Felix surrounded by sweet sugarcane and blue waters. 
There are 61 suites and villas for you to choose from, merging nature with boutique luxury. Ideal for families and groups, Shanti Villa combines 3 bedrooms with an enclosed courtyard, private pool and ocean view. For couples, the Oceanview Pool Villa provides luxurious privacy with a garden and pool as well as reserved sunbeds.
Guests have several great options for halal restaurants and eateries here. Stars is your breakfast, lunch and dinner staple, celebrating the culinary arts of the Indian Ocean. Feet in the Sand is an exciting experience with the freshest catches of fish, grilled to perfection on the beach.
Muslim-friendly features at Shanti Maurice Resort & Spa
Halal food served
Alcohol removed from room
Mosque nearby the hotel
Private villas available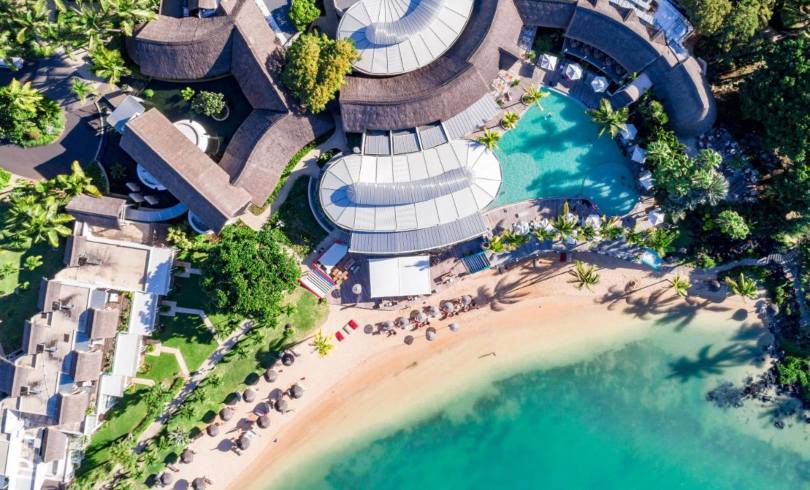 As a sister property to LUX* Le Morne, LUX* Grand Gaube is a retro-inspired luxury resort on the north coast of Mauritius.
Committing to the beach house feel, 9 room types are available so you're sure to find the one for you. The Junior Suite keeps it simple but gives you easy access to the beach.
Looking for an extra level of privacy? The LUX* Villa gives you it all. A private swimming pool, gazebo, 300 sqm villa and a private stretch of beach are ideal for a Muslim family holiday.
The halal culinary experiences here are one of LUX* Grand Gaube's selling points. INTI is their signature Peruvian restaurant serving tender steaks and wonderfully flakey fish. Recommendations include the Wagyu Solomillo with Molcajete salsa and the Crown Forest drink with plantation tea and vanilla-citrus flavours
Muslim-friendly features at LUX* Grand Gaube
Halal food served
Alcohol removed from room
Mosque nearby the hotel
Private villas available
5. Constance Belle Mare Plage
Constance Belle Mare Plage stretches along a glorious 2km of private sandy beach on the east coast of Mauritius. You will have the opportunity to golf, try a variety of watersports and rejuvenate at Constance Spa.
For levels of seclusion, you can choose a suite with a private balcony or a villa with a private pool.
The Deluxe Suite Sea Facing boasts stunning ocean views from your balcony. However, the Pool Villa Beachfront has everything you need for a luxurious halal honeymoon. The private heated pool provides relaxation in isolation whilst still allowing for lagoon access.
Constance Belle Mare Plage houses 8 stylish restaurants. La Citronnelle emphasises innovative global cuisine with an ever-changing buffet. With the daily changes there is always something new to try, but keep an eye out for the croissants and pan-fried fish.
Muslim-friendly features at Constance Belle Mare Plage
Halal food served
Alcohol removed from room
Private villas available