This is a complete guide to Maldives adults-only resorts.
In this detailed post, you'll learn:
The full list of adults-only resorts in the Maldives
The age limits for each of these resorts by category
What to expect in an all-inclusive resort for adults
Lots more!
I have personally stayed in dozens of resorts in the Maldives, both with children and without.
One thing I can definitely say is the difference in the atmosphere and overall experience.
Since the Maldives is a once-in-a-lifetime destination, it's important to keep in consideration the type of holiday you're looking for.
For example, if you're travelling for your honeymoon, I would not recommend a family-friendly hotel like Bandos.
Similarly, you may want to travel to the Maldives with teenagers but avoid a resort with toddlers.
We have compiled a list of our favourite adults-only resorts, ranging from 18 and including resorts suitable for teenagers.
With all the variety and uniqueness within these options, you're sure to find the adults-only Maldives resort for you.
What is an adults-only resort?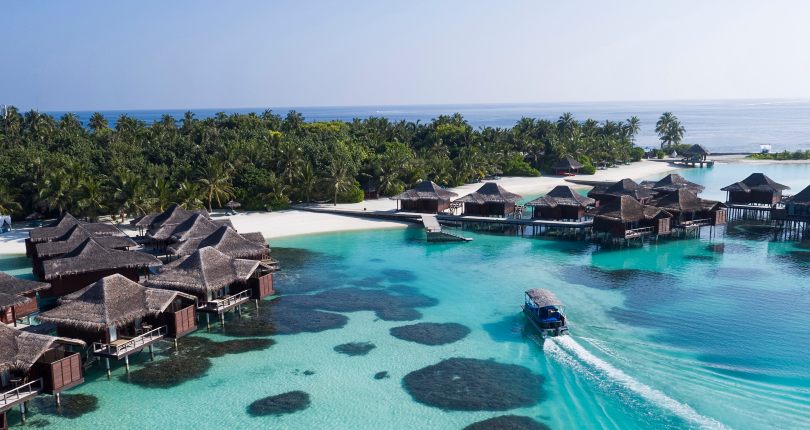 An adults-only resort is a full-service hotel establishment that permits guests over the age of 18 to stay on the property. Some resorts extend this to 21 years of age or decrease it to 16, but this is less common.
These restrictions are put in place to prohibit anyone under a certain age from becoming a guest at the resort for a variety of reasons.
Environments without young children tend to be more quiet and mature in nature, offering a more relaxing holiday. 
They provide an opportunity to enjoy entertainment better suited for adults, for example, excursions, watersports and spa treatments.
The restaurants available also tend to have a better variety for a mature palette, incorporating vibrant and developed flavour profiles. It also means a more romantic experience as you are likely to be surrounded by other couples.
Some adults-only resorts also have spaces or amenities that allow children, whether from other resorts or local communities. These can be time-based, for example, restaurants allowing dinner reservations for families, or be spatially based on specific areas.
Why you should choose a Maldives adults-only resort for your trip?
If you are travelling as a couple or a group of friends, an adults-only resort in the Maldives could be ideal.
These resorts are designed for adults with your needs in mind.
All of their resources go into creating the best experiences for you, including bespoke amenities and accommodations.
Likewise, it is the best opportunity to have an exclusive romantic break. All of your trips and activities will align to your needs, with no child-centred alterations and requirements.
Generally, adults-only resorts are also a lot quieter, allowing you to find peaceful serenity in an island paradise.
So, for anniversary trips, honeymoons, and romantic getaways, child-free Maldives hotels are definitely suitable.
Difference between an adults-only resort and an all-inclusive adults-only resort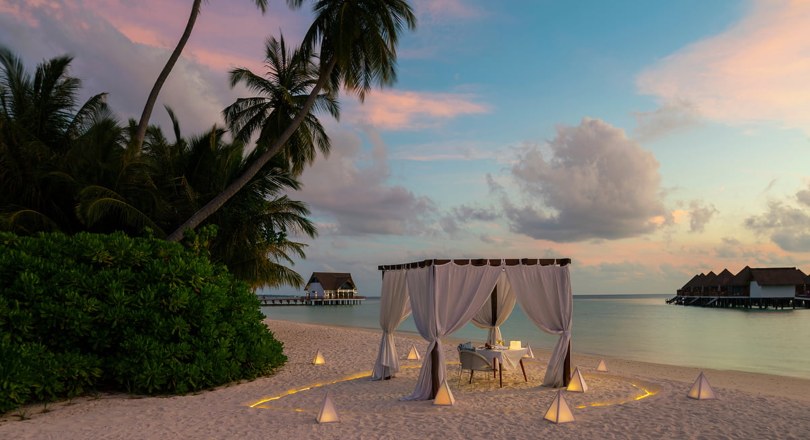 The main difference between a Maldives adults-only resort and an all-inclusive adults-only resort is the amenities included during your stay.
Although the resort will provide an adults-only environment, the additional all-inclusive option incorporates meals, beverages, and sometimes activities.
For example, the restaurants on the property will be available without extra costs, as well as activities and entertainment.
Choosing between a Maldives adults-only resort and an all-inclusive adults-only resort depends on your preferences and budget.
Adults-only all-inclusive holidays can be the top choice for travellers desiring a stress-free vacation.
With all of the necessary payments made upfront, it limits the extra costs that can come with a holiday. However, if you like to spend time off-site, enjoying local restaurants and activities it may not be right for you.
Keep in mind you can also choose other meal plans such as full-board, half-board, and daily breakfast.
Maldives adult-only resorts for over 18s
1. Anantara Veli Maldives Resort
Anantara Veli is a romantic adults-only Maldives resort set above crystal waters and powdery sands. Located just a short speedboat ride from Velana International Airport, your luxurious experience begins upon arrival.
There are 67 accommodations on the property, ranging from over-water to ocean to beach villas. The Superior Over Water Villas are the epitome of private opulence, with direct lagoon access and your own sundeck.
Ideal for a romantic honeymoon, you can take it a step further with the Deluxe Over Water Pool Villa. A private infinity pool, overwater hammock and lagoon access ensure an unforgettable holiday experience.
There is an extensive range of dining options to choose from whilst staying here. Origami is your modern Japanese dinner destination, with the option for Teppanyaki dining. Cumin offers the spices of the Indian Ocean for both breakfast and dinner.
Despite being an adults-only resort, after 6 PM children are allowed on the property for dining at the resort's restaurants.
For amenities and activities, Balance Wellness by Anantara is a holistic wellness retreat with both solo and couples treatments. Surfing is also a must-try at Anantara Veli with Tropicsurf operating exclusively from the neighbouring Anantara Dhigu.
Minimum age limit: 18 years old Children from Anantara Dhigu & Anantara Naladhu are allowed for dinner from 6 PM only.
All-inclusive plan: Available.
Self-proclaimed as the "island of love", Oblu Lobigili is a truly romantic haven and one of the best all-inclusive resorts in the Maldives for couples.
Situated just a few minutes from the airport and nestled along a beautiful stretch of sand. They also offer their Lobi Plan as an opportunity for an all-inclusive stay.
There are 3 types of villa to explore, Nest Water Villas, SunNest Beach Pool Villas and SunNest Water Pool Villas. The Nest Water Villas are stylish and private with direct lagoon access and a glass bottom floor.
SunNest Beach Pool Villas are tropical paradises with a private pool and veranda, direct beach access and vibrant decor.
Oblu Lobigli offers 4 premium dining destinations. Only Blu is a unique under-ocean dinner experience, allowing you to gaze at the reef and marine life. Gaadiya 17 is a creative spin on food truck eateries, featuring a bunch of exotic and aromatic flavours to try.
Must-try experiences here include ELENA The Spa, providing several special couples treatments overlooking the picturesque waters. You can also enjoy an intimate private movie night on the white sands, with canapés and cinema classics.
Watersports, diving, snorkelling and boat trips are also available and worth experiencing during your stay.
Minimum age limit: 18 years old.
All-inclusive plan: Available.
3. Mercure Maldives Kooddoo
Nestled between the blue waters and jungles of Kooddoo Island, Mercure Maldives Kooddoo blends international travel with local Maldivian culture. It is a great option for an adults-only all-inclusive resort in the Maldives.
With 70 beautiful villas created to highlight privacy and relaxation, you can be assured of an unforgettable stay. All villas allow access to the lagoon, with Water Villas sitting atop it and Beach Villas just a step away.
You can also choose a private pool villa, both Over Water and Beach, giving you an extra layer of privacy. To add an extra layer of glamour, an Over Water Sunset Villa presents a stunning view of the Maldivian sunset.
Dining at Mercure Maldives Kooddoo features two tempting restaurants. Alita Restaurant is an all-day buffet with international flavours, themed nights and stunning views of the lagoon. Your other option is Vista Restaurant, an authentic overwater Italian experience with the most vibrant flavours and dishes.
For complete serenity, Suvadiva Spa utilises French and Maldivian cosmetics and Asian and European therapies to revitalise your body. And for couples, the resort tailor-makes premium romance experiences, whether it's an intimate beach dinner or a sunset cruise.
One thing to note about Mercure Maldives is that it's located right next to Kooddoo-Viligili Airport, where domestic flights land. See the map below.
So, this is worth keeping in mind when choosing your ideal resort.
Minimum age limit: 18 years old.
All-inclusive plan: Available.
4. Komandoo Island Resort & Spa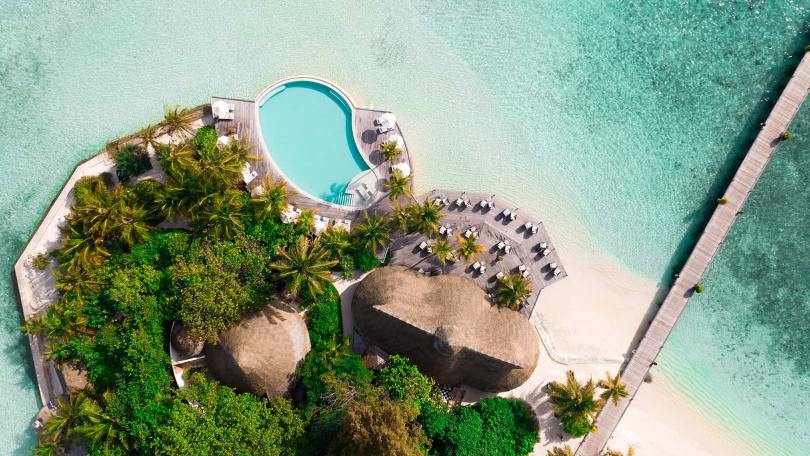 Komandoo Island Resort & Spa is an award-winning Maldives resort ideal for older couples, romantic escapes and friendly getaways. Found in the Lhaviyani Atoll, this adults-exclusive resort is custom-made for romance and tranquillity.
There are 5 types of villas to choose from for your stay at Komandoo. The Premium Jacuzzi Beach Villas host up to 3 adults and, built on the sands, face the beautiful island sunrise.
The Ocean Jacuzzi Water Villas are built on stilts over the lagoon, offering exclusive access to the water. You can bathe in your Jacuzzi whilst gazing at the horizon.
Fine dining is paramount to the Komandoo experience, with 2 exquisite restaurants. Aqua sits on stilts over the lagoon, serving the freshest surf and turf dishes alongside sunset views.
And Falhu Restaurant provides you with every meal you need for your stay, a culinary journey of international buffet dining. Or take it underwater with sister resort Hurawalhi's 5.8 Undersea Restaurant.
The award-winning Duniye Spa transports you to a world of rejuvenation and healing. For an adrenaline rush, snorkelling, scuba diving and a number of watersports are available to try.
Minimum age limit: 18 years old.
All-inclusive plan: Available.
Robinson Maldives is situated on the stunning Funamadua Island, in the Gaafu-Alif-Atoll, showcasing blue skies and even bluer waters. This luxury paradise is a romantic getaway ideal for couples and honeymooners.
Your accommodation options here include a selection of bungalows. The Water Bungalow with Private Pool is a stilted combined living/bedroom with a private pool terrace.
You also have direct sea access, so you can swap between your pool and the sea as you please. Or to take a step away from the lagoon, the Garden Bungalow sets you in your own tropical island paradise.
This resort provides 2 restaurants, the main restaurant that is included in their all-inclusive rate, and a speciality eatery.
Depending on the dates of your stay, you will get to experience tasteJam, a fortnightly Streetfood Festival celebrating fusion dining. The Maldives are well known for their incredible waters, making the water sports options a must-try.
You also have a number of beach and fitness opportunities to add some fun and healthy competition to your stay. Who said adults-only resorts can't also be fun?
Minimum age limit: 18 years old.
All-inclusive plan: Available.
Maldives resorts with adults-only sections
6. Kuredu Island Resort & Spa
Kuredu Island Resort & Spa is a vibrant playground of sandy beaches and tropical adventures. With the chance to experience a seaplane transfer to the island, the adventure starts as soon as you arrive.
The resort has two sections: the O Section allows guests aged 12 and up, while the Sangu Section is meant for 18 plus.
Accommodation on the island comprises 389 rooms, villas, bungalows and suites. Private Pool Villas sit in the tropical gardens of the property with partially open-air bathrooms and a private pool.
For honeymooners, the Sangu Water Villa Honeymoon Suite is the ultimate choice. A spacious villa perched on the end of a private jetty, privacy doesn't come any more exclusive than this.
Dining mostly depends on which accommodation you choose, however there is sure to be a buffet-style restaurant for main meals. There are several other options too, including Mediterranean cuisine at Franco's and authentic Asian cuisine at The Far East.
Entertainment involves watersports and guided excursions, as well as shopping and visits to Duniye Spa. Also, if you travel during the right period, you can snorkel alongside turtles.
Minimum age limit: O Section is 12 years and older. Sangu Section is 18 years and older.
All-inclusive plan: Available.
7. Meeru Island Resort & Spa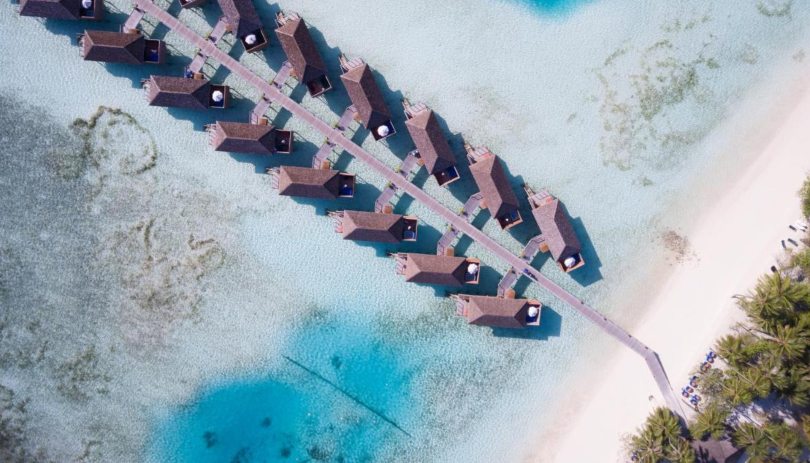 Surrounded by clear waters and long stretches of soft sandy beaches, Meeru Maldives Resort Island is a tropical paradise. It is 55 minutes by speedboat from Velana International Airport.
There are several luxury accommodations to choose from for your stay here. The Beach Villas are spacious wooden bungalows with beautiful lagoon views.
The Jacuzzi Beach Villas and Jacuzzi Water Villas are exclusively for adults. With both a Jacuzzi and direct ocean access, you can enjoy the sunset in opulence and island intimacy.
A delicious selection of restaurants is available onsite here, with two buffet-style eateries, Maalan being the adults-only option. You can also enjoy Asian Wok, which specialises in Asian cuisine and Teppanyaki. For something unique, Hot Rock is an experience with meats and seafood cooked to perfection on a magma rock.
Whilst staying here, you also must try the Duniye Spa and heal with specialist treatments amongst tropical gardens.
Minimum age limit: The Jacuzzi villas are for 15 years and older but with shared facilities with the whole island.

All-inclusive plan: Available.
8. Veligandu Island Resort & Spa
Veligandu Island Resort is a beautiful 22 acres of powdery beaches, stunning coral reefs and lush foliage.
Just 20 minutes from Velana International Airport by seaplane, a stay at this resort encapsulates island luxury.
There are around 90 rooms available, including Water Villas and Beach Villas. The adults-only section at Veligandu spans the jacuzzi villas.
Note that Veligandu Island Resort is currently undergoing extensive renovations in order to improve sustainability and technology within the resort.
The renovations are set to cover major areas including services and accommodation ensuring your next stay is truly memorable.
Once the resort is back to welcoming guests, you will have the opportunity to enjoy its premium amenities and activities. You will have the chance to experience completely redesigned restaurants and recreational areas.
The Spa will again be able to provide rejuvenating treatments and unforgettable experiences. And enjoying the surrounding waters will be better than ever!
Minimum age limit: The Jacuzzi villas are 12 years and older (shared facilities with the whole island).

All-inclusive plan: Available.
9. Conrad Maldives Rangali Island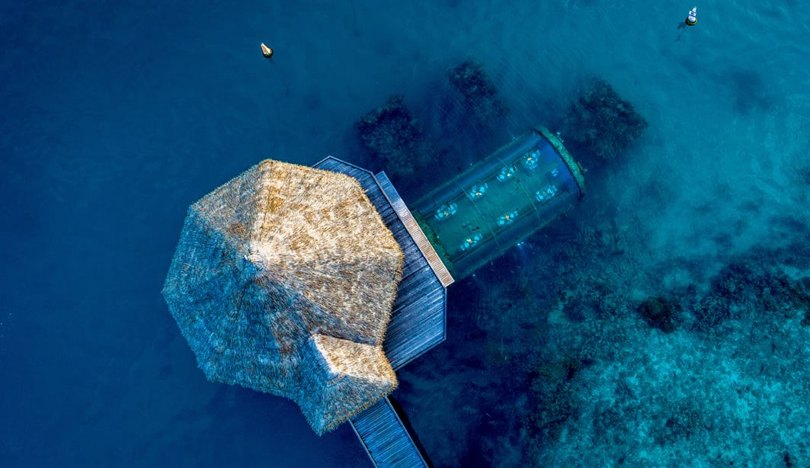 A secluded resort located in the South Ari Atoll, Conrad Maldives Rangali Island is an idyllic paradise. Being a twin-island resort experience, Rangali-Finolhu is a family setting, whereas Rangali Island is a 16+ location.
Staying in the adults' area at the Conrad Maldives offers several stunning villa options. The Sunset Water Villa with Pool, Sunrise Water Villa, Deluxe Water Villa with Pool and Premier Water Villa with Pool. Each is a haven of romance, privacy and serenity.
The infinity plunge pools sit just feet away from your direct ocean access, and your spacious sundecks offer pure relaxation.
At this resort, dining is as much of a spectacle as the rest of the entertainment. Ithaa Undersea Restaurant offers an aquatic wonderland with an unforgettable dining experience.
Ufaa by Jereme Leung is a journey through the provinces of China with distinctive flavours and inspirations. Or if you are a fan of Japanese cuisine, try Koko Grill with its 7-course dining menu under the stars.
With its focus on relaxation, Conrad Maldives offers premium treatments at its Over Water Spa using ISUN cosmetics. You can also enjoy yoga and fitness facilities or exciting watersports and ocean activities.
Minimum age limit: Water villas on Rangali Island are for Adults Only. The minimum age is 16.

All-inclusive plan: Available.
10. Vilamendhoo Island Resort & Spa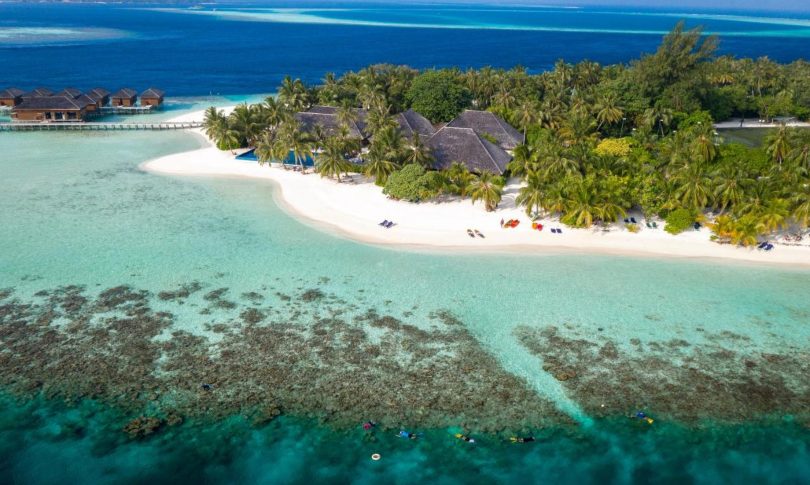 Vilamendhoo Island Resort is an award-winning trove of wonders in a tropical atmosphere. With separate facilities and a Jacuzzi Section for 18s and over, this resort offers a myriad of opportunities.
The Jacuzzi Beach Villas and Jacuzzi Water Villas are private havens for couples with Jacuzzi and indulgent settings. The Beach Villas offer beach island living with unforgettable lagoon views from your private sundeck.
The Water Villas feature partially open-air bathrooms, direct lagoon access and private sundecks. Both of these options prioritise romantic privacy, ideal for a honeymoon or couple's getaway.
Dining at Vilamendhoo Island Resort can have several appearances, with buffet and À La Carte restaurants located on the property.
Asian Wok serves Asian cuisine with a side of excitement with its live Japanese Teppanyaki station. Whilst, Hot Rock allows you to be your own chef as you prepare your own meal on hot volcanic rocks.
Amenities and entertainment at this resort include an abundance of watersports, snorkelling and diving opportunities.
You can spend days out on the water on Ocean Discovery excursions or Sunset 'Punch' Cruises. Or enjoy solid land with beach sports and the Duniye Spa.
Minimum age limit: Jacuzzi Section is 18 years and older (separate facilities for children and adults).

All-inclusive plan: Available.
Maldives resorts that allow older children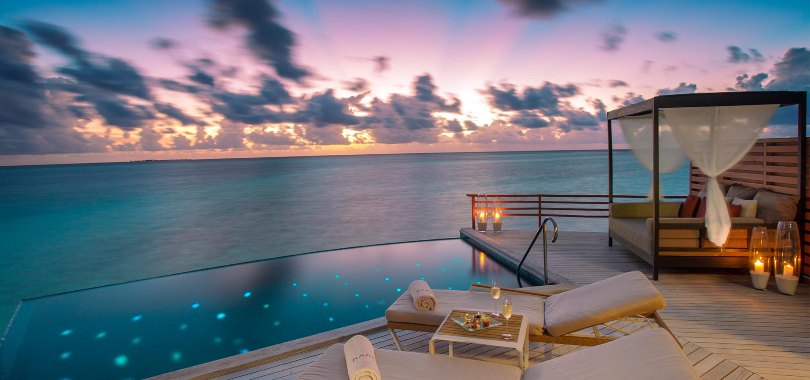 Open since 1973, Baros is a natural island paradise just 25 minutes from the airport. Ringed by a lively reef and translucent lagoon, the resort is accessible for ages 8 and over.
Baros Maldives has several suites and villas to choose from. The Baros Suites offer private pool luxury in a secluded garden with direct beach access. Or for an extra level of extravagance, the Water Villas are the ultimate island accommodation sitting right on the lagoon.
Dining onsite at Baros offers you 5 tantalising restaurants and bars. The Lighthouse Restaurant allows you to dine under the stars, tasting the freshest seafood and modern classics with exotic flavours. Lime Restaurant serves an indulgent buffet breakfast of Maldivian curries and succulent seafood, and then a hearty lunch and dinner.
Staying at Baros also gives you the chance to set out on boat excursions, dolphin and whale shark watching. Or mindful yoga on the Piano Deck, surrounded by picturesque blue lagoons and clear skies. Then you can finish your day with a trip to Serenity Spa for a quiet moment to revitalise your senses.
Minimum age limit: 9 years old
All-inclusive plan: Not available
12. Centara Ras Fushi Resort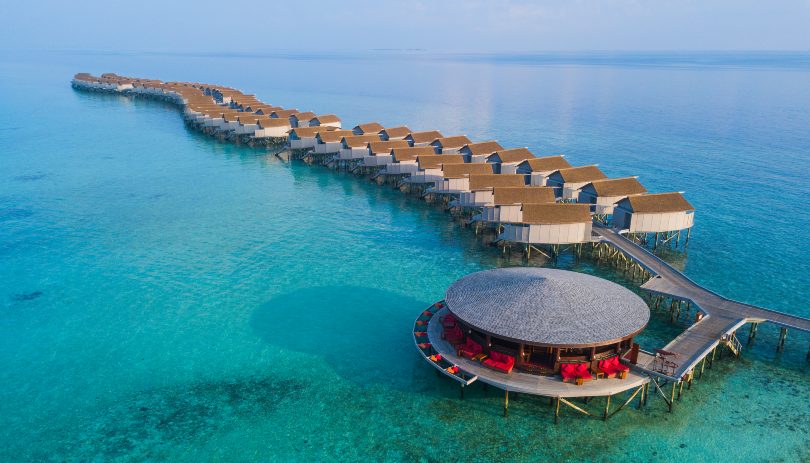 Centara Ras Fushi Resort is an adults-only centre of indulgence on immaculate white sandy beaches and a sparkling lagoon.
Guests aged 12 and up are allowed to stay on the property, however, it is rare for children to attend.
There are 140 villas to choose from when staying here, each ideal for a romantic couples retreat. The Deluxe Beach Villas offer sea views situated right on the sands, with a relaxing outdoor spa bathtub and lounging area. Or get closer to the action with a Deluxe Overwater Villa, sat above the Indian Ocean with direct lagoon access.
Centara Ras Fushi offers 9 incredible restaurants to try. Some of the top choices include La Brezza, the sumptuous Italian with fresh seafood and an inviting atmosphere. Suan Bua, the traditional Thai eatery, sits on the soft sands and tantalises your tastebuds with fragrant Thai flavours.
To enjoy a spa day on your trip, SPA Cenvaree is found overlooking the ocean in Healing Huts. Inspired by Ayurvedic and Thai traditions, it is the ideal spot for a romantic couple's treatment.
You'll also have access to an array of exciting watersports, beach activities and some of the Maldives' best diving spots.
Minimum age limit: 12 years old.
All-inclusive plan: Available.
13. Drift Thelu Veliga Retreat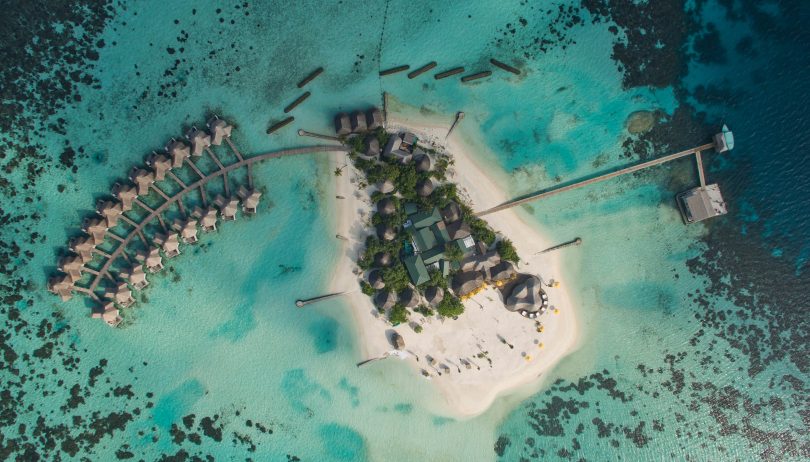 Stretched out over a hectare on a beautifully untouched island, Drift Thelu Veliga showcases white beaches and vibrant greenery.
With only 10 Beach Villas and 20 Water Villas, this exclusive resort takes inspiration from traditional thatched houses. The Beach Villas provide ultimate seclusion and privacy, with unparalleled views of turquoise waters beyond the sands. You will have direct beach access from your private outdoor seating and lounging area, the epitome of relaxation.
The Water Villas sit over the lagoon with private decks that lead into the cool waters. Bathe whilst staring out on the waters, or have coffee as you watch the sun rise over the island.
The resort's restaurant offers delectable à la carte dining in an open-air setting, emphasising fresh seafood and authentic flavours. You also have the opportunity for a curated culinary experience, as well as themed nights and private beach dining. 
Taking inspiration from nature, Drift Thelu Veliga's overwater spa is an oasis of calm with a carefully curated treatment menu.
A highlight of staying here is the opportunity to experience the famed Whale Shark Point of South Ari Atoll.
Minimum age limit: 12 years old.
All-inclusive plan: Available.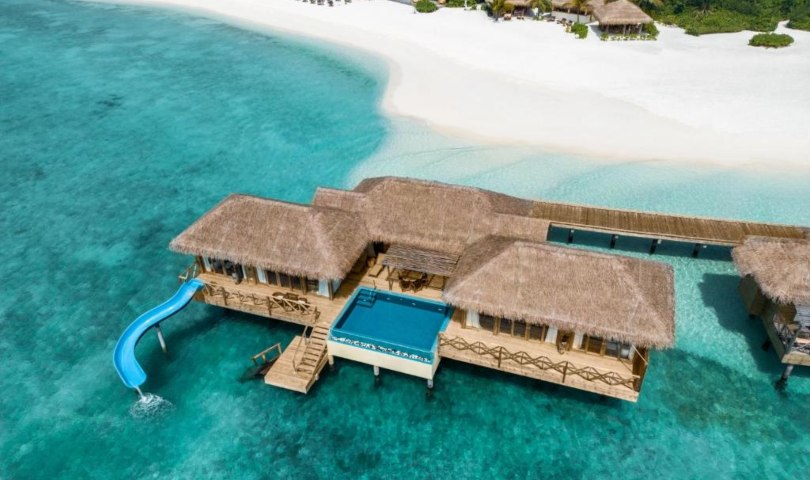 Accepting guests who are aged 16 and over, You & Me Maldives is excellent for adults-only overwater villas. Highlighting a natural and chic ambience, devotion and love in privacy is the priority when staying here.
The resort has 109 rooms, and an astounding 99 of them are overwater with a uniquely rustic design. The Dolphin Villas offer unforgettable sunset views with a seaside deck overlooking the colourful horizon.
However, an added layer of fun and excitement comes with their Aqua Suites with Slide. So, if you're in search of a Maldives villa with a slide leading directly into the turquoise lagoon, this resort s a great option.
Dining with You & Me is an experience in and of itself. With H2O allowing you to dine below the waves, Trattoria La Pasta serves the flavours of South Italy and more. The onsite spa boasts skincare from Elizabeth Arden, ensuring a sublime and healing spa experience.
Every guest is also able to receive a complimentary snorkelling kit to enjoy in the warm waters surrounding the resort. The fitness centre is open 24 hours a day with daily classes to enjoy, including both sunrise and sunset yoga.
Minimum age limit: 16 years old.
All-inclusive plan: Available.
15. Hurawalhi Island Resort
Hurawalhi Island Resort is situated on a beautiful private island in the stunning Lhaviyani Atoll. Accessible by seaplane transfer from Velana International Airport, the stunning waters are a highlight of the Maldives.
A total of 90 villas sit on the property, including Ocean Pool Villas, Beach Pool Villas and Romantic Ocean Villas. The natural earth tones complement the colours of island living to ensure a relaxing stay.
The Ocean Pool Villas sit suspended over the lagoon with a private infinity pool, sundeck and Indian Ocean access. The Romantic Ocean Villas swap the private pool for an indulgent outdoor bathtub, secluded but overlooking an ocean backdrop.
There are 4 main restaurants to enjoy throughout your stay. For the essential all-you-can-eat buffet, Canneli Restaurant offers exceptional meals throughout the day.
As mentioned, Hurawalhi Island Resort also boasts the 5.8 Undersea Restaurant, the world's largest underwater restaurant. Kashibo is an exciting mix of Asian flavours with seafood delicacies and exciting Teppanyaki options.
The resort's Duniye Spa harnesses Asian massage techniques with pure and organic products to indulge your senses. Activities available include watersports, workshops at The Manta Trust, diving, sunset dolphin cruises and deep-sea fishing.
Minimum age limit: 15 years old.
All-inclusive plan: Available.
16. Kagi Maldives Resort & Spa
Situated in the heart of North Malé Atoll, Kagi Island Resort supports a natural connection. As the only resort on the island, you can experience total island relaxation.
Accommodation here is distinct, tasteful and exclusive with only 50 villas available.
The Lagoon Pool Villas float above the lagoon with a private pool, so you can relax with a view. The Beach Pool Villas excite with an expansive bathroom, with an outdoor rainfall shower and deep bathtub.
Paired with your private deck and pool overlooking the beach and horizon-stretching ocean, your beach getaway is a true haven.
Dining at Kagi Island Resort matches culinary delights with stunning island scenery with 4 exceptional eateries. Noo Faru is your main meal hotspot, with extensive breakfasts and expansive dinner buffets.
Ke-Un highlights the Pacific Ring of Fire with innovative fusion dining and fresh seafood. And Nonna is your Italian comfort destination with panoramic views of the Indian Ocean and authentic flavours.
Unwinding is made easy with Baani Spa with its dynamic wellness process finding balance in all areas of your life. And experiencing everything Kagi Maldives has to offer is expedited with their Premium All-Inclusive Package.
Minimum age limit: 12 years old.
All-inclusive plan: Available.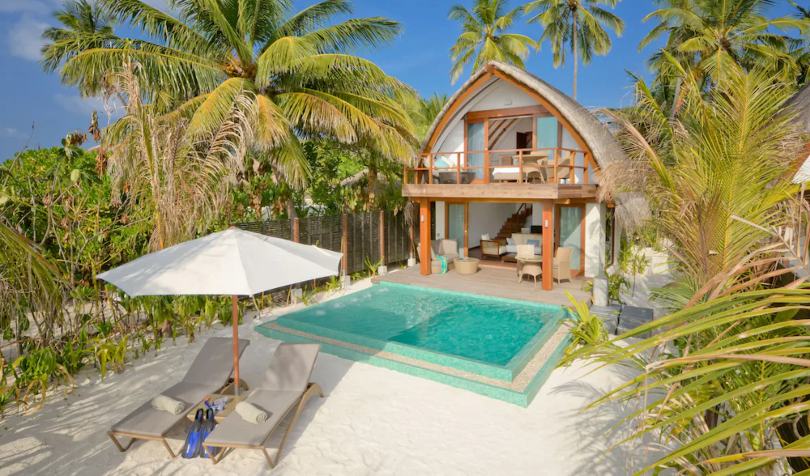 Kandolhu Maldives is a lush island with sandy beaches and colourful reefs. Idyllic in its location, Kandolhu is just a 25-minute trip by seaplane.
There are 30 villas in 5 different styles to choose from, each unique in its amenities and design. The Beach Villas are situated on the western shores, with a spacious garden, outdoor shower and expansive sundeck.
To add to your feelings of luxury and seclusion, the Ocean Pool Villas is the best Kandolhu has to offer. Your private deck includes a private plunge pool, sun loungers and lagoon access.
Despite being a small and intimate island, there are a number of dining choices to experience. Whether you choose the Bed and Breakfast, À La Carte Dining or Ultimate Inclusions package, indulging is a requirement.
The Market is an all-day restaurant serving both international and local specialities in a relaxed setting. Olive serves modern Mediterranean dishes, Banzai does succulent Japanese flavours and Ata Roa is Mexico and Peru meeting for light lunches.
Inspired by the local language, Varu Spa realigns your internal energy to ensure ultimate bliss and relaxation. Adventures are also available at every turn, with diving, snorkelling and water sports on offer.
Minimum age limit: 6 years old.
All-inclusive plan: Available.
In the heart of a UNESCO Biosphere Reserve, Milaidhoo Island Resort is the home of re-invented luxury.
Designed for couples with serenity and seclusion in mind, only guests aged 9 and up are allowed.
Milaidhoo provides 4 different villa accommodations to choose from, including both beach and water pool villas and residences. The Water Villas with Private Pool floats above the ocean on stilts with a freshwater infinity pool and Maldivian-style swing sofa.
The generous bathtubs and direct water access showcase indulgence and relaxation. The Beach Residence emphasises the comfortable feeling of island living, with a 60 sqm pool and separate living and bedroom spaces. Settled directly on the beach, you have picturesque sights and direct access to the beauty of Milaidhoo Island.
Dining at this resort is also a luxurious affair with Ba'theli Lounge and Restaurant, The Shoreline Grill and Ocean Restaurant. Set on a boat in the lagoon, Ba'theli Lounge and Restaurant features gourmet dishes with Maldivian Spice Route inspirations.
The Shoreline Grill serves the best freshly caught fish and seafood and perfectly cooked meats. You can spend your days learning from the resident marine biologist, indulging in treatments at Serenity Spa and more.
Minimum age limit: 9 years old.
All-inclusive plan: Available (The Milaidhoo Gourmet Plan).