Many years ago, when I first stayed in an all-inclusive resort, I had no idea what I was getting myself into.
I found a cheap deal online that included flights, so I booked without much research. It wasn't until the night of my first day at the resort that I noticed my mistake.
Little did I know the resort had a pumping nightclub all night long.
Although this hotel was in a Muslim country (Egypt), you still need to exercise due diligence.
Since then, learning from my mistakes, I've stayed in dozens of all-inclusive resorts in Europe, Turkey, the Maldives, Dubai, and more.
As a result, I've come to learn about the subtle differences between these hotels, their offerings, and the type of travellers they're ideal for. Especially how to spot Muslim-friendly all-inclusive hotels.
That's why I've put together this comprehensive guide on halal all-inclusive resorts. So, you can avoid these types of mistakes on your next trip.
You'll not only learn what they are, their benefits, and how to choose the right ones, but also we cover the best destinations and packages for halal all-inclusive resorts.
What you need to know about halal all-inclusive resorts
What are halal all-inclusive resorts?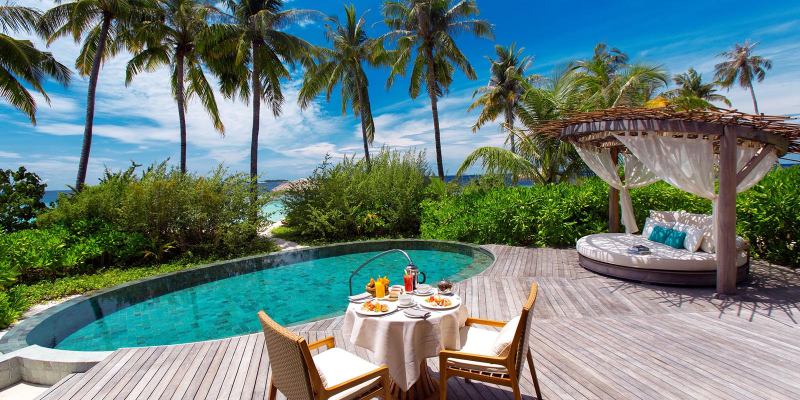 All-inclusive resorts are hotels that include all your base necessities within the pricing.
At the very least this will be accommodation, your three main meals and beverages.
At the most extensive level, it also consists of a gratuity, excursions, activities and local specialities. Many luxury resorts are located by waters and beaches so many will include watersports and snorkelling.
Now that you know what an all-inclusive resort is, it's easier to explain the differences from its halal counterpart.
Halal resorts with an all-inclusive plan provide guests with all aspects of their holiday experience while catering to their needs. This includes halal food for breakfast, lunch & dinner and non-alcoholic beverages. 
Additionally, some may be nearby mosques or provide prayer facilities, have an alcohol-free policy, and be safe for Muslim travellers to feel comfortable. 
They are less likely to incorporate a lot of heavy party atmospheres. They will instead offer more suitable activities for guests to take part in.
The benefits of all-inclusive halal holidays
Choosing an all-inclusive halal holiday can guarantee you a smooth and stress-free trip. With many of your needs met before you even arrive, you can fully enjoy the luxury without worry.
Not only will you have access to at least one main restaurant, but many resorts also boast snack venues. This can be sweet treats like ice creams for the hot weather, or fresh island fruits and savoury delicacies. So, you're covered if you're feeling peckish between meals.
On top of that, a lot of resorts will offer location-specific activities. Whether you want to try paddle-boarding on the beaches of the Indian Ocean or travel to local landmarks.
There is guaranteed to be an all-inclusive halal resort that can cater to how you want to spend your holiday. Making it an extremely cost-effective adventure.
What to consider when choosing an all-inclusive holiday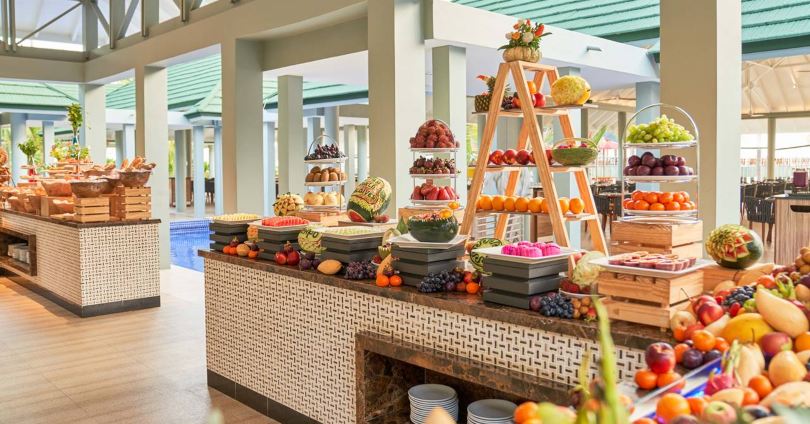 With all this in mind, there are some extra things to consider if an all-inclusive resort is right for you.
If you enjoy going out each day to explore your destination, this can be made slightly harder as most of these properties are isolated.
Although some are closer to towns and tourist hubs, it's worth thinking about the priorities of your vacation.
Also, unless you are prepared to spend a little extra, your dining options are mostly confined to your resort. As you'll have already paid for your stay, your meals are already included making it more cost-effective to dine onsite.
However, for many locations dining off-site can be pretty inexpensive, the consideration of the extra expense is up to your discretion.
Lastly, it's important to keep in mind the type of vacation you're looking to go on. You don't want to choose a child-friendly resort for your honeymoon!
Why choosing the right resort is vital for Muslim travellers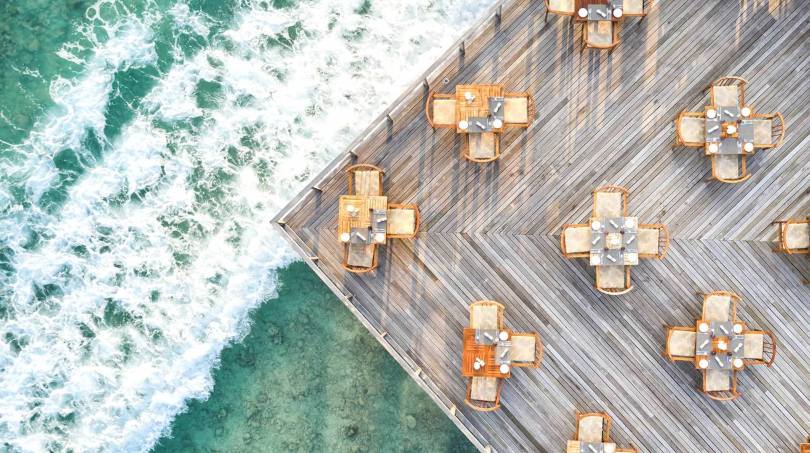 Choosing the right resort is vital for any traveller, but especially for our Muslim ones.
Location can be a dealbreaker for a lot of Muslim holiday-goers, with halal-friendly environments being of the utmost importance. Having the opportunity and prayer facilities nearby can be key for a successful halal resort and holiday.
Also having clear communication for halal dining and the presence or lack thereof of alcohol can be non-negotiable for many. Some resorts will still serve alcohol for non-Muslim guests but offer a comprehensive list of halal-friendly alternatives.
Another crucial element is the level of privacy. As Muslims, we value the opportunity to relax in privacy. Resorts with villas and private pools or jacuzzis are ideal for this.
Discover our collection of the best private pool hotels in Phuket.
Best destinations & packages for halal all-inclusive resorts
Below we cover incredible Muslim-friendly travel destinations along with the best halal resorts in the world.
Our team has visited all the destinations and hotels mentioned. The recommended properties are inspected and vetted by our team for quality, service, Muslim-friendliness, overall value, and more.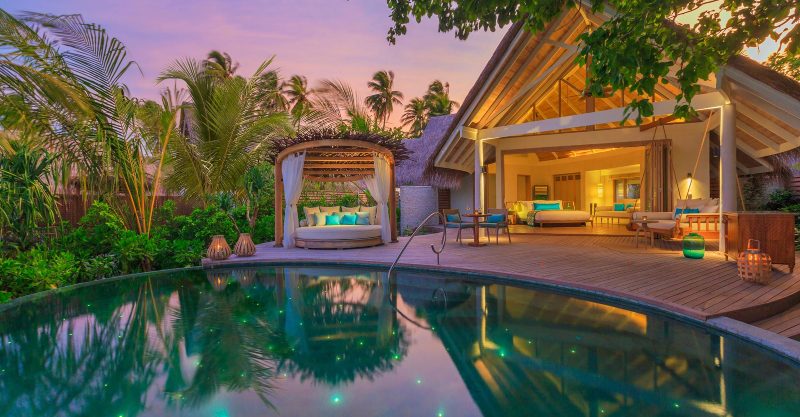 The Maldives is one of the most popular holiday destinations for halal all-inclusive resorts. It's widely chosen for halal honeymoons and family beach vacations owing to the abundance of halal options. Thanks to its almost 100% Muslim population.
With over 1100 islands that make up the Maldives, around 160 that host stunning beachfront all-inclusive resorts.
Travellers come to this gorgeous country for it's pristine tropical islands, turquoise waters, powder-white sands and year-round warm weather. Not to mention, their stunning marine life, some of the world's best for diving and snorkelling.
When this is combined with halal dining options for breakfast, lunch & dinner, unlimited tropical smoothies and fresh mocktails, you're in for a treat. 
Unlike other destinations, resorts in the Maldives are on isolated islands. This means all the restaurants, beverage venues, and activities are part of the island resort.
That's why going with an all-inclusive hotel in the Maldives could save you from extra expenditure. 
Insider tip for the Maldives: Since the country consists of islands, guests need to take a speedboat or seaplane to their resort from the airport. This isn't usually included in packages and usually is booked separately. We always include airport meet & greet, return transfers, and local taxes so you never have any hidden charges.
Maldives halal all-inclusive package
A weeklong all-inclusive stay in the Maldives gets no better than The Residence Dhigurah. This honeymoon-friendly island bridges the gap between luxury and sustainability. Neighbouring its sister resort, The Residence Falhumaafushi, both islands are connected by Maldives' longest private bridge. So, staying in either one provides guests complimentary access to the other. Each villa type features a large private pool which will certainly enhance your holiday experience. 
What's included?
7 nights at The Residence Dhigurah
Sunrise Beach Pool Villa
All-inclusive meal plan
Personal airport pick-up
Return resort transfers
Complimentary access to non-motorised watersports
One complimentary day excursion
From £2067 per person, excluding flights.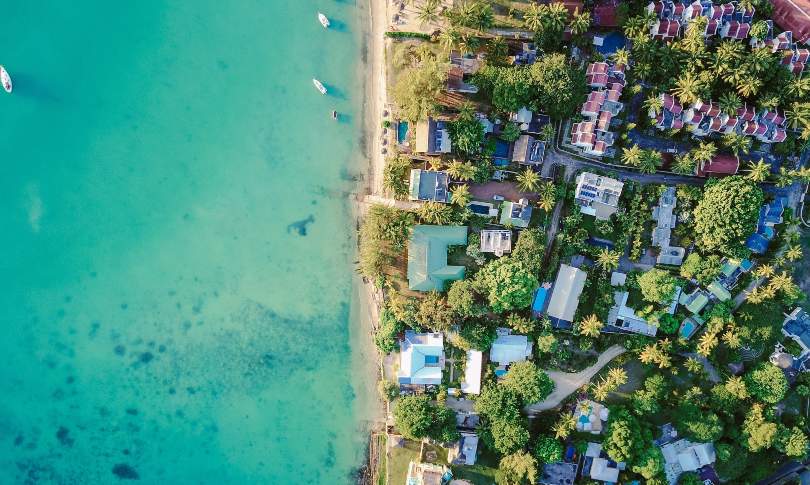 Mauritius is another prime destination for an all-inclusive halal holiday. Full of the world's prettiest tropical elements, you can experience the best of island life and nature in one package.
Being a fairly small island in the Indian Ocean, even with all-inclusive you have the ease of across-island travel. Pair this with the year-round sunshine and pristine beaches it is a dream location for any traveller.
As you might have guessed, it's also a hot spot for diving and watersports, so new adventures are always possible.
Another high point of Mauritius is its community, comprised of a varied mix of cultures and beliefs, everyone is welcome here.
Islam is even one of the top three religions in the country, with almost 1 in 5 being Muslim, so finding halal options is easy.
With many halal resorts in Mauritius, many offer private villas and experiences so you can enjoy your holiday your way. Choosing all-inclusive is a guaranteed way to enjoy and get the most out of your Mauritius halal holiday.
Mauritius halal all-inclusive package
Heritage Awali Golf & Spa Resort is a phenomenal all-inclusive-only island in southern Mauritius. Ideal for all travel occasions, Heritage Awali offers a jam-packed all-inclusive plan that covers all aspects of your stay. This halal resort features 12 dining & drinking venues, a variety of water sports and land activities such as archery, spa facilities, and more!
What's included?
7 nights at Heritage Awali
Delux Garden View Room
All-inclusive meal plan
Personal airport pick-up
Return private airport transfers
A range of water and land activities included
One spa treatment for each guest
Honeymoon benefits such as private dinner
From £1783 per person, excluding flights.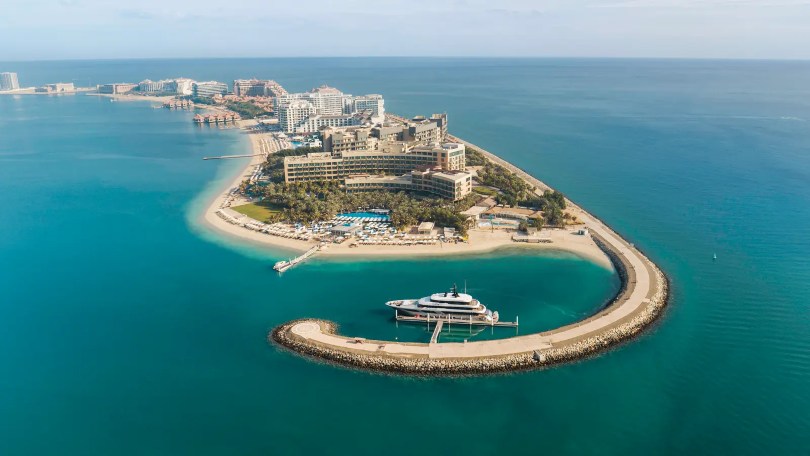 Dubai is another incredibly popular choice amongst Muslim travellers owing to its year-round great weather and luxurious hotels.
Being located in the UAE, Dubai is officially an Islamic destination. Laws and regulations surrounding food and catering are strict and thorough, meaning food by default is halal.
This provides you the opportunity to explore a whole new world of culinary experiences stress-free. Food can also become quite pricy here, so having the all-inclusive option is ideal for reducing holiday costs.
Dubai is also incredibly exciting, boasting sand dunes and desert safaris, and some of the best shopping experiences. There are also a number of beautiful beaches with warm turquoise waters and soft sand, ideal for a halal beach holiday.
Note that with many dining and activity options all around the city, most of the hotels in Dubai do not offer all-inclusive plans. However, there are a handful which do since they're located away from the main city centre. These include Rixos The Palm, JA Beach Hotel, and Anantara World Island Dubai Hotel.
If you're travelling with kids or the elderly and want to have a stress-free experience, then we'd recommend to go all-inclusive in Dubai. Otherwise, stick with half-board (breakfast & dinner) as you'll have plenty of dining options in the city.
Dubai halal all-inclusive package
Rixos The Palm Hotel & Suites is an all-inclusive family-friendly resort in Dubai's Palm Island. Part of the Rixos Group, this 5-star property offers Turkish inspired decor and hospitality. With exquisite rooms showing off its panoramic views of Dubai, facilities at Rixos include: two swimming pools, a wellness spa, kids club, watersports, and 6 restaurants.
What's included?
7 nights at Rixos The Palm Hotel & Suites
Premium Room
All-inclusive meal plan
Personal airport pick-up
Return private airport transfers
A range of water activities included
From £1630 per person, excluding flights.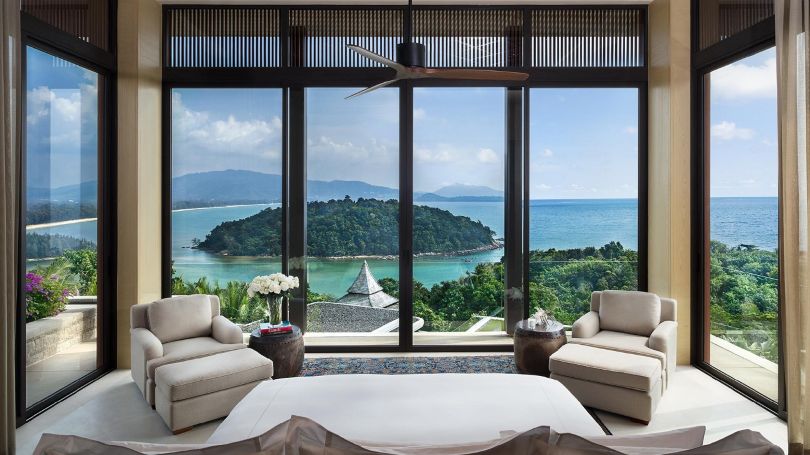 When considering halal all-inclusive resorts, Thailand wouldn't usually come to mind, which is understandable.
That's because the Land of Smiles is one of the world's best food capitals. So, there are infinite options for tasty food options wherever you go. Because of this, many hotels don't offer all-inclusive plans.
However, there are remote islands in Thailand where luxury resorts offer all-inclusive plans, like the one featured below.
With Islam being the second biggest religion in Thailand, the country offers a safe and relaxing environment to explore freely and enjoy your trip. 
Although it has a stereotype of being a party destination, this can only be found in certain locations and are easily avoidable. 
Bangkok offers a cosmopolitan cultural experience, with street foods and history. Whilst Phuket is a popular island getaway with beaches and vibrant markets. Many resorts are sitting along its many beaches.
So, by choosing all-inclusive, you can get exclusive experiences of Thailand's prime spots whilst staying in stress-free luxury.
Thailand halal all-inclusive package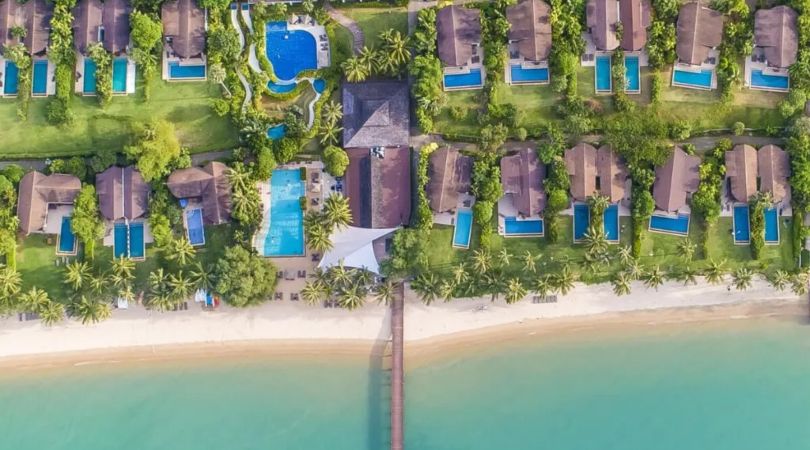 The Village Coconut Island offers a wonderfully comprehensive all-inclusive halal holiday experience. Located on the beautiful Coconut Island just off the coast of Phuket, you'll feel like being in the Maldives here. Your stay here includes complimentary use of mountain bikes, kayaks and unlimited trips to the neighbouring Koh Rang Yai Island. The Village features wide variety of jacuzzi and private pool villas for all group sizes.
What's included?
7 nights at The Village Coconut Island
One Bedroom Garden Villa with Private Pool
All-inclusive meal plan
Personal airport pick-up
Return private airport transfers
A range of water and land activities included
From £1,590 per person, excluding flights.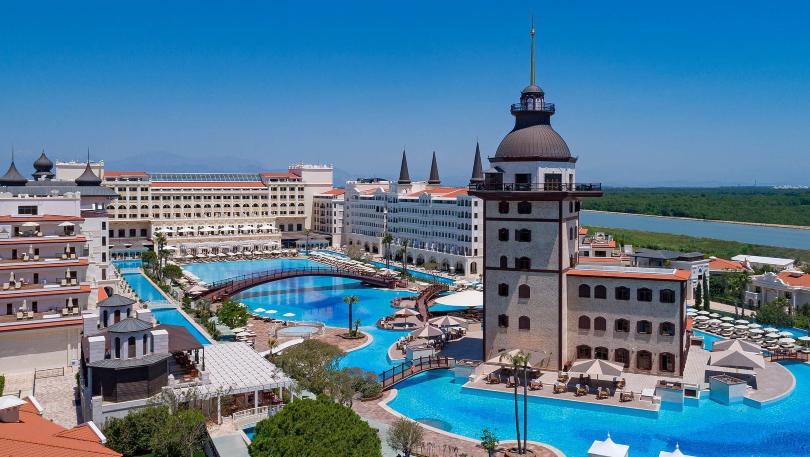 Arguably the most popular and innovative all-inclusive halal holiday destination, Turkey is an exciting destination incorporating rich heritage and picturesque locations.
Many of the all-inclusive hotels in Turkey are found along the Turquoise Coast. In regions such as Antalya, you'll also find alcohol-free all-inclusive resorts. However, stunning beaches aren't the only thing Turkey offers, with exciting mountain resorts also available too.
Being majoritively Muslim, most of the country's traditions are suitable for halal-conscious travellers.
Unlike the other options, in Turkey, you'll find options for women-only beaches, swimming pools, and spa facilities. This makes it ideal for a halal family holiday where everyone can have comfortable access to the resort's facilities.
Choosing all-inclusive can be the best way to have all aspects of your trip taken care of.
Turkey halal all-inclusive package
Titanic Mardan Palace is a prime option for your all-inclusive halal holiday in Turkey. Along the famed Riviera in Antalya, the resort houses over 30 dining options so each meal can be something new, exciting and stress-free! Facilities at Titanic Mardan Palance include watersports, the aquapark, spa facilities, bowling, tennis courts, indoor & outdoor pools, and more!
What's included?
7 nights at Titanic Mardan Palace
Premium Room
All-inclusive meal plan
Personal airport pick-up
Return private airport transfers
A range of water and land activities included
From £2050 per person, excluding flights.
How to find & book all-inclusive halal holidays
If you've decided to have an all-inclusive halal holiday, the next step is finding your ideal destination and resort.
The process can get overwhelming and with many options, they can all start looking the same! This makes it difficult to decide which one is right for you.
At Rooh Travel, we've personally visited hundreds of resorts collectively. So, if you'd like to minimise the amount of time (and stress) to find your perfect option, contact us today.