In this guide, we'll be covering everything you need to know about halal food in the Maldives.
This in-depth guide will also cover the best Maldives halal food to try and the resorts with the best halal restaurants.
I've personally visited the Maldives several times and experienced both the resorts and the local islands, where the Muslim Maldivians live.
As a result, I've learnt a lot about the people, culture, and of course their delicious cuisine.
The country is widely known for its pristine and crystal clear beaches. Having a 100% Muslim population, makes the Maldives one of the best places for Muslim foodies to visit.
By beginning with answering frequently asked questions for those in doubt, we will provide a rundown of recommended Maldivian halal food to try.
So, if you're planning on a Maldives halal holiday and want to learn about your food options, then continue reading.
Does Maldives have halal food?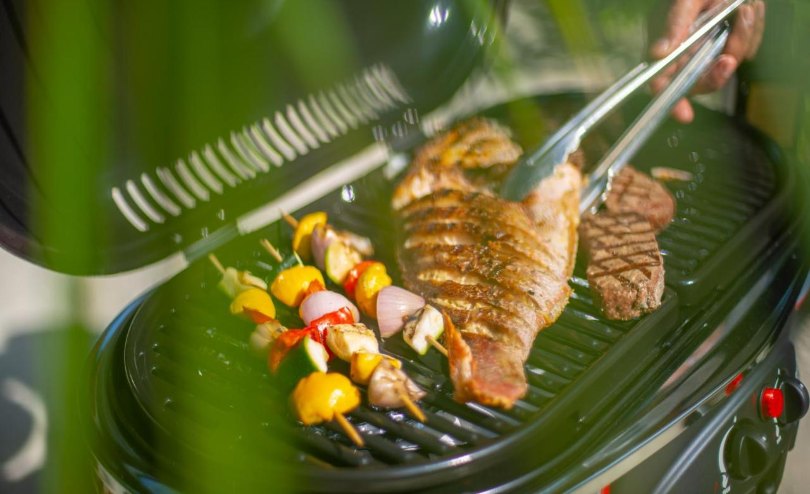 As mentioned, the high Muslim population of the Maldives signifies that the country has more to offer than mere scenery.
Luckily, the country is home to numerous mosques, private resorts and alcohol-free villas which cater to halal-conscious travellers.
Similar to countries like the UAE and Egypt which comparably hold a predominantly Muslim society, whether at Malé – the capital – or any of the luxurious islands, halal food is found at nearly every corner of the Maldives.
Is all food in Maldives halal?
Although, generally, most food in the Maldives is halal, you may be able to find non-halal food. This is because some resorts may offer pork dishes or cook with alcohol such as wine. 
In such cases, the resort will clearly label the dish's ingredients. If a particular dish isn't labelled , then by default it will be halal. 
Is food expensive in the Maldives?
Prices of meals can vary, due to the country's dependence on importation. So, food in the Maldives can be slightly expensive.
For 2021, food imports for the Maldives was 21%, three times that of the USA's. To avoid having to pay high prices during your holiday, all-inclusive packages are useful to avoid worrying about costs.
The good news is traditional Maldivian dishes are generally a lot more affordable than other dishes. 
5 best Maldives halal food to try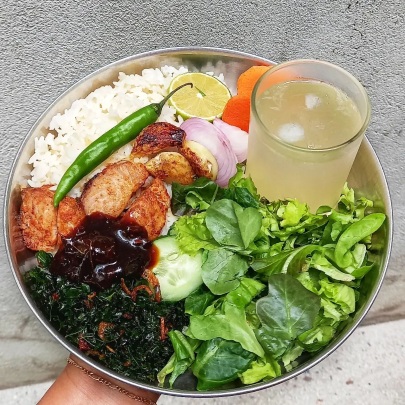 Traditional Maldivian cuisine consists of freshly caught seafood, a generous use of spices and chillies, and fragrant curries.
It can be widely comparable to Sri Lankan, Indian and even Arabic cuisine. Whereas, in most cases, these dishes are halal certified.
This section will provide a list of must-try Maldivian dishes and snacks which are commonly had by locals.
Garudhiya, one of the most popular Maldivian dishes, is a fish broth consisting mainly of tuna fillet, water and added leaves.
This simple yet must-have dish is a widely popular fish soup usually enjoyed either on its own alongside rice, or roshi – a chapati bread – and is enjoyed by most locals.
Kottu Roshi is widely made across numerous countries in Asia in various ways. In the Maldives, it mainly consists of bite-sized Roti, tuna, and a range of vegetables that are all combined.
This dish is largely enjoyed in areas including the capital, Malé.
A common breakfast, Mas Huni is a Maldivian dish consisting of tuna, onions, grated coconut and chillies. This dish may be used as a filling in wraps and sandwiches, or a spread on crackers, or even as a side dish for some grilled foods.
Bajiya, otherwise known as Samosa, is a stuffed pastry. Its ingredients are smoked tuna, onions, chillies and ginger. Their combination of crispiness on the outside and abundance of flavour on the inside is one of the many things that make them so popular!
Gulha is known as the national dish of the Maldives. These classic Maldivian snacks are small dumplings shaped in the form of balls.
They are, in most cases, stuffed with a tuna filling, diced onion, shredded coconut, and chillies. Their versatility allows them to be enjoyed at every occasion!
Best hotels & resorts with halal food in Maldives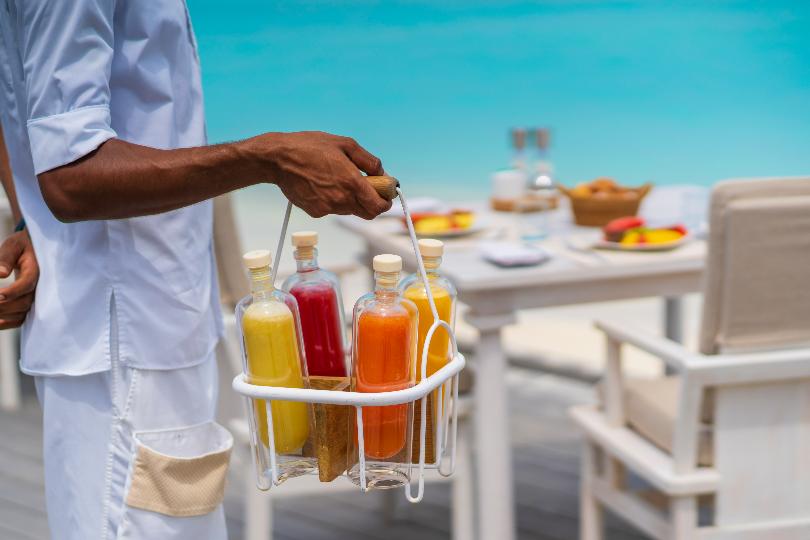 Although you can find halal food in most resorts, their quality and taste can vary.
Trust us, we've been there!
Some hotels put more focus on food by hiring talented chefs and housing a variety of restaurants and menus.
With a long list of Maldives halal resorts, we've hand-picked the best 5 for halal food.
1. The Residence Dhigurah
Located in Gaafu Alifu Atoll, The Residence Dhigurah is a sustainable and luxury resort.
Ideal for couples and honeymooners, the resort features 173 luxurious villas that each feature a private pool. With beach villas, over-water villas, and lagoon villas, each one is designed with traditional architecture and modern decor.
The Residence Dhigurah is suitable for those looking for an indulgent culinary experience. This palm-tree filled island is best known for its tranquil and blue lagoons and culinary expertise.
The great benefit of staying at The Residence Dhigurah is that guests are able to dine at their sister resort, The Residence Falhumaafushi. Both islands are connected by the longest private bridge in the Maldives.
Experience Mediterranean, Cantonese, Indian, and Maldivian cuisines during your stay at The Residence. The Dining Room is the main restaurant at Dhigurah, where guests can savour a variety of international dishes whilst overlooking the lagoon.
From garden villas over an abundance of vegetation to over water villas overlooking the blue ocean, the Furaveri Island Resort offers a variety of options for a comforting stay.
Alongside an international selection of cuisines, the Furaveri Maldives offers traditional Maldivian meals as well as a signature Maldivian dining experience every Friday.
For those seeking adventure, this resort takes it to the next level. Speedboats, snorkelling, windsurfing and jet skiing, to name but a few, are all activities provided by this resort
A unique resort, Sun Siyam Olhuveli offers a luxuriously contemporary Maldivian atmosphere. Whether you are after a private beach villa with a pool or an over the water villa, this resort gives you generous options for your stay.
Sun Siyam Olhuveli consists of three islands that are connected by two bridges. So, there's a lot more space to explore during your stay there. 
This resort is home to world class chefs and signature dining. For seafood lovers, you will be spoilt for choice. Open air grills and beach barbecue dinners alongside tropical mocktails are a must-try during your stay.
Located in Lhaviyani Atoll – a 30 minute seaplane trip from Malé – the Cocoon Maldives is an Italian and Maldivian design infusion. With 150 guest villas, they are built entirely so that you may unwind, relax, and create a memorable holiday.
This resort offers a selection of seafood dishes, with restaurants including Octopus Restaurant and Palm Square, which can be enjoyed under the palm or close to the best sunset views on the island.
5. Hurawalhi Island Resort
With one of the most scenic seaplane experiences, Hurawalhi Maldives is a luxurious adult-only resort with 90 lavishly comforting guest villas. Home to the world's largest undersea restaurant '5.8', the resort is suitable for honeymooners looking for an all inclusive break.