In this guide, we'll be covering everything you need to know about halal food in the Maldives.
This in-depth guide will also cover the best Maldives halal food to try and the resorts with the best halal restaurants.
I've personally visited the Maldives several times and experienced both the resorts and the local islands, where the Muslim Maldivians live.
As a result, I've learnt a lot about the people, culture, and of course their delicious cuisine.
The country is widely known for its pristine and crystal clear beaches. Having a 100% Muslim population, makes the Maldives one of the best places for Muslim foodies to visit.
By beginning with answering frequently asked questions for those in doubt, we will provide a rundown of recommended Maldivian halal food to try.
So, if you're planning on a Maldives halal holiday and want to learn about your food options, then continue reading.
Does Maldives have halal food?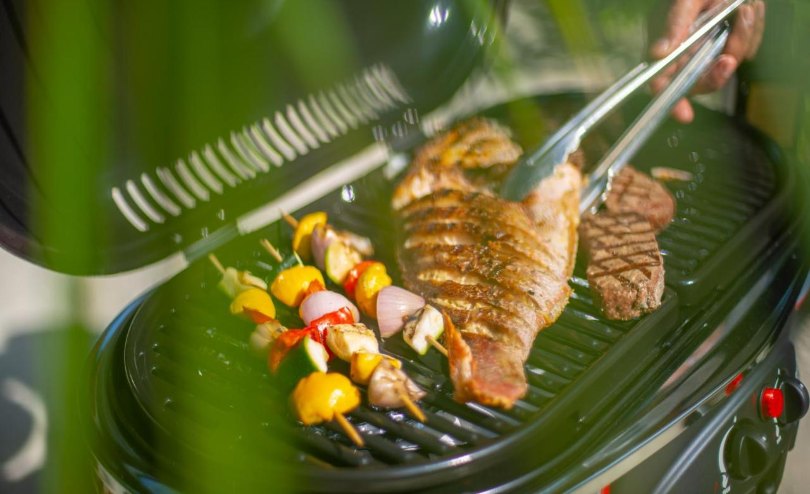 As mentioned, the high Muslim population of the Maldives signifies that the country has more to offer than mere scenery.
Luckily, the country is home to numerous mosques, private resorts and alcohol-free villas which cater to halal-conscious travellers.
Similar to countries like the UAE and Egypt which comparably hold a predominantly Muslim society, halal food is found at nearly every corner of the Maldives.
Is all food in Maldives halal?
Generally, food in the Maldives is halal, as it's a 100% Muslim country. Additionally, all Maldives resorts serve halal food, too. As a result, halal-conscious travellers will always have plenty of options in the Maldives.
It's worth mentioning that you may find non-halal food in the Maldives. This is because some resorts may offer select dishes that include pork or were cooked in wine. In such cases, the resort will clearly label the dish's ingredients. If a particular dish isn't labelled , then by default it will be halal. 
Looking for an alternative to the Maldives? Dig into our Mauritius halal food guide.
Is food expensive in the Maldives?
Prices of meals can vary, due to the country's dependence on importation. So, food in the Maldives can be slightly expensive.
For 2021, food imports for the Maldives was 21%, three times that of the USA's. To avoid having to pay high prices during your holiday, all-inclusive packages are useful to avoid worrying about costs.
The good news is traditional Maldivian dishes are generally a lot more affordable than other dishes. 
5 best Maldives halal food to try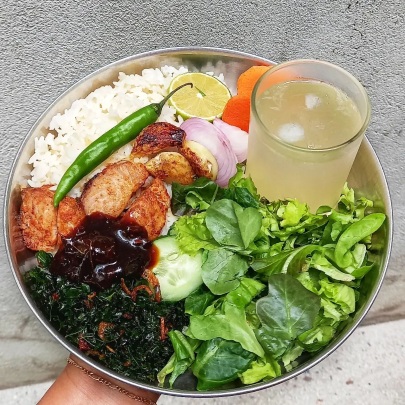 Maldivian cuisine (or Dhivehi cuisine) consists of freshly caught seafood, a wide variety of beautiful chillies and spices, and fragrant curries.
With its traditional flavours rooted in years of depending on essential ingredients, Maldivian food has developed its own unique highlights. Having similarities to Sri Lankan, Indian and even Arabic cuisine, it's unmissable for anyone who likes to experience new flavours of the world.
Discover 5 must-try Maldives halal food which are loved by both tourists and the locals. And to top it all off, everything on this list is halal and delicious!
Garudhiya is one of the most popular Maldivian dishes and that's why it's at the top of our list.
Consisting of a luxurious fish broth made from tuna found around the Maldives such as yellowfin and skipjack, water and in some cases some extra spices or herbs, this simple broth has remained a staple throughout the archipelago's history.
Traditionally, this is made with only tuna, salt and water. Now it contains variations including curry leaves, chillies and onions for that extra kick.
This version even has its own name, Kekki Garudhiya. Garudhiya is also the base for Rihaakuru, a richly umami fish stock used in many other recipes.
This meal is most often served with steamed rice, or Roshi a Maldivian chapati, making it a perfectly light and fresh meal for a day spent in the sun.
Kottu Roshi is a staple amongst numerous countries around Asia with some primary traces found in Sri Lanka.
However, for the Maldives, it usually consists of bite-sized Roti, tuna and a range of vegetables giving it a variety of textures and flavours.
Like Garudhiya, Roshi is a Maldivian flatbread that gets shredded and mixed into the cooked mixture of fish and fresh veggies. 
Some of the vegetables commonly used are pandan leaves, shredded cabbage and chillies and once again the fish are those that are caught from the surrounding waters.
The fresh and rich flavours that are incorporated from cooking in various spices give the meal a homey and warm taste.
For those who aren't fish lovers, there are versions of Kottu Roshi made with chicken instead but both are definitely worth trying.
Although this meal can be found being enjoyed around the Maldives, it can be mainly found around the capital, Malé.
To add something different to the list, Mas Huni is a typical Maldivian breakfast pate made of tuna, onions, grated coconut and chillies.
The ingredients are chopped together finely and mixed into a delicious spread that can be eaten with Roshi and sweetened hot tea, in sandwiches or wraps, or as a side dish for grilled foods.
Traditionally, cured fish was used but as times have progressed, the main protein incorporated is canned tuna for its efficiency and texture. However this doesn't take away anything from the taste.
Some variations of this dish were derived from a scarcity of fish, in which cases chopped leaves were added to the mixture. These leaves were those of local plants and trees and each added a distinct flavour or texture to the Mas Huni mixture.
Now, collared greens are the common leafy addition which not only provide vitamins and minerals but delicious flavours.
The other main variation creates a slightly creamier and more substantial pate. This is using pods of moringa, which after preparation are added into the other ingredients and then served in the same ways.
When on holiday, snacks are a great way to get involved with the local flavours and experience Maldivian culture.
That's where Bajiya comes in.
A type of Maldivian samosa, Bajiya is a stuffed pastry that's deep fried to golden brown perfection. The filling is a hearty mix of fish, onions, chilli, coconut and ginger. These flavours come together with the crispy pastry into a delicious mouthful every time.
These pastry parcels are a mix of sweet and salty and can be found as street food or as part of a meal. Bajiya is one of those great snacks that tastes different depending on who makes it or where you get it.
A lot of its recipes are passed down through the generations so it's always worth giving it a try!
Finally we have Gulha. Another short eat just like Bajiya, these classic Maldivian snacks are small ball shaped dumplings packed with flavour.
The filling tends to be a tuna, onion, coconut and chilli mix that as you can see is a staple flavour profile for Maldivian cooking.
Some variations include turmeric, lime juice and chopped curry leaves to add a deeper element to the Gulha but both versions are incredible.
The dumplings are then deep fried and served with other snack foods and sweetened hot tea.
There are 2 flours which work best with Gulha, wheat and rice. Using rice-flour makes the shell harder and crunchier whereas the wheat-flour is slightly larger and softer.
Another method of cooking is for the dumplings to be oven-baked which slightly changes the texture but is still delicious.
Again, there are many variations to what can be added to the Gulha but the tuna and coconut mix is the original and most popular and it's not hard to see why.
Best hotels & resorts with halal food in Maldives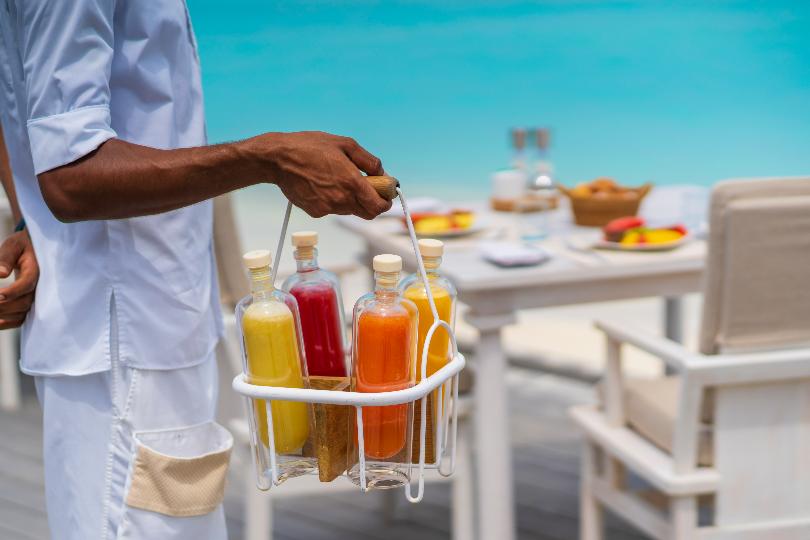 Although you can find halal food in most resorts, their quality and taste can vary.
Trust us, we've been there!
Some hotels put more focus on food by hiring talented chefs and housing a variety of restaurants and menus.
With a long list of Maldives halal resorts, we've hand-picked the best 5 Maldives resorts for halal food.
1. The Residence Dhigurah
Located in Gaafu Alifu Atoll, The Residence Dhigurah is a sustainable and luxury resort.
Ideal for couples and honeymooners, the resort features 173 luxurious villas that each feature a private pool. With beach villas, over-water villas, and lagoon villas, each one is designed with traditional architecture and modern decor.
The Residence Dhigurah is suitable for those looking for an indulgent culinary experience. This palm-tree filled island is best known for its blue lagoons and culinary expertise.
The great benefit of staying at The Residence Dhigurah is that guests are able to dine at their sister resort, The Residence Falhumaafushi. Both islands are connected by the longest private bridge in the Maldives.
Experience Mediterranean, Cantonese, Indian, and Maldivian cuisines during your stay at The Residence. The Dining Room is the main restaurant at Dhigurah, where guests can savour a variety of international dishes whilst overlooking the lagoon.
The Furaveri Maldives is a beautiful resort nestled on 23 hectares of natural island.
Perfect for any number of travellers, the resort specialises in watersports and tranquillity.
Also unique to the Furaveri is the Wellness Village, where rejuvenating spa treatments and yoga come together to help you feel at ease whilst staying here.
At Furaveri, you can find 168 accommodation options, from Garden Villas, Ocean Pool Villas and Two Bedroom Residences. Each of these provides you with everything you could personally need for your perfect halal holiday.
Whether that is heightened seclusion with your own private pool or direct access to the open waters.
Now, one of the Furaveri Maldives' best high points is its exquisite dining options. Inspired by nature and infused with culture, there are 3 luxury dining options for your stay.
The Jaafaiy is your mouthwatering breakfast, lunch and dinner restaurant using the best the island has to offer. The Raiyvilla serves Asian fusion and Amigos highlights the neutral flavours of Mexican cuisine.
Sun Siyam Olhuveli is a unique and luxuriously contemporary resort with a distinctly Maldivian atmosphere. Spread across 3 beautiful islands, and with 2 spa complexes and a range of holistic therapies, the Sun Siyam Olhuveli is your very own taste of paradise.
The villas and suites available range across the beach and into the water guaranteeing you unparalleled panoramic views. Perfect for Muslim families and couples, the option for a villa with either a private pool or private outdoor jacuzzi means you can enjoy your halal holiday without worries.
Serving a wide selection of halal food in the Maldives, Sun Siyam Olhuveli features 8 amazing restaurants.  Whether it's pizzas and deli-style sandwiches or freshly grilled seafood and halal steak, this resort has something for everyone.
Also for those with an interest in the beautiful sea surrounding the resort, there is a diving centre on-site as well as watersports and snorkelling so you can explore the world both above land and under the sea.
Located in Lhaviyani Atoll, just a 30 minute seaplane trip from Malé, Cocoon Maldives is the Maldives first design hotel.
The on-site Cube Spa takes the best that each corner of the world has to offer in terms of rejuvenation to provide you a sublime spa experience sure to heal your mind and body,
This resort has a grand total of 150 guest villas, built to ensure you can unwind, relax and create a memorable holiday for you and your family. Including suites, villas and pool suites, the Cocoon offers you the very best of island life.
Cocoon Maldives boasts 3 amazing halal restaurants, highlighting the best of Maldivian seafood. The main restaurant, Octopus, presents cultures of the world with its frequent theme nights and the Manta provides romance and luxury with A la Carte dining in the lagoon. Then finally, the Palm Square, specialising in grilled seafood and beef.
5. Hurawalhi Island Resort
Finally on our list is Hurawalhi Island Resort. Situated on a private island in the Lhaviyani Atoll, this resort is the ideal balance of serenity and excitement.
As Hurawalhi Island Resort is an adults-only resort, it is perfect for a Maldives halal honeymoon. Romance plays a large part in what the resort has to offer.
Accommodation at Hurawalhi Island Resort can provide you with your very own private villa and pool, or on top of the water, ensuring you utter tranquillity and privacy throughout your stay.
This also gives you the option of a sunset view where from your own sundeck you can watch as the sun falls into the Indian Ocean.
It is also here that you can experience the world's largest all-glass undersea restaurant, the 5.8, where halal fine dining and luxury is just as important as the otherworldly location.
However, this isn't the only eatery here, as there are several other halal restaurants serving everything from Asian street food and fine cuisine to upscale fast food, sure to always leave you excited for the next meal.