In this post, I will be listing the best halal beach holidays in tropical destinations around the world.
For halal-conscious travellers planning a halal beach holiday, discovering Muslim-friendly services can be a challenge.
That is why I will be sharing with you the best halal beach holidays, hotels, and the Muslim-friendly features to expect.
So, if your idea of an amazing vacation is lounging at a Muslim-friendly beach or private pool amidst lush tropical plants, then read on.
But first…
What is a halal beach holiday?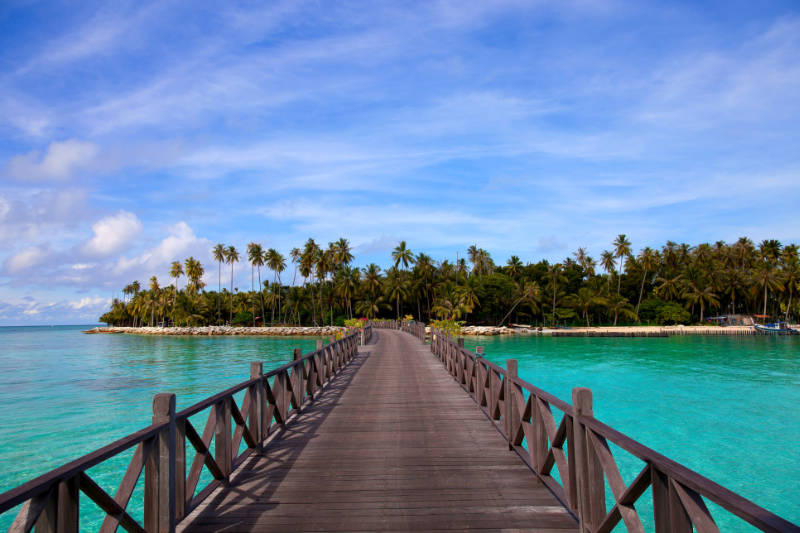 A halal beach holiday is a beach holiday that meets the needs of halal-conscious travellers. Whether that is halal food, privacy, women-friendly services, or prayer facilities to name a few.
According to CrescentRaiting, some needs can be categorised as "must haves", such as halal food, there are some categorised as "nice to haves", such as no non-halal services.
It's well known that beach holidays are infamous for half-naked tourists on sun loungers sipping cocktails.
However, it's entirely possible to discover muslim beach holiday destinations which avoids that.
Think halal all-inclusive resorts where bikinis are prohibited and halal beachwear is encouraged.
Yes, they exist, and will be listed below.
It's worth mentioning that there is a diversity in the preferences of halal travellers. As a result, some people may only want to stay at alcohol-free hotels, whereas it may not be a big deal for others.
With that being said, you may find a mix of suggestions below, but all will be clearly labelled.
Discover our top 7 beach holidays for Muslims
Explore our three Muslim holiday destinations along with seven incredible hotels for an amazing halal beach holiday.  
Whether you're looking for halal holiday packages, all inclusive resorts, or a luxury getaway, there's something for every budget.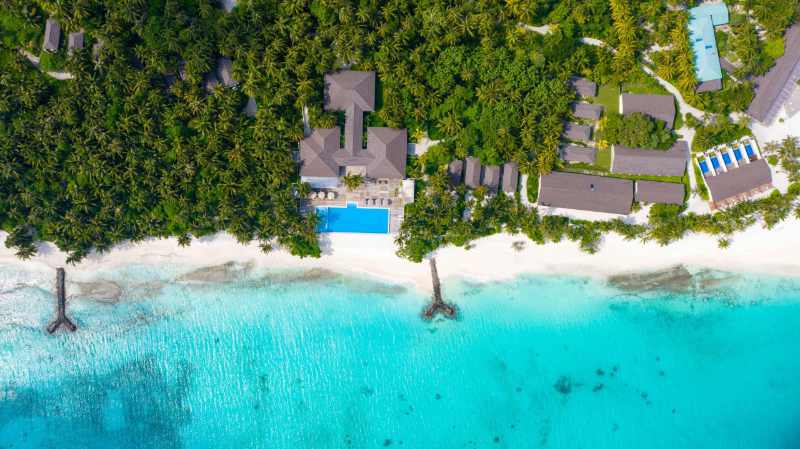 When it comes to halal beach holidays, the Maldives is the best choice. As one of the most ideal halal holiday destinations, the Maldives offers powder-white sand beaches, azure water and exotic marine life.
Made up of 1190 islands dotted in the Indian Ocean, most of these islands are privately used for resorts. The majority of these luxury resorts in the Maldives offer Muslim-friendly travel experiences.
The Maldives' halal resorts feature halal restaurants, alcohol-free villas and privacy. These hotels offer spectacular experiences from honeymoons to multi-generational trips.
And if you'd like to skip the fancy resorts and experience the country like a local, you can opt for the Maldives island hopping tours. 
These budget Maldives holidays are designed to delve into the local whilst staying in the inhabited islands. 
One of our favourite halal resorts in the Maldives, Fiyavalhu is a brand new resort located on the local island of Mandhoo.
Opening in October 2020, Fiyavalhu offers an all-island experience and combines luxury with local Maldivian culture.
The resort features 6 villa categories (excluding over-water villas) that are all designed in earthy tones and fit naturally into its tropical environment. The Private Pool Villa is ideal for couples looking for a halal honeymoon. This beachfront property offers sea views as well as a walled private garden with your own plunge pool.
Fiyavalhu offers a range of experiences for all travel styles, including an outdoor beach cinema, snorkelling, island picnics, and whale shark expeditions.
Muslim-friendly features at Fiyavalhu Maldives
Alcohol-free property

Private villas and pool

Bikiniwear prohibited

Halal food served

Mosque on the island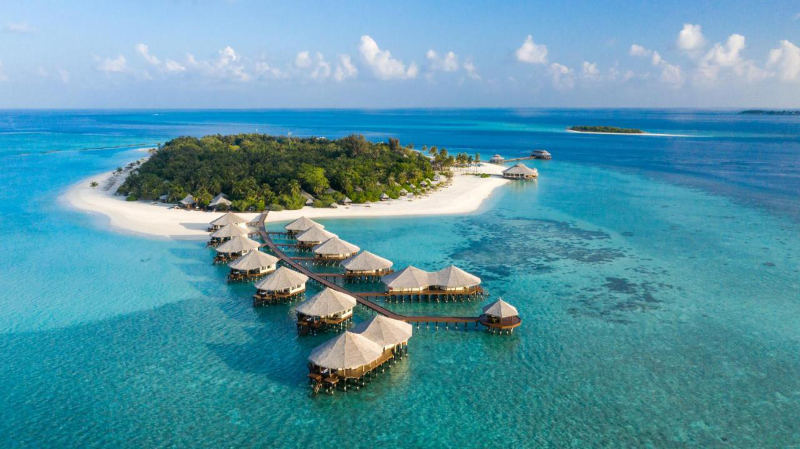 Located on its own secluded island in Baa Atoll, Kihaa Maldives is an ideal choice for a luxury halal holiday. This award winning resort is just a 20 minute domestic transfer from Velana International Airport in Malé.
Accommodation at Kihaa is luxurious and offers a range of modern villas and suites. The Garden Villa with Pool is ideal for Muslim travellers looking for a quiet tropical escape. The villa features a spacious room with a king-sized bed, bathroom with a bathtub and rain shower.
Additionally, the outdoor area is surrounded by four wooden walls and features a private pool.
Being a short boat ride away from Hanifaru Bay, a UNESCO Biospehere site, Kihaa offers day trips to spot manta rays and whale sharks.
Other excursions at Kihaa include night-fishing, sunset cruises, and day trips to local villages to experience the traditional Maldivian culture.
Muslim-friendly features Kihaa Maldives
Alcohol removed from room
Private villas and pool
Bikiniwear prohibited
Halal food served
Mosque on the island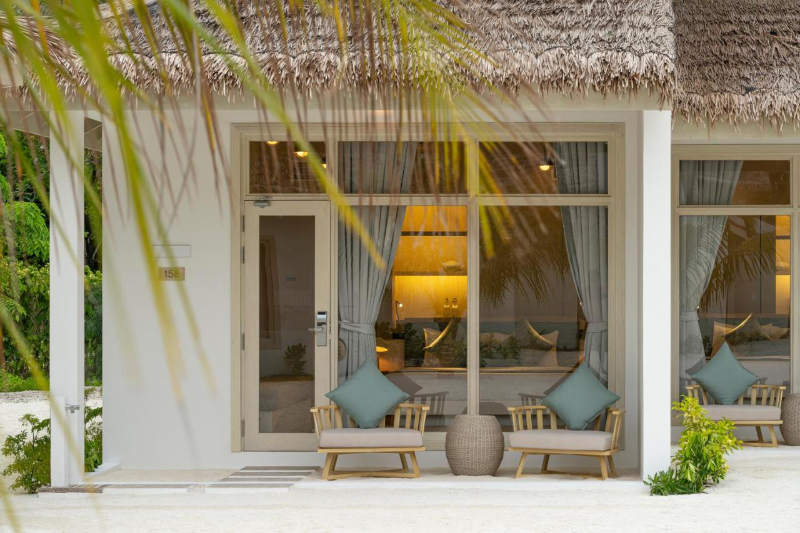 Located in North Male Atoll, Bandos Maldives is a 15-minutes speedboat ride from the international airport at Malé. Bandos, also known as "The Island of Hospitality", is one of Maldives' most family friendly resorts
The resort is renowned for its diving and snorkelling experiences as it houses one of North Malé Atoll's best coral reefs as well as its own dive centre.
Accommodation options at Bandos Maldives are plenty. With 225 villas & rooms, you'll be spoilt for choice. The Garden Villas are a great option for those that want to be surrounded by lush, tropical plants.
The Superior Beach Villas are designed as a duplex and offer your own private garden with an outdoor jacuzzi.
The Gallery is a buffet-style halal restaurant and your main hub at Bandos Maldives if you're on an all-inclusive package. The restaurant serves international cuisines during breakfast, lunch and dinner in a luxurious setting.
Muslim-friendly features Bandos Maldives
Alcohol removed from room
Private villas and pool
Bikiniwear prohibited
Halal food served
Mosque on the island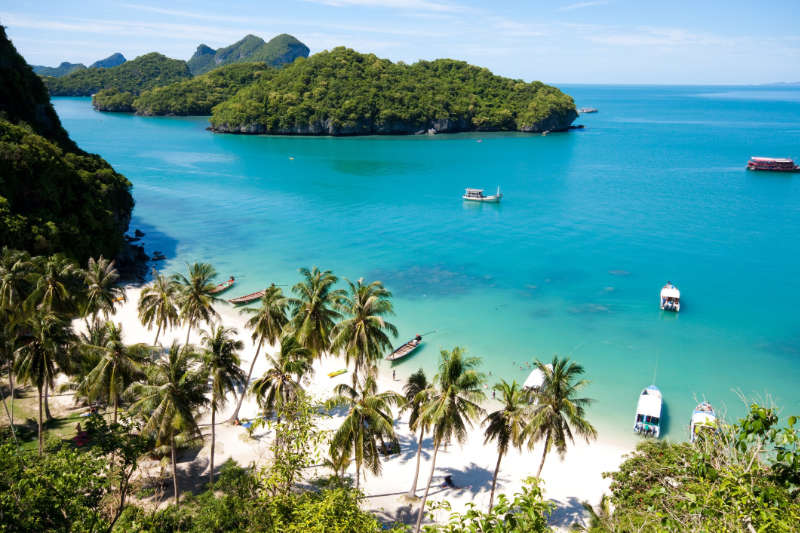 Thailand is one of Southeast Asia's most popular destinations for tourism, and it's no surprise why.
It's one of those destinations that has it all, from its incredible beaches, enchanting nature, award-winning hotels, and friendly locals.
Additionally, it's extremely easy to find halal restaurants and eateries across Thailand, which is one of the reasons the country is popular among Muslim travellers.
Halal beach holidays in Thailand offer incredible access to some of the world's most idyllic islands. For example, the paradisal island of Phuket has a Muslim population of 35%, and with mosques in all major areas. Additionally, finding halal food in Phuket is extremely easy.
4. Bangtao Beach Chalet Resort, Phuket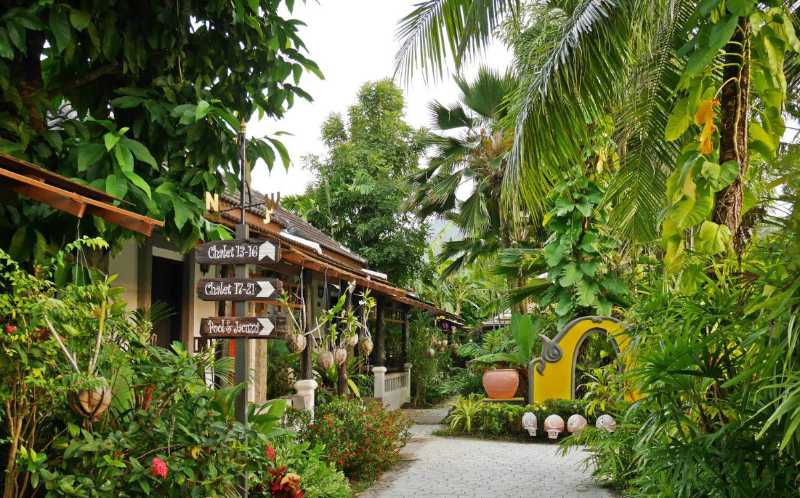 Bangtao Beach Chalet Resort is a Muslim-owned resort within a 5-minute walk from one of Phuket's longest beaches, Bangtao Beach.
Featuring all the modern amenities such as Wi-Fi, air conditioning, the resort also houses an outdoor pool amidst tropical gardens.
Designed with traditional Thai decor, the chalets at the resort offer a tranquil space for a relaxing stay. Bangtao Beach Chalet's own Dirham Halal Restaurant serves authentic Thai cuisine as well as light snacks.
Although you won't get your own pool at this resort, discover the best pool villas in Phuket. 
Muslim-friendly features at Bangtao Beach Chalet Resort
Alcohol-free resort
Halal food served
Mosque nearby the hotel
5. Aonang Fiore Resort, Krabi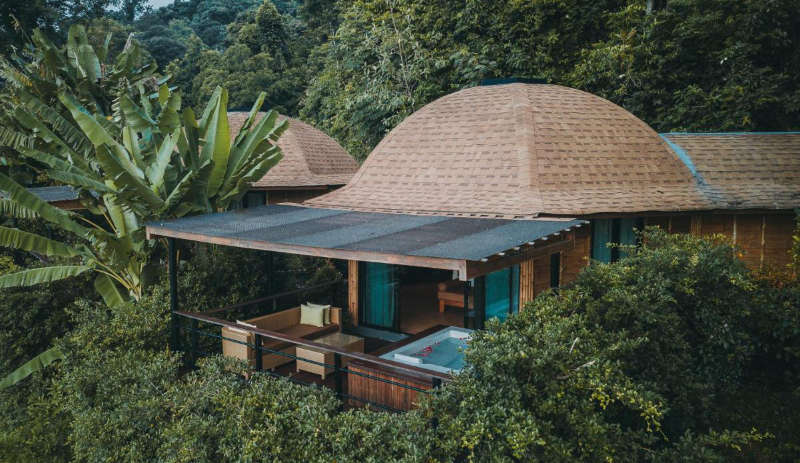 Aonang Fiore Resort is not exactly on the beach (10-minute stroll away) but it's definitely worth mentioning. Located in Krabi, a Muslim-friendly beach town in southern Thailand, the resort is within walking distance of a variety of halal restaurants and services.
This Muslim-run resort is nestled in lush, tropical terrain and offers three villa types that are all designed with sustainably sourced materials. The guests' favourite are the spacious Jacuzzi Villas. These private and secluded villas are naturally covered by trees whilst offering 55 sqm of space, a private wooden deck with a lounge area and your own jacuzzi tub.
Facilities at Aonang Fiore include an alcohol-free pool bar, private spa rooms, halal restaurants and more.
Muslim-friendly features at Aonang Fiore Resort
Alcohol-free resort
Private villa and jacuzzi
Halal food served
Mosque nearby the hotel
Join thousands of halal travellers that receive exclusive holiday deals, only shared with our subscribers.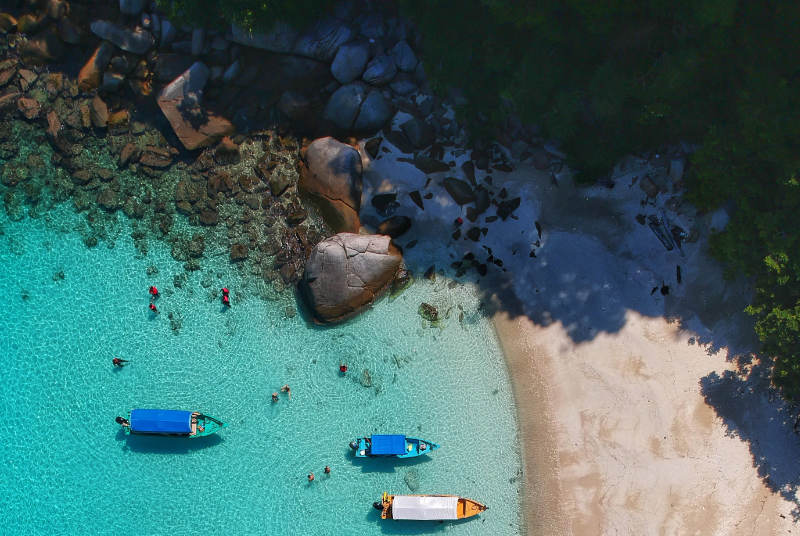 As a Muslim country, it's a given that a halal beach holiday in Malaysia comes without obstacles. As one of the world's best halal travel destinations, Malaysia offers hundreds of tropical islands and beach towns to choose from.
With a mixture of Malay, Indian and Chinese cultures, the country offers unique cultural experiences like no other.
Malaysia's western islands such as Penang and Langkawi are home to some of the country's best beach resorts and white sand beaches. Penang is also known as Malaysia's food capital. Here, you can savour mouth-watering street-food dishes from India and China.
Langkawi's Pantai Cenang is one of the world's most famous beach fronts and houses a variety of resorts, restaurants, and night markets.
The Datai Langkawi is a 5-star luxury beach resort perched at the edge of an ancient rainforest and blends into its environment.
The resort consists of 121 spacious rooms and villas that are naturally surrounded by lush greenery. The One-Bedroom Beach Villas open to the the powder-white sands of Datai Bay and come equipped with your own private pool and dedicated butler.
Datai's award-winning The Gulai House restaurant serves authentic Malay dishes in a traditional kampung-style decor and setting. Sitting on 30-meter long stilts, the Pavilion serves Thai cuisine nightly and elegantly prepared by their Thai chef. Facilities at Datai include two outdoor pools, private beach, spa and more.
Muslim-friendly features at The Datai
Alcohol removed from room
Private villa and pool
Halal food served
Mosque nearby the hotel
7. Sipadan Kapalai Diving Resort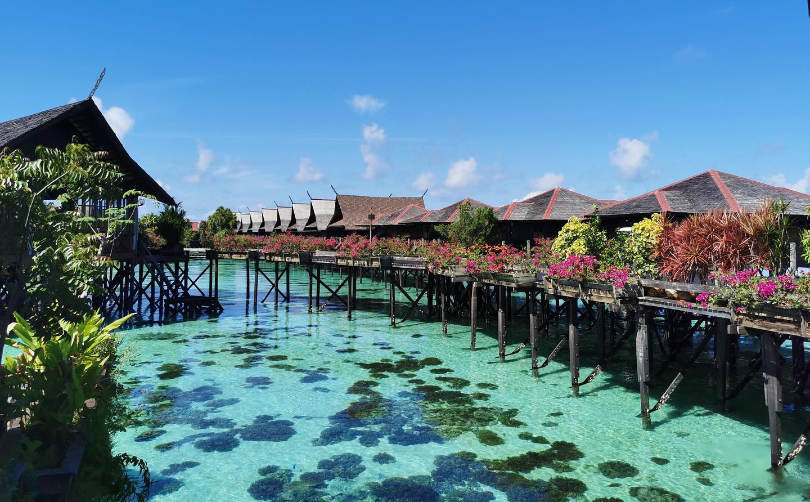 Sipadan Kapalai Dive Resort is located on the Celebes Sea and strategically situated on one of the world's best diving sites.
Off the island of Borneo, Sipadan Kapalai can give the Maldives a run for its money.
The resort sits on stilts on a sunken island, which is one of the reasons that it offers a unique diving and snorkelling experience. Beware that there is no land in sight and that the whole resort is on stilts in the middle of the ocean.
The over-water chalets are designed in traditional kampung (village) style. Each chalet features a private balcony providing unobstructed views of the turquoise-clear water. Although the resort is in a remote location, guests still have access to modern conveniences such as Wi-Fi.
Additionally, Sipadan Kapalai features a buffet-style restaurant over the water, where typical Malaysian cuisine, tropical fruits and seafood is served daily.
Most of the activities on offer are water based such as diving with a PADI-certified instructor, snorkelling and kayaking. Apart from that, Sipadan Kapalai is a place to escape from the hustle of everyday life to soak in the beauties of the natural world.
Muslim-friendly features at Sipadan Kapalai
Alcohol removed from room
Private villa with balcony
Halal food served
Looking for a halal beach holiday?
If you're looking for the best possible halal beach holiday customised around your travel preferences, get in touch today. All out trips are designed uniquely around you. Our Halal Travel Designers work one-on-one with you to create an unforgettable trip.
Whether you're planning a romantic honeymoon in the Maldives or a family vacation in Phuket, you can book your trip with total confidence.