Today you're going to discover the best Bangkok halal hotels that you should consider for your next trip.
Having lived in Thailand for three years, I've stayed in dozens of hotels during my many staycations.
Some stays were with my family, some with my wife and I, and some were solo. Some of the hotels were excellent, a few were good, and a couple were terrible!
As a halal-conscious traveller, I'd always look out for the best hotels in Bangkok that were Muslim-friendly.
These were the hotels that not only had fantastic service and facilities but as a minimum served halal food. Additionally, some were alcohol-free or dry hotels, ideally near a mosque, and offered privacy.
As a result, I have put together this list of the best halal hotels in Bangkok that is based on my experience and places I've visited.
So, if you're planning on visiting Thailand and looking to stay in the best Bangkok halal hotels during your trip, check out our list below.
But first, let's look the most common questions I get asked about Bangkok as a Muslim traveller.
Why should you visit Bangkok?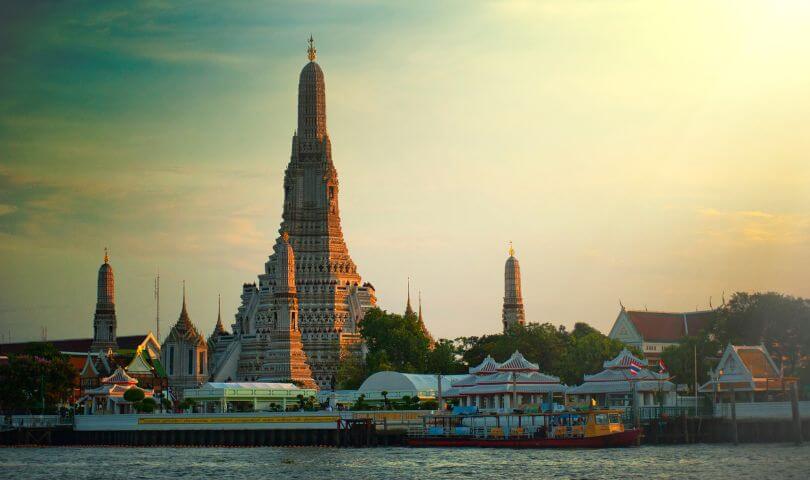 As a Muslim traveller, Bangkok is a fantastic destination to add some vibrancy to your trip to Thailand. Locally known as Krung Thep Maha Nakhon, Bangkok was the most visited city prior to the Covid-19 pandemic.
It's understandable to see why.
This bustling megacity offers an incredible mix of history, culture, shopping, and food! Bangkok is such a large city and with a population of 10.5 million, it truly never sleeps.
As a result, Bangkok provides a great number of experiences and destinations that suit all travellers. From eating your way through street food stalls at Chatuchak night market or touring the city by a boat trip along the Chao Phraya River, Bangkok is the one city where you'll never be bored.
Finally, as you'll shortly see, there's a wide selection of hotels with halal food in Bangkok. Many of which are also near halal Thai restaurants and local mosques, thanks to the city's large Muslim communities.
Looking to visit Phuket, too? Check-out our list of halal hotels in Phuket.
What is the best time of year for a Bangkok halal holiday?

Bangkok, and Thailand as a whole, has 2 main seasons. These are the hot season and the rainy season. Being located in Southeast Asia means that the country enjoys a tropical climate, meaning it's hot all year round.
So, choosing the best time to go depends on what you're willing to compromise.
From around May to October it is the rainy season, which does mean cheaper hotel rates and less tourists but also very heavy rainfall. At times like these, the beaches are not as inviting and getting around can be difficult.
The main tourist time is December and January when the weather is slightly cooler for winter but still pleasant, making it the most popular for holidays.
For sightseeing and tourist trips the dryer weather is ideal and this period extends from November to April but does also come with higher hotel prices.
What is the best Muslim areas in Bangkok to stay?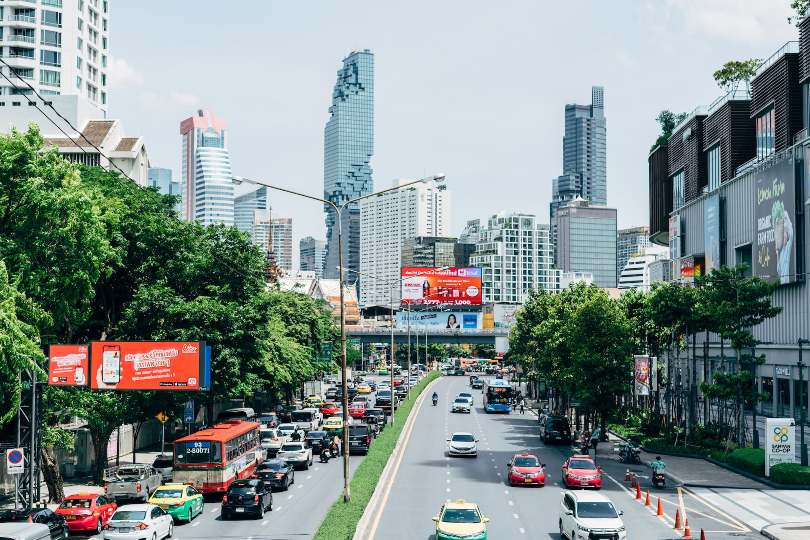 The best places to stay in Bangkok as a Muslim traveller are the Bang Rak or Pathum Wan districts. That's because you'll be in close proximity of both the city's must-visit places as well as its Muslim communities. 
You'll also find here some of the best halal hotels in Thailand.
To get a taste of this city, we would recommend to visit as many areas as possible. But if you're looking to be nearby Muslim-friendly amenities stay in either Bang Rak or Pathum Wan.
Within these areas, you'll be able to find the best halal food in Bangkok.
The district of Bang Rak is one of your best options for places to explore whilst on your halal holiday to Bangkok.
Snuggly located next to the Chao Phraya River, this district hosts a range of spectacular places including Haroon Mosque, one of the oldest mosques in Bangkok, and a great assortment of halal restaurants and food stalls.
Bang Rak is perfect for great views and a great time, with the views over the Chao Phraya River certain to help you make lasting memories. Also close to Bangkok's newest malls, IconSiam, you're guaranteed long-lasting food inspiration after just one trip.
Within Bang Rak is Charoen Krung Road, Thailand's first modern road, where the city's creative side is on display through its street art.
Additionally, Asiatique is very close by, meaning shopping can always find its way onto the itinerary even if you only stay for a couple of days.
Slightly different but definitely worth mentioning is Pathum Wan. This central area of Bangkok has everything you could think of to make a holiday efficient and memorable.
With its prime location, some of Bangkok's greatest landmarks can be found nearby with both Central World, the world's 11th largest shopping mall and the Jim Thompson House Museum both nearby. Whether you are more into shopping the day away or observing collections of art and culture, Pathum Wan has what you need to make your experience bespoke to you.
And finally, the Wireless Road, known for having some of Bangkok's best hotels is also located here, and some of these can even be found on the list below, so look out for those!
Top 9 halal hotels in Bangkok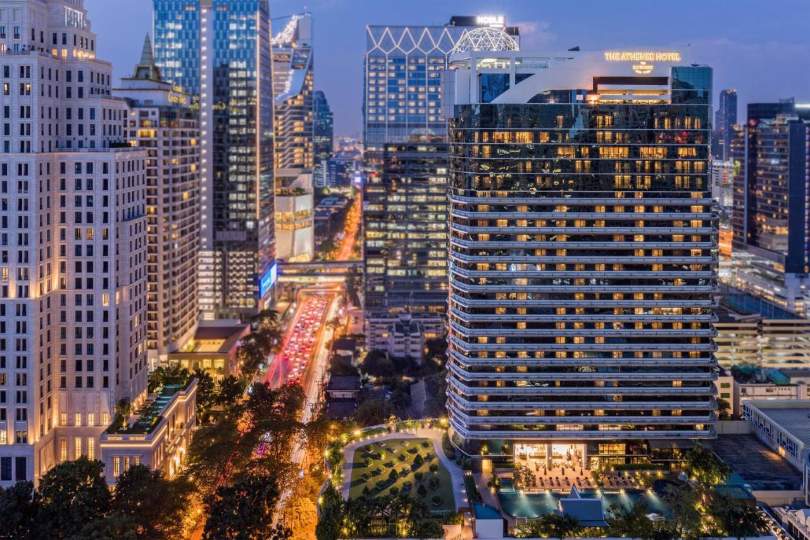 The Athenee Hotel is a beautiful, luxury hotel situated on Bangkok's Wireless Road and built on the grounds of Kandhavas. The hotel embraces its royal roots by incorporating the Thai-Colonial style of Princess Valaya Alongkorn's era with modern Thai Transitional Luxury.
The rooms available showcase refined elegance perfect for both Muslim couples and families. With 374 rooms and suites overlooking the stunning city of Bangkok, the Athenee provides excellent privacy and comfort. If you are travelling for your honeymoon, the Athenee Prestige Guest Room features everything you could want for a romantic getaway.
On offer here are 8 restaurants, a free-form rooftop pool and the Athenee Spa which offers treatments for both individuals and couples, allowing that extra sense of privacy.
The Rain Tree Café, unlike the name suggests, is the Athenee's main buffet restaurant. It's a 5-star, halal buffet in Bangkok that serves delicious global cuisine for breakfast, lunch, and dinner.
Muslim-friendly features at The Athenee Hotel
Alcohol removed from the room
Halal food served
Mosques nearby the hotel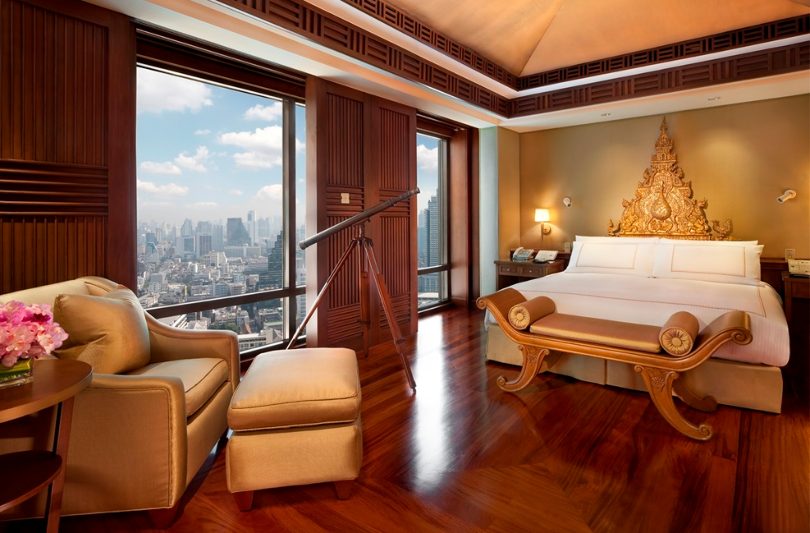 The Peninsula Bangkok is a sophisticated statement hotel located along the bank of the Chao Phraya River which provides panoramic views of Bangkok's cityscape and excellent hospitality.
The Deluxe Rooms and Grand Deluxe Rooms all have breathtakingly romantic views of the Chao Phraya River and the surrounding city. For added luxury, the Grand Deluxe Suite provides an enhanced space perfect for any Muslim traveller. All of the rooms prioritise elegance and comfort, highlighting fusions of traditional and Thai designs.
The Peninsula Bangkok offers many delicious restaurants and dining options, including the Thiptara Restaurant featuring authentic Thai food. The wellness facilities here are first-rate, with a spa, fitness centre, pool and tennis court so that you can relax between experiencing all of the wonders Bangkok has to offer.
Muslim-friendly features at The Peninsula Bangkok
Alcohol removed from the room
Halal food served
Mosques nearby the hotel
Al Meroz Hotel is self-proclaimed as Thailand's leading halal hotel. It's located near the Suvarnabhumi Airport and downtown Bangkok whilst also being just under 1Km from The Foundation of Islamic Centre of Thailand.
For Muslim travellers, it doesn't get much better than this!
Each of the 242 spacious rooms indicate the direction of Mecca and contain both a prayer mat and a copy of Al Quran. The Superior City View Rooms offer beautiful scenes of the Ramkhamhaeng road but for a touch of added luxury the Suites feature a stunning dining room and airy balcony living room.
This hotel provides a variety of bespoke amenities. Al Meroz's restaurants, the Diwan Restaurant and the Barakat Mediterranean Cuisine both only cater halal food. The pool and gymnasium operate on separate hours for female and male guests, ensuring privacy and comfort.
It's worth keeping in mind that Al Meroz is located far out of the city centre so reaching Bangkok's landmarks would require long taxi rides.
Muslim-friendly features at Al Meroz Hotel
Alcohol-free hotel
Halal food served
Prayer room
Women-only swimming pool
The Siam is a private urban sanctuary, nestled within 3 acres of beautiful gardens on the Chao Phraya River and adjoining Bangkok's best cultural attractions.
Designed by Bill Bensley, the hotel is an amalgamation of a hotel, resort and museum whilst returning to Bangkok's Rama V period, making it a unique and memorable experience.
The suites and villas at The Siam offer views of either the gardens, river or courtyard. Planned meticulously to help you relax, the rooms feature either oversized king beds or twin beds and imported Italian bathtubs. The Courtyard Pool Villa features its own private pool.
The Siam Hotel offers halal breakfast, Butler Service and a shuttle boat between the hotel and Bangkok's central Sathorn pier. There are also 4 onsite eateries, manned by an experienced culinary team to ensure the finest cuisines. Finally, the Opium Spa offers a full range of wellness facilities.
Muslim-friendly features at The Siam
Alcohol removed from the room
Halal food served
Mosques nearby the hotel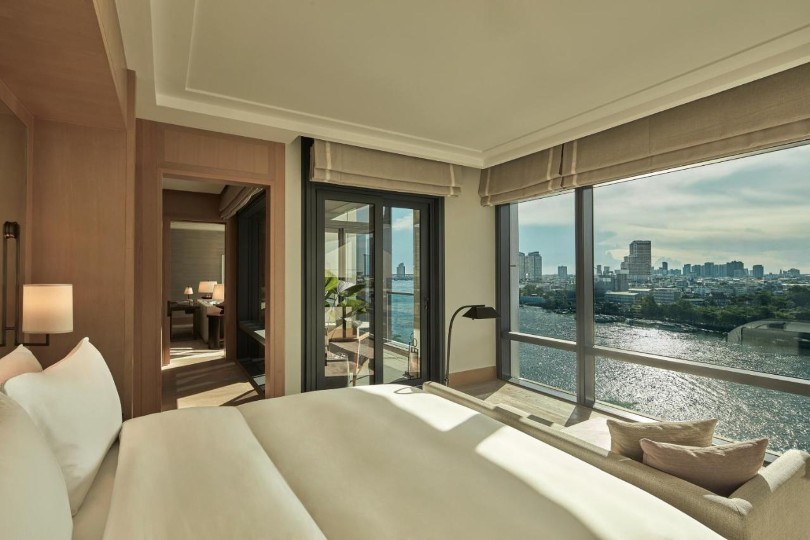 Capella Bangkok is a 5-star, new halal hotel in Bangkok located along the Chao Phraya River. The hotel was awarded the 4th Best Hotel in the world by the Travel + Leisure World's Best Awards 2021.
Just under 6km away is the Lumpini Park, and other great features of Bangkok.
Here, 101 suites and villas overlook the Chao Phraya River, offering intimacy and immersion. The 7 villas offer panoramic views with either a private balcony or verandah with a jacuzzi plunge pool and two bedrooms, perfect for a Muslim family. The suites provide separate living rooms and spacious balconies perfect for breakfast with a view.
The Auriga spa tailors your wellness experience within a calming enclave and skilled therapists. The hotel also boasts an outdoor swimming pool, shared lounge and a garden for you to enjoy. Finally, on-site the several dining options include the Cȏte by Mauro Colagreco, a Michelin-starred Riviera-inspired dining experience, the Phra Nakhon serving traditional home meals and the beautiful Tea Lounge.
Muslim-friendly features at Capella Bangkok
Alcohol removed from the room
Halal food served
Mosques nearby the hotel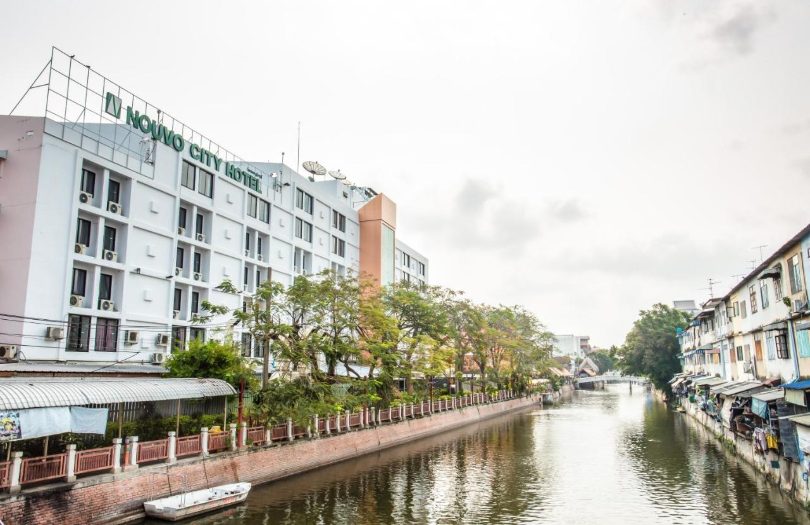 The Nuovo City Hotel is a modern, boutique-style halal certified hotel. Located within walking distance of some of Bangkok's greatest attractions such as the Khao San Road and the lively Banglamphu Market, this hotel is perfect for exploring Bangkok.
Nuovo City Hotel offers a variety of rooms and suites to cater to every need. The Deluxe Canal Rooms showcase elegance and serenity with romantic views of the Banglamphu Canal whereas the Grand Deluxe Room provides space and convenience perfect for families. Every room is decorated in warm colours with modern touches to ensure a comfortable stay.
On-site are 2 fine cuisine halal restaurants, one of which has been awarded the Thai Government SME award for best Pad Thai. And when relaxing in the natural salt-water purified swimming pools, the pool bars offer non-alcoholic refreshments and snacks. Finally, the Sala Spa gives you serenity alongside dazzling views of Bangkok's old city.
Muslim-friendly features at Nuovo City Hotel
Alcohol-free hotel
Halal food served
Mosques nearby the hotel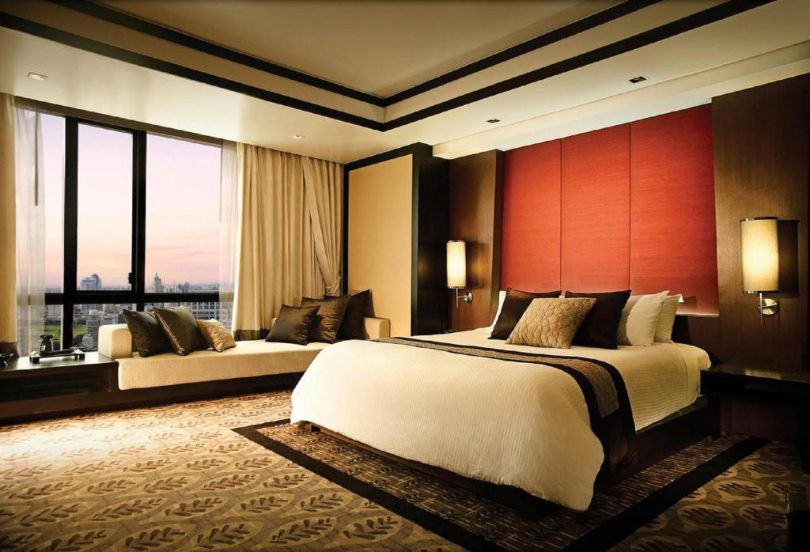 An urban paradise in the heart of Bangkok, the Banyan Tree Bangkok is located conveniently in the Sathon/Silom area meaning it is nearby to a variety of fine restaurants, quirky galleries and niche museums.
Traditionally styled, the Banyan Tree's Horizon & Oasis Retreat Rooms and One-Bedroom suites feature warm inviting colours with both king and twin options available. The Serenity Club Rooms and Two-Bedroom Suites have been renovated into a modern style featuring elegant cool tones to suit a wide range of travellers. For added luxury and privacy perfect for a halal honeymoon, the Spa Sanctuary Suite provides an unlimited in-suite spa.
This hotel holds a range of gourmet restaurants ranging from Thai street food to international and gourmet Asian. For unmatchable views, the Vertigo emphasises alfresco rooftop dining with a panorama of Bangkok. There is also a holistic spa on-site perfect for a moment of quiet during your stay.
Muslim-friendly features at Banyan Tree Bangkok
Alcohol removed from the room
Halal food available by request
Mosques nearby the hotel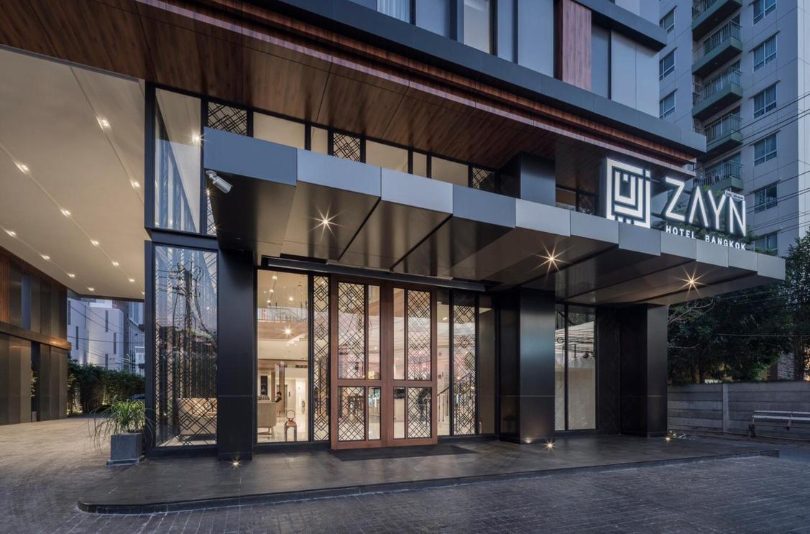 The Zayn Hotel Bangkok is a luxuriously modern halal hotel perfectly located in the middle of some of Bangkok's top attractions and restaurants making it perfect for an exciting holiday. Nearby is both the Emporium Shopping Mall and the Mega Bangna mall, featuring a great range of stores, eateries and even an ice rink.
Available are a series of double or twin, ranging from the Superior Room's to the Presidential Suite. Suitable for both Muslim couples and families the clean and comfortable rooms provide a perfect sanctuary for rest between cultural excursions with select units also offering a private balcony.
Included in your stay is access to an outdoor rooftop-swimming pool boasting terrific views of the city, delicious on-site halal restaurants serving a variety of fine cuisines and a 24 hour tea and coffee lounge so no matter what time you need a caffeine fix, it is there for you.
Muslim-friendly features at Zayn Hotel Bangkok
Alcohol-free hotel
Halal food available
Mosques nearby the hotel
9. Amari Watergate Bangkok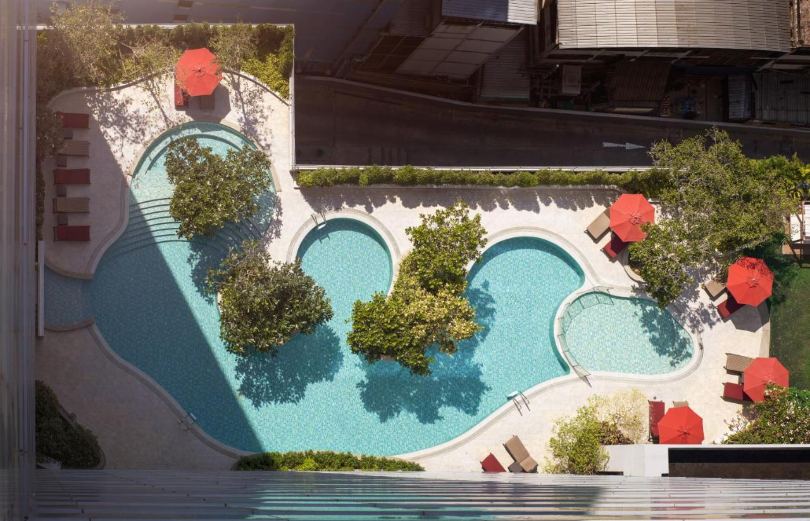 The Amari Watergate Bangkok leads the way for meetings and events but also suits a range of guests with its great location, just metres from Pratunam Market and ferry terminal.
This hotel offers both rooms and suites with king and/or twin beds making it ideal for your halal family holidays. The Two Bedroom Corner Suite provides separate living and dining rooms and a kitchenette. 
With a view of the city, this hotel allows you to stay in luxury whilst enjoying all that Bangkok has to offer.
On-site are 2 signature restaurants. The Amaya Food Gallery pairs vibrant live cooking stations with a mix of international and Asian cuisine making it perfect for everyone whereas the Prego highlights luxurious Italian cuisine.
The executive lounge provides a non-alcoholic Happy Hour as well as breakfast and afternoon tea. Finally, the Breeze Spa provides specialised packages in private arrangements to help you relax.
Muslim-friendly features at Amari Watergate Bangkok
Alcohol removed from the room
Halal food available by request
Mosques nearby the hotel
How to choose your halal hotel in Bangkok
From my experience of living in Bangkok, I would suggest to consider the location of the hotel when making a decision. Because Bangkok is such a large city with a lot of traffic, taking taxis to restaurants, cafés, etc is not ideal.
Lastly, ensure the hotel's facilities meets your trip's preferences and needs. So, whether it's halal honeymoon or a Muslim family holiday, choose a hotel that caters to your requirements.
If you need more advice or help with planning your halal holiday, get in touch with our team today!
Disclaimer: As an affiliate, we may earn from qualifying purchases at no extra cost to you. This helps us to continue running our blog. See our Disclaimer policy for more details.