In this comprehensive guide, we cover all you need to know about halal food in Phuket.
You'll learn the basics of how halal-friendly Phuket is before swiftly delving into what kinds of halal food are available. This includes five of our top choices for must-try halal Thai dishes on the island. 
I have personally spent several months living in the tropical island of Phuket. After exploring all corners of this gorgeous island, I'm going to share my learnings and discoveries about Phuket's halal food.
We've even included a list of our best choices for halal restaurants as well as Muslim-friendly hotels in Phuket.
If you're thinking of visiting Phuket or if you're currently there and are looking for halal food near you, discover everything you need to know about Phuket halal food here.
Is Phuket halal-friendly?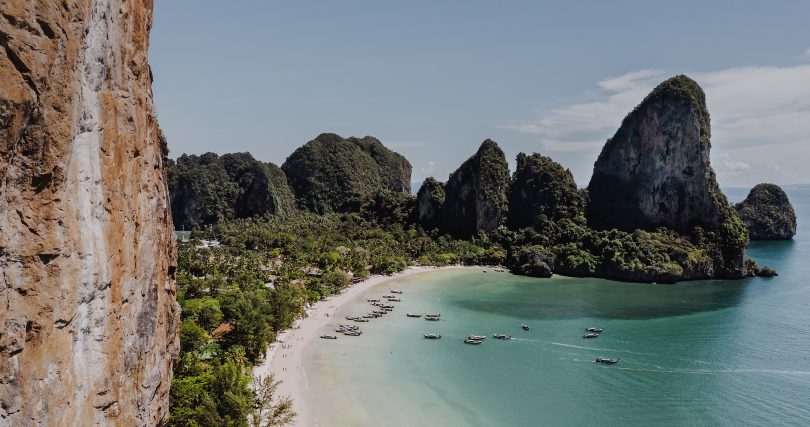 Muslim travellers looking to visit Thailand would be pleased to know that Phuket is exceptionally halal-friendly.
As the biggest island in Thailand, Phuket is similar in size to Singapore. It boasts beautiful beaches and incredible ocean views, making it a prime holiday spot.
Phuket hosts a variety of Muslim-friendly hotels that make optimal use of these highlights, offering halal food and a wide range of excursions. This makes the island one of the best destinations for halal-conscious travellers in Thailand.
So, it is not hard to say that Phuket is one of the most halal-friendly places in the whole of Thailand.
With roughly a 35% Muslim population in Phuket, the island houses over 50 mosques and hundreds of halal-friendly eateries.
These small pockets of Muslim communities are havens for halal travellers with countless cultural opportunities and experiences on offer.
If you are thinking of visiting Thailand, Phuket is definitely worth keeping high on the itinerary list!
Is there halal food in Phuket?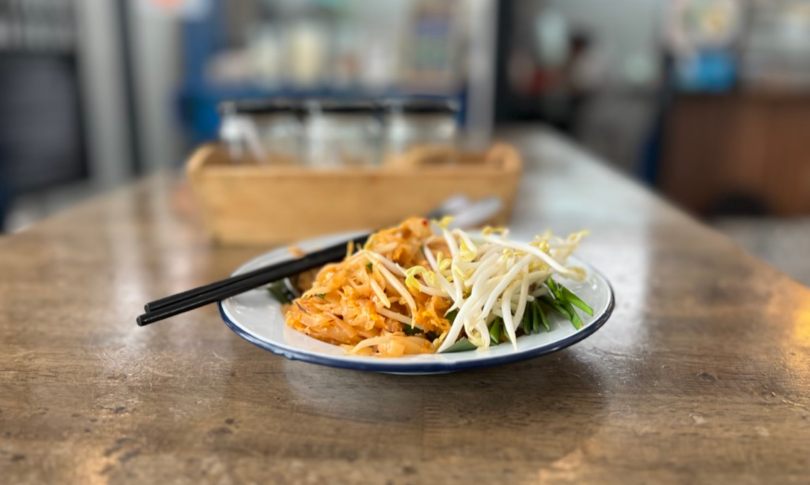 Halal food in Phuket is incredibly easy to find. With the island's relatively large Muslim community, you can be assured that you'll find plenty of delicious restaurant options whilst visiting.
Phuket's halal food isn't just limited to Thai food either!
Especially in Phuket, you can find hundreds of international cuisine halal restaurants, whether it's Italian, Middle Eastern, or Indian. So, if you are wanting something specific, you are guaranteed to find it. (Make sure to check out the ones in this blog too!)
Also, a big cultural aspect of Thailand is the abundance of street food stalls and night markets that serve flavourful light bites. Dropping by the Naka Market or Phuket Walking Street promises you a wide variety of halal nibbles, including some of those listed below.
It is also a perfect opportunity for you to do some holiday shopping, with numerous souvenirs, clothing and accessory stalls lining the streets. There is really no reason not to visit!
Insider tip: wherever there's a mosque, there's sure to be many halal food options nearby!
Read how easy and common it is to find halal food in Thailand here.
5 best halal Thai food in Phuket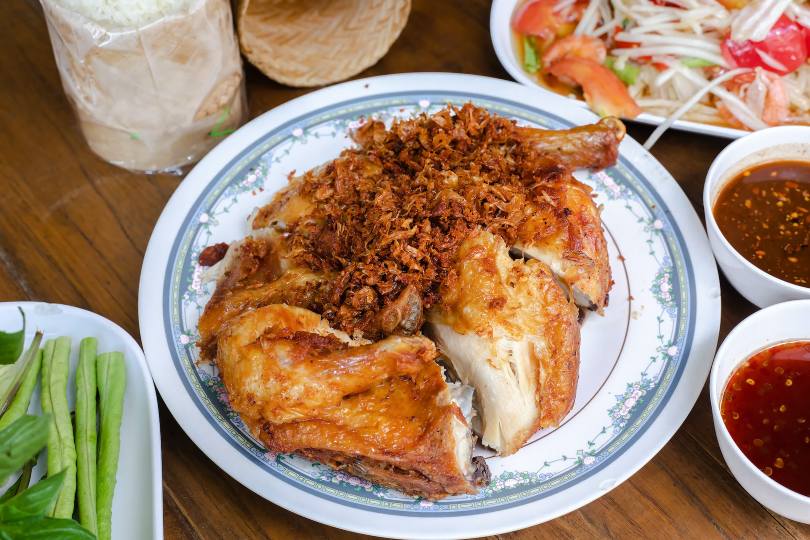 Thai cuisine focuses on strong aromatics and bold umami flavours with a spicy hit. Historical influences from neighbouring countries and mutual food exchanging has resulted in a wide range of national dishes.
Here you can find everything from soups, curries, noodles, rice, pastries and breads. Meaning, there is always something new to try!
For specific flavours, Thai cuisine relies on the intricacy of the different taste profiles.
For spicy, there are fresh herbs and spices like galangal and lemongrass. For sweetness there is palm sugar but also lime and tamarind for sourness. And the deep umami comes from salty fish sauces and meats.
Discover our 5 best halal Thai food in Phuket to try on your next trip.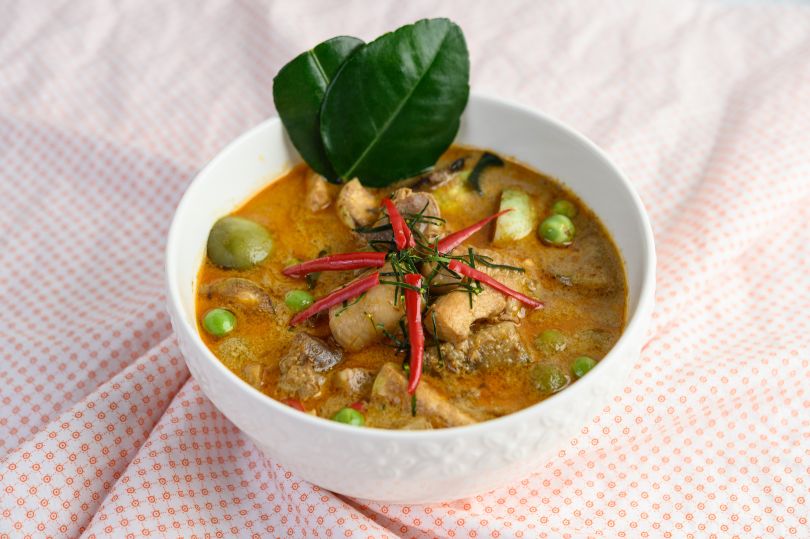 Uniquely thick and rich with a coconut milk base and vibrant red colour, Panang curry is a popular menu choice across Thailand.
The curry paste is typically made with ingredients like dried chilli peppers, peanuts, ginger, galangal, lemongrass, lime zest, cumin, and coriander. This gives Panang curry a mellow yet distinctly nutty flavour that matches perfectly with strips of tender beef or tofu.
Panang curry originated from Laos but quickly spread across the whole of the country owing to its original and aromatic qualities. It is also most often served with rice which mixes wonderfully with the thick sauce. However, rotis are also a popular choice, with the flaky pastry acting as the perfect vessel for the deep flavours.
Murtabak is an immensely popular halal street food in Phuket that is made up of a stuffed pan-fried roti.
Traditionally this is full of egg, chives, and minced meat but you can now find a whole variety of flavours. Some variations are full of sweet fillings, like banana and chocolate, making it a wonderfully sweet dessert treat. But you are more likely to find the savoury counterparts, commonly served on its own as a snack or alongside a light curry for dipping.
You can find interpretations of this dish spanning across the Arabian Peninsula and Southeast Asia, which is understandable considering how practical and delicious it is!
What sets Thai Murtabak apart from others is its opportunities to include local Thai ingredients like Thai chilli and lime.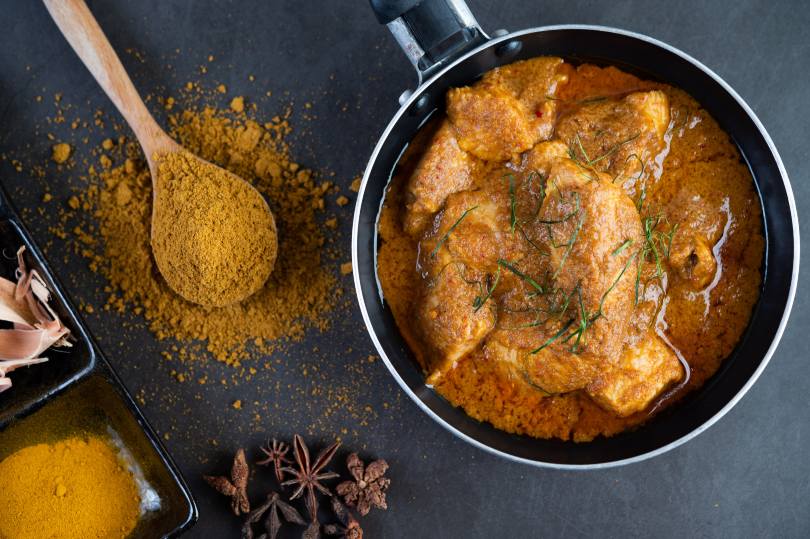 Easily considered one of the most recognisable and quintessential Thai curries, Massaman curry carries a mild heat that's loaded with Indian spices.
Massaman forgoes the use of curry leaves and instead relies on ingredients such as cumin, lemongrass and galangal mixed with tamarind. This gives it that uniquely rich and tangy flavour without the intense spiciness.
Commonly it also contains potatoes as well as the chosen meat/veggies making it a hearty and delicious choice.
Interestingly, there is belief that this curry came from neighbouring Malaysia. It is said to have become a Thai staple when visiting merchants served it to royalty and recipes were shared amongst local people.
Owing to its origins it's usually made with chicken, but new variations have developed over time to include mutton, beef and venison.
4. Thai Chicken Biryani (Kao Mok Gai)
Kao Mok Gai is the Thai version of a classic chicken biryani with yellow rice, chicken, and a sweet sauce.
Considered one of Thailand's best rice dishes this is a must-try for any traveller. While the chicken is marinated in a mix of coriander, garlic, ginger and yoghurt, the sauce combines green Thai chilis, sugar, galangal, and mint for optimal aromatic flavour.
The rice is also generously spiced with cassia bark, Thai cardamom pods and bay leaves. Altogether this makes one greatly spiced dish that you'll want to have again and again.
Much like an Indian or Pakistani biryani, one of the hallmarks for a good Kao Mok Gai is the slow cooking of the rice. This ensures that the spices have time to infuse themselves into every mouthful and make it impactful. Despite Thailand having a low percentage of Muslims, this Thai-Muslim dish is increasingly popular.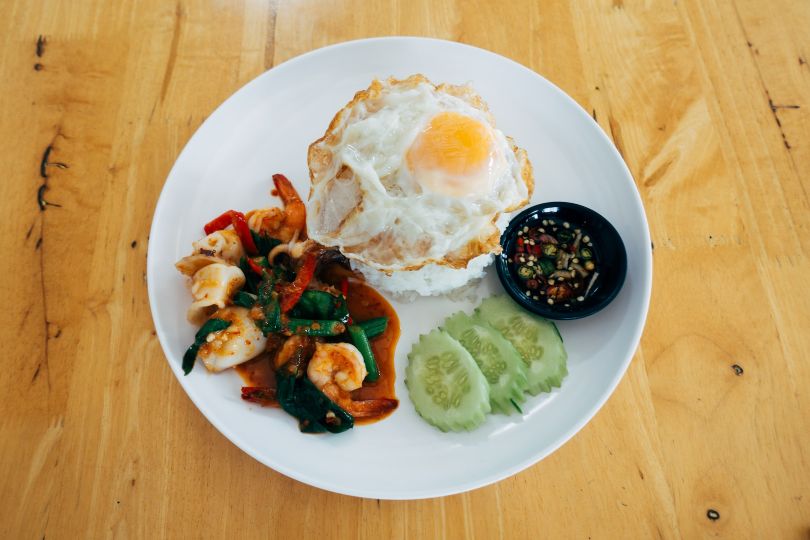 Finally, we have Pad Kra Pao (or Phat kaphrao). This simple but delicious street food item is a lunch classic for people all over Thailand.
It's made up of a rustic, spicy stir-fry that gets scooped over a bed of rice and then topped with a perfectly fried egg.
The shining star of Pad Kra Pao is the aromatic holy basil that perfectly incorporates the veggies and mincemeat. Also important is the Thai chilies that will give the stir-fry that hot kick and warm you from the inside out.
It is most common to see this dish on the menu made with pork, but if you visit areas like Phuket with its larger Muslim population, it's not hard to find the versions made with prawns, chicken or beef.
5 best halal restaurants in Phuket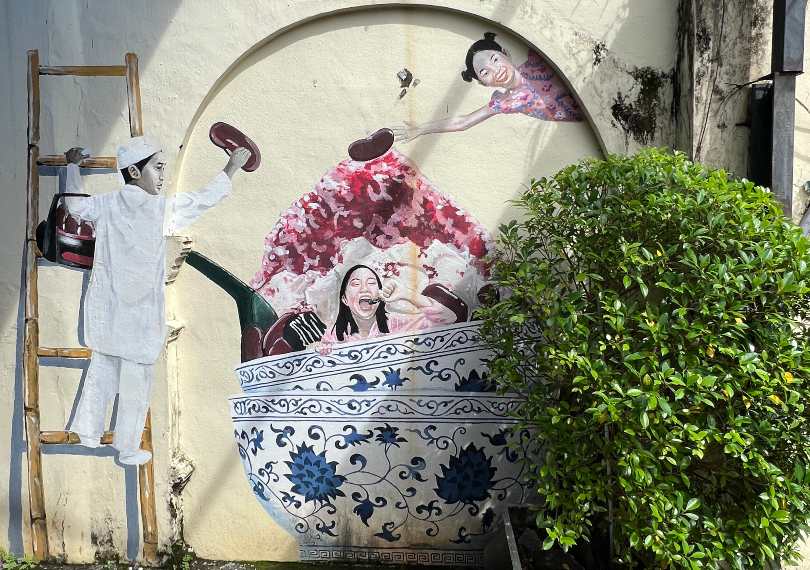 There are many neighbourhoods in Phuket where you can find halal restaurants. Some of these areas are Patong, Bangtao, and Kamala.
Generally, most restaurants that serve halal Thai food would have similar menus. But some are more hygienic than others.
We've personally visited dozens of these establishments to bring you the best based on their quality of food and locations. So, dig into our list of the 5 best halal restaurants in Phuket.
1. Aroon Po Chana, Old Phuket Town
Aroon Po Chana is one of the most recognised halal restaurants in Old Phuket Town. This hole-in-the-wall roti restaurant can be found nestled in Old Phuket Town, between the Sunday Walking Street Market and the Phuket Thai Hua Museum.
Aroon Po Chana is open Monday to Friday, 6AM to 5PM but items can sell out! The atmosphere is cosy and authentic, and the service is great.
For rotis, make sure to try the Padam and Charcoal Rotis with one of their perfectly spiced curries. One great option is the Massaman Neua, Southern Beef Curry. Those in search of local halal breakfast in Phuket, this is your place!
2. Rub Lom Kao Khad, Cape Panwa
Rub Lom Kao Khad is a Thai and Italian restaurant, situated near Ao Yon Beach. Open every day but Thursday, from 9AM to 9PM and with a cosy atmosphere and wonderful view, it is a high-rated destination.
The menu has a lot of options and is ideal for the whole family. One of their best dishes is the vibrant Pineapple Fried Rice which comes wonderfully presented in half a pineapple.
Also, good to try is the Pizza Family Set and the Steamed Seafood in a Coconut Shell! Being so close to the beach it's ideal for lunch times.
3. Pantai Seaview Restaurant Halal Food, Kamala
Paintai offers some of the freshest and tastiest seafood in Phuket. Located right along the seafront of Kalim Beach, you get to enjoy your meal with stunning Andaman Sea views. 
Open every day from 7AM to 11PM, you can choose to start or end your day with Pantai and spend the rest of the time exploring the nearby beaches.
They even have a prayer room!
Despite the menu having a wide range of dishes, four of the best dishes are the Tom Yum soup, Papaya Salad, Fried Snapper, and Crab with Green Curry! If you don't like fish, there are also many other protein options.
4. Levantine - East Mediterranean Cuisine, Bang Tao
Offering Greek, Turkish, and Lebanese food, Levantine provides amazing East Mediterranean cuisine just 2km from Bang Tao Beach.
The portions are generous, and the service is attentive and friendly. The atmosphere is cosy thanks to the cultural decor and it is open daily from 11:30AM to 10PM.
If you visit you must try one of the Hummus dishes, whether it's the classic or the Hummus Beiruti. Also deserving of high praise is the Mixed Grill Platter that is perfect for sharing and boasts a selection of perfectly grilled meats. If you have room for dessert, make sure to also try the Baklava!
5. Royal Kitchen Indian Food, Patong
Royal Kitchen Indian Food is reviewed as one of the best halal restaurants in Patong. It delivers delicious fusion Indian, Arabic and Thai food for a good price. Open from 11AM to 2AM every day, you're unlimited in your itinerary for visiting.
The extremely friendly atmosphere and fantastic location makes it a perfect spot for halal food whilst you are exploring Patong's Bangla Road.
Some of the must try items are the Chicken Lakhnavi Biryani and Lamb Masala, made with fresh and aromatic ingredients. However, for something vegetarian, the Daal Tadka and Paneer Butter Masala are top choices. And don't forget to finish off with some of their Mango Juice!
Bonus tip: find halal food in Central Phuket mall
The most established and biggest mall in Phuket is Central Phuket, which located near Old Phuket Town. 
Apart from countless designer stores, you'll also find food courts with many local food stalls.
You'll be pleased to know many of these food stalls in Central Phuket offer halal food, covering most dishes we've mentioned here. 
In fact, the first time I've tried Murtabak was in Central Phuket. 
Looking for halal fast food in Phuket?
Well, it's widely known that KFC in Phuket is halal. So, if you do crave some deep fried chicken during your time in Thailand, head over to Central Phuket.
If you're wondering if McDonald's in Phuket is halal, you should know that there hasn't been any clarification on this. Many people in Phuket state that only the chicken in McDonald's is halal. But the company hasn't provided any clarification yet.
Best hotels with halal food in Phuket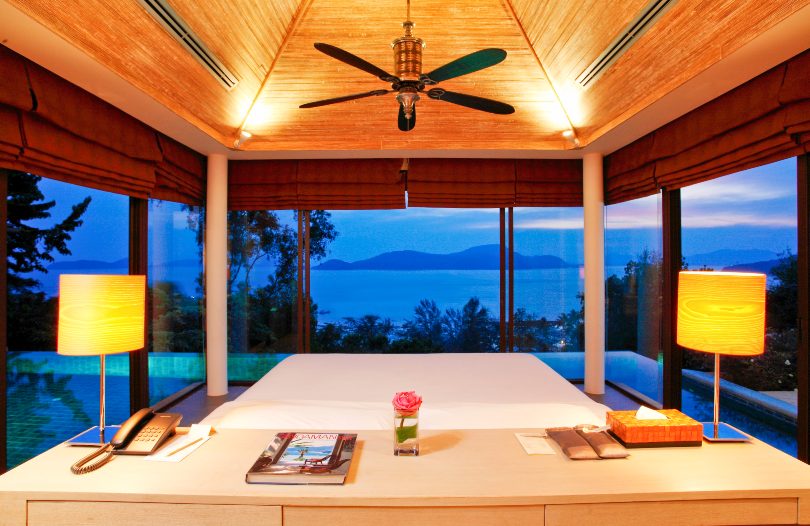 Muslim-friendly hotels in Phuket can be found in abundance.
Not only do they serve halal food and offer lots of privacy, but thankfully, most of them are near a local mosque. Additionally, a handful of halal hotels in Phuket will also be alcohol-free. 
Our team have personally visited and inspected the featured hotels to assess their suitability for Muslim travellers. So, rest assured our lists are based on personal experiences.
Explore below our list of the best luxury hotels in Phuket with halal food.
Sri Panwa is an award-winning luxury resort perched atop Cape Panwa and spreading over 40 acres of tropical rainforest. This hotel offers some of the most incredible private pool villas in Phuket.
The Sri Panwa's Cool Spa is in the Top 10 Luxury Spa Destinations in Phuket and delights with its secluded rainforest location overlooking Phuket's archipelago.
Every Pool Suite boasts an infinity pool with a jet stream Jacuzzi system alongside picturesque ocean views, ensuring a romantic stay for honeymooners.
The 2 Bedroom Pool Villas feature similar designs but are better suited to families with their kitchen and dining spaces as well as expansive living areas. Like the Pool Suites they boast the same infinity pools with Jacuzzi systems and panoramic views of the sea.
Also available are 8 incredibly unique and memorable restaurants and bars offering fine cuisines with beautiful scenery. Most notable is Baba Nest, the rooftop bar with unmatched sunset views and Mexican tapas to snack on.
And highly recommended, their Baba Soul Food restaurant serves home-cooked halal Thai food in a relaxing atmosphere. Meant for sharing, their One-Dish Wonders highlight the best of Thai cuisine with fresh and wholesome ingredients.
You can also find Japanese and Chinese restaurants on-site, so you have a vast variety of dining options.
Muslim-friendly features at Sri Panwa
Alcohol removed from room
Halal food served
Mosque nearby the hotel
2. The Village Coconut Island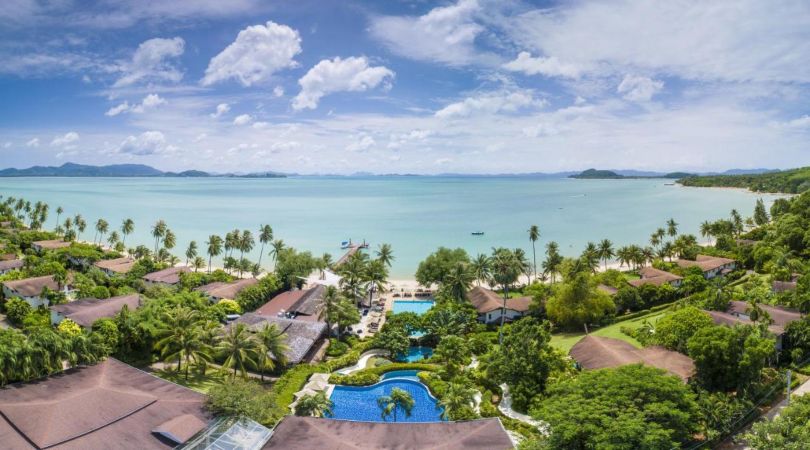 Found just minutes from mainland Phuket, The Village Coconut Island highlights luxury island holiday fun with tropical scenery. The wellness facilities centre around Hydrotherapy and traditional Thai treatments to guarantee truly indulgent therapies as well as fitness experiences.
The rooms available here range from Grand Villas each with their own infinity pool and panoramic views over Phang Nga Bay. These villas have direct beach access and sunbathing terraces to emphasise private relaxation. Also available are contemporary Jacuzzi Suites and Pool Villas so you're sure to have your needs met.
On offer here are 3 restaurants and bars: Koko Restaurant, Kabang Restaurant & Bar, and Kucina Restaurant. The Koko Restaurant, inspired by the folktales of Coconut Island recreates the feelings of cave dwelling but with gourmet meals emphasising seafoods.
For experiencing traditional Thai cuisine, Kabang Restaurant & Bar provides an outstanding meal with a story. The dishes highlight the offerings of the Andaman Sea whilst staying true to authentic Thai flavours. Finally, the Kucina Restaurant delivers the best of Italian cuisine with the relaxing atmosphere of light jazz and wood burning fires.
This is the All-Inclusive primary buffet, so you're guaranteed delicious halal food at every meal.
Muslim-friendly features at The Village Coconut Island
Alcohol removed from villa
Halal food served
Mosque nearby the hotel
Located atop one of Phuket's highest points, The Pavilions Phuket is a haven of white sandy beaches and clear blue seas. Nearby is the Layan Beach, which you can get to by complimentary shuttle from the resort. It also hosts an indulgent Spa and Wellness Sanctuary as well as a fitness centre.
The Pavilions Phuket offers the Spa & Pool Pavilion Villa complete with private pool, couple's spa and steam room. This villa is ideal for Muslim couples celebrating a honeymoon owing to its full privacy and romantic interior. However, for families there are also multiple-room villa options making it a well-rounded destination.
For resort dining there are 3 award-winning restaurants and bars serving gourmet cuisine and invigorating mocktails.
The 360 Bar serves a classic Pintxos Menu to compliment every drink. The Burma Bar takes inspiration from the region's history to provide a luxurious lounge experience. And opening December 2022, the ALTO By Don Vito promises authentic southern Italian charm and fine cuisine.
Finally, a must try for the Pavilions is the Thai cookery class. The Sukhothai Menu highlights traditional Thai foods such as Yum Neua Yang, a grilled beef salad and Pla Nueng Baitong, a steamed fish fillet.
Muslim-friendly features at The Pavilions Phuket
Alcohol removed from room
Halal food served
Mosque nearby the hotel
4. Anantara Layan Phuket Resort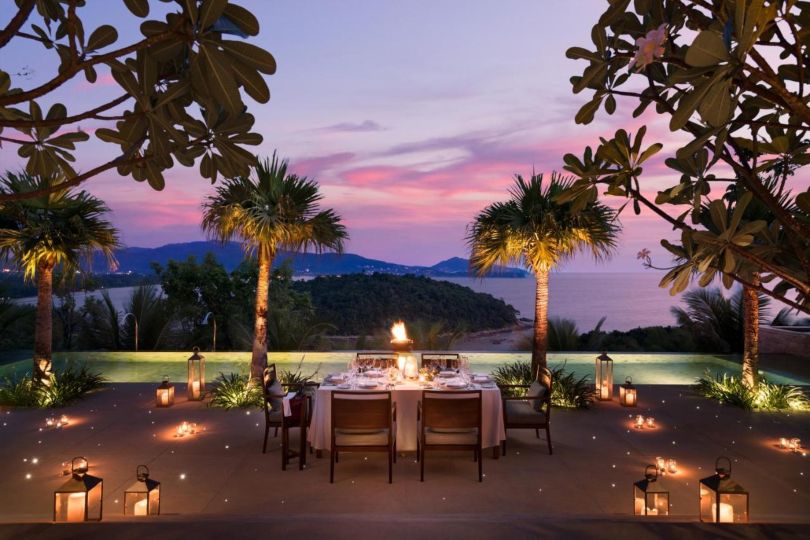 Anantara Layan is a luxury resort paradise nestled amongst green hillsides overlooking inviting sands and water. The Anantara Layan offers Muay Thai classes as well as healing massages at their Anantara Spa, so there is something for everyone.
With 46 pool villas, and a few pool suites, there is accommodation perfect for any Muslim traveller. For two, the Beach Access Pool Villa gives you the best of island life with direct beach access as well as a private pool within an enclosed garden area, emphasising romance and privacy.
This resort has over 6 exclusive and succulent fine dining opportunities as well as Thai cooking classes. The Beach House Layan provides Roof Top, an evening rooftop bar experience, Dee Plee for authentic Thai cuisine and Breeze by Antara for your pool bar.
The on-site grill restaurant, Age, highlights exquisite meats and fresh local seafood, with the opportunity to choose your own cuts. One of the menu highlights is the Age's Beef Cheeks, pairing prime beef with potato puree and anchovy crumble.
Muslim-friendly features at Anantara Layan
Alcohol removed from room
Halal food served
Mosque nearby the hotel
5. Hyatt Regency Phuket Resort
Hyatt Regency Phuket Resort embodies luxury for the whole family. Providing convenient beach access for diving and snorkelling activities, the largest oceanfront infinity pool in Phuket and prime access to Patong Beach, this resort has it all.
Other amenities available here include a luxurious spa and fitness centre.
For rooms at this resort, there are a couple of options each featuring their own private pool. Ideal for Muslim couples, the 1 King Bed with Plunge Pool offers a spacious room with terrace and pool overlooking tropical gardens and the Andaman Sea. Similarly, the 1 King Bed with Terrace Whirlpool, provides a hot tub and includes a shaded lounge area overlooking the stunning seascape.
A specialty of Hyatt Regency Phuket is Mizu, a Teppanyaki restaurant serving the freshest local specialty seafood with immersive show kitchen spectacles.
Also onsite is Pool House, an all-day dining restaurant that serves the island's best coffee and breakfast spread.
There are also two bars, Casa Boho and One80° Pool Bar. Casa Boho serves refreshing mocktails with bold Latin flavours and a cliff-top ocean view. And One80° gives nautical aesthetics with casual light bites and snacks like Avocado Fries and Paneer Tandoori.
Muslim-friendly features at Hyatt Regency Phuket Resort
Alcohol removed from room
Halal food served
Mosque nearby the hotel
Which halal food in Phuket will you eat?
Having so many halal food options in Phuket can be both a good and bad. Because you may not have enough time to try them all.
Hopefully, this post on the best Phuket halal food will help you to pick out your favourites and plan your trip accordingly. 
The most important part of planning a trip to Phuket is choosing your ideal location for your accommodation. This is because there are one or two areas we'd recommend to avoid for Muslim-friendly trips. Additionally, you'd want to have easy access to some of the best beaches and dining options. 
Speak to our team who've been to Phuket several times and can guide you in having an incredible experience. Contact us for a no strings attached advice here.