Looking for a list of the best halal hotels in Phuket? Then look no further.
In this post, you will discover a collection of the most incredible Phuket halal hotels & resorts for your trip.
I have spent several years living in Thailand, with a large portion of that time in the tropical island of Phuket.
During my time there, I had the pleasure of visiting dozens of hotels, resorts, and villas. Although most of the properties provided great service, some were not ideal for Muslim travellers.
That's why I have put together this list of vetted halal hotels and resorts in Phuket, as from my experience it's all you need.
Overview of Phuket, Thailand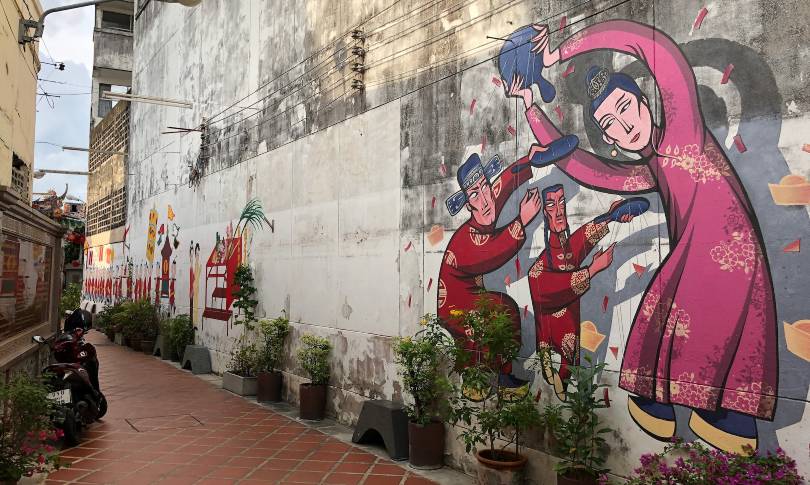 Phuket is a beautiful island province with a wide range of picturesque beaches, incredible ocean views, and bustling towns. It is Thailand's largest island and is nestled between 32 smaller islands that can also be explored.
The scenery does not stop there, with 70% of Phuket covered in luscious green-topped mountains, supplying uniquely stunning views.
It is a wonderful holiday spot for anyone looking for a taste of the tropics, as well as fascinating culture and adventure.
What does Phuket offer?
Phuket offers numerous Muslim-friendly hotels that make optimal use of these highlights. Offering water sports and local cultural experiences which makes it positively ideal for Muslim couples, families, and solo explorers.
If you're interested in Thai culture, Phuket's Wat Chalong is one of the most important temples in the area and is ideal for observing Phuket's spirituality.
For shoppers and foodies, Chillva is a halal night market in Phuket which offers souvenirs and local halal street food in a trendy setting.
If you're a history buff, head over to Old Phuket Town. Here, you'll discover the unique blend of Sino-Portuguese architecture, offering an unexpected and fascinating experience.
Is Phuket Muslim-friendly?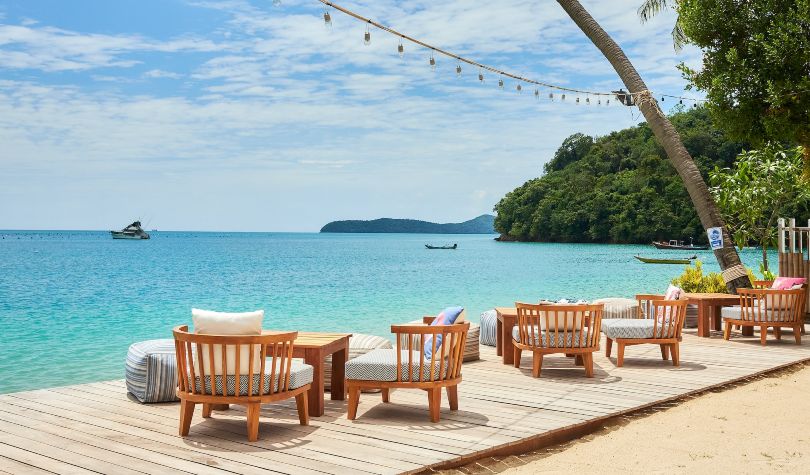 Phuket is unquestionably one of the most Muslim-friendly destinations in Thailand. In this one province alone, you can find over 50 mosques and hundreds of delicious halal restaurants.
As a result, finding halal food in Phuket is super easy as most restaurants and hotels will serve it.
And of the entire Muslim population in Thailand, 35% of them live in or near Phuket. So you can rest assured that everything available is held up to the high standards of the Muslim locals.
In this post, we will cover just 11 of the available Phuket halal hotels in this region but there are so many more, each catering to a different need and style.
These include beachside resorts, central city hotels, and private-pool spa retreats. Also worth noting is how willing the hotels are to accommodate any requests you might have, such as removing alcohol from the rooms.
When looking into places to take a halal holiday in Thailand, Phuket is undoubtedly one of our top recommendations!
Are all hotels halal in Phuket?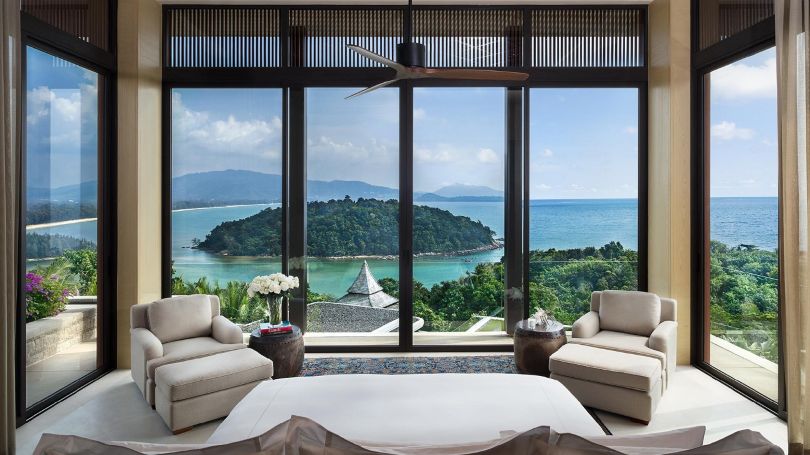 Although not every single hotel in Phuket is ideal for Muslim travellers, there are a wide variety of hotels which are.
Muslim-friendly accommodation in Phuket is generally easy to find as long as you know where to look.
At Rooh Travel, we personally assess each hotel and resort we work with to ensure they meet certain standards for our travellers. If you're wondering what to look for in a Muslim-friendly hotel in Phuket, discover below some things to consider:
Halal food
Alcohol-free property or alcohol removed from room
Mosque nearby
Private swimming & spa facilities
Muslim-friendly atmosphere & location
Best time to go on a Phuket halal holiday

With 2 main diverse weather seasons, choosing the best time to visit Phuket is crucial for holiday-goers. From around May to October it is the rainy season. Although this period boasts cheaper hotel rates and fewer tourists, there is very heavy rainfall almost daily.
During this time, the beaches are not as inviting, and getting around can be extremely difficult.
However, Thailand has so much to offer even during this period. You will find almost everything you want to do will still be available, just remember to pack your raincoat.
The main time for tourists to visit is December to January when the weather is slightly cooler for the winter season but can still reach temperatures over 30°C. This makes it ideal for escaping the cold of home but does come with higher hotel prices and more tourists.
Although for sightseeing and tourist trips, this dryer weather from November to April is the optimal period and you will have an easier time during your trip.
Discover our top 11 halal hotels in Phuket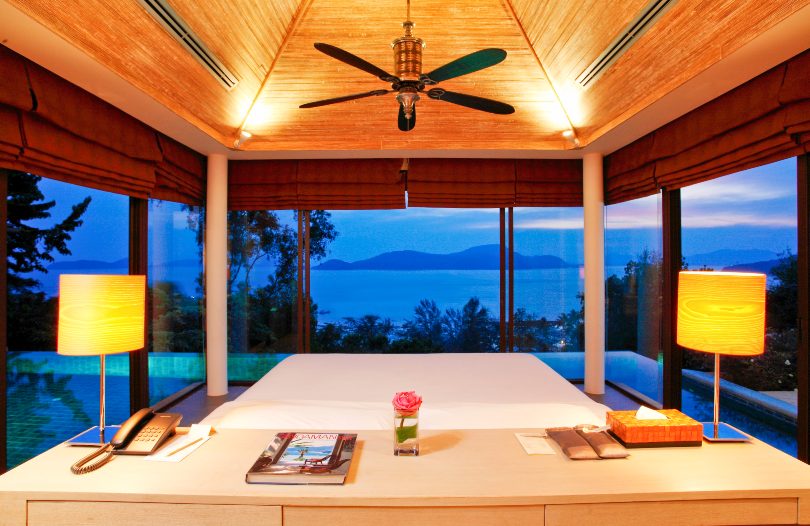 Perched atop Cape Panwa, Sri Panwa is a halal luxury resort boasting many travel awards.
Spreading over 40 acres of tropical rainforest, Sri Panwa is a family-owned and managed estate. It is the first resort by the Charn Issara Group who are best known for developing some of Thailand's most well-known landmarks.
Every type of accommodation here includes an infinity pool with a jet stream Jacuzzi system. So you can swim whilst overlooking the picturesque Andaman Sea views.
For Muslim honeymooners, the Yaya Pool Suite offers a romantic stay prioritising privacy. For Phuket family holidays, the 2 Bedroom Pool Villas also include this while being better suited to large groups with their kitchen and dining spaces.
As well as privacy, Sri Panwa provides comfort with interiors displaying the beauty of Tropical Contemporary styling.
At the hotel, you have access to Cool Spa, which is in the Top 10 Luxury Spa Destinations in Phuket.
Sri Panwa is a fantastic Phuket hotel with halal food as it features 8 incredibly unique and memorable restaurants and bars. First being Baba Soul Food, highlighting the best of halal Thai cuisine with fresh and local ingredients.
Muslim-friendly features at Sri Panwa
Alcohol removed from the room
Halal food served
Mosques nearby the hotel
Private villas
2. The Village Coconut Island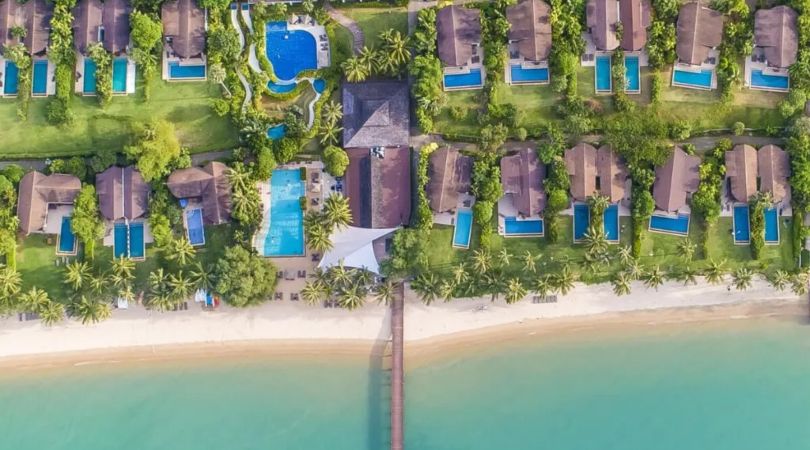 Located just a few minutes from mainland Phuket, The Village Coconut Island highlights luxury island holiday fun with tropical scenery. With a rich history of being discovered by shipwrecked explorers hundreds of years ago, Coconut Island encapsulates mystery and adventure.
The rooms available range from Grand Villas each with an infinity pool and Suites with panoramic views over Phang Nga Bay. These villas have direct beach access and sunbathing terraces to emphasise private relaxation. Also available are contemporary Jacuzzi Suites and Pool Villas so you're sure to have your desires for private luxury met.
The wellness facilities centre around Hydrotherapy and traditional Thai treatments to guarantee truly indulgent therapies as well as fitness experiences. Capitalising on Phuket's unique landscape, you can even try mountain biking and sailing on the same day.
Available here are 3 unique restaurants and bars. The Koko Restaurant, inspired by the folktales of Coconut Island recreates the feelings of cave-dwelling but with gourmet meals emphasising seafood. The Village Coconut Island is one of the few spectacular all-inclusive halal resorts in Thailand.
Muslim-friendly features at The Village Coconut Island
Alcohol removed from the room
Halal food served
Mosques nearby the hotel
Private villas
3. Anantara Layan Phuket Resort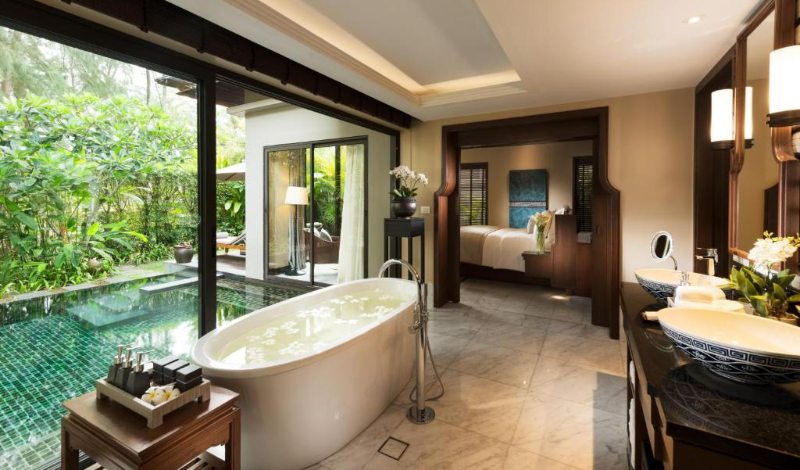 Anantara Layan Phuket Resort is an award-winning luxury resort nestled amongst green hillsides.
Overlooking inviting sands and clear waters, this resort is ideal for finding the balance between sightseeing and relaxation.
With 46 pool villas, 30 pool suites, and 15 pool residences, there is accommodation perfect for any traveller.
For Muslim families, the Two Bedroom Pool Villa or Two Bedroom Grand Sea View Pool Suite allows for privacy and stunning views for an unforgettable experience.
On the other hand, for two, the Beach Access Pool Villa gives you the best of island life. Allowing direct beach access as well as a private pool within an enclosed garden area, emphasising romance and privacy.
Anantara Layan offers Muay Thai classes as well as healing massages at their Anantara Spa. Tune into the Andaman Sea with the Sea Shell and Herbal Therapy or sink into the forests with the Layan Bamboo Retreat.
There are also 5 exclusive and succulent fine dining opportunities as well as Thai cooking classes in a traditional open-air kitchen. The on-site grill restaurant, Age, highlights exquisite meats and fresh local seafood.
Muslim-friendly features at Anantara Layan
Alcohol removed from the room
Halal food served
Mosques nearby the hotel
Private villas
Located north of Phuket on the stunning Mai Khao Beach, Melia Phuket Mai Khao combines the natural beauty of the island with luxury wellness. Just 15km from the airport this is a prime location for exploring Thailand.
The 3 available room types include a One-Bedroom Suite with Outdoor Bathtub, giving you a private relaxation experience on your own terrace. A One-Bedroom Villa with Private Pool, ideal for Muslim couples with the added level of isolation providing comfort on your stay.
Finally, the One-Bedroom Wellness Villa with Private Pool takes holiday pampering to the next level, incorporating an hour-long daily massage into your stay.
The Melia Phuket Mai Khao's own YHI Spa sets out to stimulate all 5 of the senses. Creating a sanctuary of calm with an expansive range of rituals and treatments. Making wonderful use of the premium location beach yoga sessions and horse riding gives you a unique island experience.
For halal dining at the resort, visit SASA restaurant for a breakfast or informal dinner featuring Southeast Asian flavours. GAIA gives a distinct experience of Mediterranean fusion with an open-plan kitchen. The resort's Elyxr Café even has options to take away some of their finest local products.
Muslim-friendly features at Melia Phuket Mai Khao
Alcohol removed from the room
Halal food served
Mosques nearby the hotel
Private villas
5. Amatara Wellness Resort
Amatara Wellness Resort, also called Amatara Welleisure Resort, is among the best halal hotels in Phuket. 
The resort utilises the calming turquoise waters of the Andaman Sea and the luscious greenery of the rainforest. With wellness at the centre of their ethos, you can experience rejuvenation in paradise-like setting.
The 105 rooms at Amatara are divided into pavilions, suites, and pool villas. All rooms feature their own private balcony facing the sea, letting you enjoy that taste of the ocean whenever you could want.
Decorated with elegant subtlety, the focus is completely on the healing power of nature. If you'd appreciate an extra layer of privacy the Ocean View Pool Villa's and Pool Pavilion's private pools are ideal for a Muslim couples' retreat.
There are 3 signature restaurants available, delighting the senses with a variety of dishes ranging from traditional Thai to international specialties and healthy wellness cuisine.
Continuing the wellness theme, all of the resort's facilities centre around your vitality. You can find unforgettable spa experiences with high-quality natural products. There is also a fitness centre and Pilates studio providing you with a potential fun challenge during your stay.
Muslim-friendly features at Amatara Wellness Resort
Alcohol removed from the room
Halal food served
Mosques nearby the hotel
Private villas
The Pavilions Phuket is a haven of white sandy beaches and clear blue seas. Offering gorgeous views, it is situated on top of one of Phuket's highest points.
For beach days, you can get to the nearby Layan Beach by complimentary shuttle from the resort.
If you're a Muslim couple celebrating your honeymoon, or enjoying a couples retreat, the Spa & Pool Pavilion Villa is ideal. Complete with a private pool, couple's spa, and steam room. This villa has everything for full privacy and romance.
However, for families there are other options. The multiple-room villas, offer from 2 to 5 rooms, making it a well-rounded resort option.
The Pavilions also hosts an indulgent Spa and Wellness Sanctuary as well as a fitness centre. For tuning in with yourself, there is an entire range of yoga classes that can be adapted to your skill level.
As for halal dining, you can find 3 award-winning restaurants and bars serving gourmet cuisine. The Burma Bar takes inspiration from the region's history to provide a luxurious lounge experience with exclusive mocktails.
Muslim-friendly features at The Pavilions Phuket
Alcohol removed from the room
Halal food served
Mosques nearby the hotel
Private villas
7. Dusit Thani Laguna Phuket
Dusit Thani Laguna Phuket is a beachfront retreat that combines elegant Thai heritage with amazing hospitality and comfort. Facing the white sands of Bang Tao Beach, you're guaranteed spectacular sunsets and tropical rainforest tranquillity.
Set on either the lake or the beach, the Two-Bedroom Pool Villa comprises a luxurious three-story villa with a roof-top infinity pool, garden, dining area, and terrace.
The villa has a fully equipped kitchen as well as a full entertainment system making it ideal for families. Daily breakfast and afternoon tea are also available for the entirety of your stay.
If you'd rather something simpler, the Deluxe and Dusit Club Rooms highlight elegance with a private balcony, patio, or terrace, meaning you can take full advantage of the beautiful sea.
Dusit Thani Laguna resort offers several restaurants ranging from Royal Thai cuisine and fine Italian dining. The onsite Angsana Spa features 5 private spa rooms set in the heart of a beautiful fresh garden. And for some active excitement, you can enjoy everything from water sports to an 18-hole golf course.
Finally, if you're an animal lover, whilst here you can join and learn with either the Mai Khao Marine Turtle conservation foundation or the Elephant Sanctuary.
Muslim-friendly features at Dusit Thani Laguna Phuket
Alcohol removed from the room
Halal food served
Mosques nearby the hotel
Private villas
8. Hyatt Regency Phuket Resort
Hyatt Regency Phuket Resort signifies luxury designed to suit the whole family. This Phuket halal hotel offers convenient beach access for diving and snorkelling and the largest oceanfront infinity pool in Phuket.
Hyatt Regency is located in Kamala and offers quick access to plentiful of halal food in Patong while being secluded from Patong's nightlife.
Here you'll find 184 ocean-view rooms and 17 suites, some even featuring their own private pool.
The 1 King Bed with Plunge Pool offers a spacious room with a terrace and pool overlooking tropical gardens and the Andaman Sea. For a more tranquil stay, the 1 King Bed with Terrace Whirlpool instead provides a hot tub and shaded lounge area overlooking the stunning seascape.
As a halal certified hotel in Phuket, Hyatt Regency houses 5 restaurants offering a variety of cuisines. Mizu, a Teppanyaki restaurant, serves the freshest local seafood with immersive show kitchen spectacles.
Ideal for making lasting memories, there is also a Thai cooking class, emphasising authentic Thai culture and flavours. The lavish resort spa offers unique experiences such as its Ayurvedic Therapeutic Rituals and Himalayan Salt Thermal Therapy.
Muslim-friendly features at Hyatt Regency Phuket Resort
Alcohol removed from the room
Halal food served
Mosques nearby the hotel
Private villas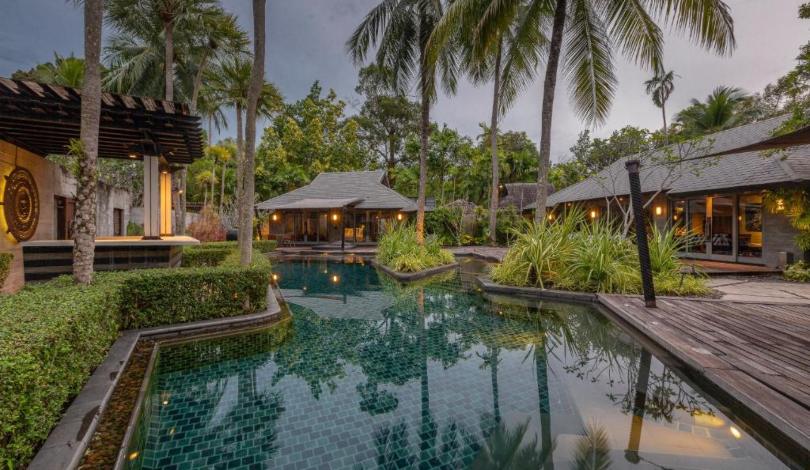 Reimagining Phuket's rich elemental history, The Slate brings together tradition and new inspiration to offer an utterly unique experience. Perfect for history lovers, this resort takes an otherworldly spin on Phuket's tin mining past with industrial influences.
There is a range of suites and villas available. The D-Buk Family Suites are ideal for a Muslim family holiday with ample space in an open-plan layout making it great for spending time together. For a more extravagant stay, the Pool Villas not only provide the comfort and exclusivity of a private pool, but also a jacuzzi, sauna, and much more. Also, certain pets are even allowed to accompany you, making your holiday even more special.
The Slate offers an extensive range of gourmet restaurants that draw on the earth's organic goodness. Whether that is with the heart of Phuket at Black Ginger or the ultimate experience of the Chef's Table where the venue is just as important as the food.
The Coqoon Spa allows you to rejuvenate in solitude and the innovative Kru wellness facilities will help you feel like your best self.
For a unique experience during your stay, take a floral art class with The Slate's own dedicated florist and connect with nature's beauty.
Muslim-friendly features at The Slate
Alcohol removed from the room
Halal food served
Mosques nearby the hotel
Private villas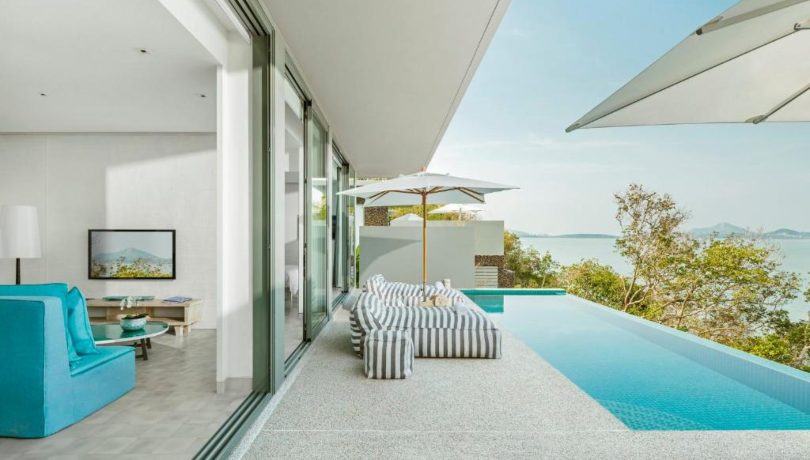 Settled on the crest of Cape Yamu, COMO Point Yamu comprises playful interiors and striking pool villas. Just 25 minutes from Phuket International Airport and with views of Phang Nga Bay, you can see all Phuket has to offer.
Como Point Yamu offers rooms, suites, and villas. Their rooms can overlook either the Andaman Sea or the luscious greenery of the island.
The Phang Nga Pool Suites provide large, airy decks with your own private pool overlooking either the Phang Nga Bay or the Andaman Sea.
Finally, the villas can have from 1 to 4 rooms, making them ideal for a family getaway. Each villa boasts a private pool allowing you to relax in comfort surrounded only by family or friends.
This Muslim-friendly Phuket resort also organises its own excursions into Phuket's Old Town and water adventures chartering boats along Phang Nga Bay.
Halal food at this hotel highlights wood-fired Italian delicacies at La Sirena and hard-to-find Thai specialties at Nahmyaa. If you want something a bit more refreshing, the Aqua Bar provides a wonderful range of signature mocktails ideal for cooling down in the evening.
Muslim-friendly features at COMO Point Yamu
Alcohol removed from the room
Halal food served
Mosques nearby the hotel
Private villas
11. The Bell Pool Villa Resort Phuket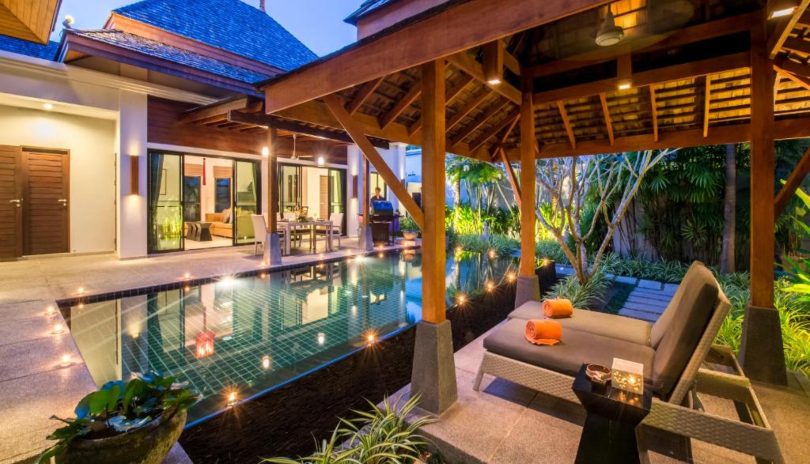 The Bell Pool Villa Resort Phuket are designed with privacy in mind, making it an ideal location for Muslims. 
Situated on the quiet Kamala Beach, you are within reach of some of the major tourist hubs without the crowds of central Phuket.
The Honeymoon Private Pool Villa is the 2-guest option, complete with an infinity pool and poolside pavilion. 
The Luxury Private Pool Villa houses 6 guests, providing 3 separate bedrooms each with en-suite bathrooms. The largest villa is the Presidential Private Pool Villa, allowing 8 guests within its 500 sqm. 
Each villa also provides an in-villa halal breakfast and an all-day dining menu.
Each villa has the option for in-villa spa experiences, allowing you the privacy of your own space without omitting the relaxation. 
If you wanted to take the chance to develop your cooking knowledge, the Thai cooking class will give you a piece of Thailand you can take home
Muslim-friendly features at The Bell Pool Villa Resort
Alcohol removed from the room
Halal food served
Mosques nearby the hotel
Private villas
Which Phuket halal hotel will you stay in?