In today's post, we'll be covering everything you need to know about halal food in Koh Samui.
You will learn, from my firsthand experience, insider tips on how to easily find Koh Samui's halal food.
Having lived in Thailand for several years, I've spent extensive time exploring this idyllic island.
Whether by riding my rented scooter or on the back of a Songthaew (shared pick-up taxi), I explored all corners of this island. 
The goal was to meet the local Muslim communities in Koh Samui and find the best halal food, as well as hotels ideal for Muslim travellers.
So, in this post, we'll be covering a brief history of Koh Samui and how Muslim-friendly it is. 
You will then discover our favourite halal Thai dishes and the best halal restaurants in Koh Samui.
Lastly, we give you five of Koh Samui's halal hotels & resorts with exceptional halal dining options.
All tried and tested :).
Is Koh Samui Muslim-friendly?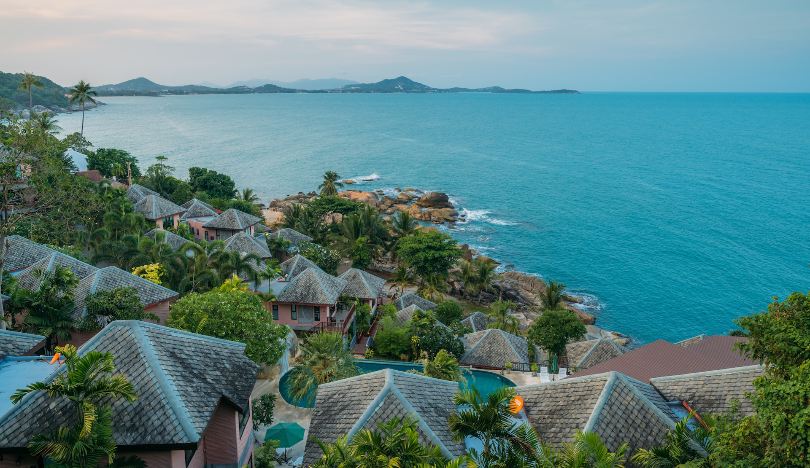 The island of Koh Samui is a Muslim-friendly destination which offers a range of halal amenities.
Islam is the second-largest religion in Thailand, and the presence of Muslims and halal-friendly amenities increase the further south you travel. The southern region of the country is where Koh Samui lies.
Historically, Muslim fishermen sought refuge on the island from storms and decided to set up livelihoods there. 
This also means that there is a relatively large, permanent Muslim population and 4 mosques on the island. There's a dozen or so more in Surat Thani, which is the provincial capital.
The largest and most popular is Koh Samui Central Mosque, or as it's also known as Masjid Nuruliahsan. Found near Hua Thanon, where the Muslim village in Koh Samui is.
Koh Samui's Muslim village in Hua Thanon is definitely worth a day visit but it doesn't offer much in the way of tourist attractions. 
It's a fantastic area to explore and learn what daily life for the local Muslim fishermen is like. 
Insider tip: Just like Phuket, Koh Samui also has a party-centric area that I'd recommend fellow Muslim travellers avoid during their trip. The name of the area is Chaweng and happens to also be the most touristy area. See more below.
Is there halal food in Koh Samui?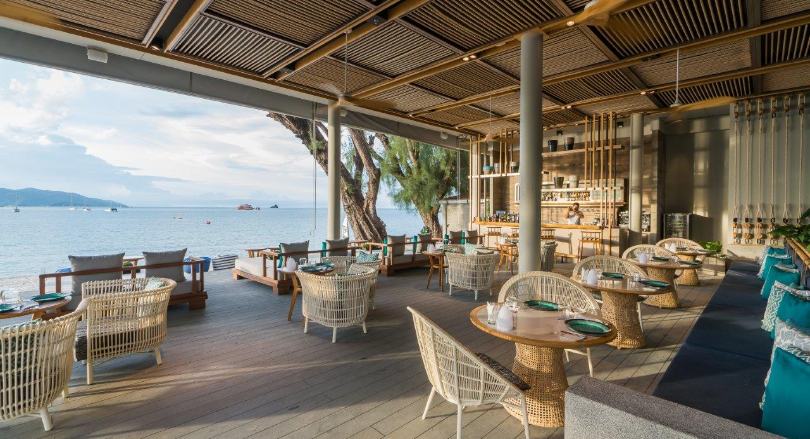 Yes, there is a good selection of halal food options throughout Koh Samui. Although there are no specific areas dedicated to serving halal food, most of the popular towns, such as Lamai and Bophut, offer a selection of halal restaurants.
You should know that compared to Phuket or Krabi, Koh Samui offers fewer halal dining options as it's a smaller island. 
However, this guide is intended to highlight the best Koh Samui halal food so you're equipped on your trip to this magnificent island.
If you are ever in doubt, there is also the option to try Koh Samui's delicious vegan and vegetarian food.
There are also international restaurants, fresh seafood hotspots and food stalls. So, either way, you're guaranteed a great food journey.
Other locations where you're guaranteed to find halal food are night markets such as Night Market Fishermans Village. 
Where to stay in Koh Samui near halal food?
For those looking to be within close distance of halal restaurants while also being in a prime location in Koh Samui, look at either Bophut Beach or Choengmon Beach. 
Both of these areas offer excellent beachfront hotels that serve halal food as well as being a short distance from halal restaurants.
You might've already come across other blogs or sites that recommend staying in Chaweng. This is because Chaweng is the most touristy part of town.
As a result, there is a high concentration of halal restaurants in Chaweng. Some are good, some not so good.
However, as mentioned earlier, Chaweng is the heart of the nightlife scene in Samui with countless seedy bars and clubs.
So, should you decide to base your trip here, you will be close to some halal dining options but you won't enjoy the atmosphere. Especially if you're with children.
That's why, I recommend either Bophut or Choengmon beaches as laidback and vibrant alternatives.
Visiting Chaweng to visit a restaurant during the daytime is fine as most nightlife establishments are closed of course. 
5 best halal food in Koh Samui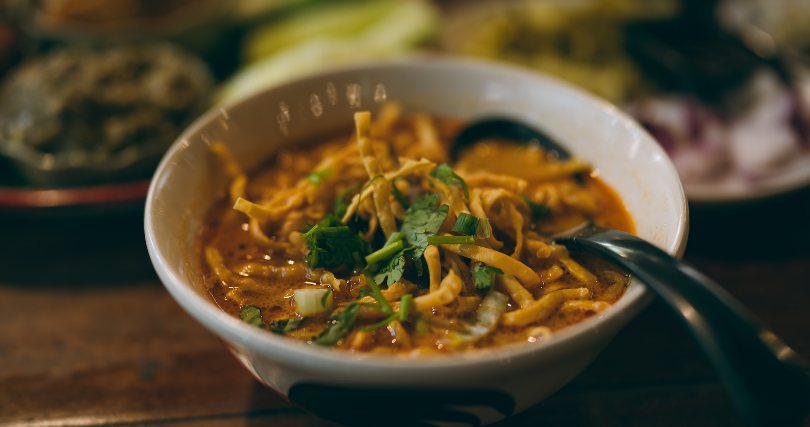 Thai cuisine highlights light dishes packed with explosive flavours. Fresh herbs and spices, palm sugar, lime juice, fish and meats are all essential in the creation of dishes. These elements of flavour are then perfectly arranged in order to produce the harmonious meals the country is known for.
There are four main categories of dishes; tom (boiled dishes), yam (spicy salads), tam (pounded foods) and kaeng (curries). Elements of Chinese cuisine also found their way in, incorporating frying and steaming to add another level of flavour.
1. Pad Krapow (Stir fried Holy Basil)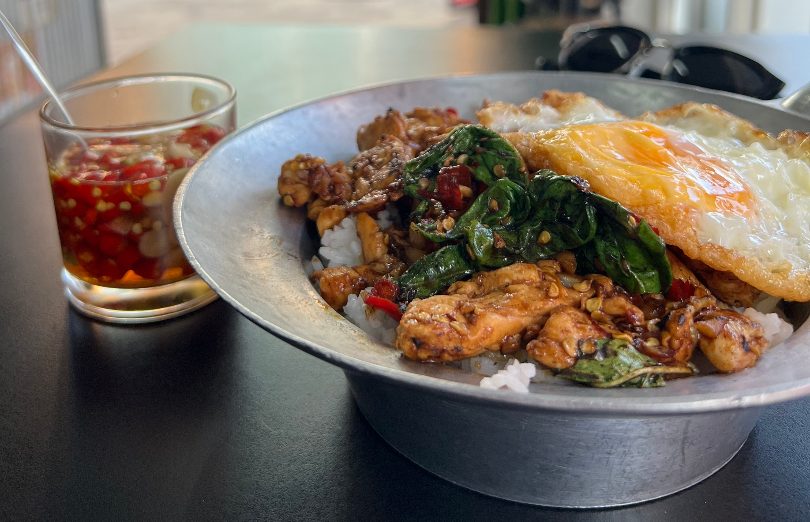 Pad Krapow (or Phat kaphrao) is the perfect pairing of simple but delicious. Made up of stir-fried holy basil, garlic and chillies with protein that gets layered over a bed of steamed rice.
For the authentic experience, it's then topped with a perfectly fried egg, adding a richness that mellows the spiciness. It's a street food lunch classic for people all over Thailand, akin to a sandwich or burger in other parts of the world.
The signature ingredient of Pad Kra Pow is holy basil, an aromatic herb with a peppery flavour and potential health properties.
Halal Pad Krapow is usually served with chicken and beef but the seafood option with prawns is also popular.
The best condiment alongside this dish is Prik Nam Pla, a traditional Thai sauce made of chopped chillies and garlic in fish sauce with lime. It's commonly used as a flavour enhancer.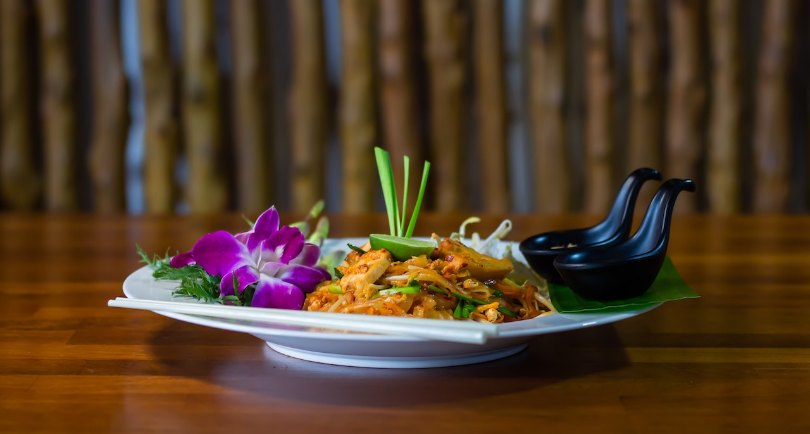 Ask anyone to name a Thai dish and it's very likely they would say Pad Thai. Versatile and delicious, Pad Thai is a fried noodle dish with fried egg, garlic, tamarind juice and fish sauce.
Usually, you'll find this topped with either shrimp or chicken, however, because of its versatility, it can also be vegetarian.
Those extra vegetables harmonise with that classic sweet and sour taste to create an unforgettable dish. Some places may even include extra sides. Commonly you'll find chilli flakes, lime and crushed peanuts so you can customise it to your liking.
As a national dish of Thailand, this is served on thousands of food stalls all over Thailand. Each tastes slightly different with the personal touches of the vendors so you never get bored of eating it.
3. Papaya Salad (Som Tam)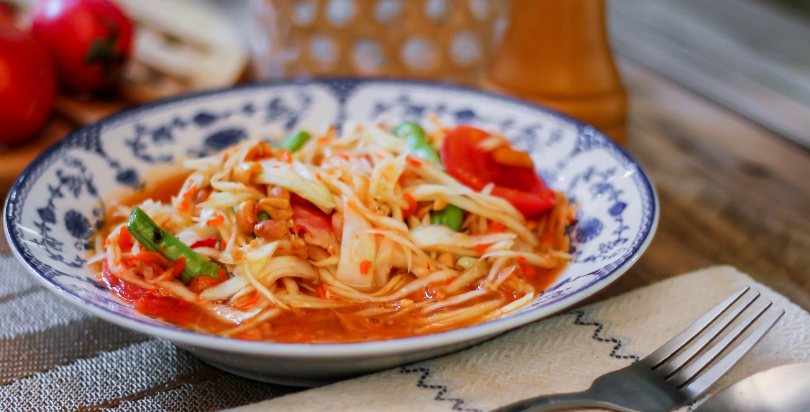 Papaya may not be the first salad ingredient you usually reach for, however, it's a delicious Thai classic.
The unripe strips of green papaya are combined with fresh chillies, garlic, dried shrimp, peanuts, long beans and tomatoes.
These ingredients are pounded within a mortar to release the flavours without sacrificing their crunchy textures. It's then dressed with that classic Thai sweet-and-sour flavour, a combination of fish sauce, lime juice and palm sugar.
Walking past the food stalls in the streets of Thailand, you can hear the sounds of the mortar and pestles. The ease of preparing these dishes makes them a popular and delicious fast-food choice.
The main flavours also vary depending on the region you visit. So make sure to try it no matter where you are visiting in Thailand.
4. Rice noodle with curry sauce (Khanom Jeen)
A spicy coconut curry with springy rice noodles, Khanom Jeen (or Khanom Chin) is a local favourite throughout Thailand.
Served alongside a selection of pickles, herbs and seasonal vegetables it's a refreshing meal ideal for lunch or breakfast. With a history spanning over 10 centuries, you can be certain its popularity is for good reason.
Depending on the region there are slight differences to the ingredients. So you may find olives, popinac and parkia in your Koh Samui version of Khanom Jeen.
Another fundamental and lesser-known ingredient is kra chai, or fingerroot, which gives it its spicy, ginger-like flavour. Fun fact: this dish is a popular addition to wedding ceremonies, owing to the long noodles symbolising long-lasting love.
This dish is not as known outside of Thailand, so make sure to take the chance to try it whilst you can.
5. Yellow rice & chicken (Khao Mok Kai)
Kao Mok Gai is Thailand's take on the classic chicken and yellow rice.
One thing that makes this dish stand out is the effort that goes into flavouring the rice. The rice is seasoned with cassia bark, Thai cardamom pods and bay leaves, giving it a bold and aromatic flavour.
It is also slow-cooked to make sure the flavours really infuse into the grains.
This makes a change to the classic white rice served with many Thai dishes. The chicken is also seasoned in a delicious marinade of coriander, garlic, ginger and yoghurt and topped with a sweet sauce.
Combined together, this makes a flavourful meal that you'll never forget.
5 best halal restaurants in Koh Samui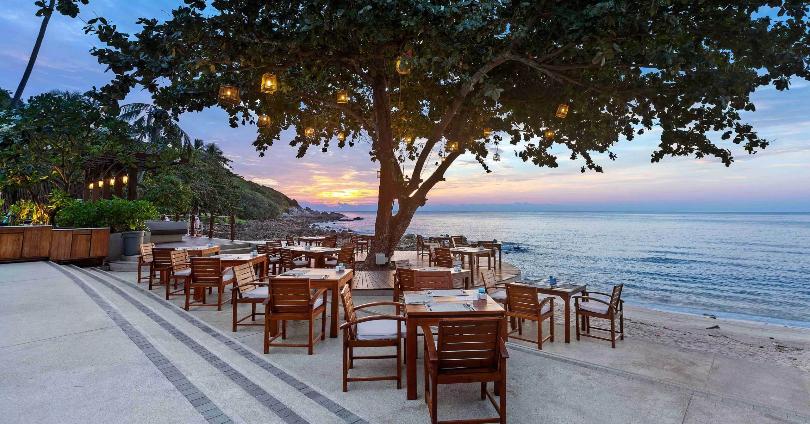 1. Kedai Halal Sedap, Maenam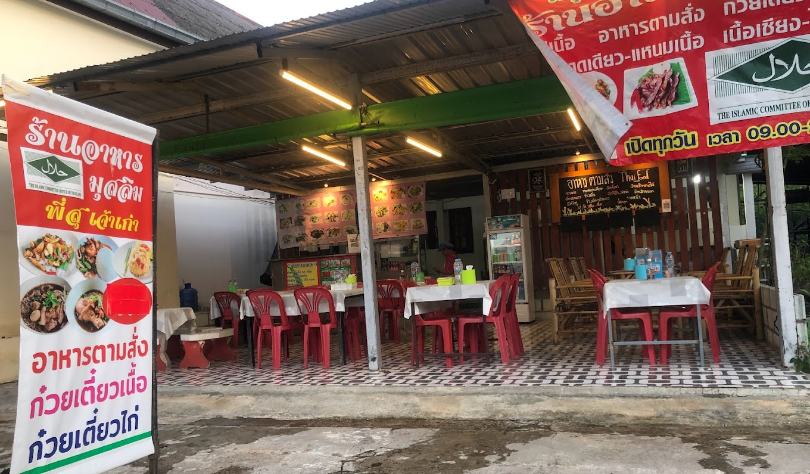 In the Maenam area of Koh Samui, near Fisherman's Village, is Kedai Halal Sedap, an authentic Thai restaurant serving a selection of halal dishes. Sat near the main road, it's a convenient location for lunch and dinner stops.
Despite being a small restaurant with only 7 tables, the owners are exceptional, and the food is unforgettable.
The Pad Thai is one of the menu highlights, with springy noodles and a succulent sauce. Also popular is the beef noodles, for that extra umami taste.
With its premium flavours at very affordable prices, you won't be able to resist returning for more.
2. Link Cuisine, Fisherman's Village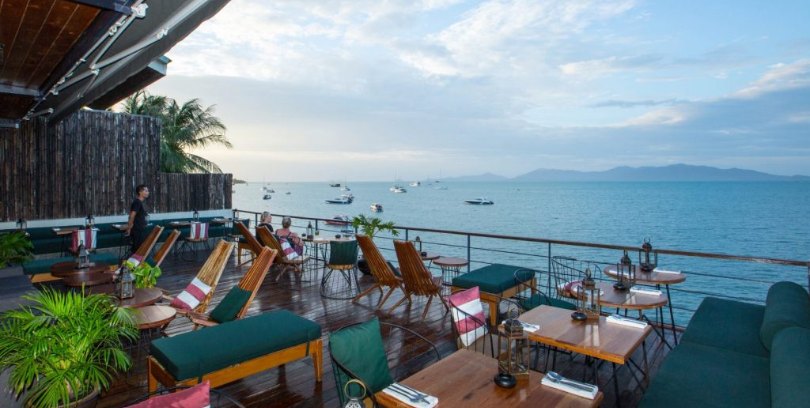 An interesting addition to our list of halal restaurants in Koh Samui, Link Cuisine serves halal food with a view.
Situated in the heart of Fisherman's Village, the restaurant serves a fusion of Italian and Asian cuisines, you can find pasta and pizzas as well as curries and stir-fries.
This means that if you're willing to share, getting dishes from each cuisine gives you the best taste of this restaurant. You can also enjoy live music and stunning views of Bophut Beach.
If you time it right, you can sit and eat dinner whilst watching the sunset turn the sky pink.
It is important to note that alcohol is served here even though certain foods offered are halal.
3. Lake View Halal Food, Chaweng
As mentioned, I personally don't recommend basing your trip in Chaweng due to its infamous nightlife.
However, if you do find yourself in this part of the island during your trip, then visiting Lake View Halal Food is definitely worth it!
Lake View Halal Food as the name suggests is a restaurant on Chaweng Lake. Operated by 2 sisters, you encounter friendly service and memorable views.
The Pad Krapow is deliciously spicy, the curries full of strong aromatic flavours and the Tom Yum overflowing with fresh seafood.
The owners are very considerate too. Giving you the chance to try the food before it's finished to make sure the spice level is right. The freshly made smoothies are also perfect for beating the humid Thai heat.
Giving the atmosphere and feeling of a wonderful home-cooked meal, this location is a must-stop for anyone in Koh Samui.
4. Kohinoor Indian Restaurant, Fisherman's Village
Changing it up again, Kohinoor Indian Restaurant is an authentic and flavourful halal Indian restaurant in Fisherman's Village.
Serving Biryanis, Dals and a selection of curries all filled to the brim with delicious flavour. The portions are generous, making it an ideal dinner location during your stay.
There are also a lot of vegetarian options for those days when you don't fancy a meat dish. The side dishes are a collection of pillowy naans, buttery rotis, fresh pakoras and bhajis, superbly topping off the meal.
The drinks here are also top-rated and definitely worth ordering. I recommend the creamy Mango Lassi and aromatic Chai.
The last restaurant on our list is Roti Otin, a halal Thai restaurant in the Koh Samui's Lamai area.
Serving all of the popular Thai dishes like Pad Thai and Papaya Salads, with quick and friendly service.
However, it's the dessert rotis that must be on your list. With options like banana and Nutella, fresh mango and honey all within the thin layers of crispy pancake.
It is the ideal main meal and sweet treat location after a day of exploring the island. The cosy and warm atmosphere helps to create happy memories on your holiday, sure to put a smile on your face.
Best hotels with halal food in Koh Samui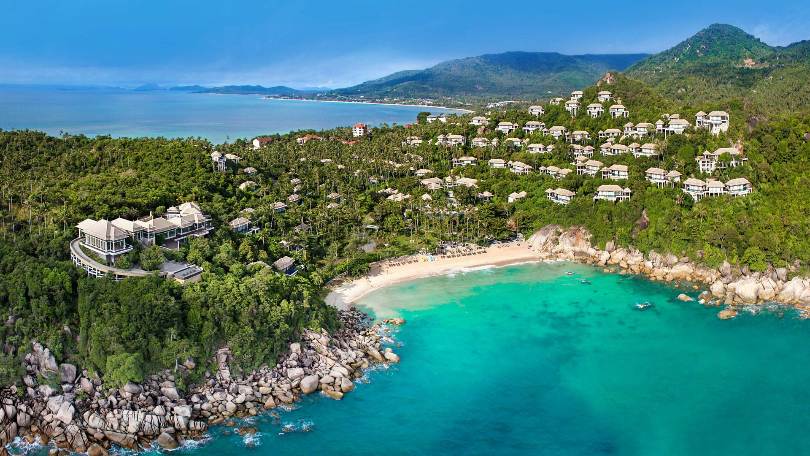 With Koh Samui being one of the most popular islands in Thailand, you can find some of the best hotels in the country here. The good news is a great portion of them are Muslim-friendly.
At Rooh, we've personally visited and inspected each featured hotel to assess whether they're suitable for Muslim travellers.
Explore below our list of the best luxury hotels in Koh Samui with halal food.
Nestled in the lush jungle overlooking a private bay in Lamai, Banyan Tree Koh Samui is a true luxury resort. With the onsite Banyan Tree Spa and Gallery for the best holistic treatments.
Additionally, the Library and Games Room provides extra entertainment alongside the watersports and excursions, ensuring you have a memorable stay.
You get the choice of a number of stunning villas, all featuring private pools and unforgettable views. Whether it's the greeneries of the local fauna or the blues of the Gulf of Thailand. The Ocean View Pool Villa provides that ocean view with a king-sized bed, warm Thai interiors and enhanced tranquillity. The private pool is also ideal for Muslim couples wanting a bit more privacy.
Dining at Banyan Tree Koh Samui is a delightful experience with 3 restaurants and several bars to dine at. Each bar offers a diverse selection of fresh smoothies, mocktails and more to help you feel refreshed in the Thai sun.
Sands is your opportunity to dine on the beach savouring the freshest fish and finest cuts of steak. Saffron, on the other hand, is your go-to spot for authentic Thai flavours. You can even try the Pad Krapow we mentioned earlier.
Muslim-friendly features at Banyan Tree Samui
Alcohol removed from room
Halal food served
Private villas available
Mosque nearby the hotel
W Koh Samui can be found in the North of the island. Tucked away from the hustle and bustle of the city, beach days with spa indulgence are the way to go.
You have exclusive access to W Beach for WAVE beach activities, FIT for fitness, and AWAY Spa for revitalising treatments.
Luxury villas are the W Koh Samui signature, with 74 private pool accommodations with views over the ocean and island. The custom furniture with comforting browns and catching reds highlights the sense of lavishness, abetted by the large living spaces.
The Jungle Oasis 1-bedroom villa boasts tropical views with an expansive patio to lounge on next to your private pool.
W Koh Samui offers 4 dining destinations to experience. The Kitchen Table overlooks the sea and offers a truly expansive menu every day for breakfast, lunch and dinner. Whether you are craving a gourmet pizza or rich Thai curry, there are delicious halal options for you.
Namu is an innovative Japanese dinner restaurant that celebrates authentic Asian flavours. It's an unmissable spot for your stay.
Lastly, we wanted to point out The Sweet Spot. Offering a great selection of cooling ice creams, soft drinks and sweet treats to add to your day.
Muslim-friendly features at W Koh Samui
Alcohol removed from villa
Halal food served
Private villas available
Mosque nearby the hotel
3. SALA Samui Choengmon Beach Resort
Along the front of Choengmon Beach, SALA Samui Choengmon Beach Resort is a luxurious and relaxing Koh Samui destination.
There are 2 seafront swimming pools, the Sala Spa, yoga, watersports, golf and so much more. You will be spoiled for choice on how to spend your time here.
The rooms, suites and villas at this resort are luxuriously designed in calming neutrals, many coming with private pools.
The Deluxe Balcony Room is a stylish and open room with a stunning bathroom, expansive bedroom and spacious balcony. The view of the courtyard promotes relaxation and is great for cooling down from the Thai sun.
If you're looking for award-winning dining, look no further than SALA Samui Restaurant. Sat just metres from the shores of Choengmon, you have the best selection of international and Thai favourites.
Whether that's an Angus tenderloin or a Papaya Salad. There's also a delightful lighter lunchtime menu for any days you may spend in the resort. You can also try the Thai Cooking Class to learn how to make some of those delicious meals yourself.
Muslim-friendly features at SALA Samui Choengmon Beach Resort
Alcohol removed from room
Halal food served
Private villas available
Mosque nearby the hotel
Also sat along the picturesque Cheongmon Beach is Meliá Koh Samui, a stunning wellness resort with exceptional services.
Their YHI Spa combines traditional therapies with modern techniques to prioritise wellbeing and there are a number of fitness activities. Unique to this resort is the loop swimming pool that meanders around the facilities.
There's a wonderful selection of rooms, mostly with a pool view although a select few have garden or sea views. The Deluxe Room provides that lush garden view with a double bed and relaxing open-air bubble bath. You can wake up each morning and greet the day on your balcony.
There are 3 eateries onsite, The Breeza Beach Restaurant & Bar, Koko Kitchen and Boat's Bar. The Breeza Beach Restaurant is a beautiful a la carte location serving the highest quality local ingredients. These can range across a number of cuisines from international delicacies to local favourites.
Koko Kitchen, on the other hand, highlights live cooking and a memorable experience. Lastly, Boat's Bar is where you can relax in sophistication, with fresh tea and coffee or refreshing juices.
Muslim-friendly features at Meliá Koh Samui
Alcohol removed from room
Halal food served
Mosque nearby the hotel
5. SAii Koh Samui Choengmon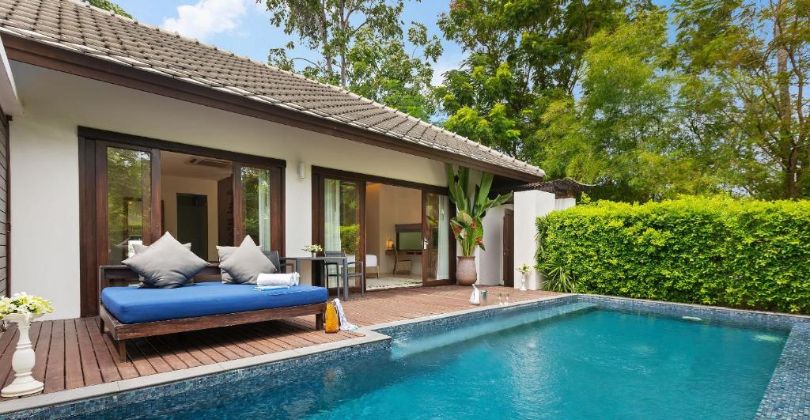 Situated on its own stretch of Choengmon Beach, SAii Koh Samui Choengmon is a romantic getaway ideal for Muslim honeymooners. You get access to premium water sports facilities in Hanuman Bay, and indulgent treatments at Lèn Spa.
You have the choice of 3 villas at this resort. A classic Pool Villa, a Deluxe Pool Villa and a Beachfront Pool Villa. Each villa has a private pool, making it ideal for Muslim travellers looking for added levels of privacy. The Deluxe Pool Villa brings together spacious living and playful fun with handcrafted puzzles and pillowy king-sized beds.
There are 2 delectable restaurants at SAii Koh Samui Choengmon, Miss Olive Oyl and bean/Co. For simple yet sophisticated dining with the taste of the Mediterranean, Miss Olive Oyl offers highlights of land and sea. With the freshest grilled salmon and organic greens, you are guaranteed a great meal.
Finally, bean/Co, as the name suggests offers artisanal coffees and delicious light bites. A more casual option, you can enjoy a simple yet unforgettable lunch.
Muslim-friendly features at SAii Koh Samui Choengmon
Alcohol removed from room
Halal food served
Private villas available
Mosque nearby the hotel