In today's post we'll be discussing everything you need to know about halal food in Thailand.
You're going to learn how easy it is to find halal restaurants in Thailand and the best areas in Thailand for halal food.
On top of that, you'll also find a list of must-try halal Thai dishes. Afterall, Thailand is known as one of the food capitals of the world.
I'm going to be sharing with you my foodie knowledge from living in Thailand for over three years. You can be rest assured that this guide is based on my personal experience.
So, if you're planning a trip to The Land of Smiles and want a worry-free travel experience, then continue reading!
Is it easy to find halal food in Thailand?
A lot of people have asked me "is food in Thailand halal?", the short answer is no. Although not all the food in Thailand is halal (or anywhere else for that matter) you certainly can find halal food pretty easily.
Finding halal restaurants in Thailand is not difficult, you just need to know where to look.
Just about every city and town has at least a few halal restaurants, and large cities such as Bangkok will have hundreds.
Although Thailand is predominantly a Buddhist country, it's worth knowing that their second biggest religion is Islam.
In fact, the further south you are in Thailand, the more Muslims you'll find. See the map below for a visual representation: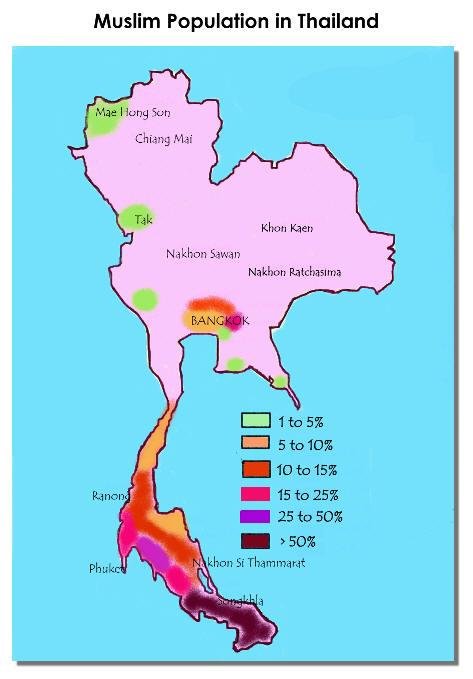 For example, the population of the southern Thai island of Phuket is roughly 35% Muslim. The simple reason for this is because the south of Thailand borders with Malaysia, where Muslim Malays migrated.
In Thailand, halal eateries typically serve local Thai dishes such as Pad Thai, but some do offer international cuisine.
Where are the best places in Thailand for halal food?
Now that you know that you can find halal food just about anywhere in Thailand, let's discuss the best places to find them.
Discover below a list of the best places in Thailand to find and eat halal food.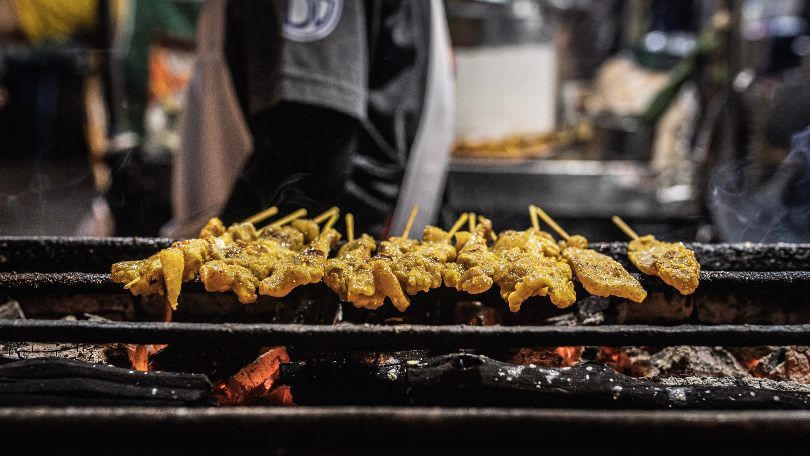 When it comes to finding halal food in Bangkok, you're definitely in luck.
From my experience of living in Thailand for three years, I would say that Bangkok is by far the best city in Thailand for halal food.
As opposed to other regions, Bangkok has tonnes of halal restaurants throughout the city.
Whereas in other areas you may be limited to halal Thai food (who's complaining?), Bangkok offers a wide variety of cuisines. You can also find halal Chinese, Indian, and Malay food.
But don't get me wrong, halal Thai restaurants in Bangkok are spectacular.
Below I'll touch upon the best location in Bangkok for halal food and a secret restaurant that serves the best halal dishes in Bangkok.
Best area for halal food in Bangkok
One of the best areas in Bangkok for Muslim travellers is Bang Rak. Although Bangkok is huge, you'll be glad to know that Bang Rak is near the city centre and popular sites.
Within Bang Rak is a thriving local Muslim community living alongside the Chao Phraya river. Here, you'll find countless Muslim-friendly eateries scattered around high-end halal hotels such as The Mandarin Oriental.
Must-try halal restaurant in Bangkok
Part of The Atheene Hotel, The Rain Tree Café is one the best halal buffet restaurants in Bangkok.
The Rain Tree Cafe is a beautiful haven for foodies, where they serve delicious Thai and international cuisine. This high-end restaurant also features live cooking stations where talented chefs whip up elegant dishes.
Their Sunday Brunch buffet has been known to have people lining up around town! Also seafood lovers will love their seafood nights where you can expect an unlimited supply of fresh lobster.
Note that although the restaurant does serve alcohol, all the meats at the Rain Tree Café are halal certified.
Join thousands of halal travellers that receive exclusive holiday deals, only shared with our subscribers.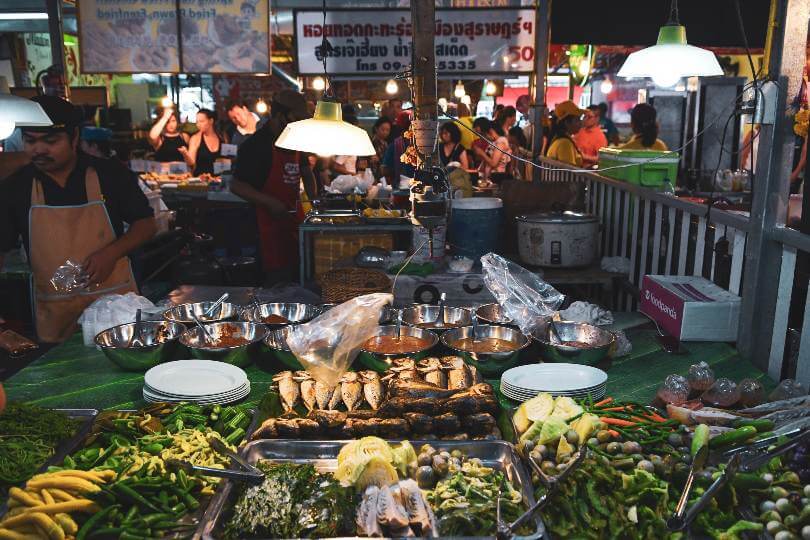 The tropical island of Phuket is a great Muslim-friendly destination in Thailand, as long as you know where to go.
As with most of Thailand, there are some places best to avoid, and in Phuket that's the Patong area. Patong is the most touristy location in Phuket and it's also the seediest part of the island.
Interestingly, Patong is actually home to numerous halal restaurants. However in my experience the vibes of the area doesn't accommodate a Muslim-friendly experience.
With that being said, you'll be happy to learn there are many other areas more suited for halal travellers. These areas also offer plenty of halal restaurants serving delicious Thai-Muslim cuisine.
The best part is that most of these restaurants are very affordable, making it easy for travellers to enjoy a good meal.
Some of the must-try dishes in a halal restaurant in Phuket include Pad Thai, Massaman Curry, Chicken Satay, and Tom Yam Soup.
Muslim travellers searching for halal fast food in Thailand would be pleased to know that KFC in Phuket is halal. For more information on this find it here.
Best area for halal food in Phuket
One of the most Muslim and family friendly areas in Phuket is Bang Tao Beach. This long strip of beach is located in the northwest of Phuket, near the airport.
It is a popular tourist spot because of its beautiful beaches and resorts. Bang Tao is also home to a large Muslim population, so it's easy to find halal restaurants in the area.
You'll also find the Muslim owned Bang Tao Beach Chalet, which is a great resort for a halal beach holiday in Phuket.
Read about halal food in Phuket.
Must-try halal restaurant in Phuket
Ottoman Beach Restaurant is a must-try restaurant in Phuket, located right on Bang Tao Beach. The restaurant is family run and serves halal Thai food in a picturesque setting.
Here you can experience a laid-back island feel whilst you enjoy the tantalising flavours of traditional Thai cuisine. Ottoman Beach Restaurant serves dishes such spicy green curry, creamy tom yum, or delicious Pad Thai.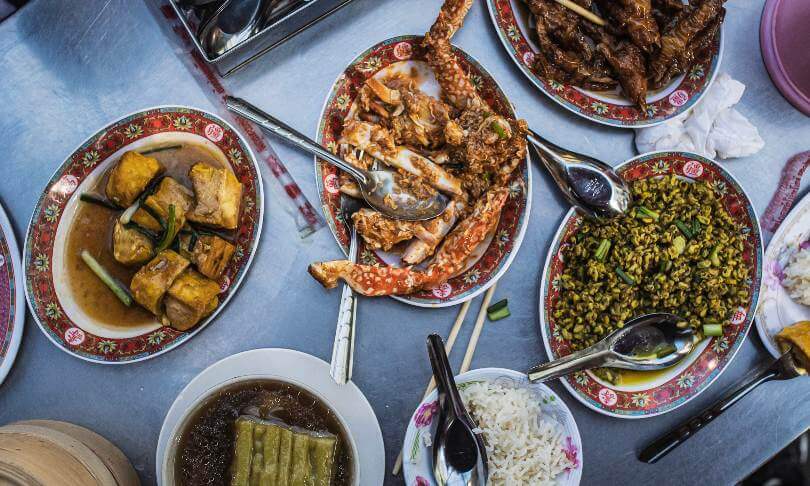 Krabi is a beautiful province in southern Thailand that offers stunning beaches, crystal clear waters, and lush rainforests. The Krabi province is located on the Andaman Sea and features limestone cliffs, caves, and beaches.
The great thing about visiting Krabi for Muslims is that it offers a much more family-friendly environment. That's because you generally won't find the infamous nightlife associated with places like Bangkok or Pattaya.
There are also a number of halal restaurants in Krabi, making it easy for Muslim tourists to find food that is halal-certified.
It's worth noting that as Krabi is predominantly Muslim, there are many restaurants that are halal but may not have a sign. For reference, this is what a Thailand halal logo looks like: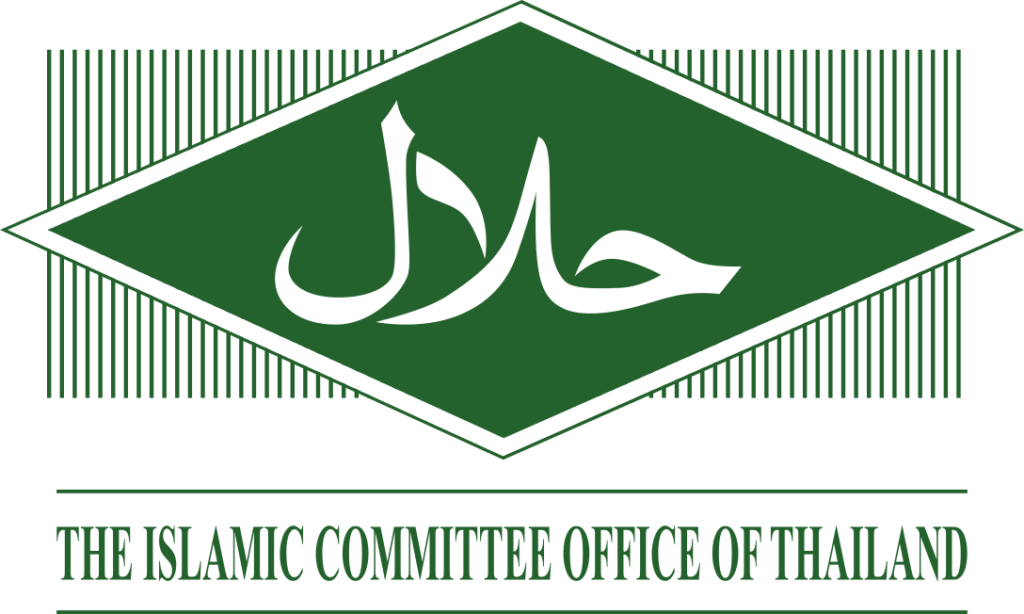 The Thailand halal logo is green in colour and contains a diamon shape with "halal" written in Arabic. Below that is the following sentence in English: "The Islamic Committee Office of Thailand".
Krabi is also known for its fresh seafood, which can be found in many of the restaurants in the province. So, if you find yourself in a location without halal meat, then seafood will definitely be an option.
Best area for halal food in Krabi
Apart from the landscape, what I really like about Krabi is that halal food can be found just about anywhere. And so choosing the best area for halal food in Krabi is not easy.
But if I had to choose just one, then it has to be Ao Nang. It's a beautiful resort town in Krabi used as the access point to the many Thai islands on the Andaman Sea.
The bustling Ao Nang town has a lot more to offer than its famous beaches. Behind the town's popular strip of soft sand and calm waters lies an array of restaurants that serve up some delicious food!
Must-try halal restaurant in Krabi
When eating in Krabi, it's all about trying the variety of street food on offer. Krabi is one of the few regions in Thailand where the night markets have a lot of halal street food stalls.
Cheap plates of street food start at around 50 Baht per plate and they are seriously filling. Therefore, instead of finding a halal restaurant, head out to Ao Nang Market for local street food. From lunchtime till late you'll find various halal options scattered around.
At Ao Nang Market, try street food such as barbecued meats on skewers, Thai-Muslim biryani, Papaya Salad, and more.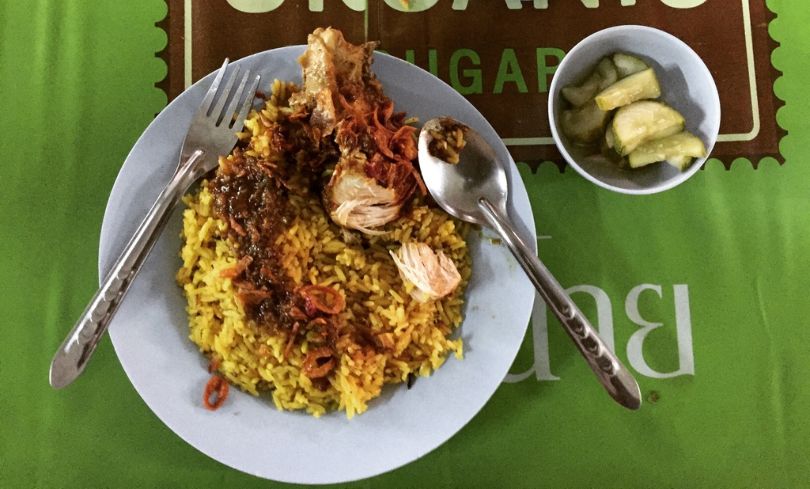 Judging by the map I shared above, you wouldn't expect to find a thriving halal food scene in Chiang Mai. But luckily, there is.
Known as the Rose of the North, Chiang Mai is a small but vibrant city in Northern Thailand. It offers a much quieter alternative to Bangkok's hustle and bustle.
Much like Thailand in general, it's all about the food in Chiang Mai. And the most popular dish is Khao Soi which originated in Chiang Mai. The dish consists mainly of noodles with a creamy curry soup topped off by fried egg noodles.
To maximise taste, Khao Soi should be eaten soon after it has been cooked because the noodles soak up the soup quickly.
Chiang Mai is also known for being vegetarian and vegan friendly. The city offers hundreds of trendy restaurants that serve affordable meat-free dishes.
Best area for halal food in Chiang Mai
There are a number of great areas in Chiang Mai for halal food. But the best area is Halal Street Hilal Town, where you can find a number of restaurants serving delicious halal Thai food.
Halal Street Hilal Town is a lively street where Chiang Mai's Muslim community is mostly concentrated. The street includes numerous halal restaurants and cafes, a mosque, hotels, and a night market. The Night Bazaar is home to a number of halal food stalls.
Must-try halal restaurant in Chiang Mai
When in Chiang Mai, it's only right to try the famous Khao Soi dish. And what better way to get your hands on a bowl of halal Khao Soi than to visit the aptly named Khao Soi Islam Noodles.
Khao Soi Islam Noodles can be found at Halal Street Hilal Town. The restaurant is more of a local style eatery that serves affordable regional Muslim Thai food.
Although their famous for their spicy Khao Soi, their menu also includes an excellent beef noodle soup. 
What to expect from traditional Thai cuisine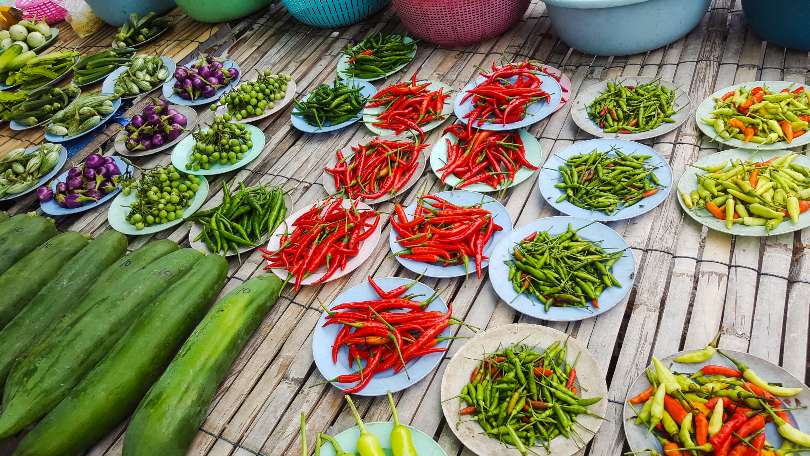 Traditional Thai cuisine is known for its balance of five fundamental taste senses in each dish. These five flavours are spicy, sour, sweet, salty, and bitter.
Thai food is also known for its heavy use of herbs and spices. This includes lemongrass, galangal, ginger, and kaffir lime leaves, in both curries and stir fries.
This allows Thai cuisine to carry the complexity, richness, and many varied flavours it's known for.
It's worth noting that Thai food is regional. This means that each region has its own take on the food which is based on tradition and geography. Each region is known for dishes that incorporate a variety of different vegetables and spices that are local to them.
When it comes to meat, most Thai dishes come with four options: chicken, beef, prawns or pork. Halal restaurants in Thailand do not offer pork of course.
Best halal Thai food to try in Thailand
Panang (Phanaeng) Curry is a dish that is made from the paste of the same name. The paste is made from dried red chilis, garlic, shallots, coriander seed, cumin seed, pepper powder, dried shrimp, and peppercorns.
It also has a bit of tamarind or kasoori methi as well as vinegar. This dish is usually served with beef but can also be served with chicken or tofu/vegetables.
2. Pad Thai (Rice Noodles)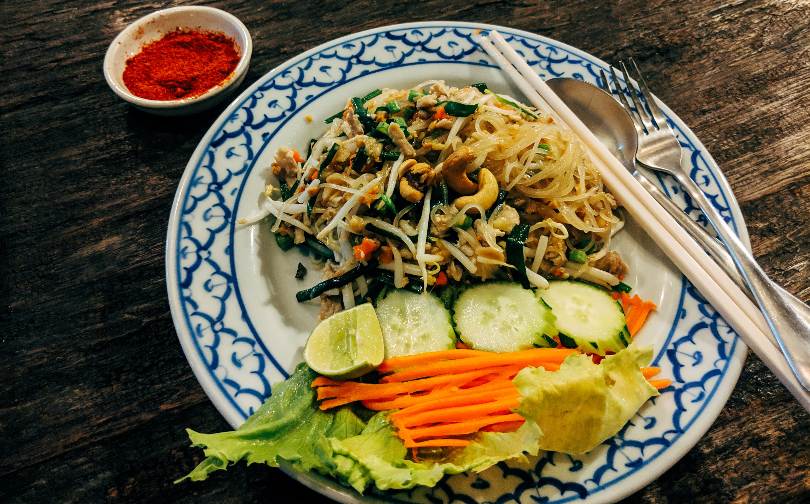 Pad thai is one of Thailand's most famous dishes! It's traditionally served as a noodle dish but you could also use rice noodles if you prefer.
Halal Pad Thai consists of rice noodles stir fried in soy sauce with egg, garlic, green onions, and beansprouts. You can use chicken or beef for your proteins, or with vegetables.
3. Tom Yum (Hot & Sour Soup)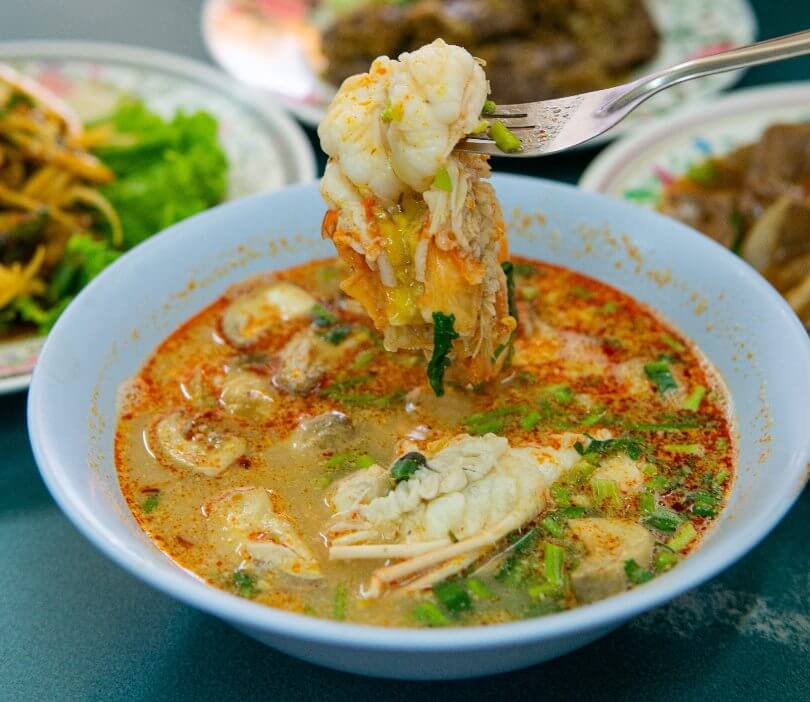 One of the most recognizable dishes from the cuisine is Tom Yum soup. This soup has a sour broth with lemongrass, kaffir lime leaves, galangal root, garlic, fish sauce and cilantro.
In addition to this well-known dish, there are also many other regional dishes that use varying types of noodles such as Pad Thai or Khao Soi.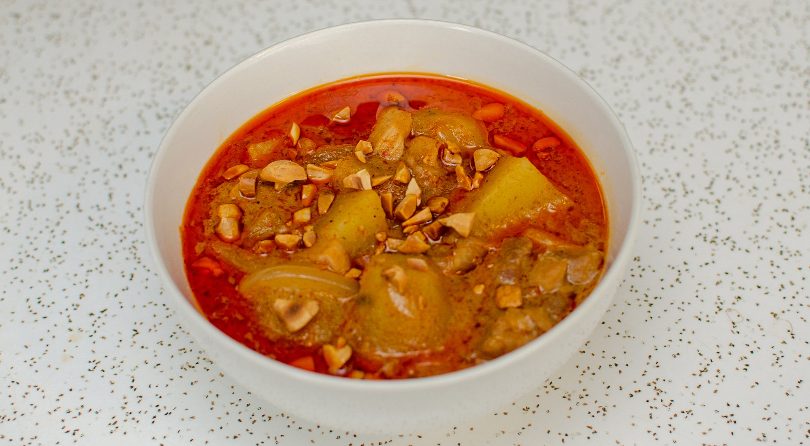 Massaman is a dish from Southern Thailand which has been incorporated into Malaysian cuisine as well. It's a curry that is made from spice paste with potatoes, carrots, onions, ginger, garlic, peanuts or cashews and meat.
The spices usually include cardamom pods, cinnamon sticks, cloves, peppercorns, cumin seed and coriander seed.
5. Kaeng Khiao Wan (Green Curry)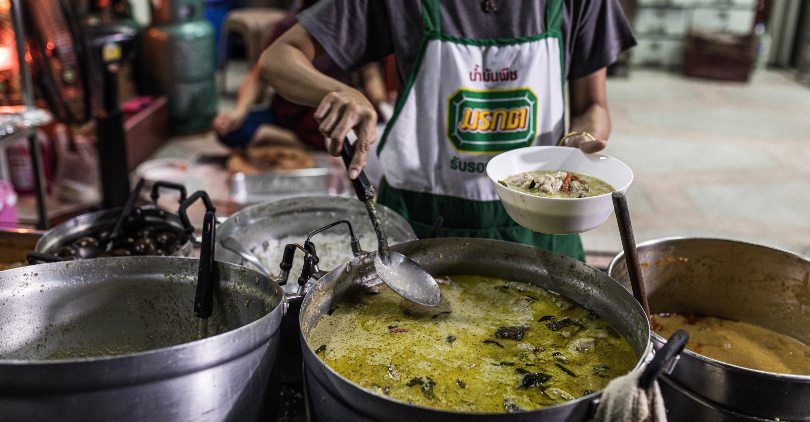 Green Curry is a dish made with green curry paste. It's usually made with bamboo shoots, bell peppers, peas, potatoes, and other vegetables.
The recipe typically includes coconut milk and spices like coriander seed or cumin, pepper powder, garam masala. Thai green curry often uses fish sauce for added flavour that adds umami to the dish. 
6. Som Tam (Papaya Salad)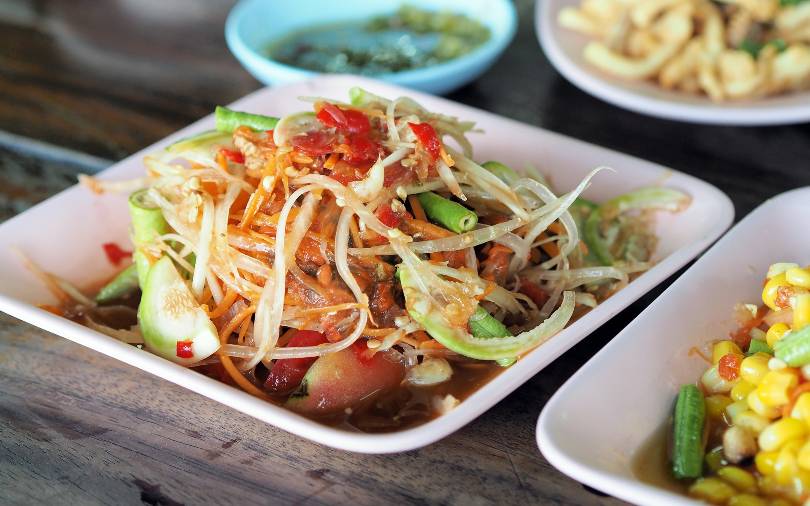 Som Tam (or Papaya Salad) is a dish that is originally from Isaan, a northeastern region of Thailand. It's made with unripened papaya which is shredded and then mixed with a dressing that consists of fish sauce, lime juice, sugar, and chili peppers. The salad can also include tomatoes, carrots, roasted peanuts, dried shrimp, and fresh Thai basil.
Best time to go to Thailand
The best time to go to Thailand depends on the type of experience you're looking for. If you're looking for a beach experience, it's typically best to go in the winter months. This is around November to March when it's not too hot and won't rain as much.
The rainy season in Thailand is typically from the months of July to October. It's called the monsoon season and it's when most of the rainfall occurs.
There's usually much fewer tourists during this time. The only downside to this period is difficulty getting to some islands. But if you'll be staying in Bangkok or Phuket then you won't be affected as much.