In today's post, we've put together an extensive guide to halal food in Bangkok.
We cover a wide range of topics from how Muslim-friendly Bangkok is to the types of halal food to try in the city. We also go a step further to share with you a list of the best restaurants and hotels with halal food in Bangkok.
All this knowledge is based on my years of living in and eating my way through Thailand's capital. Also known as The Big Mango, I've explored all corners of Bangkok and visited hundreds of establishments.
As always, you should have no doubt that the following information is based on my own personal experiences of places that I've tried and tested.
Whether you're planning a Bangkok trip or you're currently there and looking for halal food near you, delve into our in-depth guide on everything you need to know about halal food in Bangkok.
Is Bangkok Muslim-friendly?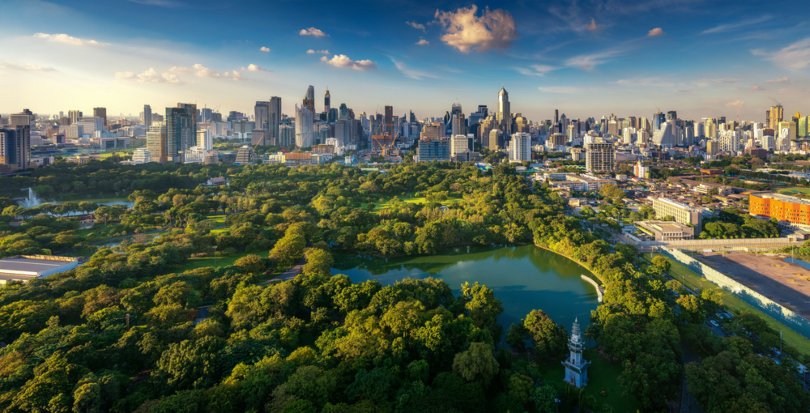 Bangkok, Thailand's capital, is an extraordinary destination for Muslim travellers.
Whether you stay for your whole trip or visit for just a few days, you are guaranteed a wonderful time.
There are many Muslim-friendly hotels, excursions, and experiences to enjoy in Bangkok.
From architecture of mosques & palaces, night markets for halal street food, to scenic boat rides along the Chao Phraya River. You can enjoy beautiful Thai culture and food no matter what your reason for travelling is.
And despite being a favourite choice for honeymoons and couples, Bangkok is still a great choice for Muslim family holidays. Especially because you can experience something unique whilst feeling confident about a whole bounty of local halal options.
There are even a great number of mosques spread throughout the country with almost 200 found just in Bangkok! So at any point during your stay here you will have every opportunity to pray and meet local Muslims.
If you decide to visit the Haroon Mosque, you can see evidence of around 200 years of local Islamic history. So yes! Bangkok is Muslim-friendly. And it's even a really popular choice for many Muslim travellers.
Is there halal food in Bangkok?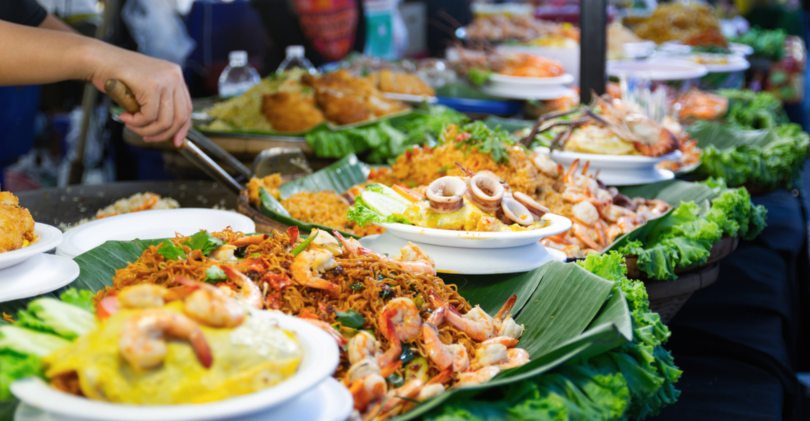 For those wondering whether there's halal food in Bangkok, you'll be pleased to know there's plenty of choice.
Not only can you find hundreds of delicious halal Thai restaurants, but also international restaurants too. You will be able to discover halal dishes ranging from Middle Eastern to Indian.
If the opportunity arises, it's well worth trying these unique eateries. Not only to experience the flair that Thai ingredients can add to familiar flavours but for variety too.
Trying as many different restaurants and dishes is the best way to enjoy Thailand as a foodie.
Although there's a ton of Muslim restaurants in Bangkok, the ease of finding them depends on where you stay.
Where to stay in Bangkok near halal food?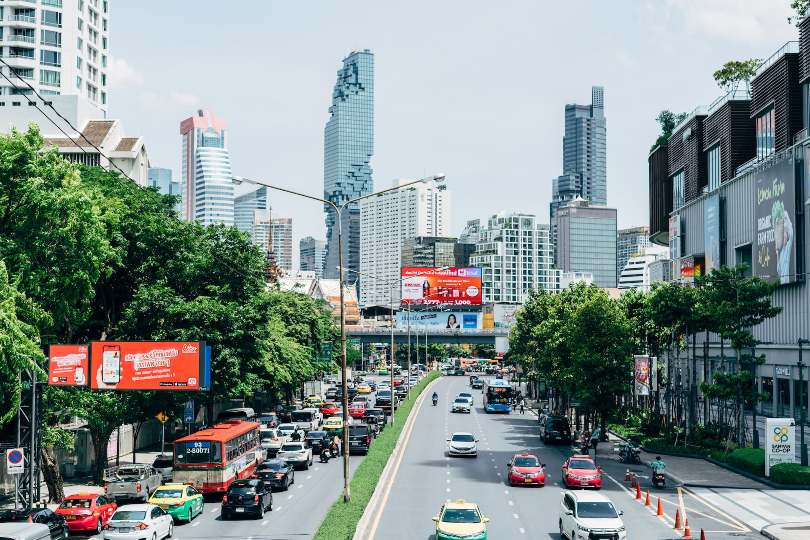 There are many places to stay in Bangkok that will give you a variety of halal food and amenities. But to keep it simple, our top choices are Bang Rak and Pathum Wan.
Bang Rak can be found right next to the Chao Phraya River, a must-visit for Bangkok. Here you can find exciting attractions such as the IconSiam shopping mall and Charoen Krung Road, which is Thailand first ever road.
This historic road, which was built around 1862, is now home to modern hotels, hip stores, and a wide variety of Muslim-friendly amenities.
In my experience, this is where to find the best halal food in Bangkok. Not only restaurants but also night markets and street food.
Secondly, Pathum Wan is another ideal location owing to its central placement. Great landmarks are abundant, like Central World and the Wireless Road. With everything that bit closer together, you can see and do a lot with your time.
This also means that you will have an easy time reaching a range of options. If staying in this area, don't miss the sought after halal food in Pratunam Bangkok.
Where to find the best halal street food in Bangkok?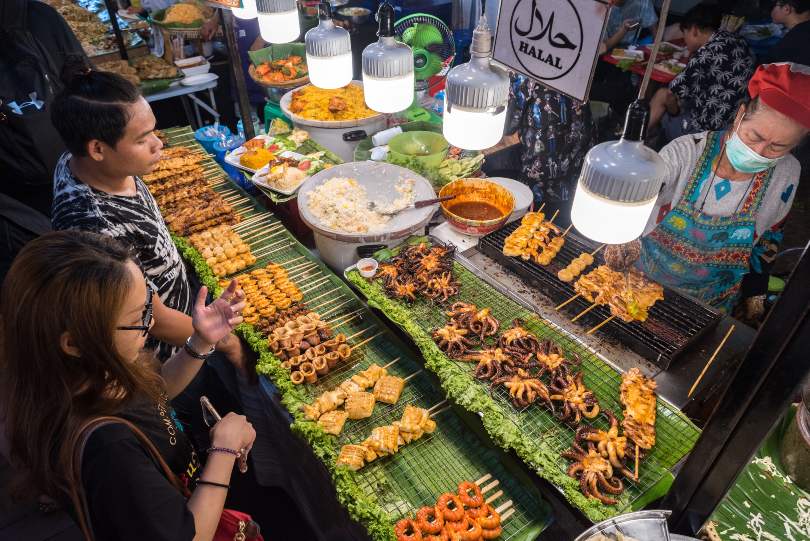 A highlight of visiting Thailand is getting to try their famous street food. For the best halal street food in Bangkok, you need to visit SookSiam and Jodd Fairs Night Market.
SookSiam can be found in central Bangkok on the ground floor of IconSiam. Although not located on a street, it offers the most popular street food options in an indoor environment.
An ideal spot for photos and a memorable experience, this mini Thailand features elements from all 77 provinces. There are over 3000 local businesses inside, each featuring the best of Thailand. Many of the eateries appear on a rotation basis so there are always new things to experience. 
Another great option is Jodd Fairs Night Market. This mega night market is renowned for its size, food and stalls, being the most popular night market in Bangkok.
It's ideal for those wanting both authentic Thai dishes and fusion international cuisine. Affordable and diverse, it is a top destination for experiencing Thai nightlife and culture.
Just keep a look out for the Halal stickers and don't be afraid to try something new!
5 best halal Thai food in Bangkok
Known for its extensive use of flavour and ingredients, halal Thai food in Bangkok is favoured all over the world. However, the authenticity of dining in Thailand gives you the best experience of these explosive delicacies.
Throughout history, these dishes were perfected to expertly balance the major flavour profiles and create delicious meals.
Halal Thai cuisine can be loosely sorted into 4 categories: boiled dishes, spicy salads, pounded foods and curries. Therefore, guaranteeing options for everyone.
Signature spices and herbs include galangal, lemongrass, Thai basil and kaffir lime leaves. It is these flavours that can be commonly found across many dishes in Thailand, making them memorable and delicious.
From the years of eating our way through Thailand, discover below our list of must-try halal food in Bangkok.
1. Gai Pad Mamuang (Stir fried Cashew chicken)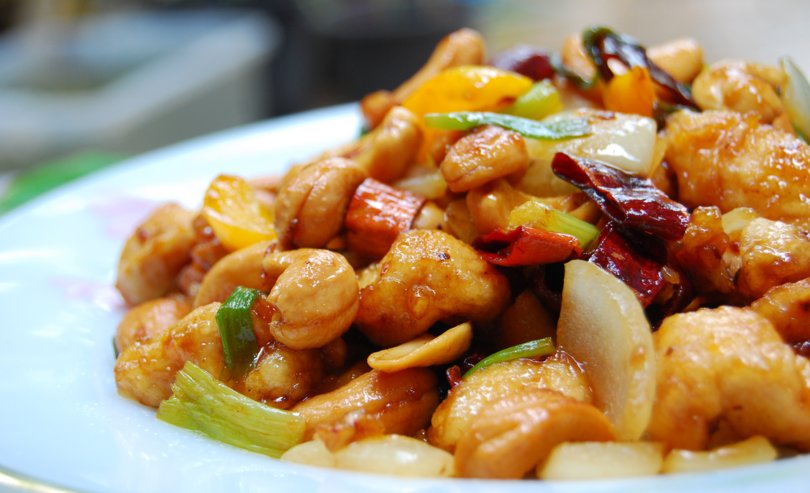 A mix of salty and sweet, crunchy, and tender, Gai Pad Mamuang is a succulent chicken and cashew dish. A popular and easy-to-find option in Bangkok, it has everything for a tasty meal. Despite the many variations, the common vegetables included are mushrooms, peppers and chillies, adding a deliciously bright flair.
Stir-frying the ingredients together blends the sweet honey and savoury flavours into a mouth-watering main that goes great with rice. This is an ideal choice for those new to Thai flavours without sacrificing that signature Thai taste.
For those who like added spice, some restaurants offer spicier versions to add new dimensions to the flavours. However, if you prefer milder dishes, you are certain to find this a palatable option.
2. Gai Yang (Thai Grilled Chicken)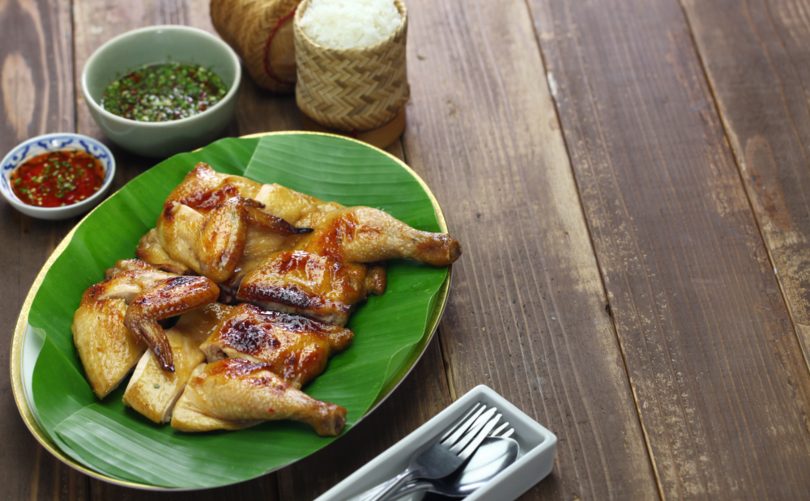 Gai Yang is a popular street food showing that sometimes simple is just as great. The chicken is marinated with fish sauce, lemongrass and garlic and grilled over charcoal, adding a delicious smokiness.
Depending on where you choose to enjoy this the preparation may be slightly different. Some places will choose thigh meat or even a butterflied whole chicken making it ideal for families to enjoy.
There are a couple of ways to enjoy this. You can go straight for dipping this juicy chicken into chilli sauces or pairing it with sticky rice for a full meal.
It can also be great to try it with Som Tum, a papaya salad that can cut through the rich flavours of the grilled meat.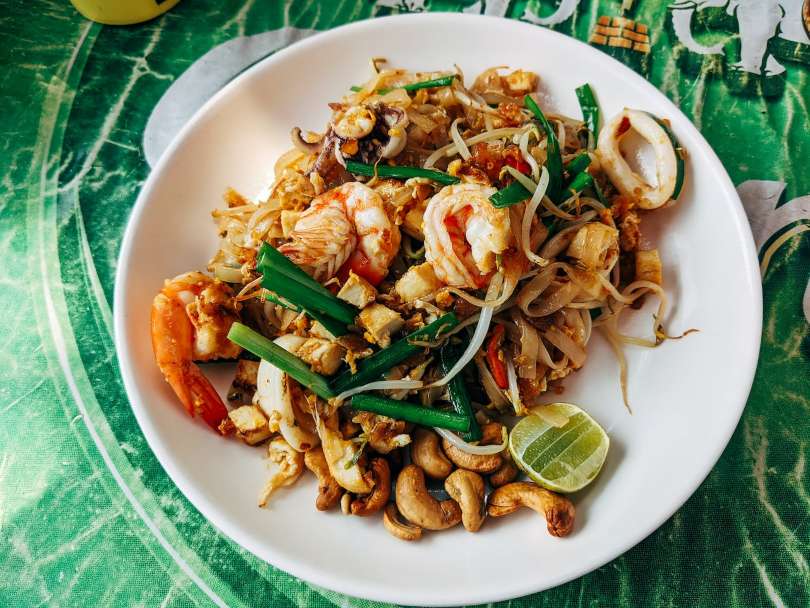 Arguably the most recognisable Thai food you can find, Pad Thai is a versatile and delicious fried noodle dish. The usual recipe includes either chicken or shrimp, but many places can make a vegetarian variation full of fresh vegetables. The other signature flavours come from tamarind paste and fish sauce. Creating that sweet and sour taste that everyone loves.
As one of Thailand's national dishes, you can find thousands of food stalls serving their own take on the classic meal. You can never get bored of trying them all!
Depending on where you go, the sides included will also vary. However, it is most common to have chilli flakes, lime, and crushed peanuts. You can have it just how you like it.
4. Khao Pad Goong (Shrimp Fried Rice)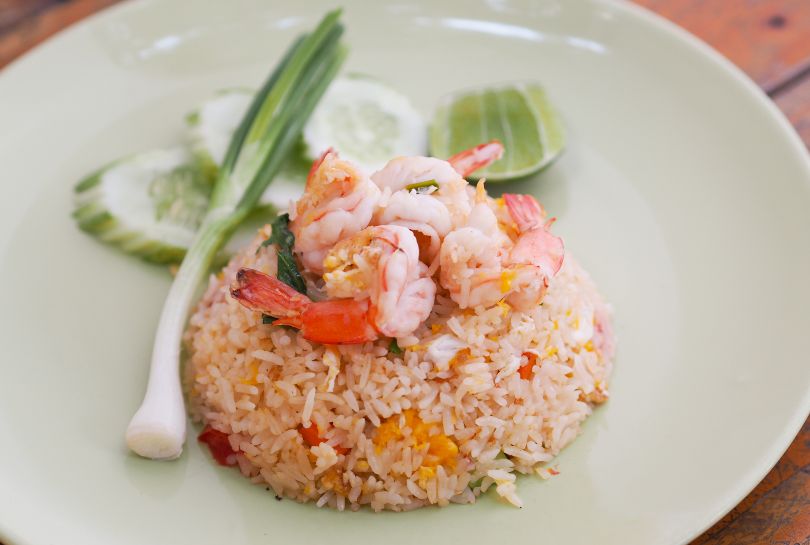 Another classic dish is Khao Pad Goong, a bowl of delicious fried rice with juicy shrimp. This is one of those meals that can be either spicy or mild depending on what you prefer. But both are delicious.
For spicier versions, sliced cucumber acts as a garnish to soften the spice effect. And you will also often see this served with a fried egg which adds a new texture and richer flavour.
Another signifying factor is the use of jasmine rice, providing some of that nuttiness that Thai cuisine is known for.
Of course, you will also taste the Thai favourites, fish and oyster sauce. This is one of those meals you will want to recreate for all of your friends and family.
5. Kaeng Khiao Wan (Green Curry)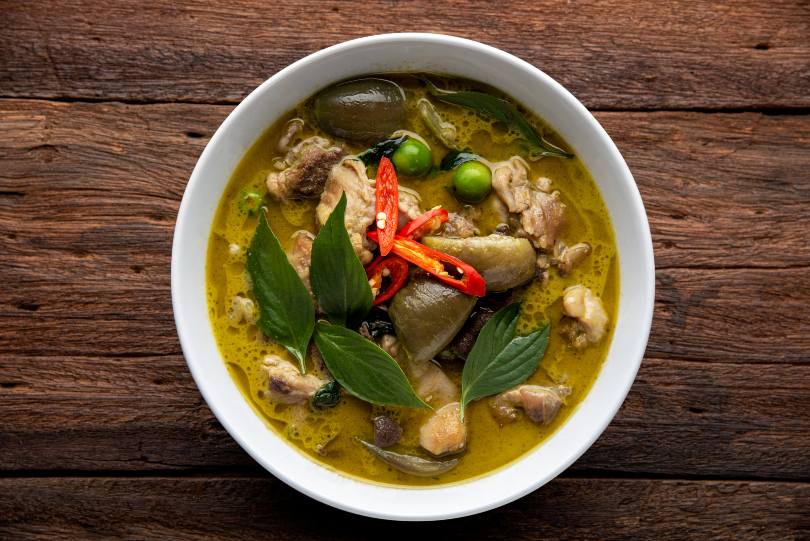 Green curry, or Kaeng Khiao Wan, is the final dish on our list, but it is by no means in last place. Made with creamy coconut milk, fresh green chillies and succulent chicken, it is a global favourite for a reason.
Known for its signature pale green colour, this curry can come in a whole range of spice levels.
It is typically served alongside fresh rice which helps dampen the spiciness without losing any of those rich elements. Many places that do this will also include some vegetables which help to give another level of taste.
Some common choices are aubergines and basil leaves.
The dish originated in central Thailand but can now be found all over and is certainly one of Thailand's must-try foods.
5 top halal restaurants in Bangkok
1. Charcoal Tandoor Grill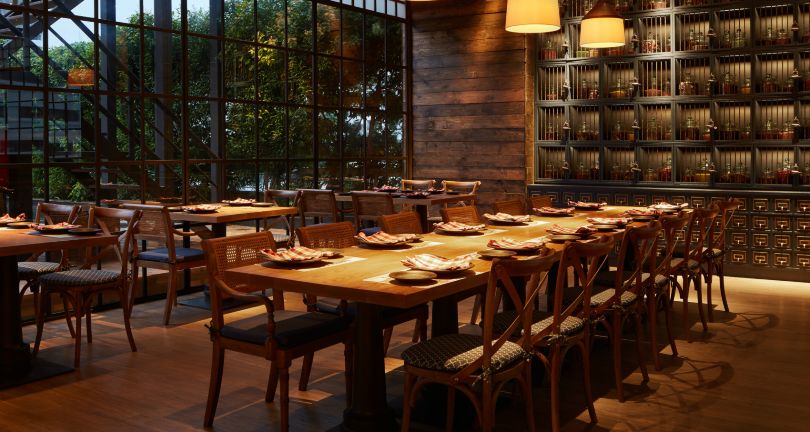 Unique with sleek and industrial surroundings intermixed with hints of traditional India, Charcoal Tandoor Grill is a fresh dining experience.
They offer an authentic tandoori meal, with 100% of their kebabs chargrilled over copper-clad clay ovens. Made for sharing, each dish is meant for 2 or more, so order a couple of items and enjoy them with your loved ones.
Highlighting tender flavours, their kebabs feature chicken, lamb and mutton, seafood, and vegetarian favourites.
A must-try is their house speciality, Murgh Angaar. A boneless chicken tandoori kebab made with strong flavours like chilli and garlic. Pair this with Naan Charcoal (another speciality) and a Biryani and you have a meal fit for a whole family!
To complement these flavours you can choose one of their carefully crafted mocktails. An ideal accompaniment to refresh your palette.
2. Rain Tree Café (Athenee Hotel)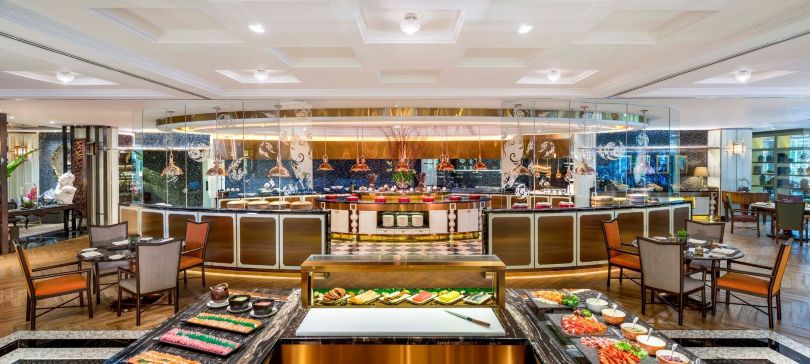 Athenee Hotel's Rain Tree Café incorporates international gourmet cuisine with every meal of the day.
Renowned for its Sunday brunch buffet, you can feast on the freshest seafood Bangkok has to offer. From lobster to oysters, Alaskan king crab and sashimi, the variety of seafood is a highlight you must come and try.
However, that is not all! You can also find soups and prime meats, Wagyu, racks of lamb and Peking duck. There is something for everybody here and you are almost certain to leave satisfied.
Despite being revered for brunch, Rain Tree Café also operates a buffet for every meal as well as an A La Carte menu!
Another aspect of this restaurant is its outstanding service and passionate chefs. They all work hard to give you the best experience possible.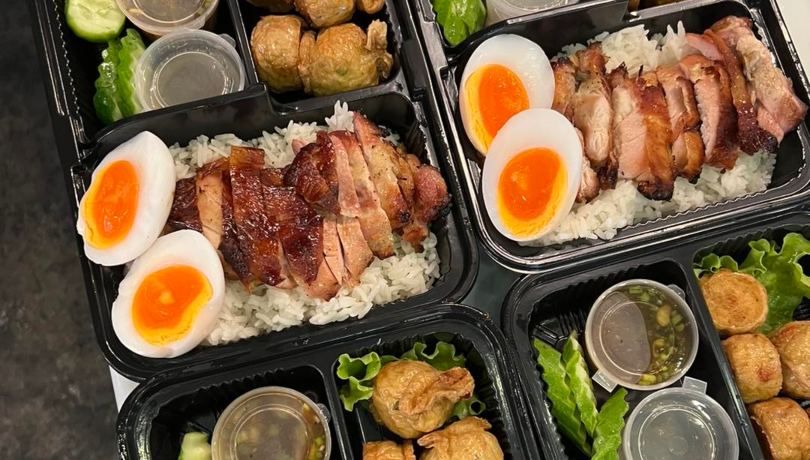 Busaba is a small but popular halal restaurant in the Dusit District of Bangkok best known for its duck dishes.
The top choice is the roast duck, which has crispy skin but tender and juicy meat. Another speciality is their duck with green noodles, pairing that rich duck meat with fresh, springy noodles is a great way to spend a meal. If duck isn't your thing, there are other delicious options.
Some recommendations are the Tom Yum with Seafood soup or Khao Pad Goong. The seafood is cooked perfectly to enhance the slight fusion of flavours.
Busaba also offers a great fresh coffee and dessert menu. Their Busaba Ice Coffee and waffle is an ideal choice to combat the humid weather of central Thailand… And finish off a satisfying meal.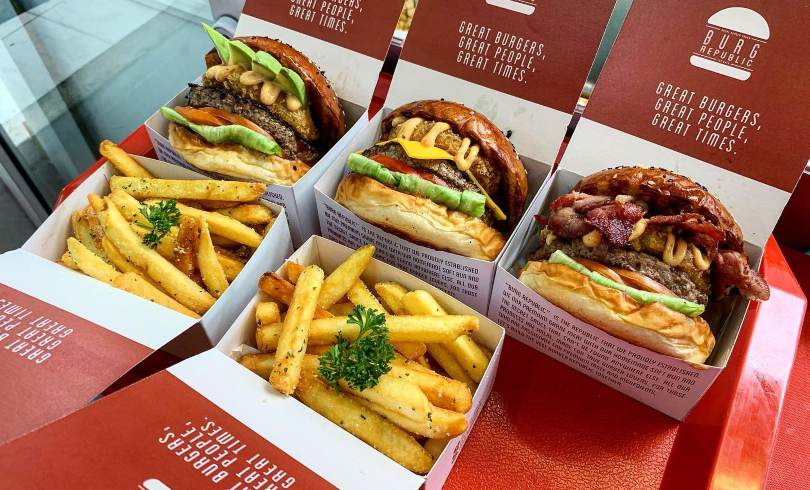 Burg Republic is an American-style burger joint and the most loved halal fast food in Bangkok. This trendy burger joint started out in 2016 with a charming red truck that soon couldn't handle the influx of orders.
Now with several locations, the passion is spreading. Their Royale w' Cheese Burg is a juicy double-stacked beef patty with cheese and succulent beef bacon.
The original meal set comes with crispy Parmesan Fries and a refreshing Apple Soda. If you want to try something a bit different, they even have a Spicy Lamb Burg. Hand-chopped lamb, a crispy onion ring, sweet caramelised onion, pickles, crispy corn and fresh salad. It's a local patron favourite and for good reason.
Their menu might be small, but that shows how much thought has gone into the flavour of each handmade burger.
Each burger also features its signature homemade brioche buns and secret burger sauce, helping to give Burg Republic its unique taste.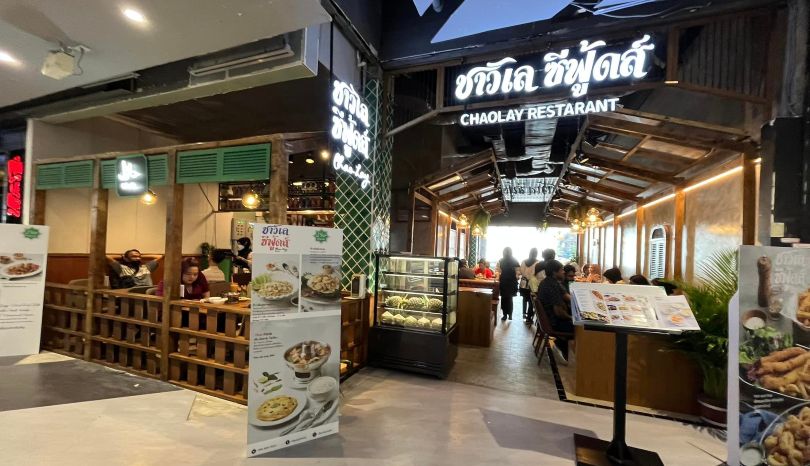 Last on our list is Chaolay Seafood, located in the grand MBK centre and serving local, fresh seafood in a variety of Thai styles.
This is one of those places that can fill out their floor every day of the week. One of the best ways to eat here is to get several dishes and share them so that you can experience all of the flavours.
Firstly, the Tum Yum with River Prawn perfectly blends that iconic hot and sour soup flavour with juicy prawns. And this comes recommended by many people. Another option is the Crab Curry, with a slightly spicy gravy full of juicy crab meat and intense flavours.
Of course, soups and curry are always better with rice so adding on a rice dish is a great choice. If you want something without seafood, their Pineapple Fried Rice comes in a great portion and highlights new flavours.
5 best hotels in Bangkok with halal food
One of the many reasons we love Thailand is because of the ease of finding halal hotels in the country.
Thanks to its large Muslim population, you'll never have to comprise to enjoy your Thailand holiday.
Similarly, there's a wide selection of halal hotels in Bangkok, too. They range from budget options to luxurious options.
Keep in mind that when choosing a hotel in Bangkok that offers halal food, it's important to consider its location. As I said previously, your hotel's location can either make or break your trip.
Discover below or list of vetted hotels in Bangkok with halal food.
1. Ramada Plaza by Wyndham Bangkok Menam Riverside
Found in the heart of the capital, Ramada Plaza Menam Riverside is a hotel on the Chao Phraya River. By staying here, you are in the heart of Bangkok, providing excitement with luxury.
There are a variety of room choices for you here but the best are those with a river view. The King Bed Premier River View Suite is a spacious and comfortable leisure retreat. You can start your day looking out over the Chao Phraya and after a day of sightseeing, come back and relax.
There are two delicious onsite restaurants and even a bakery. The Terrace @72 is a bright and diverse all-day restaurant. Whether you want authentic Thai or Japanese or a buffet, you can try some things new and some old favourites.
The Ah Yat Abalone Forum restaurant overlooks the river and the pool and offers lunch and dinner. As the name suggests, it specialises in abalone and seafood prepared by master chefs from Hong Kong. But you can also try Cantonese delicacies like dim sum, either way, there is something for everyone.
Muslim-friendly features at Ramada Plaza by Wyndham
Alcohol removed from room
Halal food served
Mosque nearby the hotel
2. Anantara Riverside Bangkok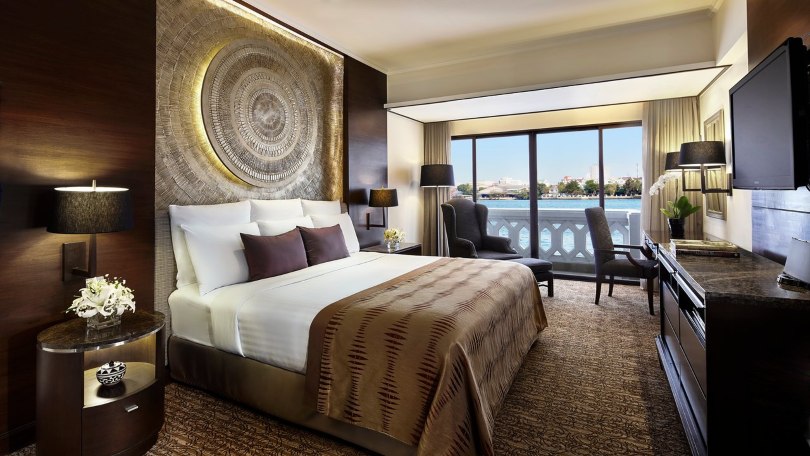 Nestled among 11 acres of greenery on the west bank of the Chao Phraya, Anantara Riverside Bangkok offers waterfront luxury. It provides shuttle boat transport to the city's hot spots and an onsite sanctuary of the Anantara Spa.
There are 281 guestrooms and 95 suites with a few options for views and sizes. You can choose between a river view, a city view, and a garden view. However, the Deluxe River View or Riverfront Rooms with private balconies are ideal for a romantic hideaway.
The Deluxe Riverfront Room even faces the sunset, for that extra sense of something special. On a Manohra Cruise, you can sail past royal palaces whilst dining on the finest Thai cuisine.
Dining at Anantara Riverside Bangkok is a guaranteed lifetime memory. With over 10 dining locations, you are truly spoilt for choice. At Riverside Terrace, you can enjoy international banquet buffets with spectacular cultural performances
Muslim-friendly features at Anantara Riverside Bangkok
Alcohol removed from room
Halal food served
Mosque nearby the hotel
3. The Athenee Hotel, a Luxury Collection Hotel, Bangkok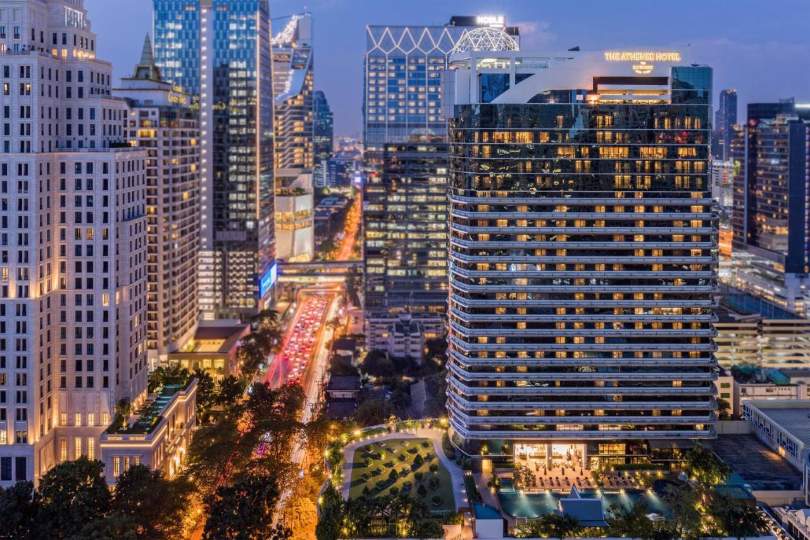 The Athenee Hotel, a Luxury Collection Hotel Bangkok is located in Wireless Road, one of Bangkok's most central districts. Built on the grounds of Kandhavas, using hints of traditional Thai inspiration combined with modern luxury, elegant comfort is key. And the award-winning Athenee Spa merges French style with the mystique of the Siam for true serenity.
Comprising 374 rooms and suites featuring design elements from the rich Thai culture provides you with a truly pleasurable stay. The Athenee Prestige Guest Room is ideal for guests who like to make the most of their holidays. With city views and space for private relaxation, this is an optimal choice for honeymooning Muslim couples.
Here there are 8 unique restaurants to choose from. One was already mentioned above; however, there is more to offer. The House of Smooth Curry incorporates recipes from all four regions of Thailand into one exceptional culinary experience.
This provides you with all the authentic Thai flavours you could want. Next to mention is Kintsugi Bangkok by Jeff Ramsey. Keeping things exciting, this Japanese Kaiseki restaurant is an innovative operation trying new and daring dishes. Finally, The Allium showcases European haute cuisine, pairing the finest European ingredients with local produce.
Muslim-friendly features at The Athenee Hotel
Alcohol removed from room
Halal food served
Mosque nearby the hotel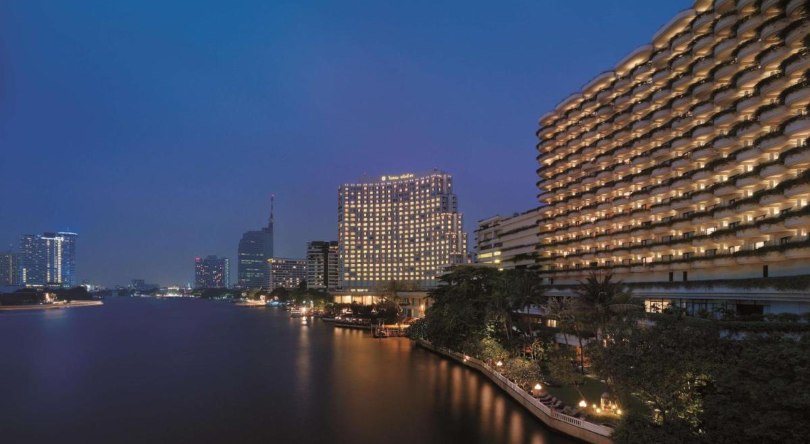 Situated right on the riverfront, Shangri La Bangkok is an enchanting riverside retreat in the heart of Thailand. It is an optimal choice for discovering Bangkok. They host Chi, The Spa, which is your place to relax and find yourself after a busy day experiencing Thai culture.
There are many rooms to choose from here, so there is sure to be one that meets your requirements. The Shangri-La Wing Deluxe Balcony Room boasts a private balcony so that you can enjoy the river views in peace.
For dining at Shangri La Bangkok, there are 7 options to choose from. Shang Palace offers elegant Cantonese cuisine with all-you-can-eat weekday Dim Sum lunches and unlimited signature BBQ dishes. Salathip Thai is your dinner feast destination, serving authentic Thai dishes like Yum Som O and Mieang Pla Tub Tim
Muslim-friendly features at Shang-ri La Bangkok
Alcohol removed from room
Halal food served
Mosque nearby the hotel
Self proclaimed as Bangkok's leading halal hotel, Al Meroz is a haven for Muslim travellers who enjoy the ease of catered luxury. With every aspect of this hotel's creation centred around the comfort of Muslim guests, you can enjoy every moment here. 
The accommodation at this location ranges from Superior and Deluxe rooms to Suites. Each indicates the direction of Mecca and provides a prayer mat and copy of the Quran. The upper-floor rooms provide fascinating views of the busy city, so you always feel involved. For the most luxurious stay, the Suites offer space, privacy and a stunning balcony living room.
Arguably the highlight of this hotel is the food. Barakat is a speciality Mediterranean restaurant with a luxurious ambience. Highlighting fresh ingredients with tempting aromas and flavours. For all-day dining, you can visit the restaurant, Diwan. This caters for a whole variety of meals from Thai to Japanese to Indian and other regional delicacies
Muslim-friendly features at Al Meroz Hotel
Alcohol removed from room
Halal food served
Ladies-only swimming pool times
Prayer rooms in the hotel
Where will you dine in Bangkok?
Hopefully this post has shown you of the wide variety of dining options Muslims have in Bangkok.
There's no doubt that Bangkok's halal food scene is thriving and growing. There are also many non-Muslim owned establishments that serve halal food, which is great to see. An example of this is Mark Wein's famous restaurant in Bangkok, Phed Mark.
Bangkok is a huge city, so keep in mind choosing where to stay during your trip is important to have a smooth travel experience.