5 days from £665 pp, excl. international flights
Experience the best of Maafushi on this island escape holiday
This Muslim-friendly 5 day itinerary is ideal for those looking to experience the Maldives on a budget or a split-stay with a resort. As with all of our trips, everything is customisable down to the last detail to suit your needs.
Spend 5 magical days on Maafushi, a popular Maldivian local island in Kaafu Atoll. Since the introduction of local tourism in the Maldives, the island of Maafushi has gone from a typical island to the heart of the Maldives local travel scene. Maafushi holidays is ideal for any traveller looking to experience the Maldives on an affordable budget.
What we love about Maafushi is that although it's a small island, it doesn't get boring there. The island houses over 70 guesthouses and hotels, several local café's and restaurants, and plenty of activities on offer.
Since Maafushi is a local island in the Maldives, the whole island is alcohol-free. Bikini wear is also banned except for Bikini Beach, which is located on the north of the island. Additionally, there's also a mosque on the island. So, you'll be able to hear the soothing sounds of the call to prayer 5 times a day.
This Maafushi island holiday includes a mixture of activities such as snorkelling, as well as opportunities to immerse yourself in the local culture.
I was planning my honeymoon and contacted Rooh Travel. Walid was very helpful and swiftly arranged a phone call with me. He then emailed me an excellent, informative and incredibly laid out package with full itinerary. It really showed the extent to which Walid was willing to go for his customers. The quotes were also very well priced. I'd recommend Rooh Travel for all - an excellent bespoke service.
Dhia Naouar
14. April, 2022.
Walid was on point and knowledgeable, I used Rooh Travel for my honeymoon to the Maldives and everything from the service to the advice was excellent. A trusted travel partner who will make all your decision making informed and easy. Honest pricing, Walid got us an amazing deal.
Abid Miah
23. March, 2022.
We just got back from a fabulous week long Maldives family holiday thanks to Rooh! We use to book our holidays the usual booking sites, and we were hesitant in using Rooh as they're small and we haven't heard of them before which actually worked in our favour. But after communicating with Walid, we learned that booking with an agency is the way to go. The service from Rooh was outstanding from beginning to end. They listened and provided their expertise to help us make a decision on our holiday and even dealt with our requests before and during the trip. On top of that their prices were the best compared to other quotes. Thank you for all your help and we'll be back for our next family trip.
Ibrahim Tarafdar
26. February, 2022.
Our Maldives honeymoon at Coco Bodu Hithi and service by Rooh couldn't have gone any better! Although we found the travel rules during pandemic confusing, Walid covered everything with us and made the whole experience seamless. The trip went smoothly from flights and transfers. Looking forward in booking our next holiday with Rooh!
We booked with Rooh for our Maldives holiday. Walid was extremely responsive to all our questions around the hotel and covid protocols. Our holiday was incredible and we even got amazing rates booking with them.
Rafi G
25. October, 2021.
Rooh planned the perfect Maldives holiday and advised us on the best options. Our holiday was really private and safe and everything went like how we imagined it!
Hinda Abdullah
21. September, 2021.
Our Maldives trip to Fiyavalhu was spectacular thanks to Rooh, they've managed to fulfil our requests in our budget and couldn't have asked for more.
Rana Rahman
29. July, 2021.
This month we had had the best Maldives trip with Rooh. Walid who planned our trip went above and beyond and took care of all the logistics, we didn't have to worry one bit!
Enjoyed an epic trip to Malaysia last year with Rooh. Loved how the itinerary was personalised to our needs. Thank you!
Maafushi island holiday in detail
Day 1: Arrival & transfers to Maafushi
Once you step out of arrival gates at Velana International Airport (Malé) you will be met by a Rooh representative, holding a board with your names. You will then be transferred to the nearby island of Hulhumale, for a night's stay at your first guesthouse.
The island of Hulhumale is an ideal resting point for those transiting to visit the other local inhabited islands in the Maldives. This tropical urban jungle is home to a large mosque with a striking golden dome, shopping malls, restaurants and cafés.
Depending on your arrival time, there will be an optional walking tour around Vilimalé, known as the quieter side of the island.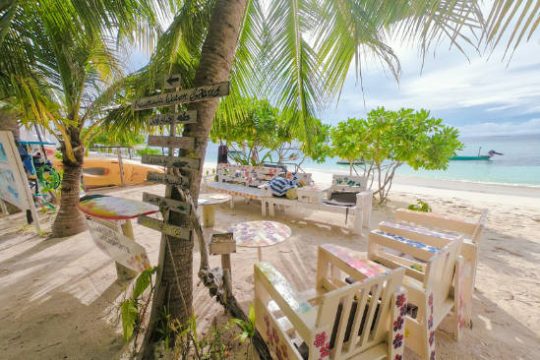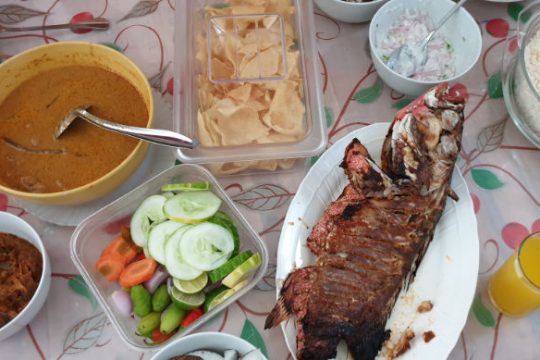 Day 2: Snorkel tour & local family dinner
Following your breakfast at the guesthouse, you will embark on a 90-minute guided snorkelling trip to nearby reefs. Your guide will first provide you with safety protocols as well as responsible snorkelling tips.
In the afternoon, explore the island as you please and interact with the locals and other tourists. There are numerous activities on offer in Maafushi such as kayaking and diving.
During the evening, a unique experience awaits you. Visit a local Maldivian family for a sumptuous dinner and be exposed behind-the-scenes of the local Maldivian life.
Day 3: Sandbank picnic & dolphin cruise
On the morning of your third day, you'll have a headout on a spectacular trip to visit an isolated sandbank near Maafushi. Feel free to spend time swimming and snorkelling in the crystal clear waters that surround the sandbank. There's also a high chance you'll get to spot turtles. To top off the experience, lunch will be served right on the sandbank too.
On your boat ride back, you'll cruise through the Indian Ocean with the hopes of spotting dolphins. The lucky few will be able to see these magnificent sea animals jump out of the water in a playful manner.
This evening, weather permitting, dinner will take place on a private stretch of beach under the stars.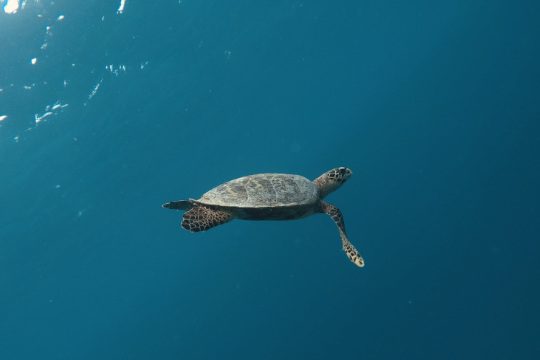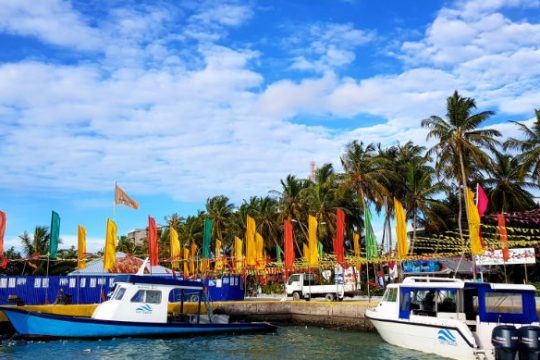 Day 4-5: Gulhi island visit, Malé walking tour & departure
On your last full day of this trip, you'll head out to Gulhi island, a small, quiet island 20 minutes away. It's a great opportunity to see life here in comparison to Maafushi. Your private guide will accompany you on a tour around the island. If you're up to it, there's a house reef on the island with amazing opportunities to spot marine life.
Early on your 5th and final day, you will transfer back to Malé on the public ferry. This will give you time to join a Malé walking tour that visits the Grand Friday Mosque and Sultan Park of the capital city. Dependent on your flight time, the rest of the time is yours to sightsee or visit a local restaurant or café before your transfer back to Velana International Airport.
Hotels featured in this itinerary
Stingray Beach Inn is a boutique guesthouse in Maafushi island with Muslim-friendly amenities. The guesthouse is a perfect alternative to the high-end resorts in the Maldives.
The property features 10 deluxe rooms all equipped with modern features such as AC. The rooms are designed in a modern, tropical decor and are available in twin or double bed options. Other facilities at Stingray include an outdoor swimming pool and hammocks dotted around the property.
As with all local islands in the Maldives, Stingray Beach Inn does not offer alcohol and instead serves fresh juices and coconuts. Their restaurant is open all day and night serving halal Maldivian traditional dishes and other Asian meals.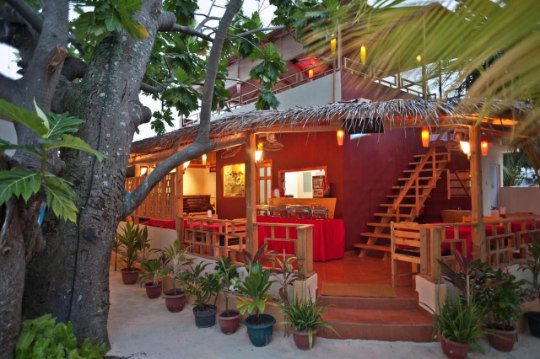 Where does this Maafushi Island Holiday begin and end?
This tour begins and ends in Malé. 
How much is this Maafushi Island Holiday?
The cost for this tour starts at £665 pp, based on low season travel and a double/twin occupancy room. Infants between 0 – 5 years old go free.
Can I customise this trip?
Sure! This trip is fully customisable to suite you.
What is the cancellation policy for this tour?
This tour offers free cancellation up to 14 days prior to your arrival date.
Can I amend the dates of my booking?
Yes, you can certainly amend the dates after you've booked by contacting our team.
Other halal Maldives holidays
Related travel inspiration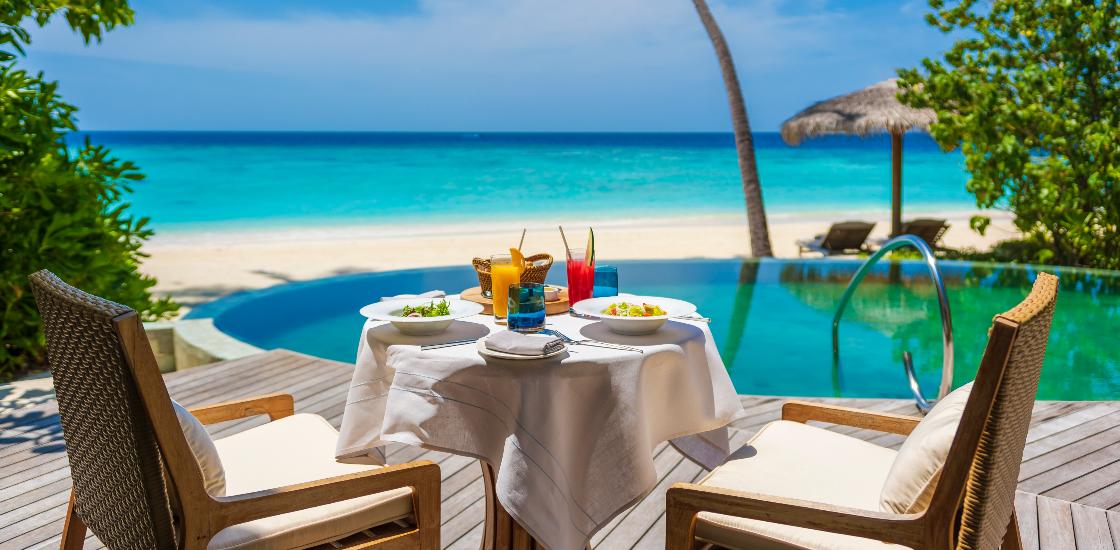 Visiting the Maldives and looking for halal food? Dig in to our guide and discover how easily accessible Maldives halal food is.

Find your next halal holiday by exploring our list of 7 incredible Muslim holiday destinations for 2023/2024.

Explore our top 7 halal beach holidays, hotels and Muslim-friendly features in the world's most tropical locations.
Design your halal trip your way
Get in touch to start planning your adventure